Wahrlich, wahrlich, ich sage euch
BWV 086 // For Rogate
(Truly, truly, I say to you) for soprano (vocal ensemble), alto, tenor and bass, oboe d' amore I+II, bassoon, strings and basso continuo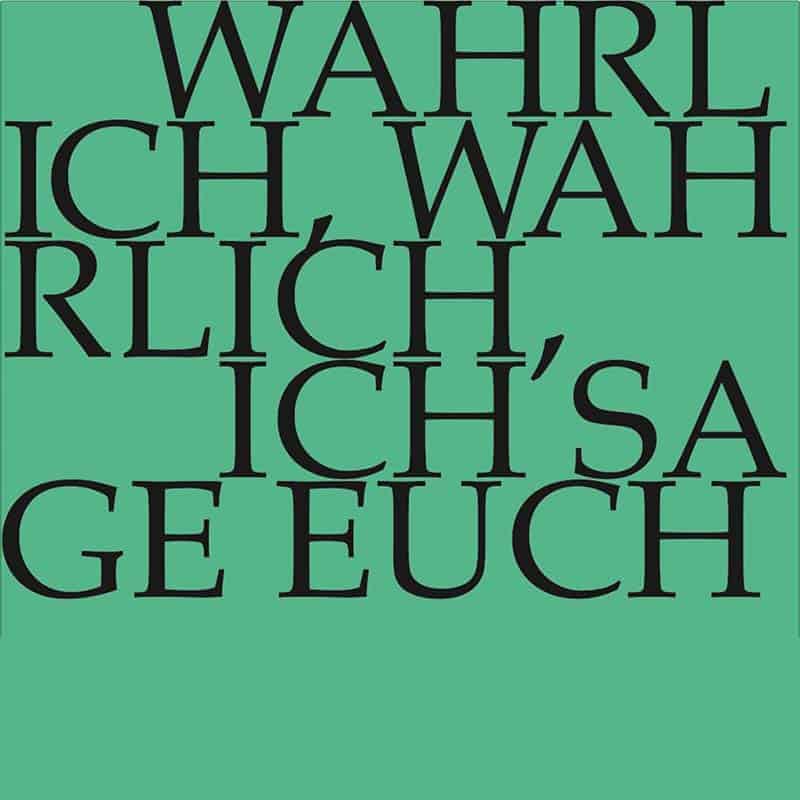 Video
Experience the introductory workshop, concert and reflective lecture in full length.
Workshop
Reflective lecture
«Lutzogram» for the introductory workshop
Rudolf Lutz's manuscript for the workshop
Choir
Soprano
Lia Andres, Susanne Seitter, Alexa Vogel
Orchestra
Conductor & cembalo
Rudolf Lutz
Violin
Plamena Nikitassova, Dorothee Mühleisen, Peter Barczi, Christine Baumann, Eva Borhi, Christoph Rudolf
Viola
Martina Bischof, Matthias Jäggi, Sarah Krone
Violoncello
Maya Amrein
Violone
Iris Finkbeiner
Oboe d'amore
Kerstin Kramp, Andreas Helm
Bassoon
Susann Landert
Organ
Nicola Cumer
Musical director & conductor
Rudolf Lutz
Workshop
Participants
Karl Graf, Rudolf Lutz
Reflective lecture
Speaker
Rudolf Wachter
Recording & editing
Recording date
05/23/2014
Recording location
Trogen
Sound engineer
Stefan Ritzenthaler
Director
Meinrad Keel
Production manager
Johannes Widmer
Production
GALLUS MEDIA AG, Switzerland
Producer
J.S. Bach Foundation of St. Gallen, Switzerland
Matching publications in our shop
Librettist
Text No. 1
John 16:23
Text No. 3
Georg Grünwald (1530)
Text No. 6
Paul Speratus (1523)
Text No. 2, 4, 5
Poet unknown
First performance
Rogate,
14 May 1724, Leipzig
Libretto
1. Arioso (Bass)
»Wahrlich, wahrlich, ich sage euch, so ihr den Vater etwas
bitten werdet in meinem Namen, so wird ers euch geben.«
2. Arie (Alt)
Ich will doch wohl Rosen brechen,
wenn mich gleich die Dornen stechen.
Denn ich bin der Zuversicht,
daß mein Bitten und mein Flehen Gott gewiß zu Herzen gehen,
weil es mir sein Wort verspricht.
3. Choral
Und was der ewig gütig Gott
in seinem Wort versprochen hat,
geschworn bei seinem Namen,
das hält und gibt er gwiß fürwahr.
Der helf uns zu der Engel Schar
durch Jesum Christum! amen!
4. Rezitativ (Tenor)
Gott macht es nicht gleich wie die Welt,
die viel verspricht und wenig hält;
denn was er zusagt, muß geschehen,
daß man daran kann seine Lust und Freude sehen.
5. Arie (Tenor)
Gott hilft gewiß,
wird gleich die Hülfe aufgeschoben,
wird sie doch drum nicht aufgehoben.
Denn Gottes Wort bezeiget dies:
Gott hilft gewiß!
6. Choral
Die Hoffnung wart' der rechten Zeit,
was Gottes Wort zusaget;
wenn das geschehen soll zur Freud,
setzt Gott kein gwisse Tage.
Er weiß wohl, wenns am besten ist,
und braucht an uns kein arge List;
des solln wir ihm vertrauen.
Bibliographical references
All libretti sourced from Neue Bach-Ausgabe. Johann Sebastian Bach. Neue Ausgabe sämtlicher Werke, published by the Johann-Sebastian-Bach-Institut Göttingen and the Bach-Archiv Leipzig, Series I (Cantatas), vol. 1–41, Kassel and Leipzig, 1954–2000.
All in-depth analyses by Anselm Hartinger (English translations/editing by Alice Noger-Gradon/Mary Carozza) based on the following sources:  Hans-Joachim Schulze, Die Bach-Kantaten. Einführungen zu sämtlichen Kantaten Johann Sebastian Bachs, Leipzig, 2nd edition, 2007; Alfred Dürr, Johann Sebastian Bach. Die Kantaten, Kassel, 9th edition, 2009, and Martin Petzoldt, Bach-Kommentar. Die geistlichen Kantaten, Stuttgart, vol. 1, 2nd edition, 2005 and vol. 2, 1st edition, 2007.