Jesu, nun sei gepreiset
BWV 041 // For the Sunday after New Year's Day
(Jesus, be now exalted) for soprano, alto, tenor and bass, vocal ensemble, trumpet I–III, timpani, oboe I–III, strings and basso continuo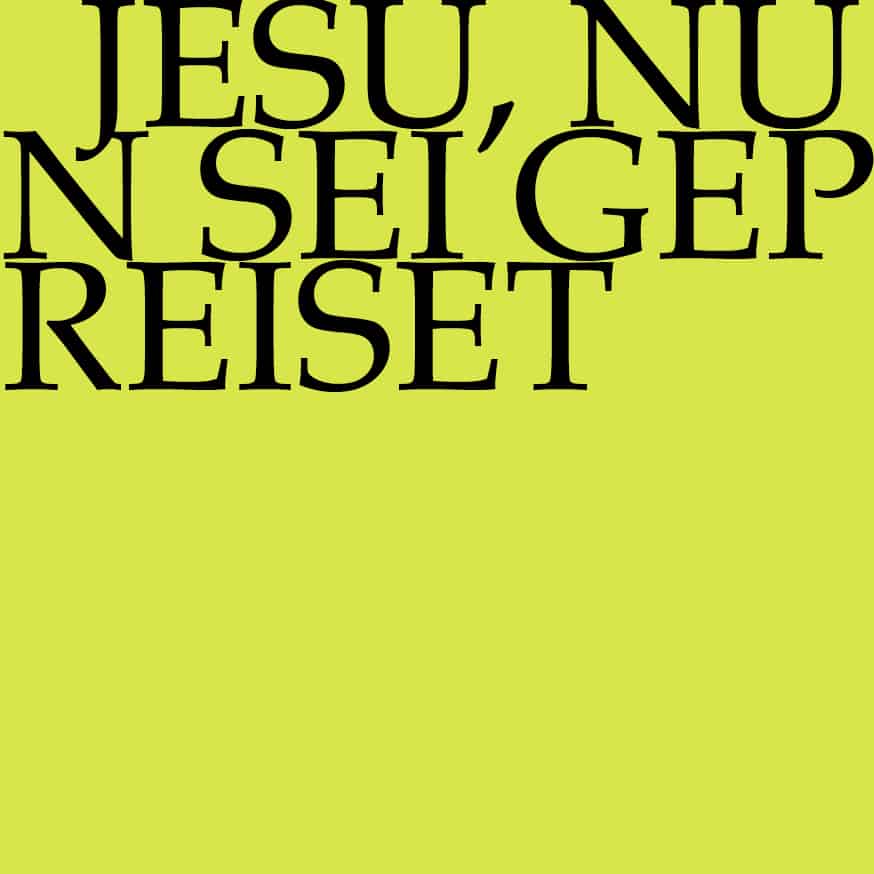 Video
Experience the introductory workshop, concert and reflective lecture in full length.
«Lutzogram» for the introductory workshop
Rudolf Lutz's manuscript for the workshop
Soloists
Choir
Soprano
Lia Andres, Stephanie Pfeffer, Simone Schwark, Noëmi Sohn Nad, Noëmi Tran-Rediger, Alexa Vogel
Alto
Anne Bierwirth, Nanora Büttiker, Antonia Frey, Francisca Näf, Lea Pfister-Scherer
Tenor
Zacharie Fogal, Achim Glatz, Tiago Oliveira, Christian Rathgeber
Bass
Jean-Christophe Groffe, Fabrice Hayoz, Serafin Heusser, Philippe Rayot, Tobias Wicky
Orchestra
Conductor
Rudolf Lutz
Violin
Renate Steinmann, Monika Baer, Claire Foltzer, Elisabeth Kohler, Olivia Schenkel, Petra Melicharek, Salome Zimmermann
Viola
Susanna Hefti, Matthias Jäggi, Stella Mahrenholz
Violoncello
Martin Zeller, Magdalena Reisser
Violoncello piccolo
Martin Zeller
Violone
Guisella Massa
Oboe
Katharina Arfken, Philipp Wagner, Clara Espinosa
Trumpet
Lukasz Gothszalk, Matthew Sadler, Alexander Samawicz
Timpani
Inez Ellmann
Bassoon
Susann Landert
Harpsichord
Thomas Leininger
Organ
Nicola Cumer 
Musical director & conductor
Rudolf Lutz
Workshop
Participants
Rudolf Lutz, Pfr. Niklaus Peter
Reflective lecture
Speaker
Rudolf Osterwalder
Recording & editing
Recording date
29/04/2022
Recording location
Trogen AR (Schweiz) // Evangelische Kirche
Sound engineer
Stefan Ritzenthaler
Producer
Meinrad Keel
Executive producer
Johannes Widmer
Production
GALLUS MEDIA AG, Schweiz
Producer
J.S. Bach-Stiftung, St. Gallen, Schweiz
Librettist
First performance
1 January 1725, Leipzig
Text
Johannes Herman (movements 1, 6); unknown source (movements 2–5)
Libretto
1. Chor
Jesu, nun sei gepreiset
zu diesem neuen Jahr
für dein Güt, uns beweiset
in aller Not und Gefahr,
daß wir haben erlebet
die neu fröhliche Zeit,
die voller Gnaden schwebet
und ewger Seligkeit;
daß wir in guter Stille
das alt Jahr hab'n erfüllet.
Wir wollen uns dir ergeben
itzund und immerdar,
behüt Leib, Seel und Leben
hinfort durchs ganze Jahr!
2. Arie — Sopran
Laß uns, o höchster Gott, das Jahr vollbringen,
damit das Ende so wie dessen Anfang sei.
Es stehe deine Hand uns bei,
daß künftig bei des Jahres Schluß
wir bei des Segens Überfluß
wie itzt ein Halleluja singen.
3. Rezitativ — Alt
Ach! deine Hand, dein Segen muß allein
das A und O, der Anfang und das Ende sein.
Das Leben trägest du in deiner Hand,
und unsre Tage sind bei dir geschrieben;
dein Auge steht auf Stadt und Land;
du zählest unser Wohl und kennest unser Leiden,
ach! gib von beiden,
was deine Weisheit will,
worzu dich dein Erbarmen angetrieben.
4. Arie — Tenor
Woferne du den edlen Frieden
vor unsern Leib und Stand beschieden,
so laß der Seele doch dein selig machend Wort.
Wenn uns dies Heil begegnet,
so sind wir hier gesegnet
und Auserwählte dort!
5. Rezitativ — Bass und Chor
Doch weil der Feind bei Tag und Nacht
zu unserm Schaden wacht
und unsre Ruhe will verstören,
so wollest du, o Herre Gott, erhören,
wenn wir in heiliger Gemeine beten:
Den Satan unter unsre Füße treten.
So bleiben wir zu deinem Ruhm
dein auserwähltes Eigentum
und können auch nach Kreuz und Leiden
zur Herrlichkeit von hinnen scheiden.
6. Choral
Dein ist allein die Ehre,
dein ist allein der Ruhm;
Geduld im Kreuz uns lehre,
regier all unser Tun,
bis wir fröhlich abscheiden
ins ewig Himmelreich,
zu wahrem Fried und Freude,
den Heilgen Gottes gleich.
Indes machs mit uns allen
nach deinem Wohlgefallen:
solchs singet heut ohn Scherzen
die christgläubige Schar
und wünscht mit Mund und Herzen
ein seligs neues Jahr.
7. Choral
Selig sind, die aus Erbarmen
sich annehmen fremder Not,
sind mitleidig mit den Armen,
bitten treulich für sie Gott.
Die behülflich sind mit Rat,
auch, wo möglich, mit der Tat,
werden wieder Hülf empfangen
und Barmherzigkeit erlangen.
Bibliographical references
All libretti sourced from Neue Bach-Ausgabe. Johann Sebastian Bach. Neue Ausgabe sämtlicher Werke, published by the Johann-Sebastian-Bach-Institut Göttingen and the Bach-Archiv Leipzig, Series I (Cantatas), vol. 1–41, Kassel and Leipzig, 1954–2000.
All in-depth analyses by Anselm Hartinger (English translations/editing by Alice Noger-Gradon/Mary Carozza) based on the following sources:  Hans-Joachim Schulze, Die Bach-Kantaten. Einführungen zu sämtlichen Kantaten Johann Sebastian Bachs, Leipzig, 2nd edition, 2007; Alfred Dürr, Johann Sebastian Bach. Die Kantaten, Kassel, 9th edition, 2009, and Martin Petzoldt, Bach-Kommentar. Die geistlichen Kantaten, Stuttgart, vol. 1, 2nd edition, 2005 and vol. 2, 1st edition, 2007.