Ach Herr, mich armen Sünder
BWV 135 // For the Third Sunday after Trinity
(Ah Lord, me a poor sinner) for alto, tenor and bass, vocal ensemble, oboe I+II, bass trombone, bassoon, strings and continuo.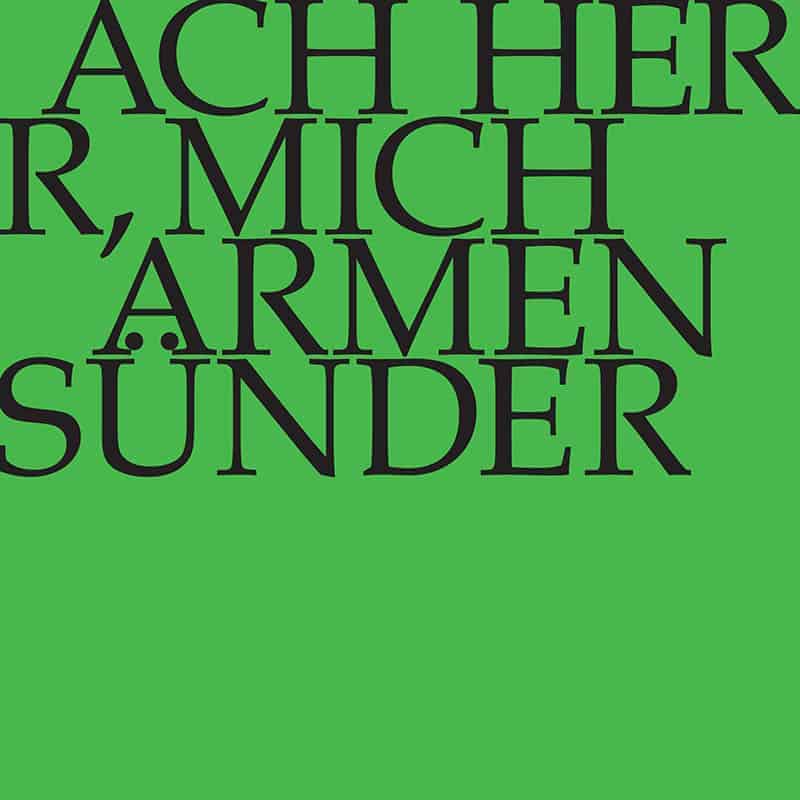 Video
Experience the introductory workshop, concert and reflective lecture in full length.
«Lutzogram» for the introductory workshop
Rudolf Lutz's manuscript for the workshop
Choir
Soprano
Susanne Frei, Guro Hjemli, Jennifer Rudin, Noëmi Tran Rediger
Alto
Antonia Frey, Olivia Heiniger, Lea Scherer
Tenor
Manuel Gerber, Raphael Höhn, Nicolas Savoy
Bass
Fabrice Hayoz, Chasper Mani, Philippe Rayot
Orchestra
Conductor & cembalo
Rudolf Lutz
Violin
Renate Steinmann, Fanny Tschanz
Viola
Susanna Hefti
Violoncello
Martin Zeller
Violone
Iris Finkbeiner
Oboe
Katharina Arfken, Dominik Melicharek
Bassoon
Susann Landert
Bass trombone
Ulrich Eichenberger
Organ
Norbert Zeilberger
Musical director & conductor
Rudolf Lutz
Workshop
Participants
Karl Graf, Rudolf Lutz
Reflective lecture
Speaker
Emmanuel Wiemer
Recording & editing
Recording date
06/26/2009
Recording location
Trogen
Sound engineer
Stefan Ritzenthaler
Director
Meinrad Keel
Production manager
Johannes Widmer
Production
GALLUS MEDIA AG, Switzerland
Producer
J.S. Bach Foundation of St. Gallen, Switzerland
Matching publications in our shop
Librettist
Text No. 1, 5
Cyriakus Schneegass (1597)
Text No. 2–4
Poet unknown
First performance
Third Sunday after Trinity,
25 June 1724
Libretto
1. Chor
Ach Herr, mich armen Sünder
straf nicht in deinem Zorn,
dein ernsten Grimm doch linder,
sonst ist mit mir verlorn.
Ach Herr, wollst mir vergeben
mein Sünd und gnädig sein,
daß ich mag ewig leben,
entfliehn der Höllenpein.
2. Rezitativ (Tenor)
Ach heile mich, du Arzt der Seelen,
ich bin sehr krank und schwach;
man möchte die Gebeine zählen,
so jämmerlich hat mich mein Ungemach,
mein Kreuz und Leiden zugericht;
das Angesicht
ist ganz von Tränen aufgeschwollen,
die, schnellen Fluten gleich, von Wangen abwärts rollen.
Der Seelen ist vor Schrecken angst und bange;
ach, du Herr, wie so lange?
3. Arie (Tenor)
Tröste mir, Jesu, mein Gemüte,
sonst versink ich in den Tod,
hilf mir, hilf mir durch deine Güte
aus der großen Seelennot.
Denn im Tod ist alles stille,
da gedenkt man deiner nicht.
Liebster Jesu, ists dein Wille,
so erfreu mein Angesicht!
4. Rezitativ (Alt)
Ich bin von Seufzen müde,
mein Geist hat weder Kraft noch Macht,
weil ich die ganze Nacht
oft ohne Seelenruh und Friede
in großem Schweiß und Tränen liege.
Ich gräme mich fast tot und bin vor Trauern alt;
denn meine Angst ist mannigfalt.
5. Arie (Bass)
Weicht, all ihr Übeltäter,
mein Jesus tröstet mich!
Er läßt nach Tränen und nach Weinen
die Freudensonne wieder scheinen.
Das Trübsalswetter ändert sich,
die Feinde müssen plötzlich fallen,
und ihre Pfeile rückwärts prallen.
6. Choral
Ehr sei ins Himmels Throne
mit hohem Ruhm und Preis
dem Vater und dem Sohne
und auch zu gleicher Weis
dem heilgen Geist mit Ehren
in alle Ewigkeit,
der woll uns alln bescheren
die ewge Seligkeit.
Bibliographical references
All libretti sourced from Neue Bach-Ausgabe. Johann Sebastian Bach. Neue Ausgabe sämtlicher Werke, published by the Johann-Sebastian-Bach-Institut Göttingen and the Bach-Archiv Leipzig, Series I (Cantatas), vol. 1–41, Kassel and Leipzig, 1954–2000.
All in-depth analyses by Anselm Hartinger (English translations/editing by Alice Noger-Gradon/Mary Carozza) based on the following sources:  Hans-Joachim Schulze, Die Bach-Kantaten. Einführungen zu sämtlichen Kantaten Johann Sebastian Bachs, Leipzig, 2nd edition, 2007; Alfred Dürr, Johann Sebastian Bach. Die Kantaten, Kassel, 9th edition, 2009, and Martin Petzoldt, Bach-Kommentar. Die geistlichen Kantaten, Stuttgart, vol. 1, 2nd edition, 2005 and vol. 2, 1st edition, 2007.