Lobe den Herren, den mächtigen König der Ehren
BWV 137 // For the Twelfth Sunday after Trinity
(Praise the Lord, the mighty King of honour) for soprano, alto, tenor and bass, vocal ensemble, trumpet I–III, timpani, oboe I+II, strings and continuo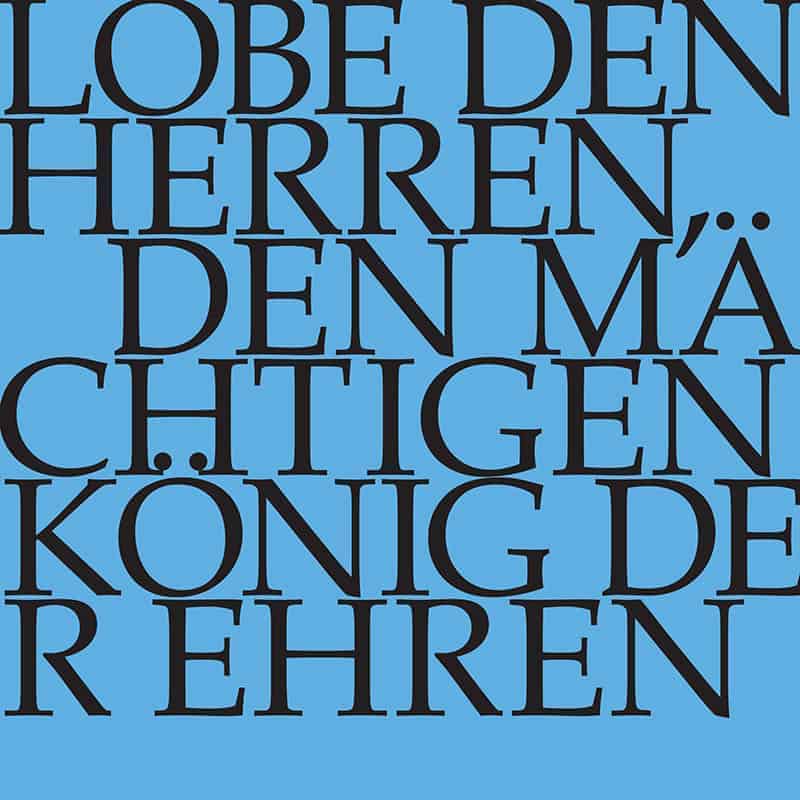 Video
Experience the introductory workshop, concert and reflective lecture in full length.
«Lutzogram» for the introductory workshop
Rudolf Lutz's manuscript for the workshop
Soloists
Choir
Soprano
Susanne Frei, Léonie Gloor, Noëmi Sohn, Guro Hjemli
Alto
Jan Börner, Antonia Frey, Olivia Heiniger, Francisca Näf, Lea Scherer
Tenor
Clemens Flämig, Raphael Höhn, Walter Siegel
Bass
Fabrice Hayoz, Philippe Rayot, William Wood
Orchestra
Conductor
Rudolf Lutz
Violin
Renate Steinmann, Plamena Nikitassova, Monika Baer, Sylvia Gmür, Sabine Hochstrasser, Yuko Ishikawa, Olivia Schenkel
Viola
Susanna Hefti, Emmanuel Carron
Violoncello
Claire Pottinger
Violone
Iris Finkbeiner
Oboe
Kerstin Kramp, Andreas Helm
Bassoon
Susann Landert
Tromba da tirarsi
Patrick Henrichs, Peter Hasel, Michael Bühler
Timpani
Martin Homann
Organ
Norbert Zeilberger
Harpsichord
Annette Gfeller
Musical director & conductor
Rudolf Lutz
Workshop
Participants
Karl Graf, Rudolf Lutz
Reflective lecture
Speaker
Martin Johann Stähli
Recording & editing
Recording date
08/20/2010
Recording location
Trogen
Sound engineer
Stefan Ritzenthaler
Director
Meinrad Keel
Production manager
Johannes Widmer
Production
GALLUS MEDIA AG, Switzerland
Producer
J.S. Bach Foundation of St. Gallen, Switzerland
Matching publications in our shop
Librettist
Text
Joachim Neander, 1680
First performance
Twelfth Sunday after Trinity,
19 August 1725
Libretto
1. Chor
Versus 1
Lobe den Herren, den mächtigen König der Ehren,
meine geliebete Seele, das ist mein Begehren.
Kommet zu Hauf,
Psalter und Harfen, wach auf!
Lasset die Musicam hören!
2. Arie (Alt)
Versus 2
Lobe den Herren, der alles so herrlich regieret,
der dich auf Adelers Fittichen sicher geführet,
der dich erhält,
wie es dir selber gefällt;
hast du nicht dieses verspüret?
3. Arie (Duett Sopran, Bass)
Versus 3
Lobe den Herren, der künstlich und fein dich bereitet,
lobe den Herrn, der künstlich und fein dich bereitet,
der dir Gesundheit verliehen, dich freundlich geleitet;
in wieviel Not
hat nicht der gnädige Gott
über dir Flügel gebreitet;
der gnädige Gott dir Flügel gebreitet,
der gnädige Gott
über dir Flügel gebreitet!
4. Arie (Tenor)
Versus 4
Lobe den Herren, der deinen Stand sichtbar gesegnet,
der aus dem Himmel mit Strömen der Liebe geregnet;
denke dran,
was der Allmächtige kann,
der dir mit Liebe begegnet.
5. Choral
Versus 5
Lobe den Herren, was in mir ist, lobe den Namen!
Alles, was Odem hat, lobe mit Abrahams Samen!
Er ist dein Licht,
Seele, vergiß es ja nicht;
Lobende, schließe mit Amen!
Bibliographical references
All libretti sourced from Neue Bach-Ausgabe. Johann Sebastian Bach. Neue Ausgabe sämtlicher Werke, published by the Johann-Sebastian-Bach-Institut Göttingen and the Bach-Archiv Leipzig, Series I (Cantatas), vol. 1–41, Kassel and Leipzig, 1954–2000.
All in-depth analyses by Anselm Hartinger (English translations/editing by Alice Noger-Gradon/Mary Carozza) based on the following sources:  Hans-Joachim Schulze, Die Bach-Kantaten. Einführungen zu sämtlichen Kantaten Johann Sebastian Bachs, Leipzig, 2nd edition, 2007; Alfred Dürr, Johann Sebastian Bach. Die Kantaten, Kassel, 9th edition, 2009, and Martin Petzoldt, Bach-Kommentar. Die geistlichen Kantaten, Stuttgart, vol. 1, 2nd edition, 2005 and vol. 2, 1st edition, 2007.