Nimm, was dein ist, und gehe hin
BWV 144 // For Septuagesimae
(Take what is thine and go away) for soprano, alto and tenor, vocal ensemble, oboe I+II, bassoon, strings and continuo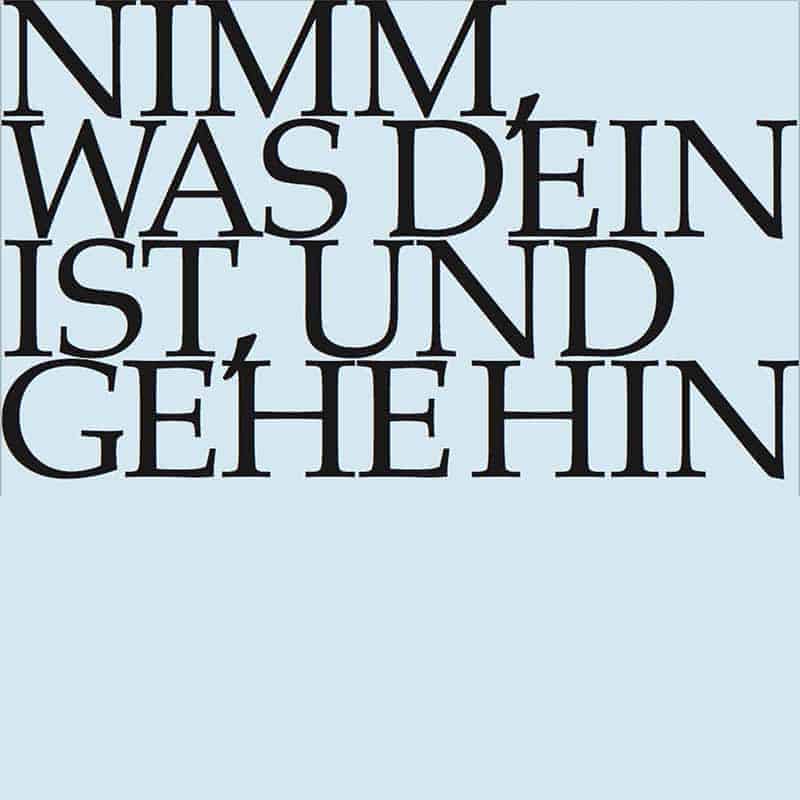 Video
Experience the introductory workshop, concert and reflective lecture in full length.
Workshop
Reflective lecture
«Lutzogram» for the introductory workshop
Rudolf Lutz's manuscript for the workshop
Choir
Soprano
Lia Andres, Mirjam Berli, Guro Hjemli, Jennifer Rudin, Susanne Seitter
Alto
Jan Börner, Antonia Frey, Olivia Fündeling, Francisca Näf, Lea Scherer
Tenor
Clemens Flämig, Manuel Gerber, Raphael Höhn
Bass
Valentin Parli, Philippe Rayot, Tobias Wicky, William Wood
Orchestra
Conductor
Rudolf Lutz
Violin
Renate Steinmann, Monika Baer, Monika Altorfer, Yuko Ishikawa, Martin Korrodi, Marita Seeger
Viola
Susanna Hefti, Martina Zimmermann
Violoncello
Martin Zeller
Violone
Iris Finkbeiner
Oboe
Kerstin Kramp
Oboe d'amore
Ingo Müller
Bassoon
Susann Landert
Organ
Nicola Cumer
Musical director & conductor
Rudolf Lutz
Workshop
Participants
Karl Graf, Rudolf Lutz
Reflective lecture
Speaker
Gerhard Walter
Recording & editing
Recording date
01/25/2013
Recording location
Trogen
Sound engineer
Stefan Ritzenthaler
Director
Meinrad Keel
Production manager
Johannes Widmer
Production
GALLUS MEDIA AG, Switzerland
Producer
J.S. Bach Foundation of St. Gallen, Switzerland
Matching publications in our shop
Librettist
Text No. 1
Quote from Matthew 20:14
Text No. 3
Samuel Rodigast (1649–1708)
Text No. 6
Albrecht von Preussen (1490–1568)
Text No. 2, 4, 5
Poet unknown
First performance
Septuagesima Sunday,
6 February 1724
Libretto
1. Chor
»Nimm, was dein ist, und gehe hin.«
2. Arie (Alt)
Murre nicht,
lieber Christ,
wenn was nicht nach Wunsch geschicht;
sondern sei mit dem zufrieden,
was dir dein Gott hat beschieden,
er weiß, was dir nützlich ist.
3. Choral
Was Gott tut, das ist wohl getan,
es bleibt gerecht sein Wille;
wie er fängt meine Sachen an,
will ich ihm halten stille.
Er ist mein Gott,
der in der Not
mich wohl weiß zu erhalten:
drum lass' ich ihn nur walten.
4. Rezitativ (Tenor)
Wo die Genügsamkeit regiert
und überall das Ruder führt,
da ist der Mensch vergnügt
mit dem, wie es Gott fügt.
Dagegen, wo die Ungenügsamkeit das Urtel spricht,
da stellt sich Gram und Kummer ein,
das Herz will nicht zufrieden sein,
und man gedenket nicht daran:
Was Gott tut, das ist wohlgetan.
5. Arie (Sopran)
Genügsamkeit
ist ein Schatz in diesem Leben,
welcher kann Vergnügung geben
in der größten Traurigkeit,
Genügsamkeit.
Denn es lässet sich in allen
Gottes Fügung wohl gefallen

Genügsamkeit.
6. Choral
Was mein Gott will, das gscheh allzeit,
sein Will, der ist der beste.
Zu helfen den'n er ist bereit,
die an ihn gläuben feste.
Er hilft aus Not, der fromme Gott,
und züchtiget mit Maßen.
Wer Gott vertraut, fest auf ihn baut,
den will er nicht verlassen.
Bibliographical references
All libretti sourced from Neue Bach-Ausgabe. Johann Sebastian Bach. Neue Ausgabe sämtlicher Werke, published by the Johann-Sebastian-Bach-Institut Göttingen and the Bach-Archiv Leipzig, Series I (Cantatas), vol. 1–41, Kassel and Leipzig, 1954–2000.
All in-depth analyses by Anselm Hartinger (English translations/editing by Alice Noger-Gradon/Mary Carozza) based on the following sources:  Hans-Joachim Schulze, Die Bach-Kantaten. Einführungen zu sämtlichen Kantaten Johann Sebastian Bachs, Leipzig, 2nd edition, 2007; Alfred Dürr, Johann Sebastian Bach. Die Kantaten, Kassel, 9th edition, 2009, and Martin Petzoldt, Bach-Kommentar. Die geistlichen Kantaten, Stuttgart, vol. 1, 2nd edition, 2005 and vol. 2, 1st edition, 2007.