Wir müssen durch viel Trübsal in das Reich Gottes eingehen
BWV 146 // For Jubilate (Third Sunday after Easter)
(We must pass through great sadness that we God's kingdom may enter) for soprano, alto, tenor and bass, vocal ensemble, transverse flute, oboe I+II, taille, bassoon, strings and continuo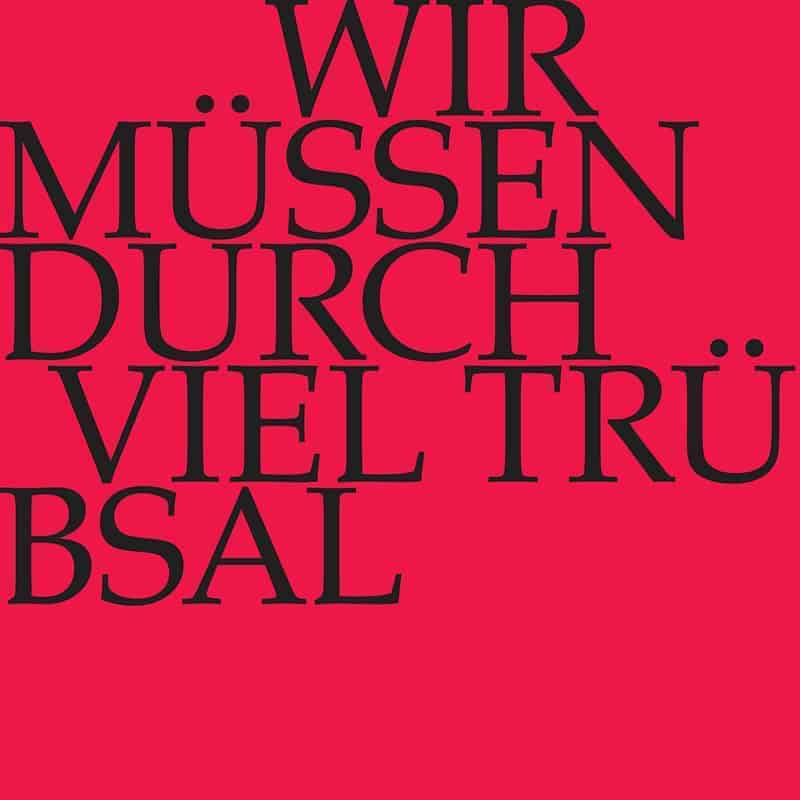 Video
Experience the introductory workshop, concert and reflective lecture in full length.
Workshop
Reflective lecture
«Lutzogram» for the introductory workshop
Rudolf Lutz's manuscript for the workshop
Soloists
Choir
Soprano
Mirjam Berli, Susanne Frei, Leonie Gloor, Guro Hjemli, Alexa Vogel
Alto
Jan Börner, Olivia Fündeling, Francisca Näf, Simon Savoy, Lea Scherer
Tenor
Marcel Fässler, Clemens Flämig, Manuel Gerber, Walter Siegel
Bass
Fabrice Hayoz, Chasper Mani, Valentin Parli, Philippe Rayot
Orchestra
Conductor
Rudolf Lutz
Violin
Renate Steinmann, Dorothee Mühleisen, Monika Baer, Christine Baumann, Ildiko Sajgo, Olivia Schenkel
Viola
Susanna Hefti, Peter Barczi
Violoncello
Martin Zeller, Hristo Kouzmanov
Violone
Iris Finkbeiner
Oboe
Kerstin Kramp, Katharina Andres
Oboe da caccia
Ingo Müller
Taille
Ingo Müller
Bassoon
Susann Landert
Transverse flute
Claire Genewein
Organ
Norbert Zeilberger (Solo)
Harpsichord
Nicola Cumer
Musical director & conductor
Rudolf Lutz
Workshop
Participants
Karl Graf, Rudolf Lutz
Reflective lecture
Speaker
Miriam Meckel
Recording & editing
Recording date
04/27/2012
Recording location
Trogen
Sound engineer
Stefan Ritzenthaler
Director
Meinrad Keel
Production manager
Johannes Widmer
Production
GALLUS MEDIA AG, Switzerland
Producer
J.S. Bach Foundation of St. Gallen, Switzerland
Matching publications in our shop
Librettist
Text
Poet unknown
Text No. 2
Quote from Acts of the Apostles 14:22
First performance
Jubilate,
probably on 12 May 1726
Libretto
2. Chor
»Wir müssen durch viel Trübsal in das Reich Gottes eingehen.«
3. Arie (Alt)
Ich will nach dem Himmel zu,
nach dem Himmel will ich zu,
schnödes Sodom, ich und du
sind nunmehr geschieden.
Meines Bleibens ist nicht hier,
denn ich lebe doch bei dir
nimmermehr in Frieden.
4. Rezitativ (Sopran)
Ach! wer doch schon im Himmel wär,
wie drängt mich nicht die böse Welt.
Mit Weinen steh ich auf,
mit Weinen leg ich mich zu Bette,
wie trüglich wird mir nachgestellt.
Herr! merke, schaue drauf.
Sie hassen mich, und ohne Schuld,
als wenn die Welt die Macht
mich gar zu töten hätte;
und leb ich denn mit Seufzen und Geduld,
verlassen und veracht,
so hat sie noch an meinem Leide
die größte Freude.
Mein Gott, das fällt mir schwer.
Ach! wenn ich doch,
mein Jesu, heute noch
bei dir im Himmel wär!
5. Arie (Sopran)
Ich säe meine Zähren
mit bangem Herzen aus.
Jedoch mein Herzeleid
wird mir die Herrlichkeit
am Tage der seligen Ernte gebären.
6. Rezitativ (Tenor)
Ich bin bereit,
mein Kreuz geduldig zu ertragen,
ich weiß, daß alle meine Plagen
nicht wert der Herrlichkeit,
die Gott an den erwählten Scharen
und auch an mir wird offenbaren.
Jetzt wein ich, da das Weltgetümmel
bei meinem Jammer fröhlich scheint;
bald kommt die Zeit,
da sich mein Herz erfreut
und da die Welt einst ohne Tröster weint.
Wer mit dem Feinde ringt und schlägt,
dem wird die Krone beigelegt,
denn Gott trägt keinen nicht mit Händen in den Himmel.
7. Arie (Duett Tenor, Bass)
Wie will ich mich freuen, wie will ich mich laben,
wenn alle vergängliche Trübsal vorbei.
Da glänz ich wie Sterne und leuchte wie Sonne,
da störet die himmlische, selige Wonne
kein Trauren, Heulen und Geschrei.
8. Choral
Freu dich sehr, o meine Seele,
und vergiß all Not und Qual,
weil dich nun Christus, dein Herre,
ruft aus diesem Jammertal.
Aus Trübsal und großem Leid
sollst du fahren in die Freud,
die kein Ohre hat gehöret
und in Ewigkeit auch währt.
Bibliographical references
All libretti sourced from Neue Bach-Ausgabe. Johann Sebastian Bach. Neue Ausgabe sämtlicher Werke, published by the Johann-Sebastian-Bach-Institut Göttingen and the Bach-Archiv Leipzig, Series I (Cantatas), vol. 1–41, Kassel and Leipzig, 1954–2000.
All in-depth analyses by Anselm Hartinger (English translations/editing by Alice Noger-Gradon/Mary Carozza) based on the following sources:  Hans-Joachim Schulze, Die Bach-Kantaten. Einführungen zu sämtlichen Kantaten Johann Sebastian Bachs, Leipzig, 2nd edition, 2007; Alfred Dürr, Johann Sebastian Bach. Die Kantaten, Kassel, 9th edition, 2009, and Martin Petzoldt, Bach-Kommentar. Die geistlichen Kantaten, Stuttgart, vol. 1, 2nd edition, 2005 and vol. 2, 1st edition, 2007.