Vergnügte Ruh, beliebte Seelenlust
BWV 170 // For the Sixth Sunday after Trinity
(Contented rest, belove'd inner joy) for alto, oboe d'amore, transverse flute, organo obbligato, strings and continuo
Cantata BWV 170, surviving among the works inherited by Carl Philipp Emanuel Bach, is particularly rich in contrasts despite its setting for solo alto alone. The work opens with a ­sense of Elysian comfort, ere the unexpected ­dramatic developments of the libretto transform it into a lament of pain and sorrow that culminates in a fervid rejection of the world. Indeed, despite the work's overarching meditation on forgiveness, the theme of vengeance continually thrusts its way to the fore. Like a disillusioned Sarastro, the prayers of the pious and an enlightened, all-powerful God can only despair at the folly of humans, who, unable to put their God-given freedom to good use, leave the righteous little option but to long for the future flight to Jesus' otherworldly dwelling.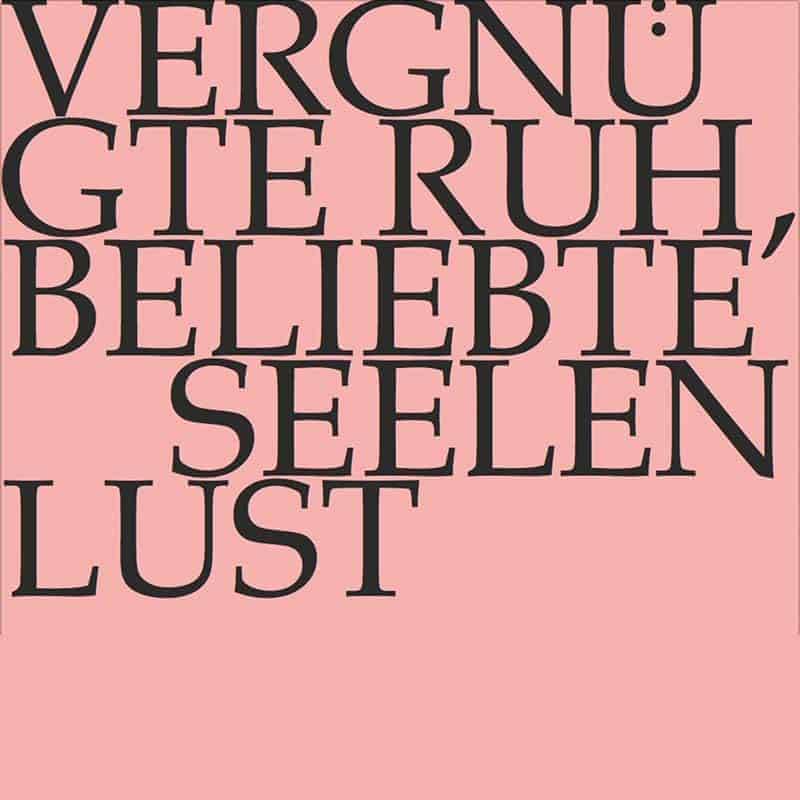 Video
Experience the introductory workshop, concert and reflective lecture in full length.
«Lutzogram» for the introductory workshop
Rudolf Lutz's manuscript for the workshop
Audio
The sound recording of this work is available on several streaming and download platforms.
Orchestra
Conductor & cembalo
Rudolf Lutz
Violin
Plamena Nikitassova, Dorothee Mühleisen, Christine Baumann, Yuko Ishikawa, Christoph Rudolf, Ildiko Sajgo
Viola
Martina Bischof, Sarah Krone
Violoncello
Maya Amrein, Hristo Kouzmanov
Violone
Iris Finkbeiner
Oboe d'amore
Katharina Arfken
Bassoon
Susann Landert
Transverse flute
Anne Freitag
Organo Obbligato
Nicolas Cumer
Musical director & conductor
Rudolf Lutz
Workshop
Participants
Karl Graf, Rudolf Lutz
Reflective lecture
Speaker
Jürg Kesselring
Recording & editing
Recording date
06/21/2013
Recording location
Teufen
Sound engineer
Stefan Ritzenthaler
Director
Meinrad Keel
Production manager
Johannes Widmer
Production
GALLUS MEDIA AG, Switzerland
Producer
J.S. Bach Foundation of St. Gallen, Switzerland
Matching publications in our shop
Librettist
Text
Georg Christian Lehms (1684–1717)
First performance
Sixth Sunday after Trinity,
28 July 1726
In-depth analysis
The introductory aria opens with a setting of tender siciliano rhythms over a lilting bass line, lending the piece its initial optimistic tone. Enveloped in a pastoral sound of strings and oboe d'amore, the vocalist indulges in an ideal of virtue and inner joy, evoking the memory of a (lost) golden age of innocent comfort in God that radiates into the sordid dealings and base scandals of Leipzig's early modern era. The shift in the following recitative, however, abruptly banishes the listener from this paradise and mercilessly dismantles this dream world, piece for piece. Here, God finds his love not only unrequited, but "trampled underfoot" amid a din of "hellish lyrics" in the "house of sin" of the world.
Nevertheless, the ensuing aria does not follow with a thundering sermon of reproof, but a lament of sorrow and shame that lends voice to one of Bach's most extraordinarily inspired settings. Over a pared-down accompaniment of unison violins and violas, two expressive upper voices weave a net that calls to mind the slow, middle movements of Bach's organ trios. Written originally for two manuals of a large organ, these parts are performed on a positive organ and transverse flute in this recording. Against this background, the solo voice delivers its lament in the darkest tones of the Passion. The fact that the static adagio style still leaves room for a differentiated interpretation of the text (the "bold flouting" of God's stern command in the upper voices) is as masterful in execution as the textual and musically skilful integration of the reprise.
The instruments in the subsequent accompagnato recitative underscore the resolution proclaimed in the closing aria: that of fleeing all base impulses and awaiting the call of the Highest. In this final movement, the dance-like gestures do not represent an earthly disposition, but a steadfastness regained in the face of all temptation. Indeed, the harsh tritone interval that opens the passage "I'm sick to death of living" explicitly proffers a pained rejection of the impure world. Here, the repeated notes of the continuo take on a determined character compared to the lilting introductory aria, although the ornamentation on the word "peace" in the middle section echoes the mood of the opening pastoral scene. In a reworking of the cantata in 1746/47, Bach reassigned the soloistic interludes of the organ part to the transverse flute. Since certain source texts suggest that this actually corresponded to Bach's original intention (who may well have compensated for the lack of a virtuoso flautist by playing the part himself on the organ in the 1726 version), we have included this captivating version for flute as a bonus track on this CD.
Libretto
1. Arie (Altus)
Vergnügte Ruh, beliebte Seelenlust!
Dich kann man nicht bei Höllensünden,
wohl aber Himmelseintracht finden,
du stärkst allein die schwache Brust.
Drum sollen lauter Tugendgaben
in meinem Herzen Wohnung haben.
2. Rezitativ (Alt)
Die Welt, das Sündenhaus,
bricht nur in Höllenlieder aus
und sucht durch Hass und Neid
des Satans Bild an sich zu tragen.
Ihr Mund ist voller Ottergift,
der oft die Unschuld tödlich trifft,
und will allein von Racha, Racha sagen.
Gerechter Gott, wie weit
ist doch der Mensch von dir entfernet;
du liebst, jedoch sein Mund
macht Fluch und Feindschaft kund
und will den Nächsten nur mit Füssen treten.
Ach! diese Schuld ist schwerlich zu verbeten.
3. Arie (Alt)
Wie jammern mich doch
die verkehrten Herzen,
die dir, mein Gott, so sehr zuwider sein:
Ich zittre recht und fühle tausend Schmerzen,
wenn sie sich nur an Rach und Hass erfreun.
Gerechter Gott,
was magst du doch gedenken,
wenn sie allein mit rechten Satansränken
dein scharfes Strafgebot so frech verlacht!
Ach! ohne Zweifel hast du so gedacht:
Wie jammern mich doch
die verkehrten Herzen!
4. Rezitativ (Alt)
Wer sollte sich demnach
wohl hier zu leben wünschen,
wenn man nur Hass und Ungemach
vor seine Liebe sieht?
Doch, weil ich auch den Feind
wie meinen besten Freund
nach Gottes Vorschrift lieben soll,
so flieht mein Herze Zorn und Groll
und wünscht allein bei Gott zu leben,
der selbst die Liebe heisst.
Ach! eintrachtsvoller Geist,
wenn wird er dir doch nur
sein Himmelszion geben?
5. Arie (Alt) mit Orgelsolo
Mir ekelt mehr zu leben,
drum nimm mich, Jesu, hin.
Mir graut vor allen Sünden,
lass mich dies Wohnhaus finden,
woselbst ich ruhig bin.
6. Bonustrack: Arie (Alt) mit Traversflöte
Bibliographical references
All libretti sourced from Neue Bach-Ausgabe. Johann Sebastian Bach. Neue Ausgabe sämtlicher Werke, published by the Johann-Sebastian-Bach-Institut Göttingen and the Bach-Archiv Leipzig, Series I (Cantatas), vol. 1–41, Kassel and Leipzig, 1954–2000.
All in-depth analyses by Anselm Hartinger (English translations/editing by Alice Noger-Gradon/Mary Carozza) based on the following sources:  Hans-Joachim Schulze, Die Bach-Kantaten. Einführungen zu sämtlichen Kantaten Johann Sebastian Bachs, Leipzig, 2nd edition, 2007; Alfred Dürr, Johann Sebastian Bach. Die Kantaten, Kassel, 9th edition, 2009, and Martin Petzoldt, Bach-Kommentar. Die geistlichen Kantaten, Stuttgart, vol. 1, 2nd edition, 2005 and vol. 2, 1st edition, 2007.