Sie werden euch in den Bann tun
BWV 183 // Exaudi
(In banishment they will cast you) Live streaming
After cancelling our cantata concerts in March and April due to Covid 19, we now also have to cancel our concert on Friday, 15 May 2020. Although the corona situation in Switzerland has improved somewhat, it is still too early to plan regular concert performances. Cantata BWV 183 ("Sie werden euch in den Bann tun") will, like the two previous cantatas, be performed by Rudolf Lutz as a one-man ensemble. His concert will be streamed live from the church in Stein on the evening of 15 May 2020.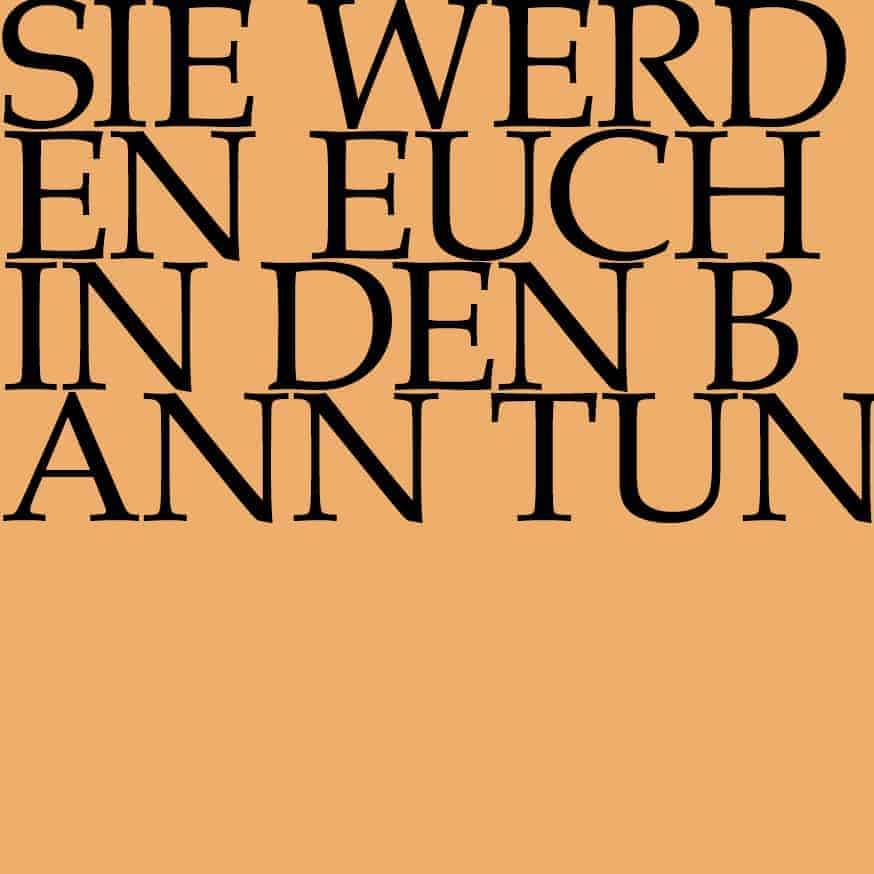 Video
Experience the introductory workshop, concert and reflective lecture in full length.
Musical director & conductor
Rudolf Lutz
Recording & editing
Recording date
15/05/2020
Recording location
Stein AR (Schweiz) // Evangelische Kirche
Sound engineer
Stefan Ritzenthaler
Producer
Meinrad Keel
Executive producer
Johannes Widmer
Production
GALLUS MEDIA AG, Schweiz
Producer
J.S. Bach-Stiftung, St. Gallen, Schweiz
Libretto
1. Rezitativ ‒ Bass
«Sie werden euch in den Bann tun, es kömmt aber die Zeit, daß, wer euch tötet, wird meinen, er tue Gott einen Dienst daran.»
2. Arie ‒ Tenor
Ich fürchte nicht des Todes Schrecken,
ich scheue ganz kein Ungemach.
Denn Jesus' Schutzarm wird mich decken,
ich folge gern und willig nach;
wollt ihr nicht meines Lebens schonen
und glaubt, Gott einen Dienst zu tun,
er soll euch selben noch belohnen,
wohlan, es mag dabei beruhn.
3. Rezitativ ‒ Alt
Ich bin bereit, mein Blut und armes Leben
vor dich, mein Heiland, hinzugeben,
mein ganzer Mensch soll dir gewidmet sein;
ich tröste mich, dein Geist wird bei mir stehen,
gesetzt, es sollte mir vielleicht zu viel geschehen.
4. Arie ‒ Sopran
Höchster Tröster, Heilger Geist,
der du mir die Wege weist,
darauf ich wandeln soll,
hilf meine Schwachheit mit vertreten,
denn von mir selber kann ich nicht beten,
ich weiß, du sorgest vor mein Wohl!
5. Choral
Du bist ein Geist, der lehret,
wie man recht beten soll;
dein Beten wird erhöret,
dein Singen klinget wohl.
Es steigt zum Himmel an,
es steigt und läßt nicht abe,
bis der geholfen habe,
der allein helfen kann.
Bibliographical references
All libretti sourced from Neue Bach-Ausgabe. Johann Sebastian Bach. Neue Ausgabe sämtlicher Werke, published by the Johann-Sebastian-Bach-Institut Göttingen and the Bach-Archiv Leipzig, Series I (Cantatas), vol. 1–41, Kassel and Leipzig, 1954–2000.
All in-depth analyses by Anselm Hartinger (English translations/editing by Alice Noger-Gradon/Mary Carozza) based on the following sources:  Hans-Joachim Schulze, Die Bach-Kantaten. Einführungen zu sämtlichen Kantaten Johann Sebastian Bachs, Leipzig, 2nd edition, 2007; Alfred Dürr, Johann Sebastian Bach. Die Kantaten, Kassel, 9th edition, 2009, and Martin Petzoldt, Bach-Kommentar. Die geistlichen Kantaten, Stuttgart, vol. 1, 2nd edition, 2005 and vol. 2, 1st edition, 2007.