Jauchzet, frohlocket, auf, preiset die Tage
BWV 248/1 // Christmas Oratorio
(Triumph, rejoicing, rise, praising these days now) for alto, tenor and bass, transverse flute I+II, oboe I+II, trumpet I-III, timpani, strings and basso continuo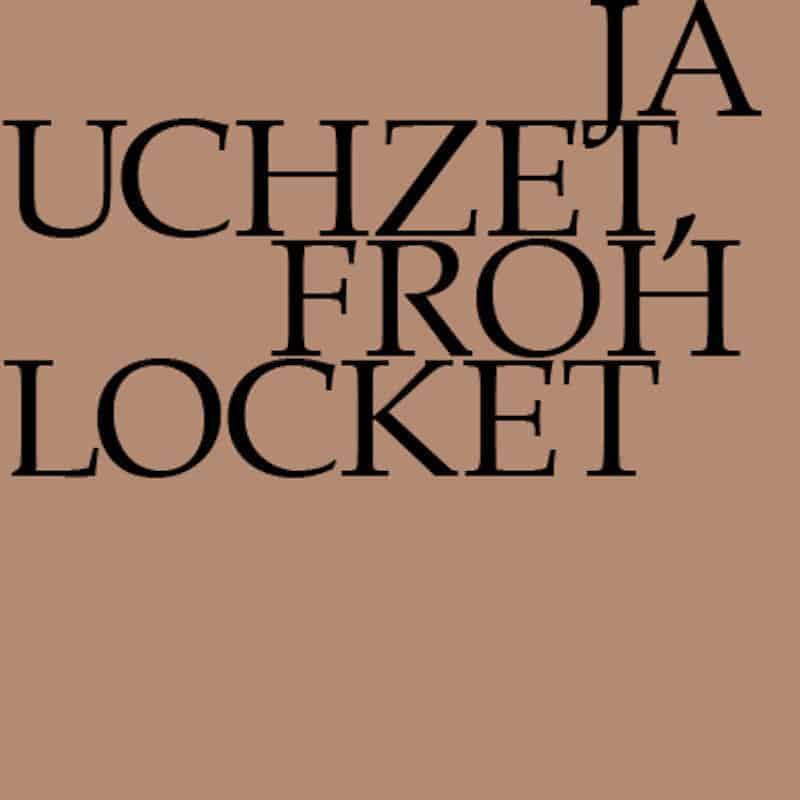 Video
Experience the introductory workshop, concert and reflective lecture in full length.
«Lutzogram» for the introductory workshop
Rudolf Lutz's manuscript for the workshop
Audio
The sound recording of this work is available on several streaming and download platforms.
Choir
Soprano
Jessica Jans, Jennifer Ribeiro Rudin, Susanne Seitter, Noëmi Sohn Nad, Alexa Vogel, Maria Weber
Alto
Antonia Frey, Liliana Lafranchi, Damaris Rickhaus, Simon Savoy, Lisa Weiss
Tenor
Marcel Fässler, Manuel Gerber, Nicolas Savoy, Walter Siegel
Bass
Fabrice Hayoz, Valentin Parli, Daniel Pérez, Philippe Rayot, William Wood
Orchestra
Conductor
Rudolf Lutz
Violin
Renate Steinmann, Monika Baer, Elisabeth Kohler, Olivia Schenkel, Marita Seeger, Salome Zimmermann
Viola
Susanna Hefti, Matthias Jäggi, Martina Zimmermann
Violoncello
Martin Zeller, Hristo Kouzmanov
Violone
Markus Bernhard
Oboe
Kerstin Kramp, Ann Cathrin Collin
Bassoon
Susann Landert
Tromba da tirarsi
Patrick Henrichs, Peter Hasel, Klaus Pfeiffer
Transverse flute
Tomoko Mukoyama, Mara Winter
Timpani
Martin Homann
Organ
Nicola Cumer
Harpsichord
Jörg Andreas Bötticher
Musical director & conductor
Rudolf Lutz
Workshop
Participants
Karl Graf, Rudolf Lutz
Reflective lecture
Speaker
Michael Krüger
Recording & editing
Recording date
15.12.2017
Recording location
Trogen AR (Schweiz) // Evangelische Kirche
Sound engineer
Stefan Ritzenthaler, Nikolaus Matthes
Director
Meinrad Keel
Production manager
Johannes Widmer
Production
GALLUS MEDIA AG, Switzerland
Producer
J.S. Bach Foundation of St. Gallen, Switzerland
Matching publications in our shop
Librettist
Text
Author unknown
First performance
New Year's Day 1735
Libretto
1. Chor
Jauchzet, frohlocket, auf, preiset die Tage,
rühmet, was heute der Höchste getan!
Lasset das Zagen, verbannet die Klage,

stimmet voll Jauchzen und Fröhlichkeit an!
Dienet dem Höchsten mit herrlichen Chören,
laßt uns den Namen des Herrschers verehren!
2. Rezitativ (Evangelist: Tenor)
»Es begab sich aber zu der Zeit, daß ein Gebot von dem
Kaiser Augusto ausging, daß alle Welt geschätzet würde.
Und jedermann ging, daß er sich schätzen ließe, ein
jeglicher in seine Stadt. Da machte sich auch auf Joseph
aus Galiläa, aus der Stadt Nazareth, in das jüdische Land
zur Stadt David, die da heißet Bethlehem; darum, daß er
von dem Hause und Geschlechte David war: auf daß er
sich schätzen ließe mit Maria, seinem vertrauten Weibe,
die war schwanger. Und als sie daselbst waren, kam die
Zeit, daß sie gebären sollte.«
3. Rezitativ (Alt)
Nun wird mein liebster Bräutigam,
nun wird der Held aus Davids Stamm
zum Trost, zum Heil der Erden
einmal geboren werden.
Nun wird der Stern aus Jakob scheinen,
sein Strahl bricht schon hervor.
Auf, Zion, und verlasse nun das Weinen,
dein Wohl steigt hoch empor!
4. Arie (Alt)
Bereite dich, Zion, mit zärtlichen Trieben,
den Schönsten, den Liebsten bald bei dir zu sehn!
Deine Wangen
müssen heut viel schöner prangen,
eile, den Bräutigam sehnlichst zu lieben!
5. Choral
Wie soll ich dich empfangen
und wie begegn' ich dir?
O aller Welt Verlangen,
o meiner Seelen Zier!
O Jesu, Jesu, setze
mir selbst die Fackel bei,
damit, was dich ergötze,
mir kund und wissend sei!
6. Rezitativ (Evangelist: Tenor)
»Und sie gebar ihren ersten Sohn und wickelte ihn in
Windeln und legte ihn in eine Krippen, denn sie hatten
sonst keinen Raum in der Herberge.«
7. Choral (Sopran)
Rezitativ (Bass)
Er ist auf Erden kommen arm,
Wer will die Liebe recht erhöhn,
die unser Heiland vor uns hegt?
daß er unser sich erbarm
Ja, wer vermag es einzusehen,
wie ihn der Menschen Leid bewegt?
und in dem Himmel mache reich
Des Höchsten Sohn kömmt in die Welt,
weil ihm ihr Heil so wohl gefällt,
und seinen lieben Engeln gleich.
so will er selbst als Mensch geboren werden.
Kyrieleis!
8. Arie (Bass)
Großer Herr, o starker König,
liebster Heiland, o wie wenig
achtest du der Erden Pracht!
Der die ganze Welt erhält,
ihre Pracht und Zier erschaffen,
muß in harten Krippen schlafen.
9. Choral

Ach mein herzliebes Jesulein,
mach dir ein rein sanft Bettelein,
zu ruhn in meines Herzens Schrein,
daß ich nimmer vergesse dein!
Bibliographical references
All libretti sourced from Neue Bach-Ausgabe. Johann Sebastian Bach. Neue Ausgabe sämtlicher Werke, published by the Johann-Sebastian-Bach-Institut Göttingen and the Bach-Archiv Leipzig, Series I (Cantatas), vol. 1–41, Kassel and Leipzig, 1954–2000.
All in-depth analyses by Anselm Hartinger (English translations/editing by Alice Noger-Gradon/Mary Carozza) based on the following sources:  Hans-Joachim Schulze, Die Bach-Kantaten. Einführungen zu sämtlichen Kantaten Johann Sebastian Bachs, Leipzig, 2nd edition, 2007; Alfred Dürr, Johann Sebastian Bach. Die Kantaten, Kassel, 9th edition, 2009, and Martin Petzoldt, Bach-Kommentar. Die geistlichen Kantaten, Stuttgart, vol. 1, 2nd edition, 2005 and vol. 2, 1st edition, 2007.