Alles nur nach Gottes Willen
BWV 072 // For the Third Sunday after Epiphany
(All things but as God is willing) for soprano, alto and bass, vocal ensemble, oboe I+II, strings and basso continuo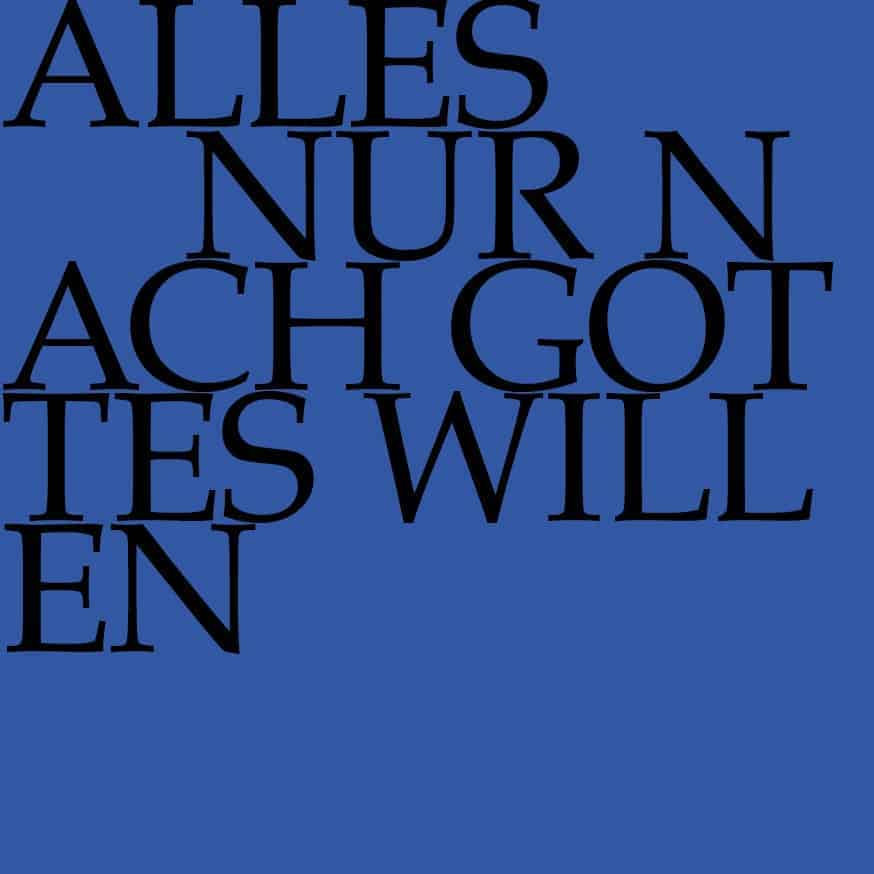 Video
Experience the introductory workshop, concert and reflective lecture in full length.
Workshop
Reflective lecture
Bonus material
«Lutzogram» for the introductory workshop
Rudolf Lutz's manuscript for the workshop
Choir
Soprano
Simone Schwark, Susanne Seitter, Noëmi Tran-Rediger, Alexa Vogel, Anna Walker, Mirjam Wernli
Alto
Roland Faust, Francisca Näf, Lea Pfister-Scherer, Lisa Weiss, Sarah Widmer
Tenor
Clemens Flämig, Zachharie Fogal, Tobias Mäthger, Klemens Mölkner
Bass
Fabrice Hayoz, Grégoire May, Simon Millan, Philippe Rayot, Tobias Wicky
Orchestra
Conductor
Rudolf Lutz
Violin
Eva Borhi, Lenka Torgersen, Peter Barczi, Christine Baumann, Petra Melicharek, Dorothee Mühleisen, Ildiko Sajgo
Viola
Martina Bischof, Matthias Jäggi, Sarah Mühlethaler
Violoncello
Maya Amrein, Daniel Rosin
Violone
Markus Bernhard
Oboe
Andreas Helm, Ingo Müller
Bassoon
Gilat Rotkop
Harpsichord
Jörg-Andreas Bötticher
Organ
Nicola Cumer
Musical director & conductor
Rudolf Lutz
Workshop
Participants
Rudolf Lutz, Pfr. Niklaus Peter
Reflective lecture
Speaker
Roman Bucheli
Recording & editing
Recording date
14/02/2020
Recording location
Trogen AR (Schweiz) // Evangelische Kirche
Sound engineer
Stefan Ritzenthaler
Producer
Meinrad Keel
Executive producer
Johannes Widmer
Production
GALLUS MEDIA AG, Schweiz
Producer
J.S. Bach-Stiftung, St. Gallen, Schweiz
Librettist
First performance
27 January 1726, Leipzig
Text
Salomo Franck (no. 1 – 5),
Duke Albrecht von Preussen (no. 6)
Libretto
1. Chor
Alles nur nach Gottes Willen,
so bei Lust als Traurigkeit,
so bei gut als böser Zeit.
Gottes Wille soll mich stillen
bei Gewölk und Sonnenschein.
Alles nur nach Gottes Willen,
dies soll meine Losung sein.
2. Rezitativ / Arioso — Alt
O selger Christ,
der allzeit seinen Willen
in Gottes Willen senkt,
es gehe, wie es gehe,
bei Wohl und Wehe!
Herr, so du willt, so muß sich alles fügen!
Herr, so du willt, so kannst du mich vergnügen!
Herr, so du willt, verschwindet meine Pein!
Herr, so du willt, werd ich gesund und rein!
Herr, so du willt, wird Traurigkeit zur Freude!
Herr, so du willt, find ich auf Dornen Weide!
Herr, so du willt, werd ich einst selig sein!
Herr, so du willt, laß mich dies Wort im Glauben fassen
und meine Seele stillen!
Herr, so du willt, so sterb ich nicht,
ob Leib und Leben mich verlassen,
wenn mir dein Geist dies Wort ins Herze spricht!
3. Arie — Alt
Mit allem, was ich hab und bin,
will ich mich Jesu lassen,
kann gleich mein schwacher Geist und Sinn
des Höchsten Rat nicht fassen.
Er führe mich nur immerhin
auf Dorn­ und Rosenstraßen.
4. Rezitativ — Bass
So glaube nun!
Dein Heiland saget: Ich wills tun!
Er pflegt die Gnadenhand
noch willigst auszustrecken,
wenn Kreuz und Leiden dich erschrecken.
Er kennet deine Not, und löst dein Kreuzesband!
Er stärkt, was schwach,
und will das niedre Dach
der armen Herzen nicht verschmähen,
darunter gnädig einzugehen.
5. Arie — Sopran
Mein Jesus will es tun, er will dein Kreuz versüßen.
Obgleich dein Herze liegt in viel Bekümmernissen,
soll es doch sanft und still in seinen Armen ruhn,
wenn es der Glaube faßt; mein Jesus will es tun.
6. Choral
Was mein Gott will, das g'scheh allzeit,
sein Will, der ist der beste,
zu helfen den' er ist bereit,
die an ihn glauben feste.
Er hilft aus Not, der fromme Gott,
und züchtiget mit Maßen.
Wer Gott vertraut, fest auf ihn baut,
den will er nicht verlassen.
Bibliographical references
All libretti sourced from Neue Bach-Ausgabe. Johann Sebastian Bach. Neue Ausgabe sämtlicher Werke, published by the Johann-Sebastian-Bach-Institut Göttingen and the Bach-Archiv Leipzig, Series I (Cantatas), vol. 1–41, Kassel and Leipzig, 1954–2000.
All in-depth analyses by Anselm Hartinger (English translations/editing by Alice Noger-Gradon/Mary Carozza) based on the following sources:  Hans-Joachim Schulze, Die Bach-Kantaten. Einführungen zu sämtlichen Kantaten Johann Sebastian Bachs, Leipzig, 2nd edition, 2007; Alfred Dürr, Johann Sebastian Bach. Die Kantaten, Kassel, 9th edition, 2009, and Martin Petzoldt, Bach-Kommentar. Die geistlichen Kantaten, Stuttgart, vol. 1, 2nd edition, 2005 and vol. 2, 1st edition, 2007.