Erhalt uns, Herr, bei deinem Wort
BWV 126 // For Sexagesimae
(Maintain us, Lord, within thy word) for Sexagesima Sunday, for alto, tenor and bass, vocal ensemble, oboe I+II, trumpets, strings and basso continuo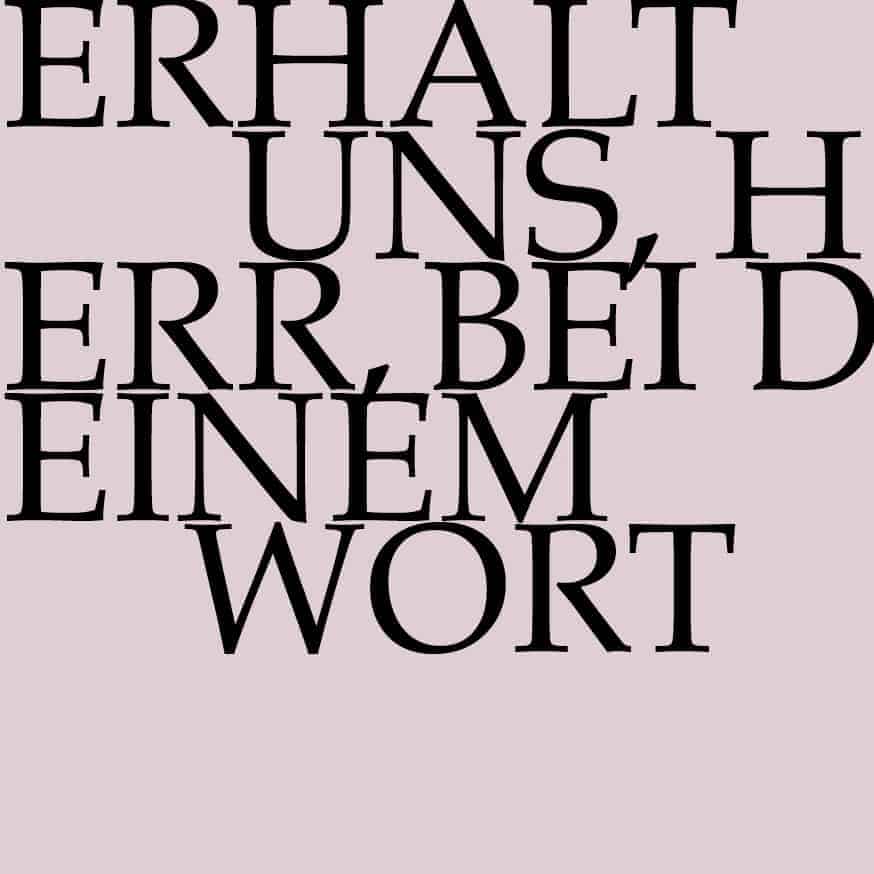 Video
Experience the introductory workshop, concert and reflective lecture in full length.
Workshop
Reflective lecture
«Lutzogram» for the introductory workshop
Rudolf Lutz's manuscript for the workshop
Audio
The sound recording of this work is available on several streaming and download platforms.
Choir
Soprano
Olivia Fündeling, Susanne Seitter, Noëmi Sohn Nad, Alexa Vogel, Anna Walker, Maria Weber
Alto
Laura Binggeli, Antonia Frey, Francisca Näf, Damaris Rickhaus, Simon Savoy
Tenor
Marcel Fässler, Manuel Gerber, Tobias Mäthger, Sören Richter
Bass
Fabrice Hayoz, Grégoire May, Valentin Parli, Jonathan Sells, William Wood
Orchestra
Conductor
Rudolf Lutz
Violin
Renate Steinmann, Monika Baer, Claire Foltzer, Elisabeth Kohler, Olivia Schenkel, Salome Zimmermann
Viola
Susanna Hefti, Martina Zimmermann
Violoncello
Martin Zeller, Bettina Messerschmidt
Violone
Markus Bernhard
Oboe
Katharina Arfken, Philipp Wagner
Trumpet
Lukas Gothszalk
Bassoon
Gilat Rotkop
Harpsichord
Christoph Anzböck
Organ
Nicola Cumer
Musical director & conductor
Rudolf Lutz
Workshop
Participants
Rudolf Lutz, Pfr. Niklaus Peter
Reflective lecture
Speaker
Thomas D. Trummer
Recording & editing
Recording date
22/02/2019
Recording location
ev. Kirche St. Mangen // St. Gallen
Sound engineer
Stefan Ritzenthaler, Nikolaus Matthes
Director
Meinrad Keel
Production manager
Johannes Widmer
Production
GALLUS MEDIA AG, Switzerland
Producer
J.S. Bach Foundation of St. Gallen, Switzerland
Matching publications in our shop
Librettist
First performance
4 February 1725, Leipzig
Text
Poet unknown – based on chorale verses by
Martin Luther (1483–1546) 1, 2, 3, 6a
Justus Jonas Sr. (1493–1555) 4, 5
Johann Walter (1496–1570) 6b
Libretto
1. Chor
Erhalt uns, Herr, bei deinem Wort,
und steur' des Papsts und Türken Mord,
die Jesum Christum, deinen Sohn,
stürzen wollen von seinem Thron.
2. Arie — Tenor
Sende deine Macht von oben,
Herr der Herren, starker Gott!
Deine Kirche zu erfreuen
und der Feinde bittern Spott
augenblicklich zu zerstreuen.
3. Choral; Rezitativ — Alt, Tenor
Alt
Der Menschen Gunst und Macht
wird wenig nützen,
wenn du nicht willt
das arme Häuflein schützen,
Alt, Tenor
Gott heilger Geist, du Tröster wert.
Tenor
Du weißt, dass die verfolgte Gottesstadt
den ärgsten Feind nur in sich selber hat
durch die Gefährlichkeit der falschen Brüder.
Alt, Tenor
Gib dein'm Volk einerlei Sinn auf Erd,
Alt
daß wir, an Christi Leibe Glieder,
im Glauben eins, im Leben einig sei'n.
Alt, Tenor
Steh bei uns in der letzten Not!
Tenor
Es bricht alsdann der letzte Feind herein
und will den Trost von unsern Herzen
trennen;
doch laß dich da als unsern Helfer kennen,
Alt, Tenor
g'leit uns ins Leben aus dem Tod!
4. Arie — Bass
Stürze zu Boden schwülstige Stolze!
Mache zunichte, was sie erdacht!
Laß sie den Abgrund plötzlich verschlingen,
wehre dem Toben feindlicher Macht,
laß ihr Verlangen nimmer gelingen!
5. Rezitativ — Tenor
So wird dein Wort und Wahrheit offenbar,
und stellet sich im höchsten Glanze dar,
daß du vor deine Kirche wachst,
daß du des heilgen Wortes Lehren
zum Segen fruchtbar machst;
und willst du dich als Helfer zu uns kehren,
so wird uns denn in Frieden
des Segens Überfluß beschieden.
6. Choral
Verleih uns Frieden gnädiglich,
Herr Gott, zu unsern Zeiten;
es ist doch ja kein andrer nicht,
der für uns könnte streiten,
denn du, unser Gott, alleine.
Gib unsern Fürst'n und aller Obrigkeit
Fried und gut Regiment,
daß wir unter ihnen
ein geruh'g und stilles Leben führen mögen
in aller Gottseligkeit und Ehrbarkeit. Amen.
Bibliographical references
All libretti sourced from Neue Bach-Ausgabe. Johann Sebastian Bach. Neue Ausgabe sämtlicher Werke, published by the Johann-Sebastian-Bach-Institut Göttingen and the Bach-Archiv Leipzig, Series I (Cantatas), vol. 1–41, Kassel and Leipzig, 1954–2000.
All in-depth analyses by Anselm Hartinger (English translations/editing by Alice Noger-Gradon/Mary Carozza) based on the following sources:  Hans-Joachim Schulze, Die Bach-Kantaten. Einführungen zu sämtlichen Kantaten Johann Sebastian Bachs, Leipzig, 2nd edition, 2007; Alfred Dürr, Johann Sebastian Bach. Die Kantaten, Kassel, 9th edition, 2009, and Martin Petzoldt, Bach-Kommentar. Die geistlichen Kantaten, Stuttgart, vol. 1, 2nd edition, 2005 and vol. 2, 1st edition, 2007.