Erhalt uns, Herr, bei deinem Wort
BWV 126 // For Sexagesimae
(Maintain us, Lord, within thy word) for Sexagesima Sunday, for alto, tenor and bass, vocal ensemble, oboe I+II, trumpets, strings and basso continuo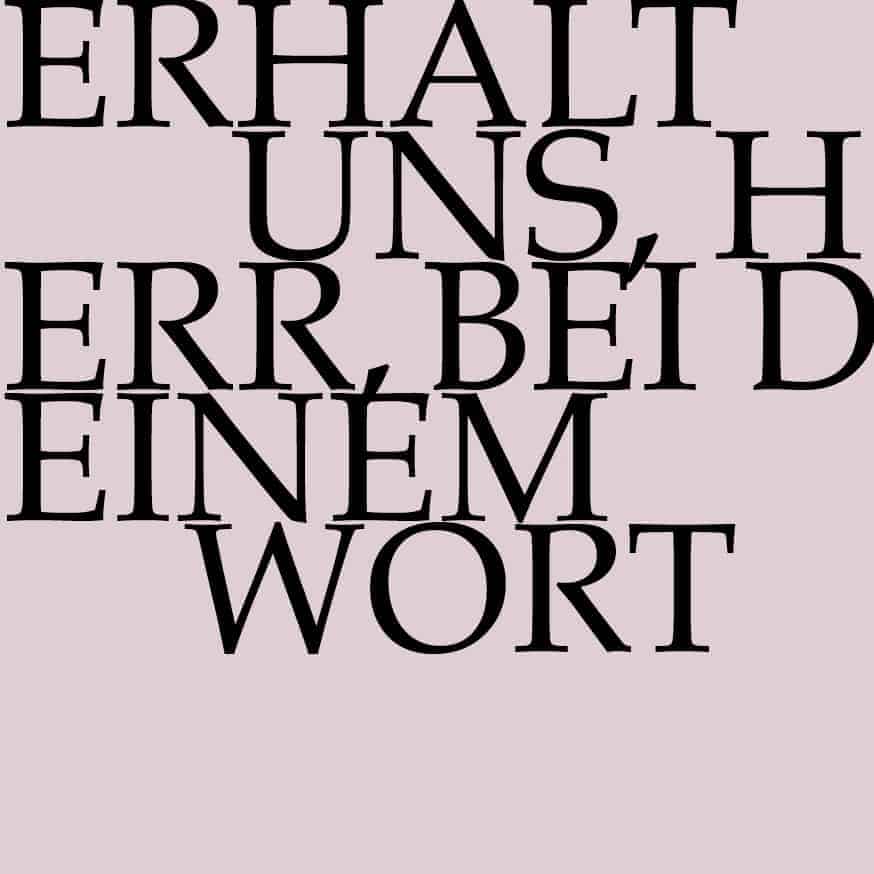 Video
Experience the introductory workshop, concert and reflective lecture in full length.
Workshop
Reflective lecture
«Lutzogram» for the introductory workshop
Rudolf Lutz's manuscript for the workshop
Audio
The sound recording of this work is available on several streaming and download platforms.
Choir
Soprano
Olivia Fündeling, Susanne Seitter, Noëmi Sohn Nad, Alexa Vogel, Anna Walker, Maria Weber
Alto
Laura Binggeli, Antonia Frey, Francisca Näf, Damaris Rickhaus, Simon Savoy
Tenor
Marcel Fässler, Manuel Gerber, Tobias Mäthger, Sören Richter
Bass
Fabrice Hayoz, Grégoire May, Valentin Parli, Jonathan Sells, William Wood
Orchestra
Conductor
Rudolf Lutz
Violin
Renate Steinmann, Monika Baer, Claire Foltzer, Elisabeth Kohler, Olivia Schenkel, Salome Zimmermann
Viola
Susanna Hefti, Martina Zimmermann
Violoncello
Martin Zeller, Bettina Messerschmidt
Violone
Markus Bernhard
Oboe
Katharina Arfken, Philipp Wagner
Trumpet
Lukas Gothszalk
Bassoon
Gilat Rotkop
Harpsichord
Christoph Anzböck
Organ
Nicola Cumer
Musical director & conductor
Rudolf Lutz
Workshop
Participants
Rudolf Lutz, Pfr. Niklaus Peter
Reflective lecture
Speaker
Thomas D. Trummer
Recording & editing
Recording date
22/02/2019
Recording location
ev. Kirche St. Mangen // St. Gallen
Sound engineer
Stefan Ritzenthaler, Nikolaus Matthes
Director
Meinrad Keel
Production manager
Johannes Widmer
Production
GALLUS MEDIA AG, Switzerland
Producer
J.S. Bach Foundation of St. Gallen, Switzerland
Matching publications in our shop
Librettist
First performance
4 February 1725, Leipzig
Text
Poet unknown – based on chorale verses by
Martin Luther (1483–1546) 1, 2, 3, 6a
Justus Jonas Sr. (1493–1555) 4, 5
Johann Walter (1496–1570) 6b
Libretto
1. Chor
Erhalt uns, Herr, bei deinem Wort,
und steur' des Papsts und Türken Mord,
die Jesum Christum, deinen Sohn,
stürzen wollen von seinem Thron.
2. Arie — Tenor
Sende deine Macht von oben,
Herr der Herren, starker Gott!
Deine Kirche zu erfreuen
und der Feinde bittern Spott
augenblicklich zu zerstreuen.
3. Choral; Rezitativ — Alt, Tenor
Alt
Der Menschen Gunst und Macht
wird wenig nützen,
wenn du nicht willt
das arme Häuflein schützen,
Alt, Tenor
Gott heilger Geist, du Tröster wert.
Tenor
Du weißt, dass die verfolgte Gottesstadt
den ärgsten Feind nur in sich selber hat
durch die Gefährlichkeit der falschen Brüder.
Alt, Tenor
Gib dein'm Volk einerlei Sinn auf Erd,
Alt
daß wir, an Christi Leibe Glieder,
im Glauben eins, im Leben einig sei'n.
Alt, Tenor
Steh bei uns in der letzten Not!
Tenor
Es bricht alsdann der letzte Feind herein
und will den Trost von unsern Herzen
trennen;
doch laß dich da als unsern Helfer kennen,
Alt, Tenor
g'leit uns ins Leben aus dem Tod!
4. Arie — Bass
Stürze zu Boden schwülstige Stolze!
Mache zunichte, was sie erdacht!
Laß sie den Abgrund plötzlich verschlingen,
wehre dem Toben feindlicher Macht,
laß ihr Verlangen nimmer gelingen!
5. Rezitativ — Tenor
So wird dein Wort und Wahrheit offenbar,
und stellet sich im höchsten Glanze dar,
daß du vor deine Kirche wachst,
daß du des heilgen Wortes Lehren
zum Segen fruchtbar machst;
und willst du dich als Helfer zu uns kehren,
so wird uns denn in Frieden
des Segens Überfluß beschieden.
6. Choral
Verleih uns Frieden gnädiglich,
Herr Gott, zu unsern Zeiten;
es ist doch ja kein andrer nicht,
der für uns könnte streiten,
denn du, unser Gott, alleine.
Gib unsern Fürst'n und aller Obrigkeit
Fried und gut Regiment,
daß wir unter ihnen
ein geruh'g und stilles Leben führen mögen
in aller Gottseligkeit und Ehrbarkeit. Amen.
Falling to the ground. To speak anger to each other.
Keep us, Lord, by your word
Protestant Church St. Mangen, St. Gallen
Cantata BWV 126
J. S. Bach Foundation, St. Gallen, Friday, 22 February 2019, 5.30 p.m. or 7.00 p.m.
«Er sackte in sich zusammen und fing an. Spielte von unten nach oben sozusagen, nicht wie alle anderen von oben nach unten.» (Ug36) Is this not a self-description, an admission of physical brokenness, of an infirmity and mentally deep horizons? But it is not a self-description, if one can say that at all about this poet, in whom so much is fictional and yet nothing is. Thomas Bernhard describes Glenn Gould, the virtuoso of the Goldberg Variations. A few days ago, on 12 February, the thirtieth anniversary of the author's death was celebrated. "Kaum sass er am Klavier, war er auch schon in sich zusammengesunken gewesen, er sah aus wie ein Tier, bei näherer Betrachtung aber dann wie er scharfsinnige, schöne Mensch, der er gewesen war." (Ug34) Bernhard describes the peculiar pianist crouching, no, crouching in front of the piano, creeping up as if stealthily reaching for the keys. Indeed, Gould had a characteristic style, an unusual posture that he was hardly able to change, not even the movement of his lips. They were signs of utmost concentration and perfection. Gould's peculiar posture conveys something subservient, not to say audacious and conspiratorial. The reason, however, lies in the technique. His teacher Alberto Guerrero had been convinced that strength and support should not come from the upper arms and shoulders but from the back. Bernhard, who should have taken up this idea, naturally, as he used to say, nevertheless did not. He does not describe these eccentricities, as Gould described his own deviation from the norm, but devotes an entire novel, or rather a third, to the pianist. "Der Untergeher" knows a first-person narrator, Glenn Gould and a certain Wertheimer, also a pianist, who had hanged himself shortly before, in Zizers near Landquart, which is why the novel should originally have been called "Chur"; there was even a corresponding cover draft from Suhrkamp already. All three, it is said, studied together with Horowitz in Salzburg, which is of course fiction.
Now listen to the cantata, how the thirty-second notes plummet downwards in snorting cascades. The whole scale. First 7 and then 11. In between, the notes climb back up in eighths. The organ gasps as if in a hasty ascent. Then the bass aria rises, the vocal range that Bernhard actually studied at the Mozarteum and not fictionalised. This descent – one is afraid that the cellos will sabre their strings – this unrestrained plunge, this "from top to bottom", an avalanche, a rumble, a quake, a hellish fall. There is no brokenness, this is vomiting. Here someone is wishing for the fall of others, even murder. "Sustain us, Lord, at thy word, and steur' the pope's and Turk's murder." This is an appeal and – with all due respect to Luther's theological authority – a call to plot. A frightened "from the bottom up". Against the others and the establishment, it is the righters speaking against the rulers, especially against those of other faiths. The second passage is by Justus Jonas, of whom there is a beautiful painting in the Marienkirche in Halle an der Saale. He sits there firmly and heavily, with a stiff backbone. The church is right next to the Handel monument, by the way, who, standing on the pedestal, in bronze, leans casually on a music stand, almost prancing. Jonas strives for a tone that is hardly less prudent. The announcement is irony-free. "Stürze zu Boden. Schwülstige Stolze. Mache zunichte, was sie erdacht. Lass sie den Abgrund plötzlich verschlingen."
Thomas Bernhard, this is the Wutbürger from the literary avant-garde, the Wutbürger avant la lettre. For the word was only coined in 2010, incidentally by a journalist from the "Spiegel" who described this phenomenon of revolt against the decision-makers, the revolt of outraged citizens during a reading by Thilo Sarrazin. This Beckmesserian mischief-maker, always sitting up straight, never broken, it is fair to say, is directed against immigration and Islamisation ("Germany abolishes itself", 2010, "Hostile takeover: How Islam impedes progress and threatens society", 2018), they are the enemy image, otherwise Germany will fall to the ground, although his name "Sarrazin" – as in a staircase joke of history – betrays his origin from the Saracens. Is education really at risk, or even IQ? The Wutbürger have made it into a socially, even demographically relevant group that – if one believes Ralf Konersmann, the great conceptual analyst of German thought – can only think in two stages, that there are "the righteous down here who do not know power but morality on their side". It is the "fanaticism of the saturated". These people speak rage to each other.
With Bernhard, the suada, the misanthropic, the name-calling, the vituperation is a vituperation. He is the rage bourgeois, not because he himself was angry (NZZ), but because he had an ear for the enthusiasts of indignation and comedies of existence, which he exaggerates and overplays. But Bach was already playing a little. For the sabre of the cellos is serious and threatening, but only the first time, but Bach set a dacapo. Like every other time, the evil threat in the repetition is close to farce. Bernhard, however, took the farce to the extreme, with mischievous features around his silent lips. He played literature from bottom to top. But he did not roar and never fanatically. That is what separates him from the rage citizens of today. Always there remains a pinch of gauche uncertainty. "It's all ridiculous when you think of death." That's what Bernhard shouted at the Minister of Culture in 1968 when he indignantly left the hall because the poet spoke of the infamy and mental weakness of the Austrians. Then he slumped down and wanted to look like the beautiful and perceptive person he had actually been.
Thomas Bernhard: Der Untergeher (Ug), Frankfurt am Main: Suhrkamp, 1988.
Paul Jandl: Thomas Bernhard died 30 years ago, NZZ, 11.2.2019.
Ralf Konersmann: Die Widerspenstigkeit der Wutbürger, Hamburger Abendblatt, 31.3.2011.
Thilo Sarrazin: Hostile Takeover. How Islam impedes progress and threatens society, Munich: FinanzBuch-Verlag, 2018.
This text has been translated with DeepL (www.deepl.com).
Bibliographical references
All libretti sourced from Neue Bach-Ausgabe. Johann Sebastian Bach. Neue Ausgabe sämtlicher Werke, published by the Johann-Sebastian-Bach-Institut Göttingen and the Bach-Archiv Leipzig, Series I (Cantatas), vol. 1–41, Kassel and Leipzig, 1954–2000.
All in-depth analyses by Anselm Hartinger (English translations/editing by Alice Noger-Gradon/Mary Carozza) based on the following sources:  Hans-Joachim Schulze, Die Bach-Kantaten. Einführungen zu sämtlichen Kantaten Johann Sebastian Bachs, Leipzig, 2nd edition, 2007; Alfred Dürr, Johann Sebastian Bach. Die Kantaten, Kassel, 9th edition, 2009, and Martin Petzoldt, Bach-Kommentar. Die geistlichen Kantaten, Stuttgart, vol. 1, 2nd edition, 2005 and vol. 2, 1st edition, 2007.