Wer weiß, wie nahe mir mein Ende
BWV 027 // For the Sixteenth Sunday after Trinity
(Who knows how near to me my end is?) for soprano, alto, tenor and bass; vocal ensemble, horn, oboe I+II, strings and basso continuo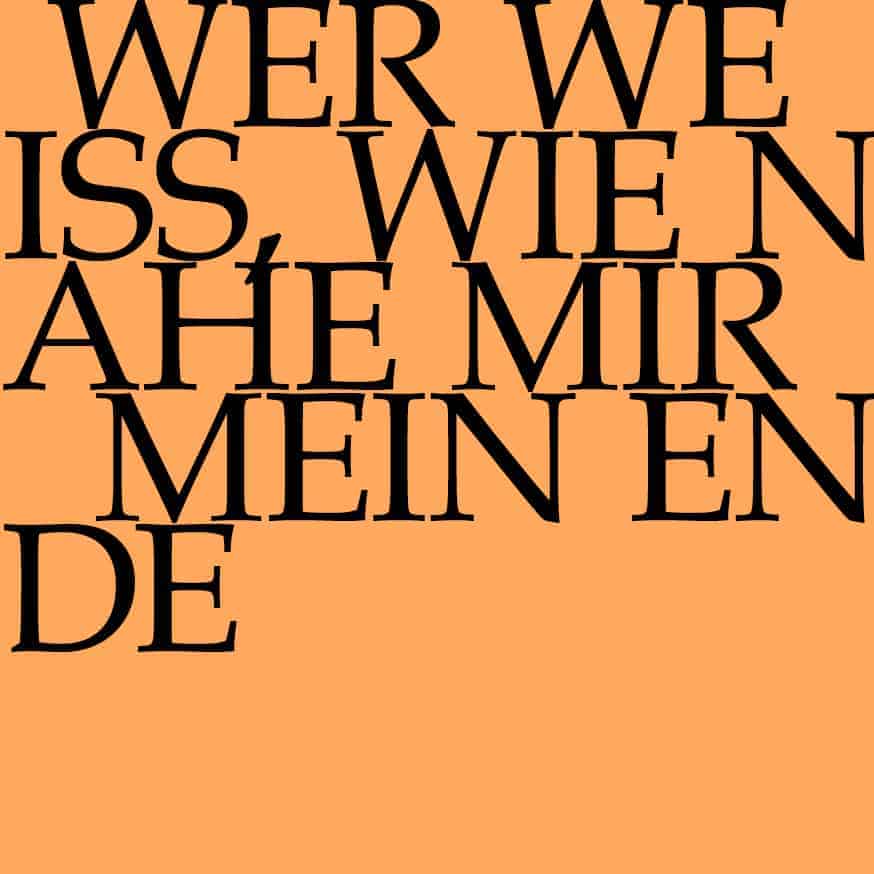 Video
Experience the introductory workshop, concert and reflective lecture in full length.
«Lutzogram» for the introductory workshop
Rudolf Lutz's manuscript for the workshop
Soloists
Choir
Soprano
Lia Andres, Maria Deger, Jessica Jans, Simone Schwark, Noëmi Sohn, Alexa Vogel
Alto
Laura Binggeli, Antonia Frey, Lea Pfister-Scherer, Isabelle Stettler, Jan Thomer
Tenor
Zacharie Fogal, Joël Morand, Sören Richter, Walter Siegel
Bass
Jean-Christophe Groffe, Valentin Parli, Daniel Pérez, Retus Pfister, Philippe Rayot
Orchestra
Conductor & Harpsichord
Rudolf Lutz
Violin
Renate Steinmann, Monika Baer, Andrea Brunner, Elisabeth Kohler, Rahel Wittling, Salome Zimmermann
Viola
Susanna Hefti, Claire Foltzer, Stella Mahrenholz
Violoncello
Martin Zeller, Hristo Kouzmanov
Violone
Markus Bernhard
Horn
Thomas Friedländer
Oboe
Katharina Arfken, Laura Alvarado
Bassoon
Susann Landert
Organ
Nicola Cumer
Musical director & conductor
Rudolf Lutz
Workshop
Participants
Rudolf Lutz, Pfr. Niklaus Peter
Reflective lecture
Speaker
Ina Schmidt
Recording & editing
Recording date
20/08/2021
Recording location
St. Gallen (Switzerland) // Olma-Halle 2.0
Sound engineer
Stefan Ritzenthaler
Producer
Meinrad Keel
Executive producer
Johannes Widmer
Production
GALLUS MEDIA AG, Schweiz
Producer
J.S. Bach-Stiftung, St. Gallen, Schweiz
Matching publications in our shop
Librettist
First performance
6 October 1726, Leipzig
Text
Ämilie Juliane von Schwarzburg-Rudolstadt (movement 1); unknown source (movements 2–5); Johann Georg Albinus (movement 6)
In-depth analysis
BWV 27, composed for the Sixteenth Sunday after Trinity in 1726, numbers among the chorale cantatas written by Bach after completing his annual cycle of 1724/25. Although the librettist remains unknown, the introductory chorus is based on a hymn penned by Countess Ämilie Juliane of Schwarzburg- Rudolstadt (1637–1706), a noblewoman of the imperial estate.
The introductory chorus is characterised by three elements that make up the orchestral opening: a low keynote in broken octaves that provides for a weighty foundation, descending arpeggio sequences in the strings and a haunting oboe duo that punctuates the sarabande- like music with a series of sighs and dissonant accents, evoking a poignant scene of suffering. Thus furnished with an end-of-days backdrop, the choir then commences its unadorned chorale, whose grim prophecy of a "near end" is interpolated with recitative-style passages in which the individual voices either respond to the hymn text ("das weiss der liebe Gott allein" – This knoweth God the Lord alone) or rephrase it in their own words. Through its stark contrast to the despondent undertone of the setting, this exchange of voices emphasises the urgency of the message while also pointing to the opportunity for humans to act piously and make a humble contribution to their own destiny. In this setting, Bach has realised nothing short of a "St Mortal Passion", which, without offering superficial solace, closes in the sombre key of C minor.
The ensuing tenor recitative, supported by only a sparse continuo line, poses an audible challenge to the soloist, who must be always "zum Grabe fertig und bereit" (for death's grave ready and prepared). Indeed, the praiseworthy maxim "Ende gut macht alles gut" (For all is well that endeth well) goes hand-in-hand with the weighty resolution to constantly behave as if each day were the last – the ultimate test of a godly life.
In keeping with his practice of accentuating heightened emotional states through unusual instrumentation, Bach employs in the following aria an alto voice combined with the distinctive timbres of an oboe da caccia and an obligato organ part to illustrate the narrative of the soul's purification and its yearning for the afterworld. Here, the writing for these instruments is typical of Bach: for the oboe da caccia, a lyrical cantilena that anticipates the vocal lines, and for the organ (although probably a harpsichord at the first performance) gleaming lines of running passages and broken chords. As a result, there is a constant juxtaposition of repose and restlessness that encapsulates the whole gamut of emotions sparked by considering one's own death – from joyous anticipation to resigned acceptance. Nevertheless, like the encouragement from a good pastor, the demonstratively pre-emptive da capo of the "Willkommen" (welcome) motto ultimately allows the spirit of resolve to retain the upper hand.
With the soprano recitative "Ach, wer doch schon im Himmel wär" (Ah, who would now in heaven be), Bach once again changes scenes and, following the valiant "whistling past the graveyard" of the previous aria, opens a skylight to the horizon of higher freedom that comes from making clear resolutions. Here, this vision of becoming one with the divine lamb in the bliss of heaven gradually builds to an exclamation of "Flügel her!" (Wings come now!), which succeeds in breaking through even the rigid ceremony of the accompanying string setting.
The bass aria returns the protagonists back to the fray of earthly life. The constant alternation of rapture and down-to-earthiness captured by descending circling figures versus breathless, repeated semiquavers represents a touching portrayal of the conditio humana of a good Christian who is at once still fully here and yet already elsewhere. While it may be coincidence that the motifs and musical flow echo two key passages of the St John Passion – "Bei der Welt ist gar kein Rat" (In the world there is no help) and "Der Held aus Juda siegt mit Macht" (The man of Judah wins with might) – they are nevertheless an apt depiction of the inner turmoil portrayed in this ambiguous piece.
For the closing chorale, Bach has saved a trump that pays equal tribute to Leipzig's hymn tradition and the practices of the Thomas School. Indeed, rather than writing his own setting for the text, Bach employs a five-voice rendition composed by Johann Rosenmüller for the funerals of two daughters of Abraham Teller, Leipzig's archdeacon, in 1649 and 1652. This seemingly simple occasional piece was evidently so valued that it was included in Gottfried Vopelius's "Neu-Leipziger Gesangbuch" (New Leipzig Hymnal) of 1682; later, in 1719, it was used by Johann Kuhnau, Bach's predecessor as Thomas Cantor, as the basis of a cantata chorus. And just as Bach himself paid reverence to the enchanting beauty of this piece by retaining its mensural notation in the closing two lines, we too have duly celebrated the setting by inserting some repeats and passages of consort playing.
Libretto
1. Choral und Rezitativ — Sopran, Alt, Tenor
Wer weiß, wie nahe mir mein Ende?
Sopran
Das weiß der liebe Gott allein,
ob meine Wallfahrt auf der Erden
kurz oder länger möge sein.
Hin geht die Zeit, her kömmt der Tod.
Alt
Und endlich kommt es doch so weit, daß sie zusammentreffen werden.
Ach, wie geschwinde und behende
kann kommen meine Todesnot!
Tenor
Wer weiß, ob heute nicht mein Mund die letzten Worte spricht! Drum bet ich alle Zeit:
Mein Gott, ich bitt durch Christi Blut,
machs nur mit meinem Ende gut!
2. Rezitativ — Tenor
Mein Leben hat kein ander Ziel,
als daß ich möge selig sterben
und meines Glaubens Anteil erben;
drum leb ich allezeit
zum Grabe fertig und bereit,
und was das Werk der Hände tut,
ist gleichsam, ob ich sicher wüsste,
daß ich noch heute sterben müsste;
denn: Ende gut, macht alles gut.
3. Arie — Alt
Willkommen! will ich sagen,
wenn der Tod ans Bette tritt.
Fröhlich will ich folgen,
wenn er ruft in die Gruft.
Alle meine Plagen
nehm ich mit.
4. Rezitativ — Sopran
Ach, wer doch schon im Himmel wär!
Ich habe Lust zu scheiden
und mit dem Lamm,
das aller Frommen Bräutigam,
mich in der Seligkeit zu weiden.
Flügel her!
Ach, wer doch schon im Himmel wär!
5. Arie — Bass
Gute Nacht, du Weltgetümmel!
Jetzt mach ich mit dir Beschluß,
ich steh schon mit einem Fuß
bei dem lieben Gott im Himmel.
6. Choral
Welt, ade! Ich bin dein müde,
ich will nach dem Himmel zu,
da wird sein der rechte Friede
und die ewge stolze Ruh.
Welt, bei dir ist Krieg und Streit,
nichts denn lauter Eitelkeit,
in dem Himmel allezeit
Friede, Freud und Seligkeit.
Ina Schmidt
"Who knows how near to me my end is?"
When I heard this particular death cantata by Johann Sebastian Bach for the first time, I was surprised by the lively power that this piece radiated – as if the music wanted to counteract the worry about one's own finitude with something, something that dares to engage with this unawareness of one's own transience and finitude.
And yet, at the same time, there was a scepticism, a probing and doubtful detachment towards this courageous venture: can we oppose our own finiteness at all, is not the thought alone hope and longing?
Or can we just no longer do it today? Is it because in the 18th century it was still possible to cultivate a different approach to death and dying, the echo of the ars moriendi – the art of dying – which originated in the Middle Ages? At that time, such an art was not intended to drive death out of life, but to ensure that we could prepare ourselves for a dying that we could accept as good.
So can death be "tamed" in this particular artful way? The French cultural historian Philippe Aries was certain that death in earlier epochs had been just such a "tamed" death, embedded in ceremonies and world views, religious beliefs and ideas that weave a cultural texture out of words and melodies, out of thoughts and poetry, in which people can settle, but which today we often dismiss as nebulous illusions, narratives or "biases", enlightened and secularized, as we try to explain death to ourselves today.
But precisely because of this, according to Aries, we do not keep our own finiteness at bay; all medical and technical progress often only results in the tamed death becoming a feral death – behind drawn curtains, lonely, alone with flashing devices and tubes that are supposed to defend life against dying. In all our knowing and explaining, we ultimately lack what is also found in the text of the Dying Cantata: Faith in something that can give us another form of living certainty, trust in something greater than ourselves – and thus enable a lived habit with a death that will come to us at some point, that will not lose its terror, but that we can bear.
End pieces
Surrounded by all these doubts and probing questions, I remembered the poet Rainer Maria Rilke's "Schlussstück," words that have long been meaningful to me: "Death is great, we are His laughing mouth – when we mean ourselves in the midst of life, He dares to weep, in the midst of us."
Over twenty years ago, these lines were part of an obituary with which my husband and I tried to say goodbye to a good friend. He had died suddenly, of an infection, supposedly nothing serious – in the middle of life, just become a father, about to get married, his father said at the funeral: "We were all so happy just now."
I remember how, after his death, I entered for the first time the apartment that was actually so familiar, where we had so often cooked, celebrated and thought about all the important and unimportant things in life. His shoes were still in the hallway, everything seemed the same, and yet there was an emptiness, an absence in those rooms that made everything seem strange, everything so much bigger and me so much smaller.
In the face of death, we are struck by the realization that death is near and yet we cannot grasp it – this knowledge that this nearness does not have to be significant only at the end of a long life suddenly breaks through with full force. We are transient beings, from the moment we are born we are heading towards an end we cannot know. We know the "that" but not the "when." No one can know "how near my end" is, or how many times I may have been near death. One's own or that of another loved one with whom we have just sat, "Who knows if today my mouth will not speak the last words?"
This ignorance is ambivalent. It protects us, the idea of a future in which death is still far away helps us to accept life as a precious gift and to fill it with deeds, desires, experiences and goals. And yet, not infrequently, we have to be aware: In the midst of life, death dares to cry within us. This experience is impressive and painful, but it also shakes us awake, makes us aware of the value of life in a different way and sometimes even raises new questions "laughing mouth".
But how can we bear this tension and uncertainty? How can we love people and make sense, when we dedicate ourselves to these thoughts in all clarity? Meaningless and absurd seems a life that does nothing but end? And yet we are beings full of hope for a good, successful and long life, in which we create something that could remain even if everything comes to an end.
The art of embracing these supposed contradictions and accepting laughter and crying side by side, perhaps even simultaneously, is no easy task, but we are capable of it. We come into the world as finite beings, born into an uncertain future, and the closer we are to that beginning, the more self-evident this knowledge seems: Not only are we finite, but we are also "initial"; every ending holds a beginning, even if we cannot know it. If we talk to children about death, we might be surprised how wise and natural the way these little people and young minds often deal with transience is – they are much less interested in distinguishing between life and death, but know about the conditionality of the two – even if they cannot always put it into words. The fact that tears flow in the process is no reason not to try and – at some point the sun will shine again, as I was able to learn from a 12-year-old thinker. Can we learn to let death into our lives, or rather practice taming it in our own and new way?
To philosophize is to "learn to die."
The thinker Michel de Montaigne considered philosophy to be the intellectual activity that could help us in this endeavor, that is, actually teach us how to die. In his famous essay "To philosophize is to learn to die", the philosopher asks: "The goal of our career is death – our eyes are inevitably fixed on it. How, when it strikes fear and terror into our hearts, can we take even one step forward without shuddering?" To this, for Montaigne, there can be only one answer: We must try to invite death to us and thereby take away its terror – this, he said, is the only way not to save ourselves to a redemptive afterlife, but to live a truly good life. But the philosopher did not mean the attitude alluded to in the cantata of being ready to die at any time and living in anticipation of death, but rather to exhaust one's own life powerfully and presently and yet to listen when death begins to cry in us now and then. To invite him in, even when it hurts and frightens us, like a kind of spiritual "nevertheless": "Let us rob him of his unearthliness, let us keep company with him, let us become accustomed to him, let us consider nothing so often as him."
This idea sounds like something we can try. But not everyone agrees with Montaigne on this: The philosopher Vladimir Jankélévitch, for example, is firmly convinced in his work "Death" that we "decidedly cannot get used to death." It always hits us suddenly in all its harshness and in all its preparation. According to Jankélévitch, one's own finiteness remains one of man's greatest mortifications.
I, too, am sure: most of us have had experiences in which we were inconsolable and certainly did not want to practice getting used to death. But does that make it synonymous with mortification? Can't mortification only come from a disappointed expectation, and what exactly can an expectation of life look like? What exactly does life owe us if we may resent its own impermanence? Yes, the end always strikes us unawares, "despite our precautions," as Jankélévitch points out, but a successful life is not about preventing death, but about the possibility of living with it-without despairing of it forever. It is about finding comfort and support in something that may thereby be a promise, because it goes beyond us and our own lives.
Life in the face of death
And is this not also what Bach is trying to do in his music? To enable consolation in the face of death, not to find words like Rilke or Montaigne, but to use music as a language to create support and forms of expression that allow a "nevertheless" to be imagined and felt. A nonetheless that also lies in questionability, a questionability so radical that it can become a possibility again. A life does not become worthless and meaningless by the fact that it comes to an end at some point. On the contrary, it only lives in this state of tension of coming and going, of beginning and end, and human beings are probably the only beings capable of consciously engaging with this knowledge: Only we live a life in the face of death, if we choose to do so.
At the end of all these reflections there may indeed be the wish, as it says in the cantata, that one's own end may be a "good" one, for "all's well that ends well".
The end of a fulfilled life, in which we are not suddenly torn from our own midst, but a life from which we can take leave – world-weary and life-full – and perhaps no longer have to endure this, but can even want to. I hope, very much, that our friend, who was not at all tired of life and full of the world, and who hoped for a future that was yet to be shaped, was also able to find this peace at that time. A peace that perhaps cannot be an earthly one and that for us, who reflect on it here, is only alive as a question and a possibility. A question we can ask ourselves, together with words and in music – but then we are already on the way to doing exactly what Montaigne wished for so much: To take away the horror of death by inviting it to us – in all the unknowing of the end that will eventually come to us.
This text has been translated with DeepL (www.deepl.com).
Bibliographical references
All libretti sourced from Neue Bach-Ausgabe. Johann Sebastian Bach. Neue Ausgabe sämtlicher Werke, published by the Johann-Sebastian-Bach-Institut Göttingen and the Bach-Archiv Leipzig, Series I (Cantatas), vol. 1–41, Kassel and Leipzig, 1954–2000.
All in-depth analyses by Anselm Hartinger (English translations/editing by Alice Noger-Gradon/Mary Carozza) based on the following sources:  Hans-Joachim Schulze, Die Bach-Kantaten. Einführungen zu sämtlichen Kantaten Johann Sebastian Bachs, Leipzig, 2nd edition, 2007; Alfred Dürr, Johann Sebastian Bach. Die Kantaten, Kassel, 9th edition, 2009, and Martin Petzoldt, Bach-Kommentar. Die geistlichen Kantaten, Stuttgart, vol. 1, 2nd edition, 2005 and vol. 2, 1st edition, 2007.