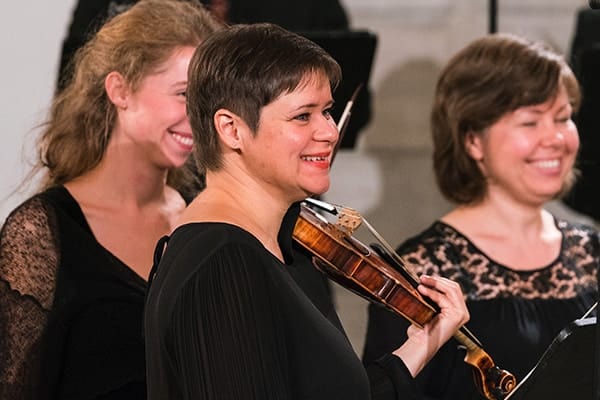 Éva Borhi, born and raised in Hungary, completed her initial studies at the conservatorium in Szeged. After graduating with a concert diploma, she developed a specialisation in baroque violin and completed further studies in Dresden, Trossingen and Basel with Simon Standage, John Holloway, Anton Steck and Chiara Banchini. She has a long-standing collaboration with Ensemble 415 (led by Chiara Banchini) and has performed with the group throughout the world.
Éva Borhi is first violinist of Almaviva, a string quartet that specialises in historically informed performance of classical works on period instruments. She is a permanent leader of the Orchestra of the J. S. Bach Foundation and has performed for many years with the Freiburger Barockorchester. She also appears regularly as orchestra leader with La Cetra Barockorchester Basel and Camerata Basel.
Éva Borhi is co-founder of the renowned Capricornus Consort Basel, with which she has recorded several award-winning CDs.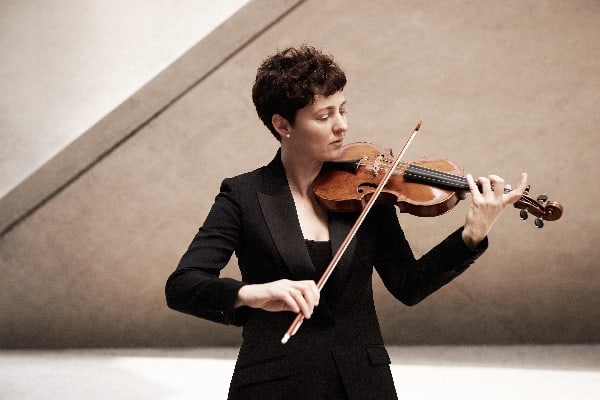 Renate Steinmann, baroque violinist and baroque violist, is a highly respected performer, teacher, orchestra leader and programme manager.
Since its inception in 2006, Renate Steinmann has been a key figure at the J.S. Bach Foundation. As orchestra leader, she formed the original string section and is responsible for its ongoing development. She shares responsibility for artistic and personnel decisions related to the Foundation's ambitious and internationally renowned project to perform and record the entire vocal oeuvre of J.S. Bach. She also works in the post-production team (editing and sound balance) on the Foundation's CD and DVD series with conductor Rudolf Lutz and tonmeister Stefan Ritzenthaler (Gallus Media). In February 2014, the Foundation's studio recording of the St Matthew Passion was released on CD with Renate Steinmann as principal orchestra leader. Since 2006, she has worked with numerous distinguished artists, including Katharina Arfken, Michi Gaigg, Peter Harvey, Klaus Mertens, and Sibylla Rubens.
Renate Steinmann has been orchestra leader of the Zürcher Barockorchester since 2006 and its artistic director since 2014; she also performs as a soloist with the ensemble and is instrumental in the development of its programmes. In 2013, she produced a CD of courtly music from Dresden with the ensemble for the German label Rondeau Production. This project was followed by two programmes per year between 2014 and 2016 dedicated to music of the early Bohemian baroque and the high German baroque. In 2017, the Zürcher Barockorchester performed with soprano Miriam Feuersinger at the festival "Tagen für alte Musik Regensburg"; the concert was recorded live by the Bavarian broadcaster Bayerischen Rundfunk (BR Klassik).
In 2014, Renate Steinmann featured as baroque violist with baroque violinist John Holloway on a recording of works by John Dowland. The CD was released by the label EMC and won first prize at the International Classical Music Awards in 2015.
In addition to her diverse engagements as guest orchestra leader (such as for Gli Angeli de Genève, led by Stephan MacLeod), Renate Steinmann also teaches music at the upper secondary school in Wettingen, Aargau. She has taught violin, viola, chamber music, and orchestral music at the school since 1999 and has prepared numerous young musicians for professional studies. She also directs the local "Wettinger Sommerkonzerte", a concert cycle that aims to foster music appreciation among young people by organising programmes and concert formats that appeal to a young audience. In addition, Renate Steinmann teaches baroque violin and baroque viola in the further education and training programme of "Werkstatt für alte Musik Zürich", a workshop for early music.
Renate Steinmann has an excellent tertiary education and an extensive international network. She graduated from the conservatorium of Winterthur and Zurich (Musikhochschule Winterthur Zürich) with a masters of performance in both violin (under Nora Chastain) and viola (under Wendy Enderle). She then continued her musical studies for several years with Elisabeth Wallfisch in London to deepen her knowledge of historical source analysis and performance practice of baroque and classical repertoire.