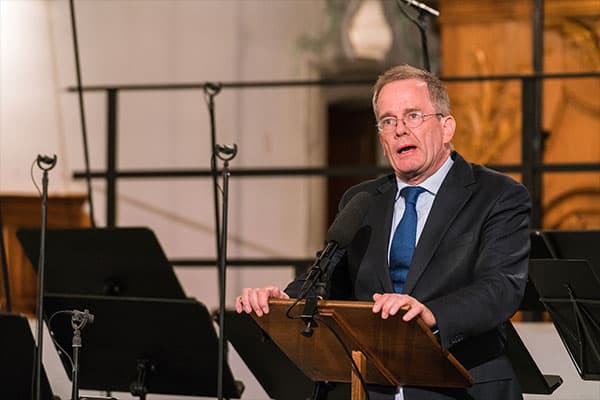 At each cantata concert of the J.S. Bach Foundation, a reflective lecture is given between the two performances of the selected cantata. The lecture serves as a bridge between the baroque text and the modern world, and offers a fresh perspective on the cantata – a symbiosis of word and music that concertgoers greatly appreciate. In the lectures, speakers from a diverse range of backgrounds respond to Bach's music by taking up key themes and passages from the cantata text and combining them with their own, contemporary thoughts and experiences. The highly personal reflections last around fifteen minutes and are an ideal complement to the introductory workshops, which have a theological and musical focus.
Dr Arthur Godel, an arts editor who was programme director of DRS2 (Switzerland's cultural radio station) until his retirement in 2008, will remain responsible for the reflective lectures until the end of 2023. Over the years, Dr Godel has engaged over 170 speakers, including Hans Magnus Enzensberger, Sybille Lewitscharoff, Urban Federer and Aleida Assmann. Now his official engagement at the J. S. Bach Foundation is coming to an end, with the peace of mind of having found a highly suitable successor for the years to come.
In the 2024 concert season, Barbara Bleisch will take on responsibility for the reflective lectures, and she has already identified a number of fascinating potential speakers: "Beyond exploring the cantata texts, the lecturers offer a reflection on our lives and times. My aim is to engage speakers who push our mental boundaries and take us on a journey to new intellectual heights. As in previous years, the evenings will aim to touch both heart and soul – and perhaps include a new surprise every now and again." In line with the purpose of the Foundation, Barbara Bleisch is committed to ensuring that the reflective lectures speak to people of all ages and walks of life.
From 2006 to 2018, the reflective lectures were published in printed form (as a collection in book format until 2012, and then as single editions). Since 2019, the printed lectures have been made available free of charge on our Bachipedia platform.