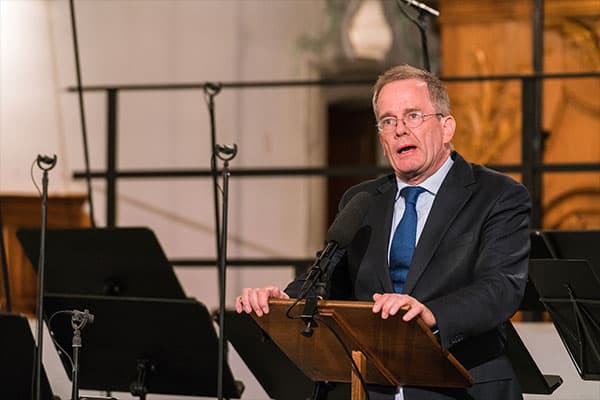 At each cantata concert of the J.S. Bach Foundation, a reflective lecture is given between the two performances of the selected cantata. The lecture serves as a bridge between the baroque text and the modern world, and offers a fresh perspective on the cantata – a symbiosis of word and music that concertgoers greatly appreciate. In the lectures, speakers from a diverse range of backgrounds respond to Bach's music by taking up key themes and passages from the cantata text and combining them with their own, contemporary thoughts and experiences. The highly personal reflections last around fifteen minutes and are an ideal complement to the introductory workshops that have a theological and musical focus.
The selection of speakers is coordinated by Dr Arthur Godel, former programme director of DRS2, Switzerland's cultural radio station. Dr Godel seeks speakers according to the cantata themes and strives to ensure that a broad spectrum of voices and standpoints are represented. From former members of the Swiss Federal Council, to astrophysicists, rabbis and agnostic philosophers, from literature scholars to conductors and musicologists, from economists to journalists: the guest speakers are leading thinkers and personalities with their individual experiences of life and music from throughout the German-speaking cultural world. As an alternative, an artistic reflection is sometimes given in the form of a short musical composition or an art installation.
From 2006 to 2018, the reflective lectures were published in printed form (as a collection in book format until 2012, and then as single editions). From 2019, these publications will be available free of charge on our new Bachipedia platform.