Brich dem Hungrigen dein Brot
BWV 039 // For the First Sunday after Trinity
(Break with hungry men thy bread) for soprano, alto und bass, vocal ensemble, oboe I+II, recorder I+II, strings and basso continuo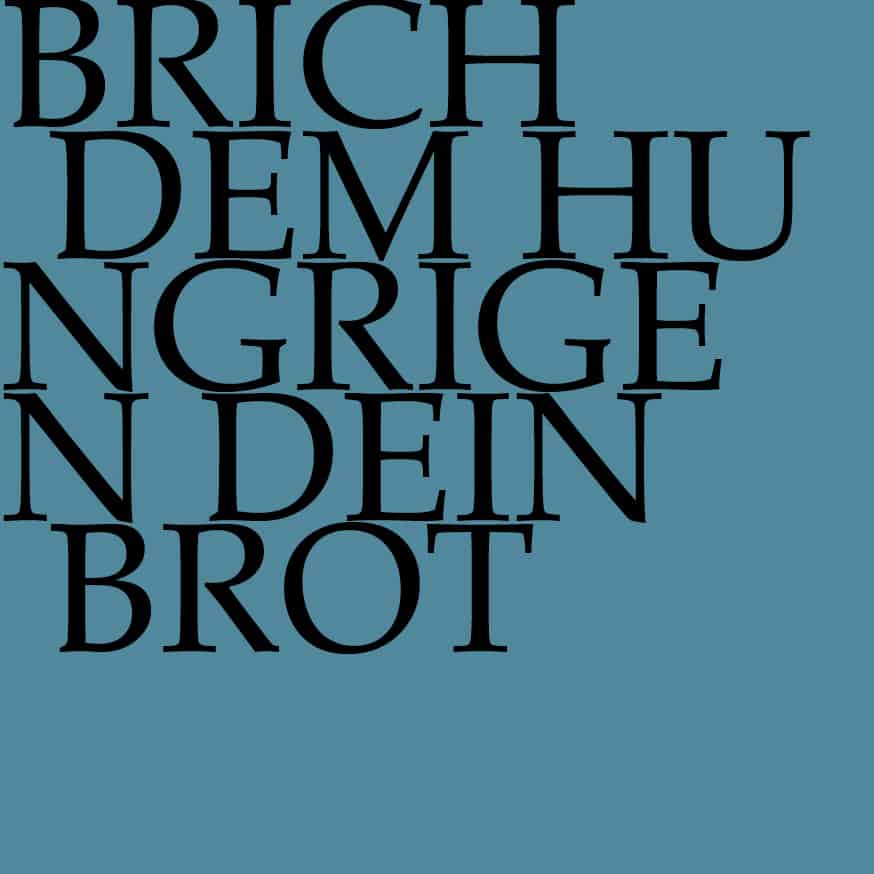 Video
Experience the introductory workshop, concert and reflective lecture in full length.
«Lutzogram» for the introductory workshop
Rudolf Lutz's manuscript for the workshop
Choir
Soprano
Keiko Enomoto, Cornelia Fahrion, Julia Schiwowa, Simone Schwark, Susanne Seitter
Alto
Laura Binggeli, Antonia Frey, Francisca Näf, Lea Pfister-Scherer, Lisa Weiss
Tenor
Rodrigo Carreto, Tiago Oliveira, Sören Richter, Nicolas Savoy
Bass
Fabrice Hayoz, Serafin Heusser, Grégoire May, Daniel Pérez, Philippe Rayot
Orchestra
Conductor
Rudolf Lutz
Violin
Renate Steinmann, Monika Baer, Patricia Do, Elisabeth Kohler, Olivia Schenkel, Salome Zimmermann
Viola
Susanna Hefti, Claire Foltzer, Matthias Jäggi
Violoncello
Martin Zeller, Hristo Kouzmanov
Violone
Markus Bernhard
Recorder/Flute
Yukiko Yaita, Kiichi Suganuma
Oboe
Andreas Helm, Philipp Wagner
Bassoon
Susann Landert
Harpsichord
Thomas Leininger
Organ
Nicola Cumer 
Musical director & conductor
Rudolf Lutz
Workshop
Participants
Rudolf Lutz, Pfr. Niklaus Peter
Reflective lecture
Speaker
Werner van Gent
Recording & editing
Recording date
18/03/2022
Recording location
Trogen AR (Schweiz) // Evangelische Kirche
Sound engineer
Stefan Ritzenthaler
Producer
Meinrad Keel
Executive producer
Johannes Widmer
Production
GALLUS MEDIA AG, Schweiz
Producer
J.S. Bach-Stiftung, St. Gallen, Schweiz
Matching publications in our shop
Librettist
First performance
23 June 1726, Leipzig
Text
Isaiah 58:7–8 (movement 1); Letter to the Hebrews 13, 16 (movement 4); David Denicke (movement 7); unknown poet/texts printed in Meiningen 1719 and Rudolstadt 1726 (movements 2–3), Christoph Birkmann (movements 5–6)
Libretto
1. Chor
«Brich dem Hungrigen dein Brot, und die, so im Elend sind, führe ins Haus! So du einen nacket siehest, so kleide ihn und entzeuch dich nicht von deinem Fleisch. Alsdenn wird dein Licht herfürbrechen wie die Morgenröte, und deine Besserung wird schnell wachsen, und deine Gerechtigkeit wird für dir hergehen, und die Herrlichkeit des Herrn wird dich zu sich nehmen.»
2. Rezitativ — Bass
Der reiche Gott wirft seinen Überfluß
auf uns, die wir ohn ihn auch nicht den Odem haben.
Sein ist es, was wir sind; er gibt nur den Genuß,
doch nicht, daß uns allein
nur seine Schätze laben.
Sie sind der Probestein,
wodurch er macht bekannt,
daß er der Armut auch die Notdurft ausgespendet,
als er mit milder Hand,
was jener nötig ist, uns reichlich zugewendet.
Wir sollen ihm für sein gelehntes Gut
die Zinse nicht in seine Scheuren bringen;
Barmherzigkeit, die auf dem Nächsten ruht,
kann mehr als alle Gab ihm an das Herze dringen.
3. Arie — Alt
Seinem Schöpfer noch auf Erden
nur im Schatten ähnlich werden,
ist im Vorschmack selig sein.
Sein Erbarmen nachzuahmen,
streuet hier des Segens Samen,
den wir dorten bringen ein.
4. Arie — Bass
«Wohlzutun und mitzuteilen vergesset nicht; denn solche Opfer gefallen Gott wohl.»
5. Arie — Sopran
Höchster, was ich habe,
ist nur deine Gabe.
Wenn vor deinem Angesicht
ich schon mit dem meinen
dankbar wollt erscheinen,
willt du doch kein Opfer nicht.
6. Rezitativ — Alt
Wie soll ich dir, o Herr! denn sattsamlich vergelten,
was du an Leib und Seel mir hast zugut getan?
Ja, was ich noch empfang, und solches gar nicht selten,
weil ich mich jede Stund noch deiner rühmen kann?
Ich hab nichts als den Geist, dir eigen zu ergeben,
dem Nächsten die Begierd, daß ich ihm dienstbar werd,
der Armut, was du mir gegönnt in diesem Leben,
und, wenn es dir gefällt, den schwachen Leib der Erd.
Ich bringe, was ich kann, Herr, laß es dir behagen,
daß ich, was du versprichst, auch einst davon mög tragen.
7. Choral
Selig sind, die aus Erbarmen
sich annehmen fremder Not,
sind mitleidig mit den Armen,
bitten treulich für sie Gott.
Die behülflich sind mit Rat,
auch, wo möglich, mit der Tat,
werden wieder Hülf empfangen
und Barmherzigkeit erlangen.
Bibliographical references
All libretti sourced from Neue Bach-Ausgabe. Johann Sebastian Bach. Neue Ausgabe sämtlicher Werke, published by the Johann-Sebastian-Bach-Institut Göttingen and the Bach-Archiv Leipzig, Series I (Cantatas), vol. 1–41, Kassel and Leipzig, 1954–2000.
All in-depth analyses by Anselm Hartinger (English translations/editing by Alice Noger-Gradon/Mary Carozza) based on the following sources:  Hans-Joachim Schulze, Die Bach-Kantaten. Einführungen zu sämtlichen Kantaten Johann Sebastian Bachs, Leipzig, 2nd edition, 2007; Alfred Dürr, Johann Sebastian Bach. Die Kantaten, Kassel, 9th edition, 2009, and Martin Petzoldt, Bach-Kommentar. Die geistlichen Kantaten, Stuttgart, vol. 1, 2nd edition, 2005 and vol. 2, 1st edition, 2007.