Sie werden aus Saba alle kommen
BWV 065 // Epiphany
(They shall from Sheba all be coming) for the Feast of Epiphany, for tenor and bass, vocal ensemble, horn I+II, recorder I+II, oboe da caccia I+II, strings and basso continuo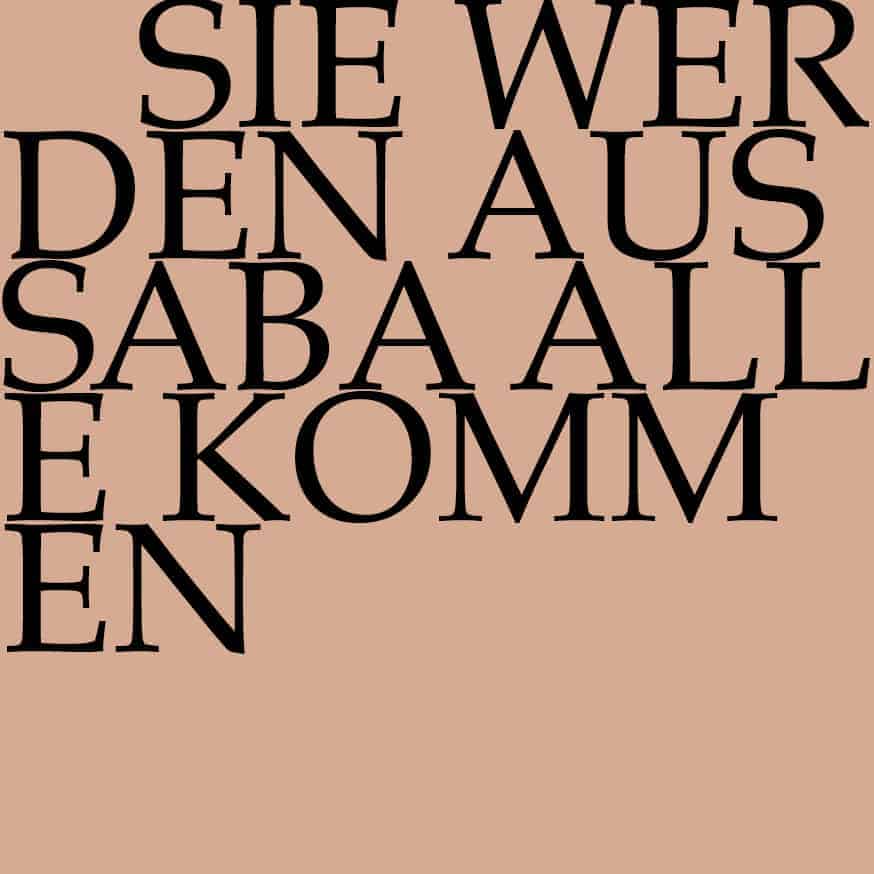 Video
Experience the introductory workshop, concert and reflective lecture in full length.
Workshop
Reflective lecture
Bonus material
«Lutzogram» for the introductory workshop
Rudolf Lutz's manuscript for the workshop
Choir
Soprano
Simone Schwark, Susanne Seitter, Noëmi Tran-Rediger Alexa Vogel, Anna Walker, Mirjam Wernli
Alto
Laura Binggeli, Antonia Frey, Dina König, Francisca Näf, Simon Savoy
Tenor
Manuel Gerber, Achim Glatz, Tobias Mäthger, Joël Morand
Bass
Serafin Heusser, Simón Millán, Daniel Pérez, Retus Pfister, Philippe Rayot, Tobias Wicky
Orchestra
Conductor
Rudolf Lutz
Violin
Eva Borhi, Christine Baumann, Petra Melicharek, Ildiko Sajgo, Cecilie Valter, Aliza Vicente Aranda
Viola
Peter Barczi, Sarah Mühlethaler, Rafael Roth
Violoncello
Maya Amrein, Daniel Rosin
Violone
Guisella Massa
Corni da caccia
Stephan Katte, Olivier Picon
Recorder
Annina Stahlberger, Teresa Hackel
Oboe da caccia
Andreas Helm, Thomas Meraner
Bassoon
Susann Landert
Harpsichord
Thomas Leininger
Organ
Nicola Cumer
Musical director & conductor
Rudolf Lutz
Workshop
Participants
Rudolf Lutz, Pfr. Niklaus Peter
Reflective lecture
Speaker
Arend Hoyer
Recording & editing
Recording date
15/01/2021
Recording location
St.Gallen (Switzerland) // Olma-Halle 2.0
Sound engineer
Stefan Ritzenthaler
Producer
Meinrad Keel
Executive producer
Johannes Widmer
Production
GALLUS MEDIA AG, Schweiz
Producer
J.S. Bach-Stiftung, St. Gallen, Schweiz
Matching publications in our shop
Librettist
First performance
6 January 1724, Leipzig
Text
Isaiah 60:6 (movement 1); Johann Spangenberg (movement 2); anonymous (movements 3–6); Sebastian Franck (movement 7)
Libretto
1. Chor
«Sie werden aus Saba alle kommen, Gold und Weihrauch bringen und des Herren Lob verkündigen.»
2. Choral
Die Kön'ge aus Saba kamen dar,
Gold, Weihrauch, Myrrhen brachten sie dar,
alleluja, alleluja!
3. Rezitativ — Bass
Was dort Jesaias vorhergesehn,
das ist zu Bethlehem geschehn.
Hier stellen sich die Weisen
bei Jesu Krippen ein
und wollen ihn als ihren König preisen.
Gold, Weihrauch, Myrrhen sind
die köstlichen Geschenke,
womit sie dieses Jesuskind
zu Bethlehem im Stall beehren.
Mein Jesu, wenn ich itzt an meine Pflicht gedenke,
muß ich mich auch zu deiner Krippen kehren
und gleichfalls dankbar sein:
Denn dieser Tag ist mir ein Tag der Freuden,
da du, o Lebensfürst,
das Licht der Heiden
und ihr Erlöser wirst.
Was aber bring ich wohl, du Himmelskönig?
Ist dir mein Herze nicht zuwenig,
so nimm es gnädig an,
weil ich nichts Edlers bringen kann.
4. Arie — Bass
Gold aus Ophir ist zu schlecht,
weg, nur weg mit eitlen Gaben,
die ihr aus der Erden brecht!
Jesus will das Herze haben.
Schenke dies, o Christenschar,
Jesu zu dem neuen Jahr!
5. Rezitativ — Tenor
Verschmähe nicht,
du, meiner Seelen Licht,
mein Herz, das ich in Demut zu dir bringe.
Es schließt ja solche Dinge
in sich zugleich mit ein,
die deines Geistes Früchte sein.
Des Glaubens Gold, der Weihrauch des Gebets,
die Myrrhen der Geduld sind meine Gaben,
die sollst du, Jesu, für und für
zum Eigentum und zum Geschenke haben.
Gib aber dich auch selber mir,
so machst du mich zum Reichsten auf der Erden;
denn, hab ich dich, so muß
des größten Reichtums Überfluß
mir dermaleinst im Himmel werden.
6. Arie — Tenor
Nimm mich dir zu eigen hin,
nimm mein Herze zum Geschenke.
Alles, alles, was ich bin,
was ich rede, tu und denke,
soll, mein Heiland, nur allein
dir zum Dienst gewidmet sein.
7. Choral
Hier ist mein Herz, Herr, nimm es hin,
Dir hab ich es ergeben.
Welt immer fort aus meinem Sinn
Mit deinem bösen Leben:
Dein Tun und Tand hat nicht Bestand,
Das bin ich worden innen.
Drum schwingt aus dir sich mit Begier
Mein freier Geist von hinnen.
Bibliographical references
All libretti sourced from Neue Bach-Ausgabe. Johann Sebastian Bach. Neue Ausgabe sämtlicher Werke, published by the Johann-Sebastian-Bach-Institut Göttingen and the Bach-Archiv Leipzig, Series I (Cantatas), vol. 1–41, Kassel and Leipzig, 1954–2000.
All in-depth analyses by Anselm Hartinger (English translations/editing by Alice Noger-Gradon/Mary Carozza) based on the following sources:  Hans-Joachim Schulze, Die Bach-Kantaten. Einführungen zu sämtlichen Kantaten Johann Sebastian Bachs, Leipzig, 2nd edition, 2007; Alfred Dürr, Johann Sebastian Bach. Die Kantaten, Kassel, 9th edition, 2009, and Martin Petzoldt, Bach-Kommentar. Die geistlichen Kantaten, Stuttgart, vol. 1, 2nd edition, 2005 and vol. 2, 1st edition, 2007.