Gottes Zeit ist die allerbeste Zeit
BWV 106 // Funeral music
(God's own time is the very best of times) Livestreaming
The coronavirus made it impossible to perform the cantata concert of Friday, March 20, 2020 in Speicher. With the necessary humility, we now must wait until the world is healthy again.
Introduction to the cantata BWV 106 at the keyboard, organ concert in the form of an improvisation based on the "Actus Tragicus"
The "real" concert with the cantata "Gottes Zeit ist die allerbeste Zeit" including sound and image recording will be postponed until Corona is over. It will come; but meanwhile we know that not everything is in our hands.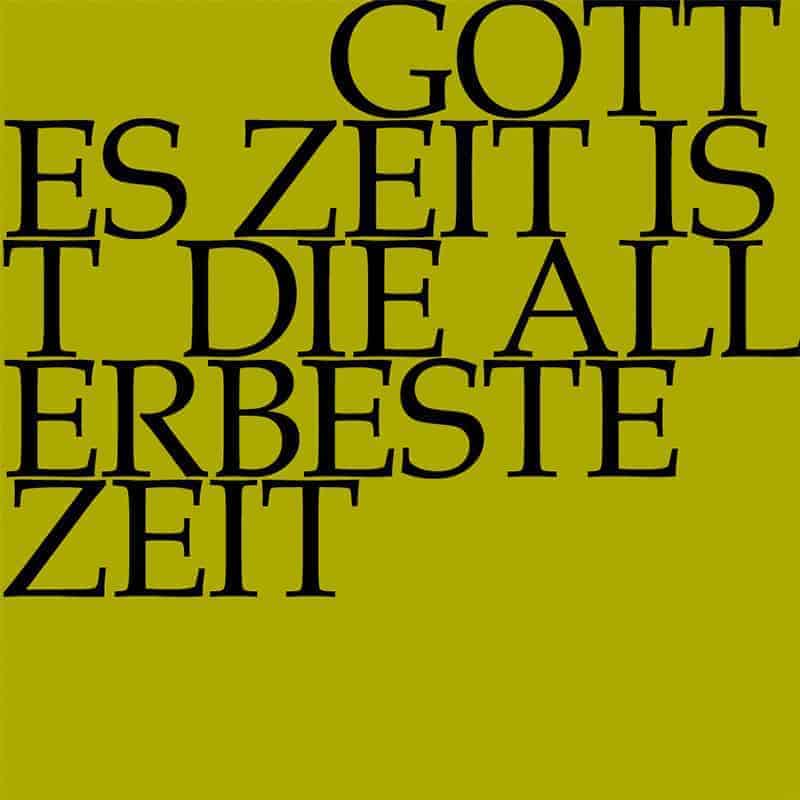 Video
Listen and see the introductory workshop, the concert and the reflection lecture in full length.
Musical director & conductor
Rudolf Lutz
Recording & editing
Recording date
20/03/2020
Recording location
Stein AR (Schweiz) // Evangelische Kirche
Sound engineer
Stefan Ritzenthaler
Producer
Meinrad Keel
Executive producer
Johannes Widmer
Production
GALLUS MEDIA AG, Schweiz
Producer
J.S. Bach-Stiftung, St. Gallen, Schweiz
Text of the work and musical-theological comments
2.a Chor
Gottes Zeit ist die allerbeste Zeit.
«In ihm leben, weben und sind wir,»
solange er will.
In ihm sterben wir zur rechter Zeit,
wenn er will.
2.b Arioso — Tenor
Ach, Herr, «lehre uns bedenken,
daß wir sterben müssen,
auf daß wir klug werden.»
2.c Arie — Bass
«Bestelle dein Haus; denn du wirst sterben
und nicht lebendig bleiben!
Bestelle dein Haus!»
2.d Chor — Sopran
Tutti
«Es ist der alte Bund:» Mensch,
«du mußt sterben!»
Sopran
«Ja, komm, Herr Jesu!»
3.a Arie — Altus
«In deine Hände befehl ich meinen Geist;
du hast mich erlöset, Herr, du getreuer Gott.»
3.b Arioso — Bass; Choral
Bass
«Heute wirst du mit mir im Paradies sein.»
Tutti
Mit Fried und Freud ich fahr dahin
in Gottes Willen,
getrost ist mir mein Herz und Sinn,
sanft und stille,
wie Gott mir verheißen hat:
Der Tod ist mein Schlaf worden.
4. Choral
Glorie, Lob, Ehr und Herrlichkeit
sei dir, Gott Vater und Sohn bereit,
dem Heilgen Geist mit Namen!
Die göttlich Kraft
macht uns sieghaft
durch Jesum Christum, amen.
Bibliographical references
All cantata texts were taken from «Neue Bach-Ausgabe. Johann Sebastian Bach. Neue Ausgabe sämtlicher Werke», published by the Johann-Sebastian-Bach-Institut Göttingen and the Bach-Archiv Leipzig, Series I (Cantatas), vol. 1-41, Kassel and Leipzig, 1954-2000.
All introductory texts to the works including the texts " in-depth analysis" as well as the " musical-theological comments" were written by Anselm Hartinger and Rev. Niklaus Peter as well as Rev. Karl Graf (translations by Alice Noger) upon consideration of the following references:  Hans-Joachim Schulze, «Die Bach-Kantaten. Einführungen zu sämtlichen Kantaten Johann Sebastian Bachs», Leipzig, 2nd edition, 2007; Alfred Dürr, «Johann Sebastian Bach. Die Kantaten», Kassel, 9th edition, 2009, and Martin Petzoldt, «Bach-Kommentar. Die geistlichen Kantaten», Stuttgart, vol. 1, 2nd edition, 2005 and vol. 2, 1st edition, 2007.