Jesu, nun sei gepreiset
BWV 011 // for Ascension
(Laud to God in all his kingdoms) for soprano, alto, tenor and bass, vocal ensemble, trumpet I–III, timpani, transverse flute I+II oboe I+II, strings and basso continuo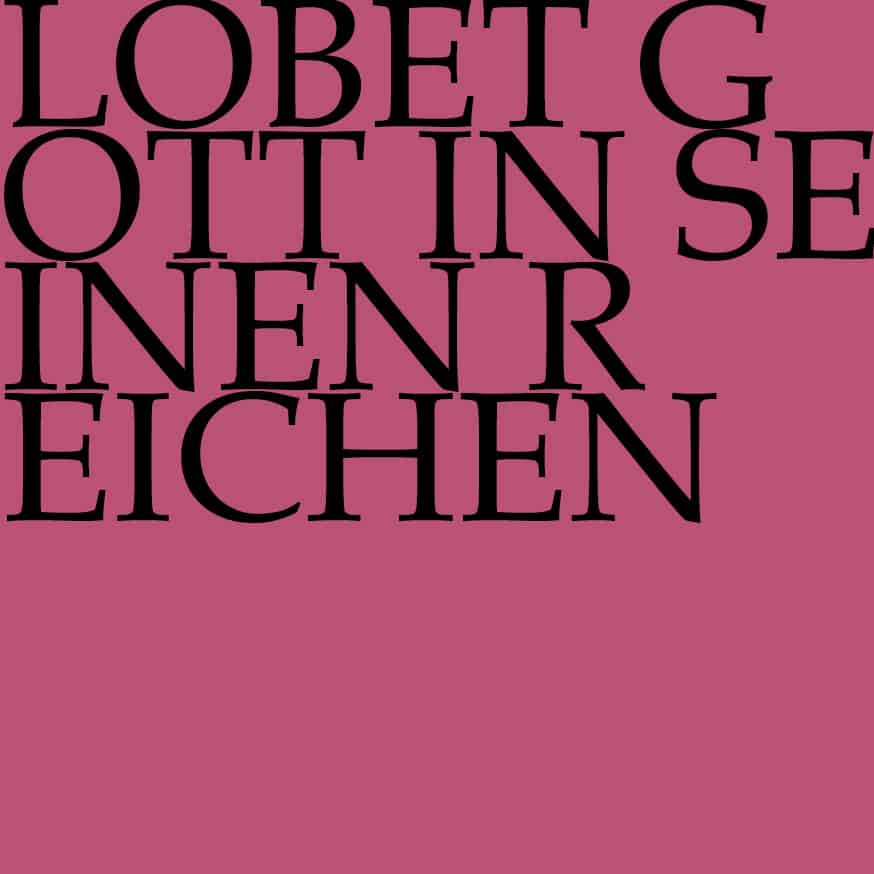 Video
Experience the introductory workshop, concert and reflective lecture in full length.
«Lutzogram» for the introductory workshop
Rudolf Lutz's manuscript for the workshop
Soloists
Choir
Soprano
Cornelia Fahrion, Linda Loosli, Simone Schwark, Susanne Seitter, Alexa Vogel, Anna Walker
Alto
Nanora Büttiker, Antonia Frey, Stefan Kahle, Francisca Näf, Sarah Widmer
Tenor
Clemens Flämig, Manuel Gerber, Joël Morand, Walter Siegel
Bass
Johannes Hill, Christian Kotsis, Valentin Parli, Serafin Heusser, Tobias Wicky
Orchestra
Conductor
Rudolf Lutz
Violin
Eva Borhi, Peter Barczi, Christine Baumann, Petra Melicharek, Dorothee Mühleisen, Ildikó Sajgó, Judith von der Goltz
Viola
Martina Bischof, Sonoko Asabuki, Matthias Jäggi
Violoncello
Maya Amrein, Daniel Rosin
Violone
Markus Bernhard
Trumpet
Patrick Henrichs, Peter Hasel, Klaus Pfeiffer
Timpani
Martin Homann
Transverse flute
Tomoko Mukoyama, Sarah van Cornewal
Oboe
Katharina Arfken, Philipp Wagner, Clara Espinosa
Bassoon
Gilat Rotkop
Harpsichord
Thomas Leininger
Organ
Nicola Cumer 
Musical director & conductor
Rudolf Lutz
Workshop
Participants
Rudolf Lutz, Pfr. Niklaus Peter
Reflective lecture
Speaker
Jean-Paul Deschler
Recording & editing
Recording date
29/05/2022
Recording location
Teufen AR (Schweiz) // Evangelische Kirche
Sound engineer
Stefan Ritzenthaler
Producer
Meinrad Keel
Executive producer
Johannes Widmer
Production
GALLUS MEDIA AG, Schweiz
Producer
J.S. Bach-Stiftung, St. Gallen, Schweiz
Matching publications in our shop
Librettist
First performance
19 May 1735, Leipzig
Text
Poet unknown (movements 1, 3, 4, 7b, 8)
Luke 24:50-51 (movement 2)
Acts 1:9 and Mark 16:19 (movement 5)
Johann Rist (movement 6)
Acts 1:10-11 (movement 7a)
Luke 24:52 and Acts 1:12 (movement 7c)
Gottfried Wilhelm Sacer (movement 9)
Libretto
1. Chor
Lobet Gott in seinen Reichen,
preiset ihn in seinen Ehren,
rühmet ihn in seiner Pracht;
sucht sein Lob recht zu vergleichen,
wenn ihr mit gesamten Chören
ihm ein Lied zu Ehren macht!
2. Rezitativ — Tenor
Der Herr Jesus hub seine Hände auf und segnete seine Jünger, und es geschah, da er sie segnete, schied er von ihnen.
3. Rezitativ — Bass
Ach, Jesu, ist dein Abschied schon so nah?
Ach, ist denn schon die Stunde da,
da wir dich von uns lassen sollen?
Ach, siehe, wie die heißen Tränen
von unsern blassen Wangen rollen,
wie wir uns nach dir sehnen,
wie uns fast aller Trost gebricht.
Ach, weiche doch noch nicht!
4. Arie — Alt
Ach, bleibe doch, mein liebstes Leben,
ach, fliehe nicht so bald von mir!
Dein Abschied und dein frühes Scheiden
bringt mir das allergrößte Leiden,
Ach ja, so bleibe doch noch hier;
sonst werd ich ganz von Schmerz umgeben.
5. Rezitativ — Tenor (Evangelist)
Und ward aufgehaben zusehends und fuhr auf gen Himmel, eine Wolke nahm ihn weg vor ihren Augen, und er sitzet zur rechten Hand Gottes.
6. Choral
Nun lieget alles unter dir,
dich selbst nur ausgenommen;
die Engel müssen für und für
dir aufzuwarten kommen.
Die Fürsten stehn auch auf der Bahn
und sind dir willig untertan;
Luft, Wasser, Feuer, Erden
muss dir zu Dienste werden.
7a. Rezitativ — Tenor und Bass
Tenor (Evangelist)
Und da sie ihm nachsahen gen Himmel fahren, siehe, da stunden bei ihnen zwei Männer in weißen Kleidern, welche auch sagten:
Tenor und Bass
Ihr Männer von Galiläa, was stehet ihr und sehet gen Himmel? Dieser Jesus, welcher von euch ist aufgenommen gen Himmel, wird kommen, wie ihr ihn gesehen habt gen Himmel fahren.
7b. Rezitativ — Alt
Ach ja! so komme bald zurück: Tilg einst mein trauriges Gebärden, sonst wird mir jeder Augenblick verhasst und Jahren ähnlich werden.
7c. Rezitativ — Tenor (Evangelist)
Sie aber beteten ihn an, wandten um gen Jerusalem von dem Berge, der da heißet der Ölberg, welcher ist nahe bei Jerusalem und liegt einen Sabbater-Weg davon, und sie kehreten wieder gen Jerusalem mit großer Freude.
8. Arie — Sopran
Jesu, deine Gnadenblicke
kann ich doch beständig sehn.
Deine Liebe bleibt zurücke,
dass ich mich hier in der Zeit
an der künftgen Herrlichkeit
schon voraus im Geist erquicke,
wenn wir einst dort vor dir stehn.
9. Choral
Wenn soll es doch geschehen,
wenn kömmt die liebe Zeit,
dass ich ihn werde sehen
in seiner Herrlichkeit?
Du Tag, wenn wirst du sein,
dass wir den Heiland grüßen,
dass wir den Heiland küssen?
Komm, stelle dich doch ein!
Bibliographical references
All libretti sourced from Neue Bach-Ausgabe. Johann Sebastian Bach. Neue Ausgabe sämtlicher Werke, published by the Johann-Sebastian-Bach-Institut Göttingen and the Bach-Archiv Leipzig, Series I (Cantatas), vol. 1–41, Kassel and Leipzig, 1954–2000.
All in-depth analyses by Anselm Hartinger (English translations/editing by Alice Noger-Gradon/Mary Carozza) based on the following sources:  Hans-Joachim Schulze, Die Bach-Kantaten. Einführungen zu sämtlichen Kantaten Johann Sebastian Bachs, Leipzig, 2nd edition, 2007; Alfred Dürr, Johann Sebastian Bach. Die Kantaten, Kassel, 9th edition, 2009, and Martin Petzoldt, Bach-Kommentar. Die geistlichen Kantaten, Stuttgart, vol. 1, 2nd edition, 2005 and vol. 2, 1st edition, 2007.