Ach, lieben Christen, seid getrost
BWV 114 // For the Seventeenth Sunday after Trinity
(Ah, fellow Christians, be consoled) for alto, tenor and bass, vocal ensemble, oboe I+II, flute, corno, strings and basso continuo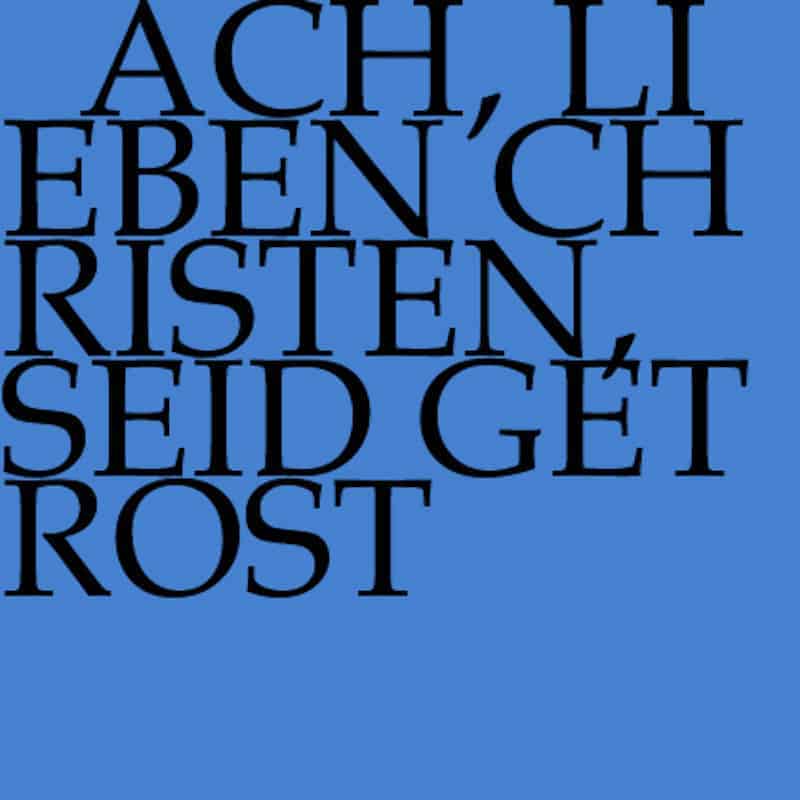 Video
Experience the introductory workshop, concert and reflective lecture in full length.
Workshop
Reflective lecture
«Lutzogram» for the introductory workshop
Rudolf Lutz's manuscript for the workshop
Choir
Soprano
Linda Loosli, Julia Schiwowa, Simone Schwark, Susanne Seitter, Mirjam Wernli-Berli
Alto
Antonia Frey, Dina König, Simon Savoy, Lea Scherer, Sarah Widmer
Tenor
Marcel Fässler, Manuel Gerber, Tobias Mäthger, Nicolas Savoy
Bass
Fabrice Hayoz, Daniel Pérez, Philippe Rayot, Oliver Rudin, Tobias Wicky
Orchestra
Conductor
Rudolf Lutz
Violin
Renate Steinmann, Monika Baer, Claire Foltzer, Elisabeth Kohler, Olivia Schenkel, Salome Zimmermann
Viola
Susanna Hefti, Matthias Jäggi, Martina Zimmermann
Violoncello
Martin Zeller, Daniel Rosin
Violone
Guisella Massa
Transverse flute
Marc Hantaï
Oboe
Philipp Wagner, Ingo Müller
Corno
Olivier Picon
Bassoon
Susann Landert
Harpsichord
Dirk Börner
Organ
Nicola Cumer
Musical director & conductor
Rudolf Lutz
Workshop
Participants
Niklaus Peter Barth, Rudolf Lutz
Reflective lecture
Speaker
Dagmar Fenner
Recording & editing
Recording date
21.09.2018
Recording location
Speicher AR (Schweiz) // Evangelische Kirche
Sound engineer
Stefan Ritzenthaler, Nikolaus Matthes
Director
Meinrad Keel
Production manager
Johannes Widmer
Production
GALLUS MEDIA AG, Switzerland
Producer
J.S. Bach Foundation of St. Gallen, Switzerland
Matching publications in our shop
Librettist
Text
Church hymn by Johann(es) Gigas (1514–1581)
First performance
17th Sunday after Trinity,
1 October 1724
Libretto
1. Chor
Ach, lieben Christen, seid getrost,
wie tut ihr so verzagen!
Weil uns der Herr heimsuchen tut,
laßt uns von Herzen sagen:
Die Straf wir wohl verdienet han,
solchs muß bekennen jedermann,
niemand darf sich ausschließen.
2. Arie – Tenor
Wo wird in diesem Jammertale
vor meinen Geist die Zuflucht sein?
Allein zu Jesu Vaterhänden
will ich mich in der Schwachheit wenden,
sonst weiß ich weder aus noch ein.
3. Rezitativ – Bass
O Sünder, trage mit Geduld,
was du durch deine Schuld
dir selber zugezogen!
Das Unrecht säufst du ja
wie Wasser in dich ein,
und diese Sünden-Wassersucht
ist zum Verderben da
und wird dir tödlich sein.
Der Hochmut aß vordem von der verbotnen Frucht,
Gott gleich zu werden;
wie oft erhebst du dich mit schwülstigen Gebärden,
daß du erniedrigt werden mußt.
Wohlan, bereite deine Brust,
daß sie den Tod und Grab nicht scheut,
so kömmst du durch ein selig Sterben
aus diesem sündlichen Verderben
zur Unschuld und zur Herrlichkeit.
4. Choral – Sopran

Kein Frucht das Weizenkörnlein bringt,
es fall denn in die Erden;
so muß auch unser irdscher Leib
zu Staub und Aschen werden,
eh er kömmt zu der Herrlichkeit,
die du, Herr Christ, uns hast bereit'
durch deinen Gang zum Vater.

5. Arie — Alt
Du machst, o Tod, mir nun nicht ferner bange,
wenn ich durch dich die
Freiheit nur erlange,
es muß ja so einmal gestorben sein.
Mit Simeon will ich in Friede fahren,
mein Heiland will mich in der Gruft bewahren
und ruft mich einst zu sich verklärt und rein.
6. Rezitativ — Tenor
Indes bedenke deine Seele
und stelle sie dem Heiland dar;
gib deinen Leib und deine Glieder
Gott, der sie dir gegeben, wieder.
Er sorgt und wacht,
und so wird seiner Liebe Macht
im Tod und Leben offenbar.
7. Choral

Wir wachen oder schlafen ein,
so sind wir doch des Herren;
auf Christum wir getaufet sein,
der kann dem Satan wehren.
Durch Adam auf uns kömmt der Tod,
Christus hilft uns aus aller Not.
Drum loben wir den Herren.

Bibliographical references
All libretti sourced from Neue Bach-Ausgabe. Johann Sebastian Bach. Neue Ausgabe sämtlicher Werke, published by the Johann-Sebastian-Bach-Institut Göttingen and the Bach-Archiv Leipzig, Series I (Cantatas), vol. 1–41, Kassel and Leipzig, 1954–2000.
All in-depth analyses by Anselm Hartinger (English translations/editing by Alice Noger-Gradon/Mary Carozza) based on the following sources:  Hans-Joachim Schulze, Die Bach-Kantaten. Einführungen zu sämtlichen Kantaten Johann Sebastian Bachs, Leipzig, 2nd edition, 2007; Alfred Dürr, Johann Sebastian Bach. Die Kantaten, Kassel, 9th edition, 2009, and Martin Petzoldt, Bach-Kommentar. Die geistlichen Kantaten, Stuttgart, vol. 1, 2nd edition, 2005 and vol. 2, 1st edition, 2007.