Gott, man lobet dich in der Stille
BWV 120 // For the Council Election
(God, we praise thee now in the stillness) for soprano, alto, tenor and bass, vocal ensemble, trumpet I-III, timpani, oboe I+II, strings and basso continuo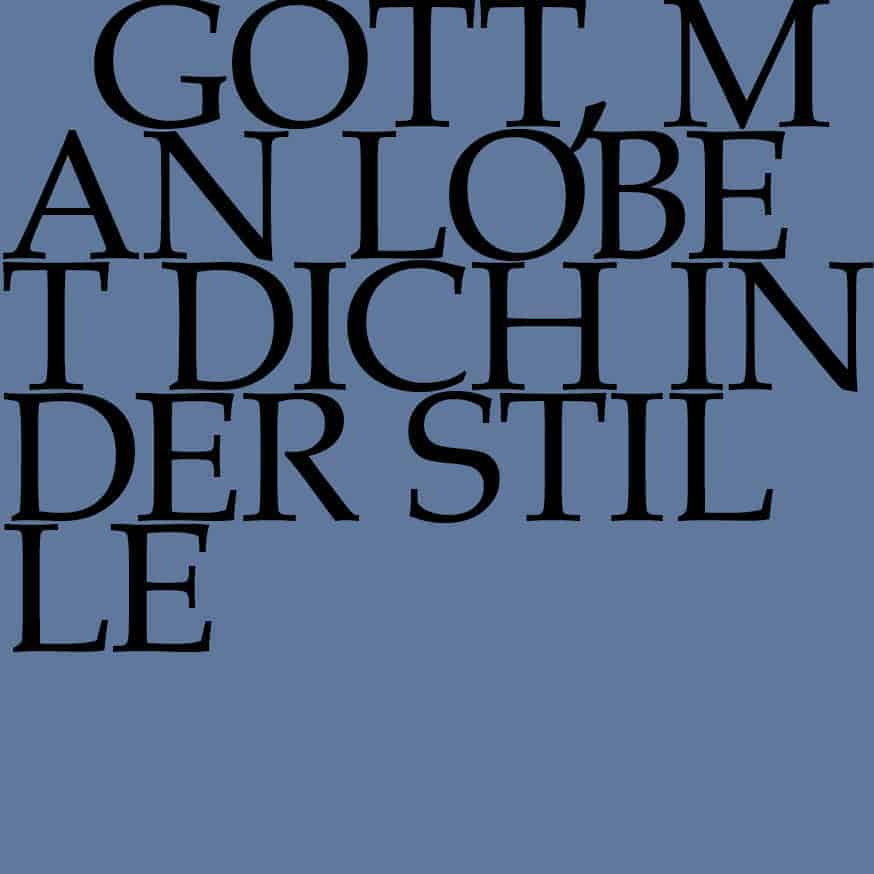 Video
Experience the introductory workshop, concert and reflective lecture in full length.
«Lutzogram» for the introductory workshop
Rudolf Lutz's manuscript for the workshop
Soloists
Choir
Soprano
Alice Borciani, Susanne Seitter, Noëmi Sohn Nad, Noëmi Tran-Rediger, Baiba Urka, Mirjam Wernli
Alto
Antonia Frey, Katharina Guglhör, Lea Pfister-Scherer, Simon Savoy, Lisa Weiss
Tenor
Clemens Flämig, Manuel Gerber, Christian Rathgeber, Sören Richter
Bass
Fabrice Hayoz, Serafin Heusser, Johannes Hill, Daniel Pérez, Tobias Wicky
Orchestra
Conductor
Rudolf Lutz
Violin
Renate Steinmann, Olivia Schenkel, Patricia Do, Elisabeth Kohler, Marita Seeger, Salome Zimmermann
Viola
Susanna Hefti, Claire Foltzer, Stella Mahrenholz
Violoncello
Martin Zeller, Hristo Kouzmanov
Violone
Markus Bernhard
Trumpet
Lukasz Gothszalk, Bruno Fernandes, Alexander Samawicz
Timpani
Laurent de Ceuninck
Oboe
Linda Alijaj, Laura Alvarado
Bassoon
Susann Landert
Harpsichord
Thomas Leininger
Organ
Nicola Cumer
Musical director & conductor
Rudolf Lutz
Workshop
Participants
Rudolf Lutz, Pfr. Niklaus Peter
Reflective lecture
Speaker
Hermann Hess
Recording & editing
Recording date
29/10/2021
Recording location
St. Gallen (Switzerland) // Olma-Halle 2.0
Sound engineer
Stefan Ritzenthaler
Producer
Meinrad Keel
Executive producer
Johannes Widmer
Production
GALLUS MEDIA AG, Schweiz
Producer
J.S. Bach-Stiftung, St. Gallen, Schweiz
Librettist
First performance
First version probably in 1729, later version in 1742 later – Leipzig
Text
Psalm 65:2 (movement 1); unknown source (movements 2–5), Martin Luther (movement 6)
Libretto
1. Arie — Alt
«Gott, man lobet dich in der Stille zu Zion, und dir bezahlet man Gelübde».
2. Chor
Jauchzet, ihr erfreuten Stimmen,
steiget bis zum Himmel 'nauf!
Lobet Gott im Heiligtum
und erhebet seinen Ruhm;
seine Güte,
sein erbarmendes Gemüte
hört zu keinen Zeiten auf.
3. Rezitativ — Bass
Auf! du geliebte Lindenstadt,
komm, falle vor dem Höchsten nieder;
erkenne, wie er dich
in deinem Schmuck und Pracht
so väterlich
erhält, beschützt, bewacht
und seine Liebeshand
noch über dir beständig hat.
Wohlan,
bezahle die Gelübde, die du dem Höchsten hast getan,
und singe Dank- und Demutslieder;
komm, bitte, daß er Stadt und Land
unendlich wolle mehr erquicken
und diese werte Obrigkeit,
so heute Sitz und Wahl verneut,
mit vielem Segen wolle schmücken.
4. Arie — Sopran
Heil und Segen
soll und muß zu aller Zeit
sich auf unsre Obrigkeit
in erwünschter Fülle legen,
daß sich Recht und Treue müssen
miteinander freundlich küssen.
5. Rezitativ — Tenor
Nun, Herr, so weihe selbst das Regiment mit deinem Segen ein,
daß alle Bosheit von uns fliehe
und die Gerechtigkeit in unsern Hütten blühe,
daß deines Vaters reiner Same
und dein gebenedeiter Name
bei uns verherrlicht möge sein.
6. Choral
Nun hilf uns, Herr, den Dienern dein,
die mit dein'm Blut erlöset sein;
laß uns im Himmel haben Teil
mit den Heilgen im ewgen Heil.
Hilf deinem Volk, Herr Jesu Christ,
und segne, was dein Erbteil ist;
wart und pfleg ihr' zu aller Zeit
und heb sie hoch in Ewigkeit.
Bibliographical references
All libretti sourced from Neue Bach-Ausgabe. Johann Sebastian Bach. Neue Ausgabe sämtlicher Werke, published by the Johann-Sebastian-Bach-Institut Göttingen and the Bach-Archiv Leipzig, Series I (Cantatas), vol. 1–41, Kassel and Leipzig, 1954–2000.
All in-depth analyses by Anselm Hartinger (English translations/editing by Alice Noger-Gradon/Mary Carozza) based on the following sources:  Hans-Joachim Schulze, Die Bach-Kantaten. Einführungen zu sämtlichen Kantaten Johann Sebastian Bachs, Leipzig, 2nd edition, 2007; Alfred Dürr, Johann Sebastian Bach. Die Kantaten, Kassel, 9th edition, 2009, and Martin Petzoldt, Bach-Kommentar. Die geistlichen Kantaten, Stuttgart, vol. 1, 2nd edition, 2005 and vol. 2, 1st edition, 2007.