Ach! Ich sehe, itzt, da ich zur Hochzeit gehe
BWV 162 // For the Twentieth Sunday after Trinity
(Ah! I see now, As I go to join the marriage) for soprano, alto, tenor and bass, flauto, corno da tirarsi, strings and basso continuo
Cantata BWV 162 belongs to the "Evangelisches Andachts-Opfer" cycle of texts written by Salomo Franck in Weimar in 1715; whether Bach composed and performed the related cantata in 1715 or not until 1716 remains a matter of dispute among Bach scholars. In 1723, Bach revived the charming composition for performance in Leipzig, which involved transposing the work into B minor to accommodate the lower Kammerton pitch used there. In the process, several modifications were made to the work, and it is well possible that some performance material has since been lost.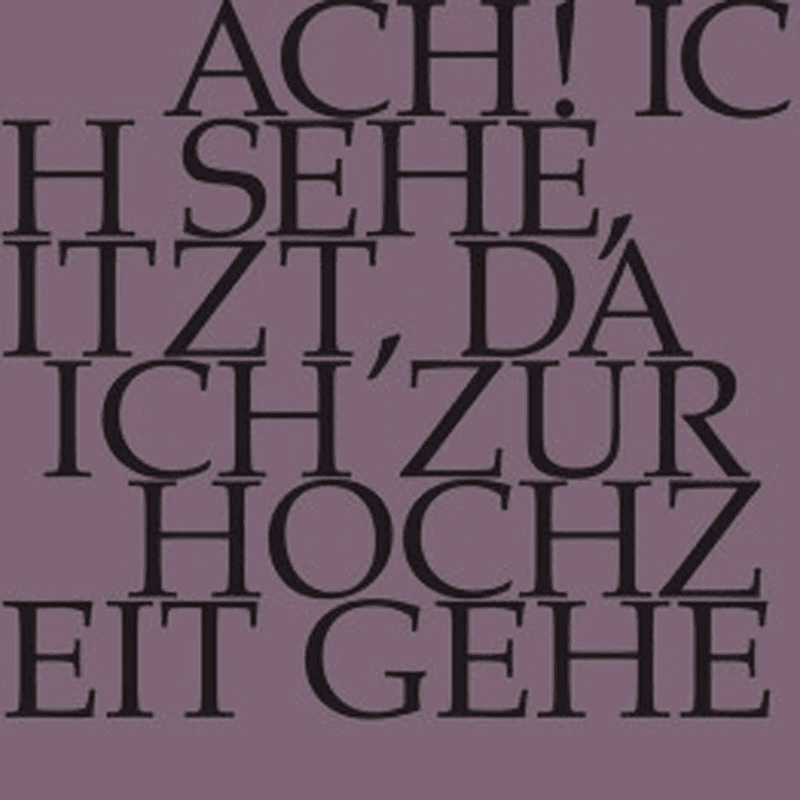 Video
Experience the introductory workshop, concert and reflective lecture in full length.
«Lutzogram» for the introductory workshop
Rudolf Lutz's manuscript for the workshop
Audio
The sound recording of this work is available on several streaming and download platforms.
Orchestra
Conductor & cembalo
Rudolf Lutz
Violin
Eva Borhi, Lenka Torgersen, Christine Baumann, Karoline Echeverri, Dorothee Mühleisen, Ildiko Sajgo
Viola
Martina Bischof, Peter Barczi, Katya Polin
Violoncello
Maya Amrein, Daniel Rosin
Violone
Markus Bernhard
Bassoon
Dana Karmon
Corno da tirarsi
Olivier Picon
Recorder/Flute
Annina Stahlberger
Organ
Nicola Cumer
Musical director & conductor
Rudolf Lutz
Workshop
Participants
Karl Graf, Rudolf Lutz
Reflective lecture
Speaker
Richard Emanuel Weihe
Recording & editing
Recording date
17.11.2017
Recording location
Trogen AR (Schweiz) // Evangelische Kirche
Sound engineer
Stefan Ritzenthaler
Director
Meinrad Keel
Production manager
Johannes Widmer
Production
GALLUS MEDIA AG, Switzerland
Producer
J.S. Bach Foundation of St. Gallen, Switzerland
Matching publications in our shop
Librettist
Text
Salomo Franck, 1715
First performance
Twentieth Sunday after Trinity,
25 October 1716
Libretto
1. Arie (Bass)
Ach! ich sehe,
itzt, da ich zur Hochzeit gehe,
Wohl und Wehe.
Seelengift und Lebensbrot,
Himmel, Hölle, Leben, Tod,
Himmelsglanz und Höllenflammen
sind beisammen!
Jesu, hilf, daß ich bestehe!
2. Rezitativ (Tenor)
O großes Hochzeitsfest,
darzu der Himmelskönig
die Menschen rufen läßt!
Ist denn die arme Braut,
die menschliche Natur, nicht viel zu schlecht und wenig,
daß sich mit ihr der Sohn des Höchsten traut?
O großes Hochzeitsfest,
wie ist das Fleisch zu solcher Ehre kommen,
daß Gottes Sohn
es hat auf ewig angenommen?
Der Himmel ist sein Thron,
die Erde dient zum Schemel seinen Füßen,
noch will er diese Welt
als Braut und Liebste küssen!
Das Hochzeitmahl ist angestellt,
das Mastvieh ist geschlachtet,
wie herrlich ist doch alles zubereitet!
Wie selig ist, den hier der Glaube leitet,
und wie verflucht ist doch, der dieses Mahl verachtet!
3. Arie (Sopran)
Jesu, Brunnquell aller Gnaden,
labe mich elenden Gast,
weil du mich berufen hast!
Ich bin matt, schwach und beladen;
ach! erquicke meine Seele,
ach, wie hungert mich nach dir!
Lebensbrot, das ich erwähle,
komm, vereine dich mit mir!
4. Rezitativ (Alt)
Mein Jesu, laß mich nicht
zur Hochzeit unbekleidet kommen,
daß mich nicht treffe dein Gericht;
mit Schrecken hab ich ja vernommen,
wie du den kühnen Hochzeitgast,
der ohne Kleid erschienen,
verworfen und verdammet hast.
Ich weiß auch mein' Unwürdigkeit:
Ach, schenke mir des Glaubens Hochzeitkleid,
laß dein Verdienst zu meinem Schmucke dienen!
Gib mir zum Hochzeitkleide
den Rock des Heils, der Unschuld weiße Seide!
Ach! laß dein Blut den hohen Purpur decken,
den alten Adamsrock und seine Lasterflecken,
so werd ich schön und rein
und dir willkommen sein,
so werd ich würdiglich das Mahl des Lammes schmecken.
5. Arie (Duett Alt, Tenor)
In meinem Gott bin ich erfreut;
die Liebesmacht hat ihn bewogen,
daß er mir in der Gnadenzeit
aus lauter Huld hat angezogen
die Kleider der Gerechtigkeit.
In meinem Gott bin ich erfreut.
Ich weiß, er wird nach diesem Leben
der Ehren weißes Kleid
mir auch im Himmel geben.
6. Choral
Ach, ich habe schon erblicket
diese große Herrlichkeit!
Itzund werd ich schön geschmücket
mit dem weißen Himmelskleid.
Mit der güldnen Ehrenkrone
steh ich da für Gottes Throne,
schaue solche Freude an,
die kein Ende nehmen kann.
Bibliographical references
All libretti sourced from Neue Bach-Ausgabe. Johann Sebastian Bach. Neue Ausgabe sämtlicher Werke, published by the Johann-Sebastian-Bach-Institut Göttingen and the Bach-Archiv Leipzig, Series I (Cantatas), vol. 1–41, Kassel and Leipzig, 1954–2000.
All in-depth analyses by Anselm Hartinger (English translations/editing by Alice Noger-Gradon/Mary Carozza) based on the following sources:  Hans-Joachim Schulze, Die Bach-Kantaten. Einführungen zu sämtlichen Kantaten Johann Sebastian Bachs, Leipzig, 2nd edition, 2007; Alfred Dürr, Johann Sebastian Bach. Die Kantaten, Kassel, 9th edition, 2009, and Martin Petzoldt, Bach-Kommentar. Die geistlichen Kantaten, Stuttgart, vol. 1, 2nd edition, 2005 and vol. 2, 1st edition, 2007.