Gott soll allein mein Herze haben
BWV 169 // For the Eighteenth Sunday after Trinity
(God all alone my heart shall master) for alto, vocal ensemble (chorale), oboe I+II, taille, strings and continuo.
Like many church works of Bach's 1726/27 cycle, cantata BWV 169 was conceived as a solo cantata (with a four-voice closing chorale), suggesting both a shift in Bach's compositional focus and the availability of capable soloists in the chorus musicus of that school year.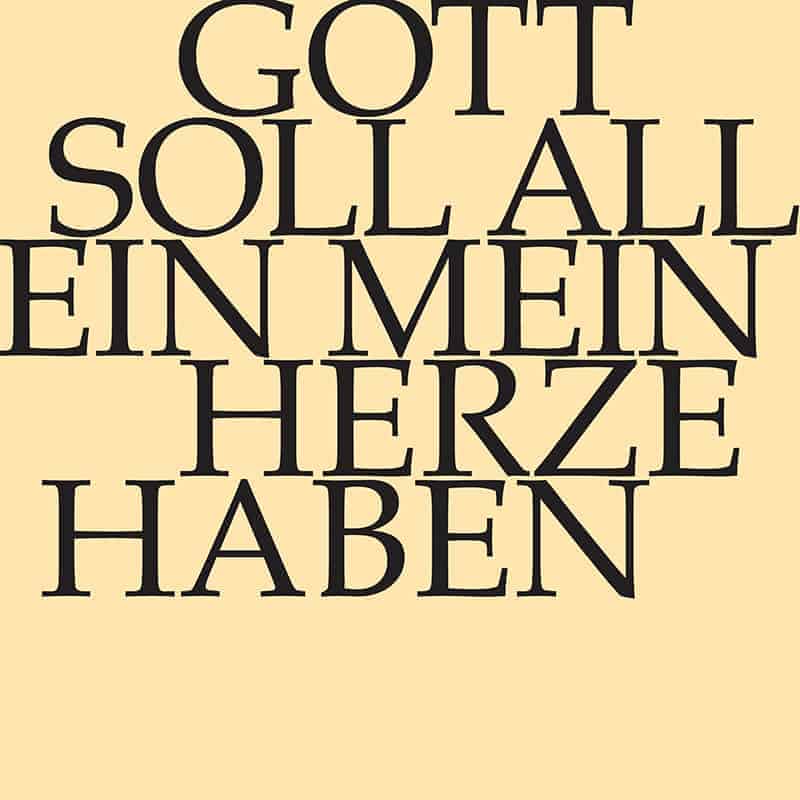 Video
Experience the introductory workshop, concert and reflective lecture in full length.
Workshop
Reflective lecture
Audio
The sound recording of this work is available on several streaming and download platforms.
Choir
Soprano
Susanne Frei
Tenor
Walter Siegel
Bass
Fabrice Hayoz
Orchestra
Conductor
Rudolf Lutz
Violin
Renate Steinmann, Martin Korrodi
Viola
Susanna Hefti
Violoncello
Maya Amrein
Violone
Iris Finkbeiner
Oboe
Martin Stadler, Luise Baumgartl
Oboe da caccia
Dominik Melicharek
Taille
Dominik Melicharek
Bassoon
Susann Landert
Theorbo
Juan Sebastian Lima
Organ
Rudolf Lutz
Musical director & conductor
Rudolf Lutz
Workshop
Participants
Karl Graf, Rudolf Lutz
Reflective lecture
Speaker
Christian Lucas Hart Nibbrig
Recording & editing
Recording date
09/19/2008
Recording location
Trogen
Sound engineer
Stefan Ritzenthaler
Director
Meinrad Keel
Production manager
Johannes Widmer
Production
GALLUS MEDIA AG, Switzerland
Producer
J.S. Bach Foundation of St. Gallen, Switzerland
Matching publications in our shop
Librettist
Text No. 1–6
Poet unknown
Text No. 7
Martin Luther, 1524
First performance
Eighth Sunday after Trinity,
20 October 1726
In-depth analysis
The work opens with an extended sinfonia, making for a formal introductory movement that compensates well for the reduced number of vocalists. For this setting, Bach revises an earlier concerto movement for an unknown solo instrument; a reworking which together with the fifth movement of this cantata, found its way at the end of the 1730s into the E Major Concerto for Harpsichord and Orchestra (BWV 1053). The solo part, assigned to the organ in the cantata, appears to have been played directly from the score, indicating that Bach – a virtuoso organist – may well have played the part himself.
Following the expansive introductory movement, the arioso commences with an extended continuo ritornello that provides a relaxed framework for the cantabile motto "God all alone my heart shall master", a head motive that is interspersed with figurative recitatives. In aria no. 3 the librettist and composer embark on a risky venture, beginning as they do with the already oft-recurring motto. In the new musical setting, however, Bach combines a striding bass with a nervous, almost jazzlike syncopated organ part that stands in stark juxtaposition to the hymn-like quality of the vocal lines. Compared to the highly contrasting soliloquy of the preceding arioso, this aria seems to exude open acceptance of the biblical word as the foundation of life's truth.
Despite its brevity, the alto recitative no. 4 proves to be a rich collage of images and attributes expressing God's love and its import for human existence. Here, the text is rich in allusion to the wonder of the Passion, referring to both the bosom of Abraham and Elijah's chariot. The following aria "Die in me, world!" resumes this sentiment with a mesmerising siciliano form and the "have mercy!" tonality of B minor. In this movement, the intensity of the interplay between the various parts stands in such bold contrast to the libretto's plain condemnation of worldly desires that it would not be entirely surprising to learn the music stemmed from an earlier source. Either way, the later reworking of this movement as the middle section of the Harpsichord Concerto in E Major is a potent reminder of the great effort and sensitivity with which Bach approached his parody compositions.
The following recitative abruptly draws our attention from the quixotic reflections of "religious specialists" to the earthly necessity of loving one another in the here and now. Here, the text's somewhat dry reference to Christ's directive exposes a weakness of Lutheran ethic: where do we find the motivation to love our neighbour if deeds of compassion are no longer necessary for salvation? The closing chorale provides a moving answer to this dilemma by singing in vibrant A major of the fervent "tenderness" that is inherent to a life of fellowship and goodness of heart. In this setting, Bach musically transforms the concept of virtue into an experience of the senses, while its identity as a Kyrie lends both choral movement and text liturgical import.
Libretto
2. Arioso
Gott soll allein mein Herze haben.
Zwar merk ich an der Welt,
die ihren Kot unschätzbar hält,
weil sie so freundlich mit mir tut,
sie wollte gern allein
das Liebste meiner Seele sein;
doch nein: Gott soll allein mein Herze haben,
ich find in ihm das höchste Gut.
Wir sehen zwar
auf Erden hier und dar
ein Bächlein der Zufriedenheit,
das von des Höchsten Güte quillet:
Gott aber ist der Quell, mit Strömen angefüllet,
da schöpf ich, was mich allezeit
kann sattsam und wahrhaftig laben.
Gott soll allein mein Herze haben.
3. Arie
Gott soll allein mein Herze haben,
ich find in ihm das höchste Gut.
Er liebt mich in der bösen Zeit
und will mich in der Seligkeit
mit Gütern seines Hauses laben.
4. Rezitativ
Was ist die Liebe Gottes?
Des Geistes Ruh,
der Sinnen Lustgeniess,
der Seele paradies,
sie schliesst die Hölle zu,
den Himmel aber auf;
sie ist Elias Wagen,
da werden wir in Himmel nauf
in Abrahms Schoss getragen.
5. Arie
Stirb in mir,
Welt und alle deine Liebe,
dass die Brust
sich auf Erden für und für
in der Liebe Gottes übe,
stirb in mir,
Hoffart, Reichtum, Augenlust,
ihr verworfnen Fleischestriebe!
6. Rezitativ
Doch meint es auch dabei
mit eurem Nächsten treu;
denn so steht in der Schrift geschrieben:
Du sollst Gott und den Nächsten lieben.
7. Choral
Du süsse Liebe, schenk uns deine Gunst,
lass uns empfinden der Liebe Brunst,
dass wir uns von Herzen einander lieben
und in Friede auf einem Sinn bleiben.
Kyrie eleis.
Bibliographical references
All libretti sourced from Neue Bach-Ausgabe. Johann Sebastian Bach. Neue Ausgabe sämtlicher Werke, published by the Johann-Sebastian-Bach-Institut Göttingen and the Bach-Archiv Leipzig, Series I (Cantatas), vol. 1–41, Kassel and Leipzig, 1954–2000.
All in-depth analyses by Anselm Hartinger (English translations/editing by Alice Noger-Gradon/Mary Carozza) based on the following sources:  Hans-Joachim Schulze, Die Bach-Kantaten. Einführungen zu sämtlichen Kantaten Johann Sebastian Bachs, Leipzig, 2nd edition, 2007; Alfred Dürr, Johann Sebastian Bach. Die Kantaten, Kassel, 9th edition, 2009, and Martin Petzoldt, Bach-Kommentar. Die geistlichen Kantaten, Stuttgart, vol. 1, 2nd edition, 2005 and vol. 2, 1st edition, 2007.