Gleich wie der Regen
BWV 018 // For Sexagesimae
(Just as the showers) for soprano, tenor and bass, vocal ensemble, recorder I+II, bassoon, viola I-IV and continuo.
The cantata "Gleich wie der Regen und Schnee vom Himmel fällt" (Just as the showers and snow from heaven fall) is undoubtedly unique in Bach's oeuvre. While its libretto and form are distinctive in themselves – with a long opening dictum referencing the parable of the sower, a single aria and an extensive litany as a middle movement – the instrumentation for just four violas and continuo truly sets the work apart. Even when Bach re-performed the cantata in Leipzig around 1724, he did not "correct" his Weimar instrumentation to create a typical string group with violins, but instead added two recorders, there by only slightly brightening the timbre.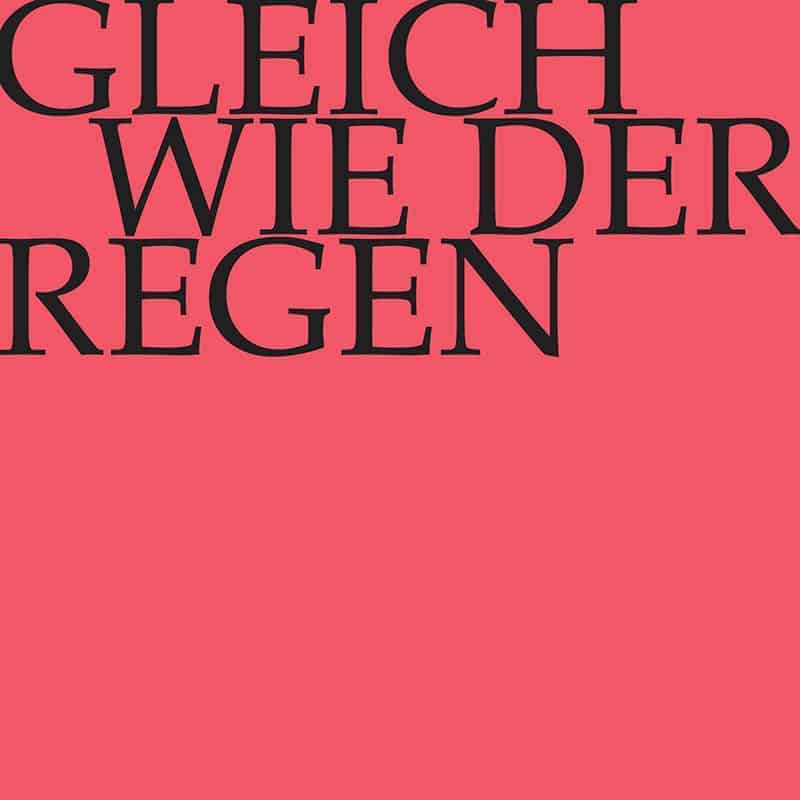 Video
Experience the introductory workshop, concert and reflective lecture in full length.
Workshop
Reflective lecture
«Lutzogram» for the introductory workshop
Rudolf Lutz's manuscript for the workshop
Audio
The sound recording of this work is available on several streaming and download platforms.
Choir
Soprano
Susanne Frei, Leonie Gloor, Guro Hjemli, Jennifer Rudin
Alto
Antonia Frey, Olivia Heiniger, Damaris Nussbaumer, Lea Scherer
Tenor
Marcel Fässler, Nicolas Savoy, Walter Siegel
Bass
Fabrice Hayoz, Philippe Rayot, William Wood
Orchestra
Conductor
Rudolf Lutz
Viola
Susanna Hefti, Renate Steinmann, Martina Bischof, Joanna Bilger
Violoncello
Maya Amrein
Violone
Iris Finkbeiner
Bassoon
Nikolaus Broda
Recorder/Flute
Armelle Plantier, Gaëlle Volet
Organ
Norbert Zeilberger
Musical director & conductor
Rudolf Lutz
Workshop
Participants
Karl Graf, Rudolf Lutz
Reflective lecture
Speaker
Hans Jecklin
Recording & editing
Recording date
02/13/2009
Recording location
Trogen
Sound engineer
Stefan Ritzenthaler
Director
Meinrad Keel
Production manager
Johannes Widmer
Production
GALLUS MEDIA AG, Switzerland
Producer
J.S. Bach Foundation of St. Gallen, Switzerland
Matching publications in our shop
Librettist
Text No. 2
Quote from Isaiah 55:10–11
Text No. 3, 4
Erdmann Neumeister (1671–1756)
Text No. 5
Lazarus Spengler, 1524
First performance
Sexagesima Sunday,
24 February 1715, Weimar
In-depth analysis
Because the complex bible verse did not lend itself easily to a choral setting, Bach opened the work with a sinfonia, whose sound bears a striking resemblance to the 6th Brandenburg Concerto. Despite its wan F minor tonality and somewhat currish ritornello, the movement exults in the warm timbre of the violas (and recorders), especially in the elaborate solo passages. In the ensuing bass recitative, Bach breathes life into the rather dry gospel through word painting ("give the earth moisture") and the inclusion of aria-like passages. That these words have indeed fallen on fertile ground is revealed in the ensuing recitative: carried by an expressive string accompaniment, the tenor moves to open his heart so that the godly seed may prosper there. This, however, is just the beginning of one of the most formally extraordinary movements in Bach's cantata oeuvre. Featuring constantly shifting tempi, instrumentation and melodic patterns, the recitative evolves into a full-scale litany that knows no liturgical constraints, but is explored in all its textual nuances. Underscored by a turbulent continuo, the petitions of the soprano and the four-part response make for extraordinary drama: behind the traditional form of the cantata, a profoundly modern music has taken shape. With his interpretation, Bach unveils the explosive power inherent in the concept of a "sacred cantata instead of church music" introduced by his librettist Erdmann Neumeister around 1700. It also explains the vehement opposition traditionalist theologians took to such blatantly operatic compositional forms.
After this show of strength, a necessary softening of affect is delivered by the short soprano aria "My soul's true treasure is God's word". While the unison writing for four violas may somewhat amuse connoisseurs of viola jokes, Bach's intention was surely to evoke a reverent and composed mood that manages to extract emotion even from the rigorous text with its message of worldly denial. The closing chorale – a verse from the well-known hymn "Durch Adams Fall ist ganz verderbt" – provides a congregational response to the parable of the sower in which the somewhat dark and fragile timbre of the violas and recorders befits the movement's mood of inherent "sin and shame".
Libretto
2. Rezitativ (Bass)
Gleich wie der Regen und Schnee
vom Himmel fällt
und nicht wieder dahin kommet,
sondern feuchtet
die Erde und macht sie fruchtbar
und wachsend,
dass sie gibt Samen zu säen
und Brot zu essen:
also soll das Wort,
so aus meinem Munde gehet,
auch sein; es soll nicht wieder
zu mir leer kommen,
sondern tun, das mir gefället,
und soll ihm gelingen,
dazu ich's sende.
3. Rezitativ (Tenor, Bass) und Chor
Mein Gott, hier wird mein Herze sein:
ich öffne dir's in meines Jesu Namen;
so streue deinen Samen
als in ein gutes Land hinein.
Mein Gott, hier wird mein Herze sein:
lass solches Frucht und hundertfältig bringen.
O Herr, Herr, hilf! O Herr, lass wohlgelingen!
(chor)
Du wollest deinen Geist und Kraft zum Worte geben.
Erhör uns, lieber Herre Gott!
(bass)
Nur wehre, treuer Vater, wehre,
dass mich und keinen Christen nicht
des Teufels Trug verkehre.
Sein Sinn ist ganz dahin gericht',
uns deines Wortes zu berauben
mit aller Seligkeit.
(chor)
Den Satan unter unsre Füsse treten.
Erhör uns, lieber Herre Gott!
(tenor)
Ach! Viel verleugnen Wort und Glauben
und fallen ab wie faules Obst,
wenn sie Verfolgung sollen leiden.
So stürzen sie in ewig Herzeleid,
da sie ein zeitlich Weh vermeiden.
(chor)
Und uns für des Türken und des Papsts
grausamen Mord und Lästerungen,
Wüten und Toben väterlich behüten.
Erhör uns, lieber Herre Gott!
(bass)
Ein andrer sorgt nur für den Bauch;
inzwischen wird der Seele ganz vergessen;
der Mammon auch
hat vieler Herz besessen.
So kann das Wort zu keiner Kraft gelangen.
Und wieviel Seelen hält
die Wollust nicht gefangen?
So sehr verführet sie die Welt,
die Welt, die ihnen muss
anstatt des Himmels stehen,
darüber sie vom Himmel irregehen.
(chor)
Alle Irrige und Verführte wiederbringen.
Erhör uns, lieber Herre Gott!
4. Arie (Sopran)
Mein Seelenschatz ist Gottes Wort;
ausser dem sind alle Schätze
solche Netze,
welche Welt und Satan stricken,
schnöde Seelen zu berükken.
Fort mit allen, fort, nur fort!
Mein Seelenschatz ist Gottes Wort.
5. Choral
Ich bitt, o Herr, aus Herzens Grund,
du wollst nicht von mir nehmen
dein heilges Wort aus meinem Mund;
so wird mich nicht beschämen
mein' Sünd und Schuld, denn in dein' Huld
setz ich all mein Vertrauen:
Wer sich nur fest darauf verlässt,
der wird den Tod nicht schauen.
Bibliographical references
All libretti sourced from Neue Bach-Ausgabe. Johann Sebastian Bach. Neue Ausgabe sämtlicher Werke, published by the Johann-Sebastian-Bach-Institut Göttingen and the Bach-Archiv Leipzig, Series I (Cantatas), vol. 1–41, Kassel and Leipzig, 1954–2000.
All in-depth analyses by Anselm Hartinger (English translations/editing by Alice Noger-Gradon/Mary Carozza) based on the following sources:  Hans-Joachim Schulze, Die Bach-Kantaten. Einführungen zu sämtlichen Kantaten Johann Sebastian Bachs, Leipzig, 2nd edition, 2007; Alfred Dürr, Johann Sebastian Bach. Die Kantaten, Kassel, 9th edition, 2009, and Martin Petzoldt, Bach-Kommentar. Die geistlichen Kantaten, Stuttgart, vol. 1, 2nd edition, 2005 and vol. 2, 1st edition, 2007.