Leichtgesinnte Flattergeister
BWV 181 // For Sexagesimae
(Insincere and fickle spirits) for soprano, alto, tenor and bass, transverse flute, trumpet, oboe, bassoon, strings and basso continuo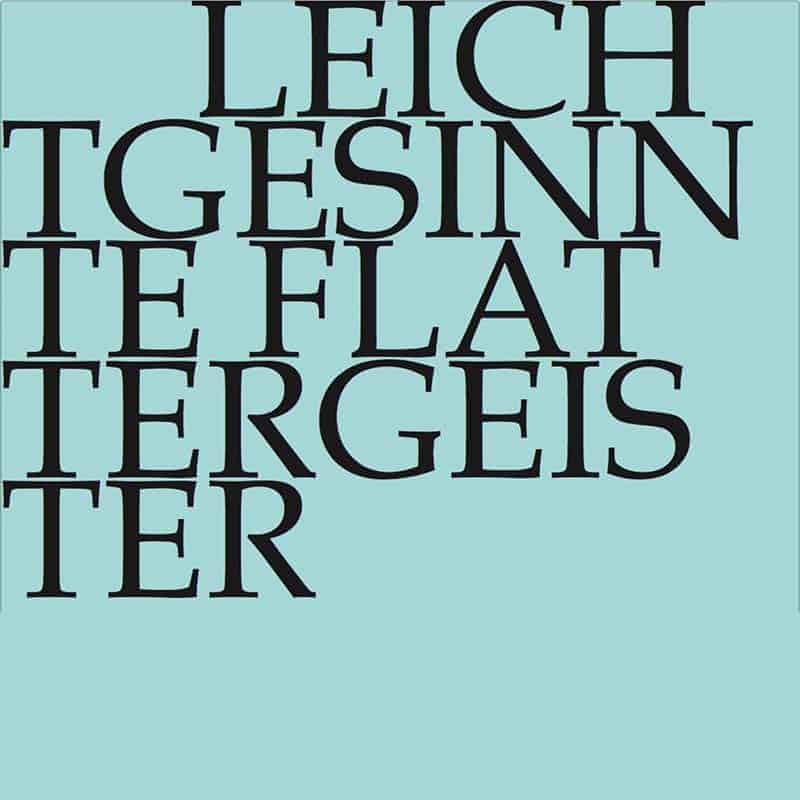 Video
Experience the introductory workshop, concert and reflective lecture in full length.
«Lutzogram» for the introductory workshop
Rudolf Lutz's manuscript for the workshop
Orchestra
Conductor & cembalo
Rudolf Lutz
Violin
Renate Steinmann, Olivia Schenkel
Viola
Susanna Hefti
Violoncello
Martin Zeller
Violone
Iris Finkbeiner
Oboe
Ingo Müller
Bassoon
Susann Landert
Tromba da tirarsi
Patrick Henrichs
Transverse flute
Anne Parisot
Organ
Nicola Cumer
Musical director & conductor
Rudolf Lutz
Workshop
Participants
Karl Graf, Rudolf Lutz
Reflective lecture
Speaker
Hildegard Elisabeth Keller
Recording & editing
Recording date
02/21/2014
Recording location
Trogen
Sound engineer
Stefan Ritzenthaler
Director
Meinrad Keel
Production manager
Johannes Widmer
Production
GALLUS MEDIA AG, Switzerland
Producer
J.S. Bach Foundation of St. Gallen, Switzerland
Matching publications in our shop
Librettist
Text
Poet unknown
First performance
Sexagesima Sunday,
13 February 1724
Libretto
1. Arie (Bass)
Leichtgesinnte Flattergeister
rauben sich des Wortes Kraft.
Belial mit seinen Kindern
suchet ohnedem zu hindern,
daß es keinen Nutzen schafft.
2. Rezitativ (Alt)
O unglückselger Stand verkehrter Seelen,
so gleichsam an dem Wege sind;
und wer will doch des Satans List erzählen,
wenn er das Wort dem Herzen raubt,
das, am Verstande blind,
den Schaden nicht versteht noch glaubt.
Es werden Felsenherzen,
so boshaft widerstehn,
ihr eigen Heil verscherzen
und einst zugrunde gehn.
Es wirkt ja Christi letztes Wort,
daß Felsen selbst zerspringen;
des Engels Hand bewegt des Grabes Stein,
ja, Mosis Stab kann dort
aus einem Berge Wasser bringen.
Willst du, o Herz, noch härter sein?
3. Arie (Tenor)
Der schädlichen Dornen unendliche Zahl,
die Sorgen der Wollust, die Schätze zu mehren,
die werden das Feuer der höllischen Qual
in Ewigkeit nähren.
4. Rezitativ (Sopran)
Von diesen wird die Kraft erstickt,
der edle Same liegt vergebens,
wer sich nicht recht im Geiste schickt,
sein Herz beizeiten
zum guten Lande zu bereiten,
daß unser Herz die Süßigkeiten schmecket,
so uns dies Wort entdecket,
Die Kräfte dieses und des künftgen Lebens.
5. Chor
Laß, Höchster, uns zu allen Zeiten
des Herzens Trost, dein heilig Wort.
Du kannst nach deiner Allmachtshand
allein ein fruchtbar gutes Land
in unsern Herzen zubereiten.
Bibliographical references
All libretti sourced from Neue Bach-Ausgabe. Johann Sebastian Bach. Neue Ausgabe sämtlicher Werke, published by the Johann-Sebastian-Bach-Institut Göttingen and the Bach-Archiv Leipzig, Series I (Cantatas), vol. 1–41, Kassel and Leipzig, 1954–2000.
All in-depth analyses by Anselm Hartinger (English translations/editing by Alice Noger-Gradon/Mary Carozza) based on the following sources:  Hans-Joachim Schulze, Die Bach-Kantaten. Einführungen zu sämtlichen Kantaten Johann Sebastian Bachs, Leipzig, 2nd edition, 2007; Alfred Dürr, Johann Sebastian Bach. Die Kantaten, Kassel, 9th edition, 2009, and Martin Petzoldt, Bach-Kommentar. Die geistlichen Kantaten, Stuttgart, vol. 1, 2nd edition, 2005 and vol. 2, 1st edition, 2007.