Ich habe meine Zuversicht
BWV 188 // For the Twenty-first Sunday after Trinity
(I have now all my confidence) for soprano, alto, tenor and bass, oboe I+II, taille, organo obbligato, bassoon and strings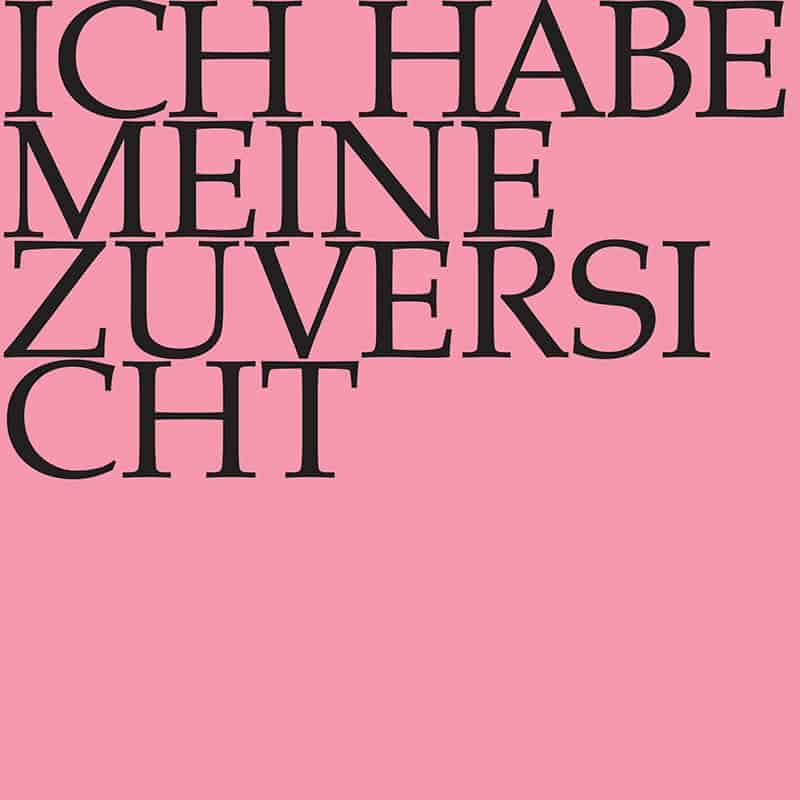 Video
Experience the introductory workshop, concert and reflective lecture in full length.
Workshop
Reflective lecture
«Lutzogram» for the introductory workshop
Rudolf Lutz's manuscript for the workshop
Orchestra
Conductor & cembalo
Rudolf Lutz
Violin
Plamena Nikitassova, Renate Steinmann, Christine Baumann, Martin Korrodi, Dorothee Mühleisen, Ildiko Sajgo
Viola
Susanna Hefti, Martina Bischof
Violoncello
Martin Zeller, Hristo Kouzmanov
Violone
Iris Finkbeiner
Oboe
Kerstin Kramp, Ingo Müller
Oboe da caccia
Dominik Melicharek
Taille
Dominik Melicharek
Bassoon
Susann Landert
Organo Obbligato
Jörg Andreas Boetticher
Musical director & conductor
Rudolf Lutz
Workshop
Participants
Karl Graf, Rudolf Lutz
Reflective lecture
Speaker
Hanna Johansen
Recording & editing
Recording date
10/26/2012
Recording location
Trogen
Sound engineer
Stefan Ritzenthaler
Director
Meinrad Keel
Production manager
Johannes Widmer
Production
GALLUS MEDIA AG, Switzerland
Producer
J.S. Bach Foundation of St. Gallen, Switzerland
Matching publications in our shop
Librettist
Text No. 1–5
Christian Friedrich Henrici,
known as Picander (1700–1764)
Text No. 6
Poet unknown
First performance
Twenty-first Sunday after Trinity,
17 October 1728
Libretto
2. Arie (Tenor)
Ich habe meine Zuversicht
auf den getreuen Gott gericht',
da ruhet meine Hoffnung feste.
Wenn alles bricht, wenn alles fällt,
wenn niemand Treu und Glauben hält,
so ist doch Gott der allerbeste
3. Rezitativ (Bass)
Gott meint es gut mit jedermann,
auch in den allergrößten Nöten.
Verbirget er gleich seine Liebe,
so denkt sein Herz doch heimlich dran;
das kann er niemals nicht entziehn,
und wollte mich der Herr auch töten,
so hoff ich doch auf ihn.
Denn sein erzürntes Angesicht
ist anders nicht als eine Wolke trübe,
sie hindert nur den Sonnenschein,
damit durch einen sanften Regen
der Himmelssegen
um so viel reicher möge sein.
Der Herr verwandelt sich in einen Grausamen,
um desto tröstlicher zu scheinen;
er will, er kanns nicht böse meinen.
Drum laß ich ihn nicht, er segne mich denn.
4. Arie (Alt)
Unerforschlich ist die Weise,
wie der Herr die Seinen führt.
Selber unser Kreuz und Pein
muß zu unserm Besten sein
und zu seines Namens Preise.
5. Rezitativ (Sopran)
Die Macht der Welt verlieret sich.
Wer kann auf Stand und Hoheit bauen?
Gott aber bleibet ewiglich.
Wohl allen, die auf ihn vertrauen!
6. Choral

Auf meinen lieben Gott
trau ich in Angst und Not;
er kann mich allzeit retten
aus Trübsal, Angst und Nöten,
mein Unglück kann er wenden,
steht alls in seinen Händen.
Bibliographical references
All libretti sourced from Neue Bach-Ausgabe. Johann Sebastian Bach. Neue Ausgabe sämtlicher Werke, published by the Johann-Sebastian-Bach-Institut Göttingen and the Bach-Archiv Leipzig, Series I (Cantatas), vol. 1–41, Kassel and Leipzig, 1954–2000.
All in-depth analyses by Anselm Hartinger (English translations/editing by Alice Noger-Gradon/Mary Carozza) based on the following sources:  Hans-Joachim Schulze, Die Bach-Kantaten. Einführungen zu sämtlichen Kantaten Johann Sebastian Bachs, Leipzig, 2nd edition, 2007; Alfred Dürr, Johann Sebastian Bach. Die Kantaten, Kassel, 9th edition, 2009, and Martin Petzoldt, Bach-Kommentar. Die geistlichen Kantaten, Stuttgart, vol. 1, 2nd edition, 2005 and vol. 2, 1st edition, 2007.