Schweigt stille, plaudert nicht
BWV 211 // Coffee Cantata
(Be quiet, chatter not) Coffee Cantata, for soprano (Lieschen), tenor (narrator), and bass (Schlendrian), transverse flute, strings and basso continuo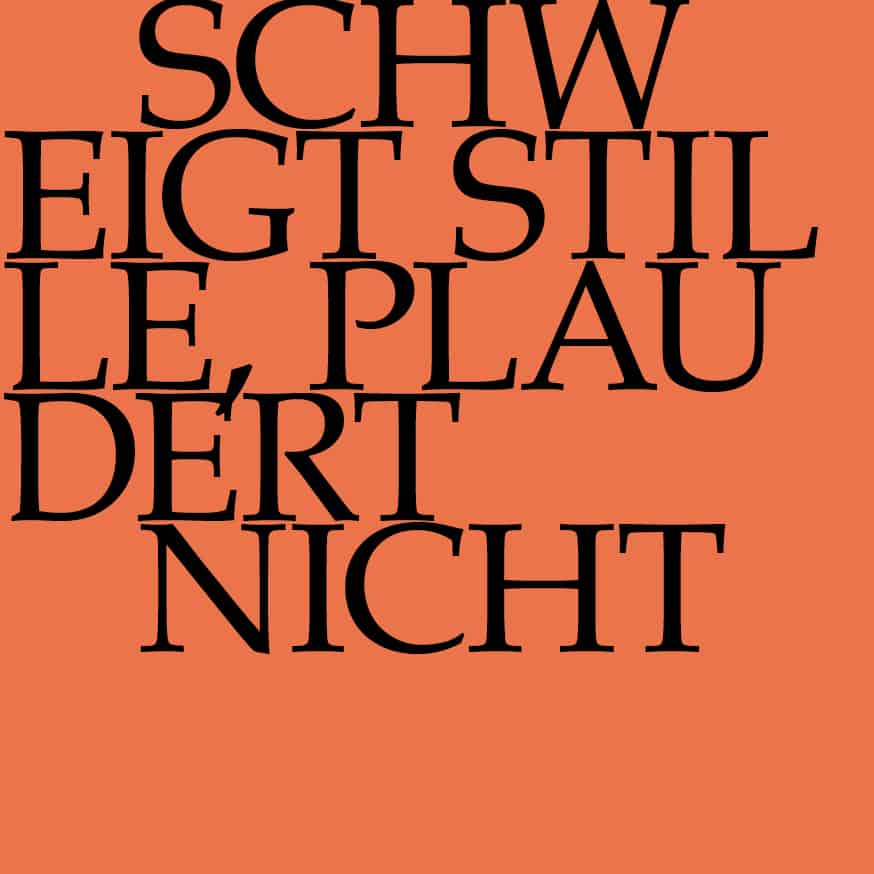 Video
Experience the introductory workshop, concert and reflective lecture in full length.
«Lutzogram» for the introductory workshop
Rudolf Lutz's manuscript for the workshop
Orchestra
Conductor & Harpsichord
Rudolf Lutz
Violin
Eva Borhi, Peter Barczi
Viola
Martina Bischof
Violoncello
Maya Amrein
Violone
Markus Bernhard
Transverse flute
Marc Hantaï
Musical director & conductor
Rudolf Lutz
Workshop
Participants
Rudolf Lutz, Dominik Wörner
Reflective lecture
Speakers
Sibylle und Michael Birkenmeier
Recording & editing
Recording date
23/06/2022
Recording location
Rorschach SG (Schweiz) // Würth-Haus
Sound engineer
Stefan Ritzenthaler
Producer
Meinrad Keel
Executive producer
Johannes Widmer
Production
GALLUS MEDIA AG, Schweiz
Producer
J.S. Bach-Stiftung, St. Gallen, Schweiz
Matching publications in our shop
Librettist
"First performance
Probably 1734, Leipzig
Text
Christian Friedrich Henrici (Picander)"
Libretto
1. Rezitativ — Tenor (Erzähler)
Schweigt stille, plaudert nicht
und höret, was itzund geschicht:
Da kömmt Herr Schlendrian
mit seiner Tochter Liesgen her,
er brummt ja wie ein Zeidelbär;
Hört selber, was sie ihm getan!
2. Arie — Bass (Schlendrian)
Hat man nicht mit seinen Kindern
hunderttausend Hudelei!
Was ich immer alle Tage
meiner Tochter Liesgen sage,
gehet ohne Frucht vorbei.
3. Rezitativ — Bass (Schlendrian), Sopran (Lieschen)
Bass
Du böses Kind, du loses Mädchen,
ach! wenn erlang ich meinen Zweck:
Tu mir den Coffee weg!
Sopran
Herr Vater, seid doch nicht so scharf!
Wenn ich des Tages nicht dreimal
mein Schälchen Coffee trinken darf,
so werd ich ja zu meiner Qual
wie ein verdorrtes Ziegenbrätchen.
4. Arie — Sopran (Lieschen)
Ei! wie schmeckt der Coffee süße,
lieblicher als tausend Küsse,
milder als Muskatenwein.
Coffee, Coffee muss ich haben,
und wenn jemand mich will laben,
ach, so schenkt mir Coffee ein!
5. Rezitativ — Bass (Schlendrian), Sopran (Lieschen)
Bass
Wenn du mir nicht den Coffee lässt,
so sollst du auf kein Hochzeitfest,
auch nicht spazierengehn.
Sopran
Ach ja!
Nur lasset mir den Coffee da!
Bass
Da hab ich nun den kleinen Affen!
Ich will dir keinen Fischbeinrock
nach itzger Weite schaffen.
Sopran
Ich kann mich leicht darzu verstehn.
Bass
Du sollst nicht an das Fenster treten
und keinen sehn vorübergehn!
Sopran
Auch dieses; doch seid nur gebeten
und lasset mir den Coffee stehn!
Bass
Du sollst auch nicht von meiner Hand
ein silbern oder goldnes Band
auf deine Haube kriegen!
Sopran
Ja, ja! nur lasst mir mein Vergnügen!
Bass
Du loses Liesgen du,
so gibst du mir denn alles zu?
6. Arie — Bass (Schlendrian)
Mädchen, die von harten Sinnen,
sind nicht leichte zu gewinnen.
Doch trifft man den rechten Ort:
O! so kömmt man glücklich fort.
7. Rezitativ — Bass (Schlendrian), Sopran (Lieschen)
Bass
Nun folge, was dein Vater spricht!
Sopran
In allem, nur den Coffee nicht.
Bass
Wohlan! so musst du dich bequemen,
auch niemals einen Mann zu nehmen.
Sopran
Ach ja! Herr Vater, einen Mann!
Bass
Ich schwöre, dass es nicht geschicht.
Sopran
Bis ich den Coffee lassen kann?
Nun! Coffee, bleib nur immer liegen!
Herr Vater, hört, ich trinke keinen nicht.
Bass
So sollst du endlich einen kriegen!
8. Arie — Sopran (Lieschen)
Heute noch,
lieber Vater, tut es doch!
Ach, ein Mann!
Wahrlich, dieser steht mir an!
Wenn es sich doch balde fügte,
dass ich endlich vor Coffee,
eh ich noch zu Bette geh,
einen wackern Liebsten kriegte!
9. Rezitativ — Tenor (Erzähler)
Nun geht und sucht der alte Schlendrian,
wie er vor seine Tochter Liesgen
bald einen Mann verschaffen kann;
Doch, Liesgen streuet heimlich aus:
Kein Freier komm mir in das Haus,
er hab es mir denn selbst versprochen
und rück es auch der Ehestiftung ein,
dass mir erlaubet möge sein,
den Coffee, wenn ich will, zu kochen.
10. Chor — (Terzett) Sopran, Tenor, Bass
Die Katze lässt das Mausen nicht,
die Jungfern bleiben Coffeeschwestern.
Die Mutter liebt den Coffeebrauch,
die Großmama trank solchen auch,
wer will nun auf die Töchter lästern!
Bibliographical references
All libretti sourced from Neue Bach-Ausgabe. Johann Sebastian Bach. Neue Ausgabe sämtlicher Werke, published by the Johann-Sebastian-Bach-Institut Göttingen and the Bach-Archiv Leipzig, Series I (Cantatas), vol. 1–41, Kassel and Leipzig, 1954–2000.
All in-depth analyses by Anselm Hartinger (English translations/editing by Alice Noger-Gradon/Mary Carozza) based on the following sources:  Hans-Joachim Schulze, Die Bach-Kantaten. Einführungen zu sämtlichen Kantaten Johann Sebastian Bachs, Leipzig, 2nd edition, 2007; Alfred Dürr, Johann Sebastian Bach. Die Kantaten, Kassel, 9th edition, 2009, and Martin Petzoldt, Bach-Kommentar. Die geistlichen Kantaten, Stuttgart, vol. 1, 2nd edition, 2005 and vol. 2, 1st edition, 2007.