Ach wie flüchtig, ach wie nichtig
BWV 026 // For the Twenty-fourth Sunday after Trinity
(Ah, how fleeting, ah, how empty) for alto, tenor and bass, vocal ensemble, horn, flute, oboe I–III, bassoon, strings and continuo.
Composed for the Twenty-fourth Sunday after Trinity, the cantata "Ach wie flüchtig, ach wie nichtig" (Ah, how fleeting, ah, how empty) is pervaded by an atmosphere of late autumnal gloom and loss, in which the natural phenomena of the changing seasons are employed as unusually direct metaphors for the transience of life. Based on a hymn by Michael Frank (1652), the libretto's interplay of rising mists, dismal downpours and fading flowers are skilfully interpreted to create a true "November" cantata of powerful musical imagery and concision.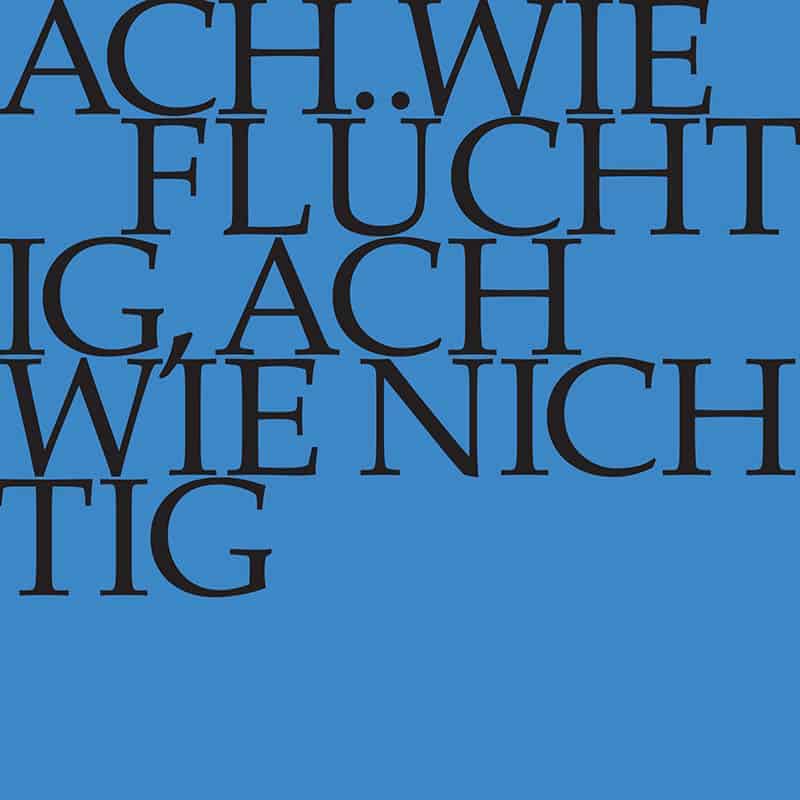 Video
Experience the introductory workshop, concert and reflective lecture in full length.
Workshop
Reflective lecture
«Lutzogram» for the introductory workshop
Rudolf Lutz's manuscript for the workshop
Audio
The sound recording of this work is available on several streaming and download platforms.
Choir
Soprano
Leonie Gloor, Guro Hjemli, Damaris Nussbaumer
Alto
Jan Börner, Antonia Frey, Olivia Heiniger, Lea Scherer
Tenor
Clemens Flämig, Nicolas Savoy, Manuel Gerber
Bass
Fabrice Hayoz, Philippe Rayot, William Wood
Orchestra
Conductor
Rudolf Lutz
Violin
Renate Steinmann, Anaïs Chen, Sylvia Gmür, Martin Korrodi, Fanny Tschanz, Livia Wiersich
Viola
Susanna Hefti, Martina Bischof
Violoncello
Maya Amrein
Violone
Iris Finkbeiner
Oboe
Katharina Arfken, Stefanie Haegele, Dominik Melicharek
Bassoon
Susann Landert
Corno
Olivier Picon
Recorder/Flute
Claire Genewein
Harpsichord
Norbert Zeilberger

Organ
Norbert Zeilberger
Musical director & conductor
Rudolf Lutz
Workshop
Participants
Karl Graf, Rudolf Lutz
Reflective lecture
Speaker
Gerhard Schwarz
Recording & editing
Recording date
11/20/2009
Recording location
Trogen
Sound engineer
Stefan Ritzenthaler
Director
Meinrad Keel
Production manager
Johannes Widmer
Production
GALLUS MEDIA AG, Switzerland
Producer
J.S. Bach Foundation of St. Gallen, Switzerland
Matching publications in our shop
Librettist
Text No. 1, 6
Michael Franck (1609–1679)
Text No. 2–5
Arranger unknown
First performance
Twenty-fourth Sunday after Trinity,
19 November 1724
In-depth analysis
Although the introductory chorus is richly orchestrated with four vocal parts, three oboes and flute (plus a horn and strings that support the soprano part), the setting remains compact in style owing to its brief duration and economic doubling of voices. Throughout the movement, a swirling orchestral motive of ascending and descending passages propels the work forward like leaves in a gusty autumn wind. Through the sequences of brief, disrupted motives and text blocks, Bach conjures a drastic and all too fleeting image of the transient nature of human life.
The tenor aria, characterised by coloraturas and fruitless gestures, evokes the hastening of our mortal days through the image of "rushing waters": here, the dominant transverse flute maintains the courtly tones of the introductory chorus while also functioning as a typical vanitas instrument. This is supplemented by a violin part, which sometimes participates in the virtuoso garlands of the tenor and the flute, but together with the continuo also fulfils an accompanying role. In the middle section of the extended da-capo aria, Bach realises a precise, naturalistic interpretation of the "breaking up" of raindrops, which represent the disintegration of all form and certainty in the face of death.

The alto recitative opens with an extreme ritardando, in which the melismatic rendering of "joy" suddenly transforms into "sadness" on a diminished chord. The movement is dominated by stark contrasts and powerful images, ere the prospect of the grave and "extinguishment" leads the vocal parts to descend to the lowest register. The following bass aria combines its sermon-like message with the dance form of a bourrée, evoking a hideous caricature of earthly elegance and craving for recognition. Here, the drooling tone of the obbligato oboes calls to mind a garishly made-up but long-doomed "Madame World", whose gaudy "treasures" and crass "seductions" were ubiquitous in the sinful hubbub of life in Leipzig.
The second recitative, despite its brevity, delivers a truly devastating message: in the ­furore of the "final hour", all will perish without hope or comfort. "Height's foundation", majesty and pretentions to godliness will all fall into oblivion. That the soprano was replaced at short notice by a tenor in this recording reflects the unpredictability of performance practice – an experience well familiar to baroque music directors, too.
The chorale, with its delayed cadences, retains the pessimistic character of the recitative and presents a memento mori of almost romantic expressiveness: only those who submit completely to God, will transcend death and receive the gift of eternal life.
Libretto
1. Chor
Ach wie flüchtig, ach wie nichtig
ist der Menschen Leben!
Wie ein Nebel bald entstehet
und auch wieder bald vergehet,
so ist unser Leben, sehet!
2. Arie (Tenor)
So schnell ein rauschend Wasser schiesst,
so eilen unser Lebenstage.
Die Zeit vergeht, die Stunden eilen,
wie sich die Tropfen plötzlich teilen,
wenn alles in den Abgrund schiesst.
3. Rezitativ (Alt)
Die Freude wird zur Traurigkeit,
die Schönheit fällt als eine Blume,
die grösste Stärke wird geschwächt,
es ändert sich das Glücke mit der Zeit,
bald ist es aus mit Ehr und Ruhme,
die Wissenschaft und was
ein Mensche dichtet,
wird endlich durch das Grab vernichtet.
4. Arie (Bass)
An irdische Schätze das Herze zu hängen,
ist eine Verführung der törichten Welt.
Wie leichtlich entstehen verzehrende Gluten,
wie rauschen und reissen
die wallenden Fluten,
bis alles zerschmettert in Trümmern zerfällt.
5. Rezitativ (Sopran*)
Die höchste Herrlichkeit und Pracht
umhüllt zuletzt des Todes Nacht.
Wer gleichsam als ein Gott gesessen,
entgeht dem Staub und Asche nicht,
und wenn die letzte Stunde schläget,
dass man ihn zu der Erde träget,
und seiner Hoheit Grund zerbricht,
wird seiner ganz vergessen.
*Ausgeführt durch Daniel Johannsen (Tenor)
6. Choral
Ach wie flüchtig, ach wie nichtig
sind der Menschen Sachen!
Alles, alles, was wir sehen,
das muss fallen und vergehen.
Wer Gott fürcht, bleibt ewig stehen.
Bibliographical references
All libretti sourced from Neue Bach-Ausgabe. Johann Sebastian Bach. Neue Ausgabe sämtlicher Werke, published by the Johann-Sebastian-Bach-Institut Göttingen and the Bach-Archiv Leipzig, Series I (Cantatas), vol. 1–41, Kassel and Leipzig, 1954–2000.
All in-depth analyses by Anselm Hartinger (English translations/editing by Alice Noger-Gradon/Mary Carozza) based on the following sources:  Hans-Joachim Schulze, Die Bach-Kantaten. Einführungen zu sämtlichen Kantaten Johann Sebastian Bachs, Leipzig, 2nd edition, 2007; Alfred Dürr, Johann Sebastian Bach. Die Kantaten, Kassel, 9th edition, 2009, and Martin Petzoldt, Bach-Kommentar. Die geistlichen Kantaten, Stuttgart, vol. 1, 2nd edition, 2005 and vol. 2, 1st edition, 2007.