Wir danken dir, Gott, wir danken dir
BWV 029 // For the Council Election
(We give thee thanks, God, we give thee thanks) for soprano, alto, tenor and bass, vocal ensemble, trumpets I-III, percussion, bassoon I+II, strings, organo obbligato and continuo
The annual service on St Bartholomew's Day to inaugurate the new town council numbered among the highlights of the festive calendar in Leipzig. Despite Bach's turbulent relationship to the council – his employer – he dutifully composed the requisite cantata throughout his tenure. Some five compositions written for this occasion have been preserved in whole or in part, and the texts for a further three have also survived. Although the cantatas for this occasion have a courtly finesse, this is less a testament to the (limited) power of the Leipzig burgher class than to their career-driven interest in pleasing the Dresden territorial sovereign.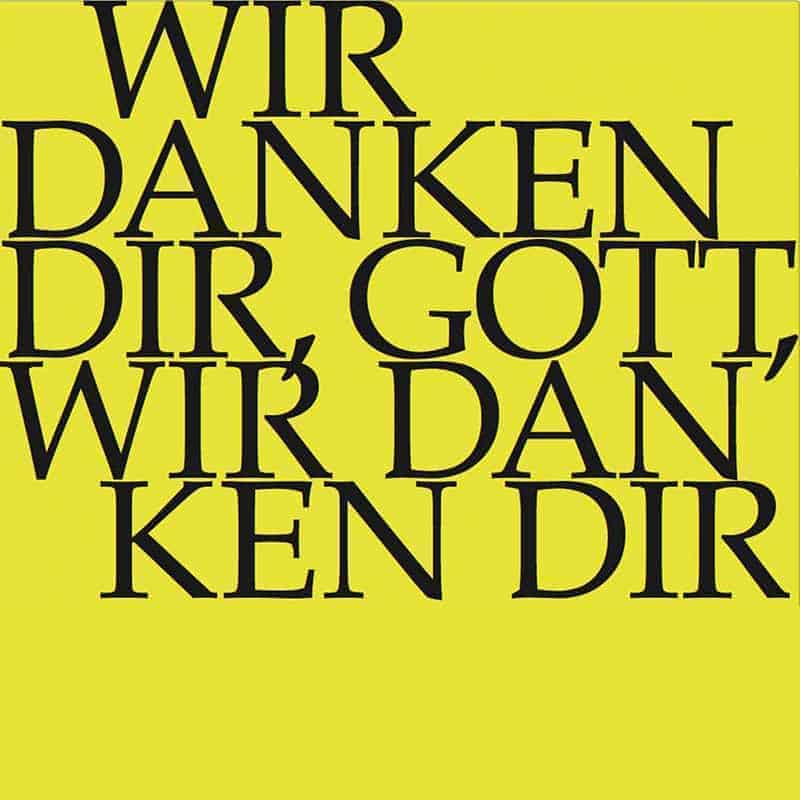 Video
Experience the introductory workshop, concert and reflective lecture in full length.
Workshop
Reflective lecture
«Lutzogram» for the introductory workshop
Rudolf Lutz's manuscript for the workshop
Audio
The sound recording of this work is available on several streaming and download platforms.
Soloists
Choir
Soprano
Mirjam Berli, Olivia Fündeling, Susanne Seitter, Noëmi Sohn Nad, Alexa Vogel
Alto
Jan Börner, Antonia Frey, Damaris Rickhaus, Simon Savoy, Lea Scherer
Tenor
Manuel Gerber, Raphael Höhn, Walter Siegel
Bass
Fabrice Hayoz, Valentin Parli, Philippe Rayot, Tobias Wicky
Orchestra
Conductor
Rudolf Lutz
Violin
Renate Steinmann, Monika Baer, Monika Altorfer, Martin Korrodi, Olivia Schenkel, Marita Seeger
Viola
Susanna Hefti, Martina Zimmermann
Violoncello
Maya Amrein, Hristo Kouzmanov
Violone
Iris Finkbeiner
Oboe
Dominik Melicharek, Ingo Müller
Bassoon
Susann Landert
Tromba da tirarsi
Patrick Henrichs, Peter Hasel, Pavel Janecek
Timpani
Martin Homann
Organo Obbligato
Tobias Lindner
Harpsichord
Nicola Cumer
Musical director & conductor
Rudolf Lutz
Workshop
Participants
Karl Graf, Rudolf Lutz
Reflective lecture
Speaker
Meinrad Walter
Recording & editing
Recording date
08/23/2013
Recording location
Trogen
Sound engineer
Stefan Ritzenthaler
Director
Meinrad Keel
Production manager
Johannes Widmer
Production
GALLUS MEDIA AG, Switzerland
Producer
J.S. Bach Foundation of St. Gallen, Switzerland
Matching publications in our shop
Librettist
Text No. 2
Psalm 75:2
Text No. 3–7
Poet unknown
Text No. 8
Königsberg, 1548
First performance
27 August 1731
In-depth analysis
Cantata BWV 29 was re-performed several times after its premiere in 1731, and its introductory sinfonia is an impressive example of how the requirements of a specific event inspired Bach to further develop his ideas. First conceived in 1720 as the Preludio to his Partita for Violin in E Major (BWV 1006), Bach reworked the movement around 1729 for a wedding cantata, forming it into a concerto-style setting for organ and string orchestra, possibly with oboes. For the council election in 1731, trumpets and timpani were then added, lending it the exhilarating character that later inspired Felix Mendelssohn to write a piano arrangement of the movement in 1840. This transformation from a delicate solo setting into a compact orchestral movement demonstrates Bach's mastery of motivic combination and instrumentation: first, strings and woodwinds take on the melody of the solo setting, while the addition of trumpets introduces fanfares; developmental elements and polychoral effects are then added to round out the concerto-style structure. The inclusion of an organ lends a sacred tone to the sinfonia, which together with the subsequent chorus calls to mind a St Cecilia composition dedicated to the praise of church music. This succession of a concertante-modern instrumental setting and a strict vocal fugue in early dacappella style constitutes a double prelude in which the combination of old-fashioned constancy and splendid grandeur reflects central attributes of the council. The two short text components glorifying God are captured by Bach in two contrasting themes; this music was then later reworked in 1733 for a setting with practically the same text, the Gratias of the Mass in B Minor, and later again for his Dona Nobis Pacem, which is by far the more famous today. Overall, the composition is remarkable for the successive development of its tonal scope, which, like the ascending figure of the closely controlled motive on the words of thanks, lends the work suggestive power.
By way of contrast, the light-footed tenor aria, set in the bright key of A major, unites a heroic attitude with cantabile elements. With the running "Hallelujah" figure, the soloist makes an effective entry; the libretto, by placing glorification of God above praise of the authorities, establishes a clear hierarchy. The mention of "Zion" in the middle section then introduces the ideal of a Christian community – one in which God himself would happily live.
The bass recitative takes this thought further by presenting God's protection as the cornerstone of a good life. This general wellbeing is also owed to wise city governance, and Psalm 85 alludes to the council's obligation to preserving peace and justice. These words of flattery are followed by the soprano aria, an intimate plea for mercy from which both rulers and servants should benefit in equal measure. Set in a flowing 6⁄8 metre and earnest B minor key, the aria conjures a magic (reminiscent of Handel's operas and some Passion arias) that attains even greater lightness through the frequent tasto solo instruction for the organ.
Nonetheless, the libretto – as appropriate for a city of trade – also has commercial elements; in the alto recitative, the Highest is urgently implored to protect the prosperity of the community in return for praise and sacrifice. After this ceremonial declaration, the choir, representative of the people, concludes with a unison "Amen" – an acclamation in which the political contract is publicly renewed. In the ensuing alto aria, however, the gravity of the situation dissolves; the "Hallelujah" music, based on the tenor aria, gives rise to a liberated song of thanksgiving. By using the organ in place of the violins in this setting, Bach establishes a theological connection to the opening sinfonia.
"Sei Lob und Preis mit Ehren" (Now laud and praise with honour): this hymnal chorale with powerful tutti winds is a succinct expression of confidence under the aegis of the divine Trinity. Although the change in council membership was nothing more than a regular rotation within the patrician class, and thus little more than an early example of a managed democracy, Bach's imaginative composition leaves no doubt as to the significance of this supplicatory church service in renewing the community's covenant with God. Indeed, it is successful events such as these that probably helped Bach retain his position as Stadtkantor long after his serious rift with the council in 1729/30.
Libretto
2. Chor
«Wir danken dir, Gott, wir danken dir
und verkündigen deine Wunder.»
3. Aire (Tenor)
Halleluja, Stärk und Macht
sei des Allerhöchsten Namen.
Zion ist noch seine Stadt,
da er seine Wohnung hat*,
da er noch bei unserm Samen
an der Väter Bund gedacht.
*da er Lust zu wohnen hat

(abweichende Lesart in Takt 117/19)
4. Rezitativ (Bass)
Gott Lob! es geht uns wohl!
Gott ist noch unsre Zuversicht;
sein Schutz, sein Trost und Licht
beschirmt die Stadt und die Paläste;
sein Flügel hält die Mauern feste.
Er lässt uns aller Orten segnen;
der Treue, die den Frieden küsst,
muss für und für
Gerechtigkeit begegnen.
Wo ist ein solches Volk wie wir,
dem Gott so nah und gnädig ist!
5. Arie (Sopran)
Gedenk an uns mit deiner Liebe,
schleuss uns in dein Erbarmen ein.
Segne die, so uns regieren,
die uns leiten, schützen, führen,
segne, die gehorsam sein.
6. Rezitativ (Alt, Chor)
Vergiss es ferner nicht, mit deiner Hand
uns Gutes zu erweisen,
so soll dich unsre Stadt und unser Land,
das deiner Ehre voll,
mit Opfern und mit Danken preisen,

«und alles Volk soll sagen:
Amen!»
7. Arie (Alt)
Halleluja, Stärk und Macht
sei des Allerhöchsten Namen!
8. Choral
Sei Lob und Preis mit Ehren
Gott, Vater, Sohn, Heiligem Geist,
der woll in uns vermehren,
was er uns aus Gnaden verheisst,
dass wir ihm fest vertrauen,
gänzlich verlass'n auf ihn,
von Herzen auf ihn bauen,
dass uns'r Herz, Mut und Sinn
ihm tröstlich soll'n anhangen;
drauf singen wir zur Stund:
Amen, wir werden's erlangen,
glaub'n wir aus Herzens Grund.

Bibliographical references
All libretti sourced from Neue Bach-Ausgabe. Johann Sebastian Bach. Neue Ausgabe sämtlicher Werke, published by the Johann-Sebastian-Bach-Institut Göttingen and the Bach-Archiv Leipzig, Series I (Cantatas), vol. 1–41, Kassel and Leipzig, 1954–2000.
All in-depth analyses by Anselm Hartinger (English translations/editing by Alice Noger-Gradon/Mary Carozza) based on the following sources:  Hans-Joachim Schulze, Die Bach-Kantaten. Einführungen zu sämtlichen Kantaten Johann Sebastian Bachs, Leipzig, 2nd edition, 2007; Alfred Dürr, Johann Sebastian Bach. Die Kantaten, Kassel, 9th edition, 2009, and Martin Petzoldt, Bach-Kommentar. Die geistlichen Kantaten, Stuttgart, vol. 1, 2nd edition, 2005 and vol. 2, 1st edition, 2007.