Ach Gott, wie manches Herzeleid
BWV 003 // For the Second Sunday after Epiphany
(Ah God, how oft a heartfelt grief) for the Second Sunday after Epiphany, for soprano, alto, tenor and bass, vocal ensemble, trombone, oboe d'amore I+II, strings and basso continuo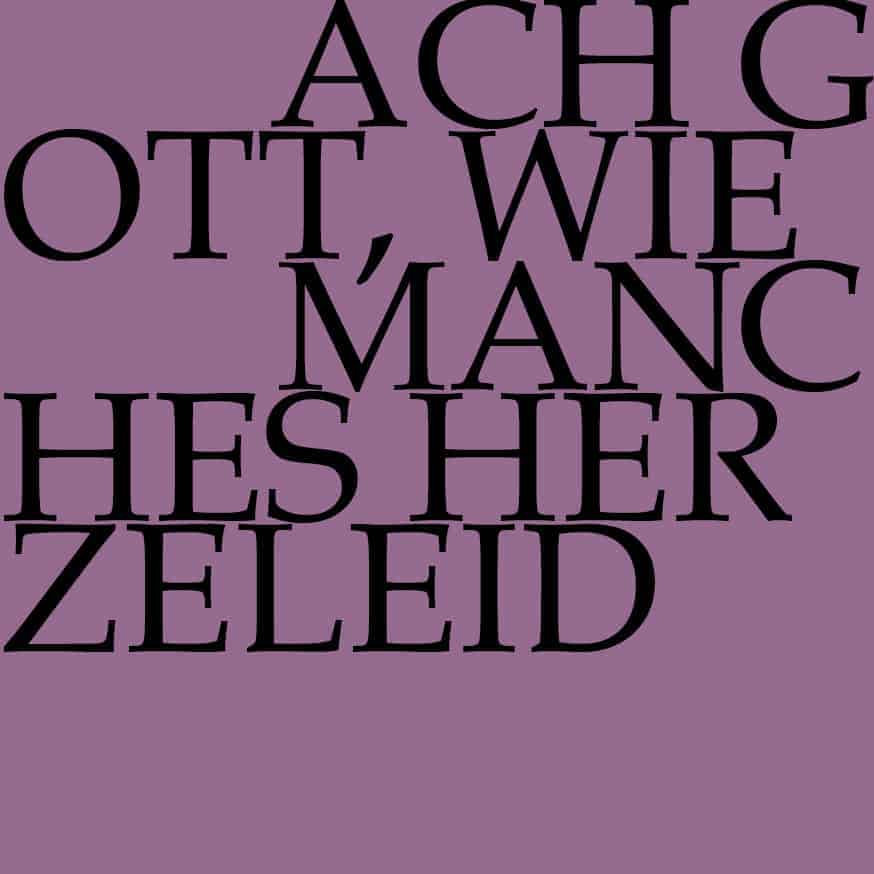 Video
Experience the introductory workshop, concert and reflective lecture in full length.
Workshop
Reflective lecture
«Lutzogram» for the introductory workshop
Rudolf Lutz's manuscript for the workshop
Soloists
Choir
Soprano
Lia Andres, Stephanie Pfeffer, Susanne Seitter, Noëmi Tran-Rediger, Maria Weber, Alexa Vogel
Alto
Antonia Frey, Stephan Kahle, Francisca Näf, Alexandra Rawohl, Lea Pfister-Scherer
Tenor
Zacharie Fogal, Joël Morand, Christian Rathgeber, Nicolas Savoy
Bass
Serafin Heusser, Daniel Pérez, Retus Pfister, Philippe Rayot, Tobias Wicky
Orchestra
Conductor & Harpsichord
Rudolf Lutz
Violin
Renate Steinmann, Monika Baer, Elisabeth Kohler, Olivia Schenkel, Marita Seeger, Salome Zimmermann
Viola
Susanna Hefti, Claire Foltzer, Matthias Jäggi
Violoncello
Maya Amrein, Jakob Herzog
Violone
Markus Bernhard
Trombone
Henning Wiegräbe
Oboe d'amore
Katharina Arfken, Clara Espinosa Eucinas
Bassoon
Susann Landert
Organ
Nicola Cumer
Musical director & conductor
Rudolf Lutz
Workshop
Participants

Rudolf Lutz, Pfr. Niklaus Peter
Reflective lecture
Speaker
Christoph Quarch
Recording & editing
Recording date
12/02/2021
Recording location
St. Gallen (Switzerland) // Olma-Halle 2.0
Sound engineer
Stefan Ritzenthaler
Producer
Meinrad Keel
Executive producer
Johannes Widmer
Production
GALLUS MEDIA AG, Schweiz
Producer
J.S. Bach-Stiftung, St. Gallen, Schweiz
Matching publications in our shop
Librettist
First performance
14 January 1725, Leipzig
Text
Martin Moller (movements 1, 2, 6)
Unknown poet (movements 3–5)
Libretto
1. Chor
Ach Gott, wie manches Herzeleid
begegnet mir zu dieser Zeit!
Der schmale Weg ist trübsalvoll,
den ich zum Himmel wandern soll.
2. Rezitativ und Choral — Sopran, Alt, Tenor, Bass; Chor
Wie schwerlich läßt sich Fleisch und Blut
so nur nach Irdischem und Eitlem trachtet
und weder Gott noch Himmel achtet,
zwingen zu dem ewigen Gut.
Da du, o Jesu, nun mein alles bist,
und doch mein Fleisch so widerspenstig ist,
Wo soll ich mich denn wenden hin?
Das Fleisch ist schwach, doch will der Geist;
so hilf du mir, der du mein Herze weißt.
Zu dir, o Jesu, steht mein Sinn.
Wer deinem Rat und deiner Hülfe traut,
der hat wohl nie auf falschen Grund gebaut.
Da du der ganzen Welt zum Trost gekommen
und unser Fleisch an dich genommen,
so rettet uns dein Sterben
vom endlichen Verderben.
Drum schmecke doch ein gläubiges Gemüte
des Heilands Freundlichkeit und Güte.
3. Arie — Bass
Empfind ich Höllenangst und Pein,
doch muß beständig in dem Herzen
ein rechter Freudenhimmel sein.
Ich darf nur Jesu Namen nennen,
der kann auch unermeßne Schmerzen
als einen leichten Nebel trennen.
Es mag mir Leib und Geist verschmachten,
bist du, o Jesu, mein
und ich bin dein,
will ichs nicht achten.
Dein treuer Mund
und dein unendlich Lieben,
das unverändert stets geblieben,
erhält mir noch dein' ersten Bund,
der meine Brust mit Freudigkeit erfüllet
und auch des Todes Furcht,
des Grabes Schrecken stillet.
Fällt Not und Mangel gleich von allen Seiten ein,
mein Jesus wird mein Schatz und Reichtum sein.
5. Arie — Duett Sopran, Alt
Wenn Sorgen auf mich dringen,
will ich in Freudigkeit
zu meinem Jesu singen.
Mein Kreuz hilft Jesus tragen,
drum will ich gläubig sagen:
Es dient zum besten allezeit.
6. Choral
Erhalt mein Herz im Glauben rein,
so leb und sterb ich dir allein.
Jesu, mein Trost, hör mein Begier,
o mein Heiland, wär ich bei dir.
Bibliographical references
All libretti sourced from Neue Bach-Ausgabe. Johann Sebastian Bach. Neue Ausgabe sämtlicher Werke, published by the Johann-Sebastian-Bach-Institut Göttingen and the Bach-Archiv Leipzig, Series I (Cantatas), vol. 1–41, Kassel and Leipzig, 1954–2000.
All in-depth analyses by Anselm Hartinger (English translations/editing by Alice Noger-Gradon/Mary Carozza) based on the following sources:  Hans-Joachim Schulze, Die Bach-Kantaten. Einführungen zu sämtlichen Kantaten Johann Sebastian Bachs, Leipzig, 2nd edition, 2007; Alfred Dürr, Johann Sebastian Bach. Die Kantaten, Kassel, 9th edition, 2009, and Martin Petzoldt, Bach-Kommentar. Die geistlichen Kantaten, Stuttgart, vol. 1, 2nd edition, 2005 and vol. 2, 1st edition, 2007.