Geist und Seele wird verwirret
BWV 035 // For the Twelfth Sunday after Trinity
(Soul with spirit is bewildered) for alto, oboe I+II, oboe da caccia, bassoon, organo obbligato, strings and continuo.
Bach's alto cantata "Geist und Seele wird verwirret" (Soul with spirit is bewildered) BWV 35, composed for the Twelfth Sunday after Trinity, belongs to Bach's most unusual sacred works. Composed to a libretto by the Darmstadt court librarian Georg Christian Lehms, it is one of Bach's few solo cantatas. The lack of a choir is nonetheless magnificently compensated by the orchestration of strings and three oboes. More noteworthy, however, is that Bach uses the organ as a virtuosic solo instrument not only in the opening sinfonia, but in almost every movement. It has long been assumed that at least the two purely instrumental movements (and possibly the first aria of the cantata) were based upon a solo concerto – probably intended for oboe – that remains lost today. A nine-bar fragment in Bach's hand of the same opening movement for harpsichord, oboe and strings (BWV 1059) is seen as further evidence of a lost concerto.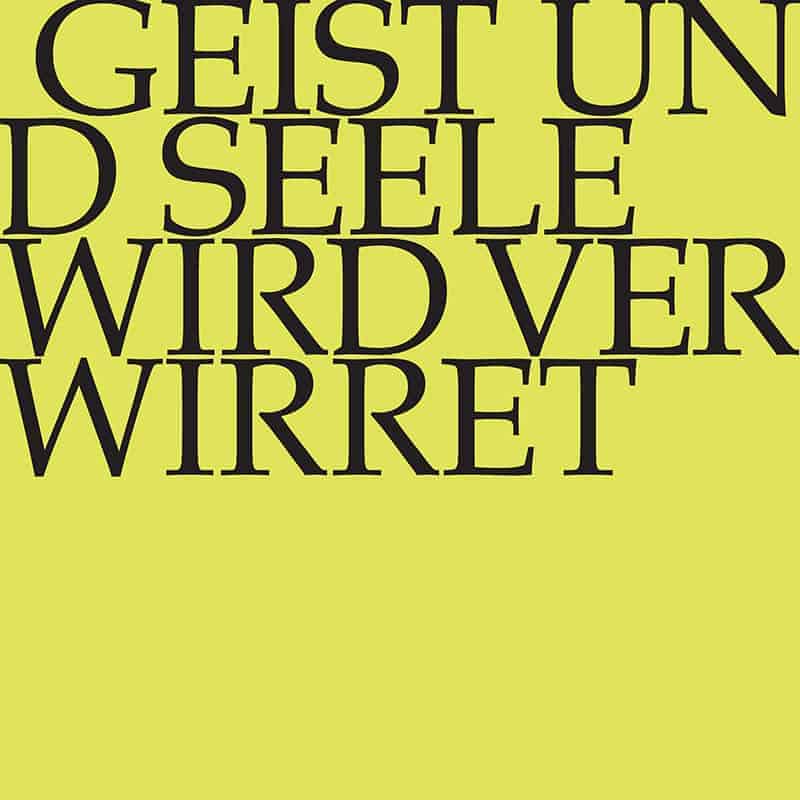 Video
Experience the introductory workshop, concert and reflective lecture in full length.
Workshop
Reflective lecture
«Lutzogram» for the introductory workshop
Rudolf Lutz's manuscript for the workshop
Audio
The sound recording of this work is available on several streaming and download platforms.
Orchestra
Conductor & cembalo
Rudolf Lutz
Violin
Renate Steinmann, Martin Korrodi, Christine Baumann, Sabine Hochstrasser, Olivia Schenkel, Livia Wiersich
Viola
Susanna Hefti, Xiao Ma
Violoncello
Martin Zeller
Violone
Iris Finkbeiner
Oboe
Katharina Arfken, Thomas Meraner
Oboe da caccia
Luise Baumgartl
Bassoon
Susann Landert
Organo Obbligato
Norbert Zeilberger
Musical director & conductor
Rudolf Lutz
Workshop
Participants
Karl Graf, Rudolf Lutz
Reflective lecture
Speaker
Prof. Dr. Ulrike Landfester
Recording & editing
Recording date
08/28/2009
Recording location
Trogen
Sound engineer
Stefan Ritzenthaler
Director
Meinrad Keel
Production manager
Johannes Widmer
Production
GALLUS MEDIA AG, Switzerland
Producer
J.S. Bach Foundation of St. Gallen, Switzerland
Matching publications in our shop
Librettist
Text
Georg Christian Lehms (1684–1717)
First performance
8 September 1726
In-depth analysis
While the introductory D minor concerto of the cantata is powerful and serious in design, the sinfonia in the middle of the work is somewhat Vivaldian in character on account of its repetitive binary form, strict eight-bar sections and its spirited and zestful character. The work's first aria features a siciliano-like ritornello that is strongly reminiscent of the middle movements of Bach concertos, and the "bewilderment" treated in the libretto is manifested here by the irregular pauses in the anchoring continuo part.

While the preacher for that Sunday's sermon probably had little difficulty in describing the miracle of the healing of the deaf and dumb (Mark 7, 31–37), Lehm's rather wilful interpretation of the bible passage did not simplify matters for the composer. The verbose text comes across as somewhat contrived; Bach was evidently inspired to compose a capricious and at times highly elaborate movement, although he refrained from employing the full sound and power of the organ. Instead, the organ's ornate figures create an atmosphere of intellectual tension and extreme artistry – as if the soul, overwhelmed and rendered "deaf and dumb" by the godly miracle, sought refuge in the mechanical execution of external events. Aside from its role in the concerto movements and recitative accompaniment, Bach succeeds in finding fresh ways of featuring the organ in the three arias. After the highly contrasting use of alto and organ in the first aria (movement 2), the second aria (movement 4) is a lively trio of voice, continuo and the right hand of the organ. In the closing aria, the organ part is autonomous in character, but skilfully integrated into the already dense harmonic structure of the solo alto and full orchestra – a demanding but successful composition. In this movement, the organ's virtuosic triplet figures, already admirable enough in themselves, also effectively conjure up the spirit of the "glad hallelujah" with which the libretto of the cantata, a work that oscillates between joy in creation and contempt for the world, closes.
Libretto
2. Arie (Alt)
Geist und Seele wird verwirret,
wenn sie dich, mein Gott, betracht'.
Denn die Wunder, so sie kennet
und das Volk mit Jauchzen nennet,
hat sie taub und stumm gemacht.
3. Rezitativ (Alt)
Ich wundre mich;
denn alles, was man sieht,
muss uns Verwundrung geben.
Betracht ich dich,
du teurer Gottessohn,
so flieht
Vernunft und auch Verstand davon.
Du machst es eben,
dass sonst ein Wunderwerk von dir was Schlechtes ist.
Du bist
dem Namen, Tun und Amte nach
erst wunderreich;
dir ist kein Wunderding auf dieser Erde gleich.
Den Tauben gibst du das Gehör,
den Stummen ihre Sprache wieder,
ja, was noch mehr,
du öffnest auf ein Wort die blinden Augenlider.
Dies, dies sind Wunderwerke,
und ihre Stärke
ist auch der Engel Chor nicht mächtig auszusprechen.
4. Arie (Alt)
Gott hat alles wohlgemacht.
Seine Liebe, seine Treu
wird uns alle Tage neu.
Wenn uns Angst und Kummer drücket,
hat er reichen Trost geschicket,
weil er täglich für uns wacht:
Gott hat alles wohlgemacht!
Seconda Parte
5. Sinfonia
6. Rezitativ (Alt)
Ach, starker Gott, lass mich
doch dieses stets bedenken,
so kann ich dich
vergnügt in meine Seele senken.
Lass mir dein süsses Hephata
das ganz verstockte Herz erweichen;
ach! lege nur den Gnadenfinger in die Ohren,
sonst bin ich gleich verloren.
Rühr auch das Zungenband
mit deiner starken Hand,
damit ich diese Wunderzeichen
in heilger Andacht preise
und mich als Kind und Erb erweise.
7. Arie (Alt)
Ich wünsche nur, bei Gott zu leben.
Ach! wäre doch die Zeit schon da,
ein fröhliches Halleluja
mit allen Engeln anzuheben!
Mein liebster Jesu, löse doch
das jammerreiche Schmerzensjoch
und lass mich bald in deinen Händen
mein martervolles Leben enden!
Bibliographical references
All libretti sourced from Neue Bach-Ausgabe. Johann Sebastian Bach. Neue Ausgabe sämtlicher Werke, published by the Johann-Sebastian-Bach-Institut Göttingen and the Bach-Archiv Leipzig, Series I (Cantatas), vol. 1–41, Kassel and Leipzig, 1954–2000.
All in-depth analyses by Anselm Hartinger (English translations/editing by Alice Noger-Gradon/Mary Carozza) based on the following sources:  Hans-Joachim Schulze, Die Bach-Kantaten. Einführungen zu sämtlichen Kantaten Johann Sebastian Bachs, Leipzig, 2nd edition, 2007; Alfred Dürr, Johann Sebastian Bach. Die Kantaten, Kassel, 9th edition, 2009, and Martin Petzoldt, Bach-Kommentar. Die geistlichen Kantaten, Stuttgart, vol. 1, 2nd edition, 2005 and vol. 2, 1st edition, 2007.