Jesu, nun sei gepreiset
BWV 041 // New Year's Day (Feast of the Circumcision)
(Jesus, be now exalted) for soprano, alto, tenor and bass, vocal ensemble, trumpet I–III, timpani, oboe I–III, strings and basso continuo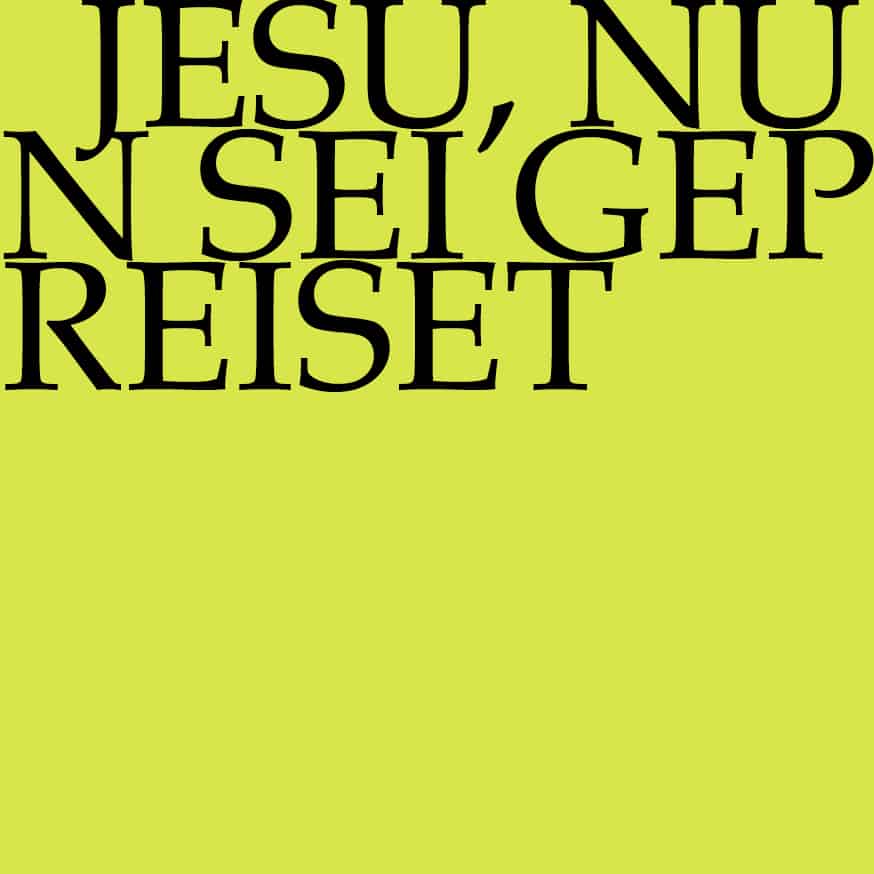 Video
Experience the introductory workshop, concert and reflective lecture in full length.
«Lutzogram» for the introductory workshop
Rudolf Lutz's manuscript for the workshop
Soloists
Choir
Soprano
Lia Andres, Stephanie Pfeffer, Simone Schwark, Noëmi Sohn Nad, Noëmi Tran-Rediger, Alexa Vogel
Alto
Anne Bierwirth, Nanora Büttiker, Antonia Frey, Francisca Näf, Lea Pfister-Scherer
Tenor
Zacharie Fogal, Achim Glatz, Tiago Oliveira, Christian Rathgeber
Bass
Jean-Christophe Groffe, Fabrice Hayoz, Serafin Heusser, Philippe Rayot, Tobias Wicky
Orchestra
Conductor
Rudolf Lutz
Violin
Renate Steinmann, Monika Baer, Claire Foltzer, Elisabeth Kohler, Olivia Schenkel, Petra Melicharek, Salome Zimmermann
Viola
Susanna Hefti, Matthias Jäggi, Stella Mahrenholz
Violoncello
Martin Zeller, Magdalena Reisser
Violoncello piccolo
Martin Zeller
Violone
Guisella Massa
Oboe
Katharina Arfken, Philipp Wagner, Clara Espinosa
Trumpet
Lukasz Gothszalk, Matthew Sadler, Alexander Samawicz
Timpani
Inez Ellmann
Bassoon
Susann Landert
Harpsichord
Thomas Leininger
Organ
Nicola Cumer 
Musical director & conductor
Rudolf Lutz
Workshop
Participants
Rudolf Lutz, Michael Maul, Pfr. Niklaus Peter
Reflective lecture
Speaker
Rudolf Osterwalder
Recording & editing
Recording date
29/04/2022
Recording location
Trogen AR (Schweiz) // Evangelische Kirche
Sound engineer
Stefan Ritzenthaler
Producer
Meinrad Keel
Executive producer
Johannes Widmer
Production
GALLUS MEDIA AG, Schweiz
Producer
J.S. Bach-Stiftung, St. Gallen, Schweiz
Matching publications in our shop
Librettist
First performance
1 January 1725, Leipzig
Text
Johannes Herman (movements 1, 6); unknown source (movements 2–5)
Libretto
1. Chor
Jesu, nun sei gepreiset
zu diesem neuen Jahr
für dein Güt, uns beweiset
in aller Not und Gefahr,
daß wir haben erlebet
die neu fröhliche Zeit,
die voller Gnaden schwebet
und ewger Seligkeit;
daß wir in guter Stille
das alt Jahr hab'n erfüllet.
Wir wollen uns dir ergeben
itzund und immerdar,
behüt Leib, Seel und Leben
hinfort durchs ganze Jahr!
2. Arie — Sopran
Laß uns, o höchster Gott, das Jahr vollbringen,
damit das Ende so wie dessen Anfang sei.
Es stehe deine Hand uns bei,
daß künftig bei des Jahres Schluß
wir bei des Segens Überfluß
wie itzt ein Halleluja singen.
3. Rezitativ — Alt
Ach! deine Hand, dein Segen muß allein
das A und O, der Anfang und das Ende sein.
Das Leben trägest du in deiner Hand,
und unsre Tage sind bei dir geschrieben;
dein Auge steht auf Stadt und Land;
du zählest unser Wohl und kennest unser Leiden,
ach! gib von beiden,
was deine Weisheit will,
worzu dich dein Erbarmen angetrieben.
4. Arie — Tenor
Woferne du den edlen Frieden
vor unsern Leib und Stand beschieden,
so laß der Seele doch dein selig machend Wort.
Wenn uns dies Heil begegnet,
so sind wir hier gesegnet
und Auserwählte dort!
5. Rezitativ — Bass und Chor
Doch weil der Feind bei Tag und Nacht
zu unserm Schaden wacht
und unsre Ruhe will verstören,
so wollest du, o Herre Gott, erhören,
wenn wir in heiliger Gemeine beten:
Den Satan unter unsre Füße treten.
So bleiben wir zu deinem Ruhm
dein auserwähltes Eigentum
und können auch nach Kreuz und Leiden
zur Herrlichkeit von hinnen scheiden.
6. Choral
Dein ist allein die Ehre,
dein ist allein der Ruhm;
Geduld im Kreuz uns lehre,
regier all unser Tun,
bis wir fröhlich abscheiden
ins ewig Himmelreich,
zu wahrem Fried und Freude,
den Heilgen Gottes gleich.
Indes machs mit uns allen
nach deinem Wohlgefallen:
solchs singet heut ohn Scherzen
die christgläubige Schar
und wünscht mit Mund und Herzen
ein seligs neues Jahr.
7. Choral
Selig sind, die aus Erbarmen
sich annehmen fremder Not,
sind mitleidig mit den Armen,
bitten treulich für sie Gott.
Die behülflich sind mit Rat,
auch, wo möglich, mit der Tat,
werden wieder Hülf empfangen
und Barmherzigkeit erlangen.
Rudolf Osterwalder
"Thou countest our weal and knowest our woe, Alas! Give of both"
Dear listeners
My first response when listening to the cantata was to notice the two "Achs" in the cantata text. How are they to be interpreted? One Ach of humility, one Ach of sorrow. The second Ach, "Ach! Give of both, weal and woe", awakened a memory in me: as primary school pupils, we were asked in religion class to consider which "Our Father" petition impressed us the most. To the astonishment of the teacher, I decided on the petition: "Thy will be done". (I had not known the cantata text…) Today, in view of the dramatic situation in the world, I feel provoked by the statement: "Give us from suffering." Or does the "Alas" sound like a quiet resistance and protest, a lament? The good, but also the suffering are supposed to be driven by God's "wisdom and mercy", entirely in the sense of G. W. Leibniz's theodicy. In today's world, however, where suffering and violence are omnipresent, any romantic trivialisation of suffering is provocative, as Eduard Mörike, for example, put it in his poem:
"Lord! Send what you will, a love or a sorrow, I am amused that both spring from your hands."
Despite my criticism of the approval of suffering, which for me is too uncritical, I am impressed by the piety which the cantata radiates. This against the background of the history of Saxony in the early eighteenth century. Plague and famine, the Northern War with many dead Saxons and still witch trials shook the countryside or were only just over. Life expectancy was 35 for men and 38 for women. Johann Sebastian Bach lost half of his children when they were barely born or still very young. Nevertheless, he wrote "Soli Deo Gloria", to the glory of God, on many of his cantatas. Not only were the beautiful cantatas written against a background of deep piety; the magnificent Frauenkirche in Dresden was also planned and realised during the same period.
How is this acceptance of suffering to be interpreted? Is it an identification with the aggressor, a kind of Stockholm syndrome? The theologian Karl Rahner sees suffering in all its harshness: "There is infinitely manifold, horrific suffering in the history of mankind, which has a destructive effect, simply overwhelms man and cannot be integrated into a process of maturation and personal probation." In addition, his pastoral advice: "Live in such a way that the suffering imposed on you and your environment does not destroy you in your ultimate attitude towards God into despair." In relation to suffering, there is no sense of a "give of it".
The word "despair" builds a bridge for me to my profession: psychiatrist and psychotherapist. Because I have been confronted with terrible suffering and pain of patients in my work, you may better understand my resistance to glorifying suffering. How am I supposed to explain to a traumatised mother who holds her dying child, who has fallen out of a window, in her hands and can only accompany it to its death, that this acute pain has a meaning? How am I supposed to be grateful for the suffering when a student runs out of exams and hangs himself? How am I to explain to the severely depressed patient that the despair, the emptiness, the powerlessness makes sense? Can I expect the desperate raped woman to see her crisis as an opportunity? For what should refugees be grateful for their suffering when they have seen children die in the hail of bombs, or the women had to leave their husbands behind in the war?
To this day, theodicy cannot answer the question of why God allows all this to happen. I follow Odo Marquart, who has dealt intensively with the subject and comes to the conclusion that it is not possible for a human being to answer the questions surrounding theodicy. The view of F. Nietzsche, who places God beyond good and evil, has a liberating effect.
At this point a differentiation is necessary: I deny meaning to acute suffering. However, there are also people who go through a positive development after overcoming a crisis; one could call this a collateral chance. In this way, positive developments, new value systems can emerge from a borderline experience. I am thinking of a manager who reorganised his life after a resuscitation and became involved only in charity work. His near-death experience was impressive: he felt safe, enveloped in a bright light which, to his astonishment, did not dazzle him. Since this experience, he was no longer afraid of dying, and even had a certain longing for what he had experienced, but without being suicidal. Literary history shows another example of a positive effect of crises: many authors have gained inspiration for their works through experiences of personal crises. Crises therefore do not always have to be negative. Developmental psychology shows that turbulence can be important, even necessary, for the maturation of the personality. In therapies, one often experiences that shocks in the treatment process can be quite fruitful and initiate a next step in development.
In therapies, the question of the cause of suffering and evil is less connected with theodicy than with the question of the meaning of life.
C. G. Jung says: "The religious question plays a role in every therapy. This always poses the crucial question to the therapist: What do you think about religion? C. G. Jung's answer: "Life contains sense and nonsense; I have the fearful hope that sense will prevail. When patients asked me the question about the meaning of life, I usually answered: "You can deal with the question of meaning in different ways: Deeper reflection can end in brooding and despair. But it can also lead to wonder at the miracle of life and the cosmos." I mean that every human being has a connection to transcendence in some way. What does transcendence mean? According to Karl Jaspers, it is "the ultimate infinite being which eludes any rational effort of thought or objectifying representation". Depending on one's socio-cultural background, God or something else can be referred to in this way. Karl Jaspers uses the word "cipher" as the language of transcendence. A cipher can be anything that paves the transcendental way. Since, according to the Bible, the direct way to God is through Jesus, he can be called the central cipher for Christians. Other keys to transcendence can be, among others, the magnificent music of J. S. Bach, mysticism or love. Even natural science can be a cipher if it leads to wonder. As Stephen Hawking says: "If there is a God, for me he would be the sum of all the laws of nature." Werner Heisenberg's statement is impressive: "The first drink from the cup of natural science makes one atheistic, but God waits at the bottom of the cup." And, "Before matter there was symmetry."
In the cantata, Satan is vehemently declared to be at war. Obviously, a distinction is made between evil and the suffering that God sends. "Evil" is a primordial word like love or God. The essence of such words cannot ultimately be grasped, at most guessed at. However, the effects and conditions of evil are dramatically perceptible.
Psychology knows various approaches to the subject of "evil". Sigmund Freud, drawing on experiences from the First World War, postulated a death drive, which is juxtaposed to Eros. This "Thanatos" can gain the upper hand and cause evil destructive behaviour. The situation is particularly dangerous when lust is combined with aggression, as happens in rape. In the psychology of C. G. Jung, it is described that the human being has a predominantly unconscious shadow side which must be integrated into the self so that destructive behaviour can be avoided. According to Alfred Adler, frustration through devaluation plays a decisive role in the development of aggressive behaviour. Narcissism psychology assumes that in dangerous narcissists the transition from early childhood to secondary mature narcissism has not succeeded and thus empathy and any transcendental movement towards fellow human beings is impeded.
Hannah Arendt's account of the Eichmann trial, in which she describes the "banality of evil", is horrifying. Horrifying how cold and technically skilled killing can be. However, it is not only about war crimes, but also about the very banal everyday life. Every human being has his or her abysses, frustrations, envy, greed, lust for power, hatred and aggression.
The therapy strategies go in two directions: People should be empowered to defend themselves against violence, but they should also learn to deal with their own aggression in order to avoid harmful destructive behaviour. Empathy training and transcendental horizon broadening play a crucial role in this.
Does the Christian faith have a therapeutic benefit? Yes and no. For many people, a reasonable faith is a support, it gives them a meaning to life. Conversely, a rigid belief in a punishing God can damage development, especially in children. In severely depressed people, pathological feelings of guilt can be intensified. Patients with schizophrenia may incorporate religious content into their delusional system or feel threatened.
Let me conclude with an example from my practice that has become a cipher of transcendence for me and underlines the importance of empathy. A middle-aged woman came into treatment after having made several serious suicide attempts. A lifetime of frustrations and disappointments led repeatedly to despair and a sense of powerless emptiness. Despite my professionalism, I was infected by the mood and I felt that all my usual interventions were useless. So I had no choice but to admit my helplessness and powerlessness. To the patient I said: "At the moment I am infected by your emotional state and feel helpless like you. But perhaps it will be easier for you if the two of us remain in this tunnel and endure the difficult situation together." Later on, after the crisis had passed, she told me the reason why she no longer wanted to die. She had realised that she had only one chance: the chance to participate in life with all the suffering and also happiness that it might bring.
The word "chance to participate" touched me deeply. Isn't that the goal of every therapy? The patient has found the transcendental path, towards community, towards "communio".
Enabling participation in the community. A community that is also prepared, as the cantata impressively shows, to take up the struggle with evil. The struggle with Daimon, the confounder who tries to divide society.
The cantata challenged me. An initial "Ach" of protest against a trivialisation of suffering has become an "Ach" of wonder at the primal reasons for human existence. The wonderful music has formed a meta-level in which faith, happiness and suffering are transcended, a cipher of transcendence.
There remains a mandate for all of us: let us expand our empathy and mindfulness in order to avoid evil. Let us resist lies, violence and violations of human rights. Let us help to ensure that all people, as the patient put it, have the chance to participate in life.
This text has been translated with DeepL (www.deepl.com).
Bibliographical references
All libretti sourced from Neue Bach-Ausgabe. Johann Sebastian Bach. Neue Ausgabe sämtlicher Werke, published by the Johann-Sebastian-Bach-Institut Göttingen and the Bach-Archiv Leipzig, Series I (Cantatas), vol. 1–41, Kassel and Leipzig, 1954–2000.
All in-depth analyses by Anselm Hartinger (English translations/editing by Alice Noger-Gradon/Mary Carozza) based on the following sources:  Hans-Joachim Schulze, Die Bach-Kantaten. Einführungen zu sämtlichen Kantaten Johann Sebastian Bachs, Leipzig, 2nd edition, 2007; Alfred Dürr, Johann Sebastian Bach. Die Kantaten, Kassel, 9th edition, 2009, and Martin Petzoldt, Bach-Kommentar. Die geistlichen Kantaten, Stuttgart, vol. 1, 2nd edition, 2005 and vol. 2, 1st edition, 2007.