Es ist dir gesagt, Mensch, was gut ist
BWV 045 // For the Eight Sunday after Trinity
(It hath thee been told, Man, what is good) for alto, tenor and bass, vocal ensemble, transverse flute I+II, oboe I+II, strings and basso continuo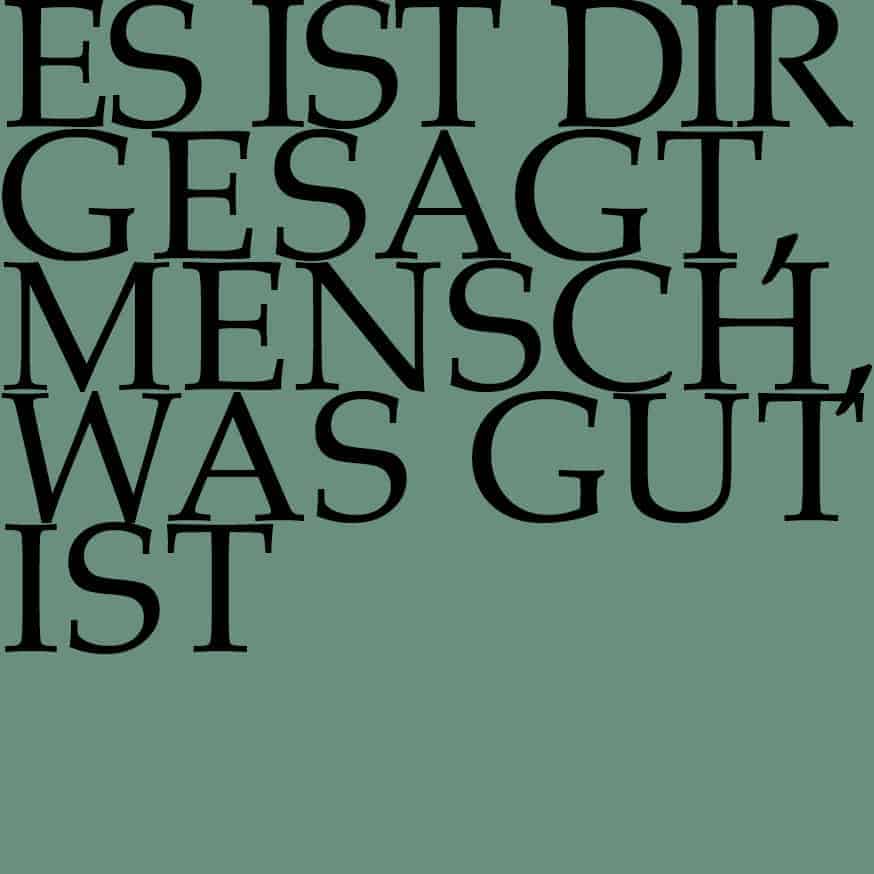 Video
Experience the introductory workshop, concert and reflective lecture in full length.
«Lutzogram» for the introductory workshop
Rudolf Lutz's manuscript for the workshop
Choir
Soprano
Lia Andres, Cornelia Fahrion, Susanne Seitter, Noëmi Sohn Nad, Anna Walker, Mirjam Wernli
Alto
Laura Binggeli, Antonia Frey, Lea Pfister-Scherer, Alexandra Rawohl, Simon Savoy
Tenor
Manuel Gerber, Tobias Mäthger, Tiago Oliveira, Walter Siegel
Bass
Fabrice Hayoz, Serafin Heusser, Daniel Pérez, Philippe Rayot, Tobias Wicky
Orchestra
Conductor
Rudolf Lutz
Violin
Eva Borhi, Lenka Torgersen, Peter Barczi, Christine Baumann, Petra Melicharek, Dorothee Mühleisen, Ildikó Sajgó
Viola
Sonoko Asabuki, Sarah Mühlethaler
Violoncello
Maya Amrein, Daniel Rosin
Violone
Markus Bernhard
Transverse flute
Yoko Tsuruta, Tomoko Mukoyama
Oboe / Oboe d'amore
Philipp Wagner Laura Alvarado
Bassoon
Gilat Rotkop
Harpsichord
Thomas Leininger
Organ
Nicola Cumer
Musical director & conductor
Rudolf Lutz
Workshop
Participants
Rudolf Lutz, Pfr. Niklaus Peter
Reflective lecture
Speaker
Sebastian Kleinschmidt
Recording & editing
Recording date
26/11/2021
Recording location
St. Gallen (Switzerland) // Olma-Halle 2.0
Sound engineer
Stefan Ritzenthaler
Producer
Meinrad Keel
Executive producer
Johannes Widmer
Production
GALLUS MEDIA AG, Schweiz
Producer
J.S. Bach-Stiftung, St. Gallen, Schweiz
Matching publications in our shop
Librettist
First performance
11 August 1726, Leipzig
Text
Micah 6:8 (movement 1); Matthew 7:22–23 (movement 4); Johann Heermann (movement 7); unknown source (movements 2, 3, 5, 6)
Libretto
1. Chor
«Es ist dir gesagt, Mensch, was gut ist und was der Herr von dir fordert, nämlich: Gottes Wort halten und Liebe üben und demütig sein vor deinem Gott.»
2. Rezitativ — Tenor
Der Höchste läßt mich seinen Willen wissen
und was ihm wohlgefällt;
er hat sein Wort zur Richtschnur dargestellt,
wornach mein Fuß soll sein geflissen
allzeit einherzugehn
mit Furcht, mit Demut und mit Liebe
als Proben des Gehorsams, den ich übe,
um als ein treuer Knecht dereinsten zu bestehn.
3. Arie — Tenor
Weiß ich Gottes Rechte,
was ists, das mir helfen kann,
wenn er mir als seinem Knechte
fordert scharfe Rechnung an?
Seele! denke dich zu retten,
auf Gehorsam folget Lohn;
Qual und Hohn
drohet deinem Übertreten!
4. Arioso — Bass
«Es werden viele zu mir sagen an jenem Tage: Herr, Herr, Herr, haben wir nicht in deinem Namen geweissaget, haben wir nicht in deinem Namen Teufel ausgetrieben? haben wir nicht in deinem Namen viel Taten getan? Denn werde ich ihnen bekennen: Ich habe euch noch nie erkannt, weichet alle von mir, ihr Übeltäter!»
5. Arie — Alt
Wer Gott bekennt
aus wahrem Herzensgrund,
den will er auch bekennen.
Denn der muß ewig brennen,
der einzig mit dem Mund
ihn Herren nennt.
6. Rezitativ — Alt
So wird denn Herz und Mund selbst von mir Richter sein,
und Gott will mir den Lohn nach meinem Sinn erteilen:
Trifft nun mein Wandel nicht nach seinen Worten ein,
wer will hernach der Seelen Schaden heilen?
Was mach ich mir denn selber Hindernis?
Des Herren Wille muß geschehen,
doch ist sein Beistand auch gewiß,
daß er sein Werk durch mich mög wohl vollendet sehen.
7. Choral
Gib, daß ich tu mit Fleiß,
was mir zu tun gebühret,
worzu mich dein Befehl
in meinem Stande führet!
Gib, daß ichs tue bald,
zu der Zeit, da ich soll;
und wenn ichs tu, so gib,
daß es gerate wohl!
Bibliographical references
All libretti sourced from Neue Bach-Ausgabe. Johann Sebastian Bach. Neue Ausgabe sämtlicher Werke, published by the Johann-Sebastian-Bach-Institut Göttingen and the Bach-Archiv Leipzig, Series I (Cantatas), vol. 1–41, Kassel and Leipzig, 1954–2000.
All in-depth analyses by Anselm Hartinger (English translations/editing by Alice Noger-Gradon/Mary Carozza) based on the following sources:  Hans-Joachim Schulze, Die Bach-Kantaten. Einführungen zu sämtlichen Kantaten Johann Sebastian Bachs, Leipzig, 2nd edition, 2007; Alfred Dürr, Johann Sebastian Bach. Die Kantaten, Kassel, 9th edition, 2009, and Martin Petzoldt, Bach-Kommentar. Die geistlichen Kantaten, Stuttgart, vol. 1, 2nd edition, 2005 and vol. 2, 1st edition, 2007.