Wo soll ich fliehen hin
BWV 005 // For the Nineteenth Sunday after Trinity
(Where shall I refuge find) for soprano, alto, tenor and bass, vocal ensemble, oboe I+II, tromba da tirarsi, strings and basso continuo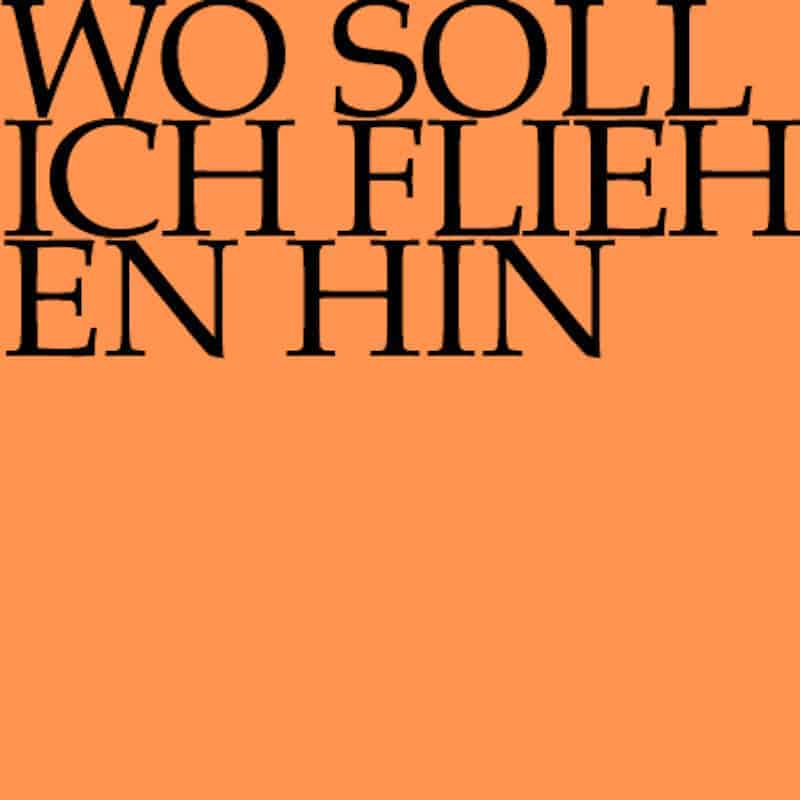 Video
Experience the introductory workshop, concert and reflective lecture in full length.
Workshop
Reflective lecture
«Lutzogram» for the introductory workshop
Rudolf Lutz's manuscript for the workshop
Audio
The sound recording of this work is available on several streaming and download platforms.
Soloists
Choir
Soprano
Susanne Seitter, Noëmi Sohn Nad, Noëmi Tran-Rediger, Alexa Vogel, Anna Walker, Mirjam Wernli-Berli
Alto
Jan Börner, Antonia Frey, Liliana Lafranchi, Alexandra Rawohl, Damaris Rickhaus
Tenor
Clemens Flämig, Tobias Mäthger, Sören Richter, Walter Siegel
Bass
Fabrice Hayoz, Valentin Parli, Philippe Rayot, Jonathan Sells, Tobias Wicky
Orchestra
Conductor
Rudolf Lutz
Violin
Eva Borhi, Lenka Torgersen, Peter Barczi, Christine Baumann, Dorothee Mühleisen, Ildikó Sajgó
Viola
Martina Bischof, Sarah Mühlethaler, Katya Polin
Violoncello
Maya Amrein, Daniel Rosin
Violone
Markus Bernhard
Oboe
Katharina Arfken, Elise Nicolas
Tromba da tirarsi
Patrick Henrichs
Bassoon
Susann Landert
Organ
Nicola Cumer
Harpsichord
Thomas Leininger
Musical director & conductor
Rudolf Lutz
Workshop
Participants
Niklaus Peter Barth, Rudolf Lutz
Reflective lecture
Speaker
Anselm Grün
Recording & editing
Recording date
16.08.2018
Recording location
Teufen AR (Schweiz) // Kirche Teufen
Sound engineer
Stefan Ritzenthaler, Nikolaus Matthes
Director
Meinrad Keel
Production manager
Johannes Widmer
Production
GALLUS MEDIA AG, Switzerland
Producer
J.S. Bach Foundation of St. Gallen, Switzerland
Matching publications in our shop
Librettist
Text
Johann Heermann
First performance
Cantata for the 19th Sunday after Trinity,
15 October 1724
In-depth analysis
The composition "Wo soll ich fliehen hin" (Where shall I refuge find, BWV 5), based on the hymn of the same name by Johann Heermann, was composed for the 19th Sunday after Trinity in 1724 and thus belongs to Bach's second Leipzig cycle of cantatas. The fact that the original score, today preserved at the British Library, once belonged to the cosmopolitan writer Stefan Zweig, who, after becoming a refugee, broke under the totalitarian events of his time, may be seen as a poignant note in the history of its reception.
The introductory chorus is a nervous perpetuum mobile whose urgent character evokes a pressing sense of existential angst; here, mere humans are powerless to stop the merciless drama of fate unfolding in Bach's precisely chiselled phrases. The ascending head motive pervades throughout the string and oboe ensemble writing, thus giving ongoing prominence to the first line of the chorale – even as the inverted figures simultaneously enhance the sense of disorientation. The lower voices, which accompany the broad soprano phrases, echo the hectic gestures of the orchestra; by doubling the cantus line, the slide trumpet reinforces the hymn's gloomy tone of judgement and heightens the drama to a level of despairing earnestness.
The bass recitative presents a sobering conclusion: in the vein of the Old Testament, body and soul are so ravaged by sin that humankind can do naught but appear impure and damned in the eyes of God. Then comes a sonorous reminder that only Christ's "holy blood" guarantees deliverance: in the open sea of the Saviour's wounds, the faithful can cleanse themselves of the stain of sin.
The liberating potential of this severe lesson is then revealed in the enchanting tenor aria. Over a gentle bass line, the elegantly descending four-note motive of the obbligato part transforms the river of mercy, springing from the godly source, into a warmly flowing balsam that inspires the tenor soloist to a song of enraptured gratitude. The darkly shimmering E-flat major tonality bathes the whole aria in a both strange and familiar light, in which the cruel blood sacrifice becomes a healing event in and of itself. Throughout the setting, the string part (which despite its low register was probably conceived for the violin) remains continuously present, much in the manner of an engaged partner in a conversation.
The reason why the following alto recitative is marked "a tempo" becomes clear only in the second bar – but for that, all the more memorably. Indeed, the recitative text on the death of Jesus is enhanced by a rendition of the chorale melody in the oboe part, elevating the setting in a most moving way. Once again, Bach weaves his subtly ingenious craft to musically meld the themes of sacrificial blood and crucifixion with solace and forgiveness in a human context.
This fortification of the spirit finds defiant expression in the bass aria. Set with an energetic dance-like gesture and scored for a radiant trumpet with string and oboe accompaniment, the hosts of hell – already weakened by Christ's sacrifice on the cross – are again vanquished in open battle. Here, the soloist steps centre stage like the triumphant hero of a baroque opera; his aria, supported by a trusty orchestral accompaniment and culminating in the motto of "Es ist in Gott gewagt" (For this in God I dare), certainly numbers among the most rewarding of Bach's bass solos.
After this climax, the fact that the composer and librettist revert to a more subdued tone belongs to the most captivating details of this masterly cantata. "Ich bin ja nur das kleinste Teil der Welt" (I am, indeed, the world's mere smallest part): with these words of deepest humility and music of nigh-whispered rhetorical heights, the soprano recitative evokes once again the redemptive power of the purifying blood – an act of undisguised faith that was no doubt ideal for the childlike timbre of Leipzig's descant boy choristers.
In keeping with traditional form, the cantata closes with a four-part chorale – a standard compositional duty for Bach. Nonetheless, the power and strength that the composer draws from this routine setting is heard note for note throughout the verse. In this movement, the peril and duress of the opening chorus have given way to a yearning energy that inspired the spontaneous organ interlude featured in this recording.
Libretto
1. Choral
Wo soll ich fliehen hin,
weil ich beschweret bin
mit viel und grossen Sünden,
wo soll ich Rettung finden?
Wenn alle Welt herkäme,
mein Angst sie nicht wegnähme.

2. Rezitativ – Bass
Der Sünden Wust hat mich nicht nur befleckt,
er hat vielmehr den ganzen Geist bedeckt,
Gott müsste mich als unrein von sich treiben;
doch weil ein Tropfen heilges Blut
so grosse Wunder tut,
kann ich noch unverstossen bleiben.
Die Wunden sind ein offnes Meer,
dahin ich meine Sünden senke,
und wenn ich mich zu diesem Strome lenke,
so macht er mich von meinen Flecken leer.
3. Arie – Tenor
Ergiesse dich reichlich, du göttliche Quelle,
ach, walle mit blutigen Strömen auf mich.
Es fühlet mein Herze die tröstliche Stunde,
nun sinken die drückenden Lasten zu Grunde,
es wäschet die sündlichen Flecken von
sich.
4. Rezitativ – Alt
Mein treuer Heiland tröstet mich,
es sei verscharrt in seinem Grabe,
was ich gesündigt habe;
ist mein Verbrechen noch so gross,
er macht mich frei und los.
Wenn Gläubige die Zuflucht bei ihm finden,
muss Angst und Pein
nicht mehr gefährlich sein
und alsobald verschwinden;
ihr Seelenschatz, ihr höchstes Gut
ist Jesu unschätzbares Blut,
es ist ihr Schutz vor Teufel, Tod und Sünden,
in dem sie überwinden.
5. Arie — Bass
Verstumme Höllenheer,
du machst mich nicht verzagt!
Ich darf dies Blut dir zeigen,
so musst du plötzlich schweigen,
es ist in Gott gewagt.
6. Rezitativ — Sopran
Ich bin ja nur das kleinste Teil der Welt,
und da des Blutes edler Saft
unendlich grosse Kraft
bewährt erhält,
dass jeder Tropfen, so
auch noch so klein,
die ganze Welt kann rein
von Sünden machen,
so lass dein Blut
ja nicht an mir verderben,
es komme mir zu gut,
dass ich den Himmel kann ererben.
7. Choral
Führ auch mein Herz und Sinn
durch deinen Geist dahin,
daß ich mög alles meiden,
was mich und dich kann scheiden,
und ich an deinem Leibe
ein Gliedmass ewig bleibe..
Bibliographical references
All libretti sourced from Neue Bach-Ausgabe. Johann Sebastian Bach. Neue Ausgabe sämtlicher Werke, published by the Johann-Sebastian-Bach-Institut Göttingen and the Bach-Archiv Leipzig, Series I (Cantatas), vol. 1–41, Kassel and Leipzig, 1954–2000.
All in-depth analyses by Anselm Hartinger (English translations/editing by Alice Noger-Gradon/Mary Carozza) based on the following sources:  Hans-Joachim Schulze, Die Bach-Kantaten. Einführungen zu sämtlichen Kantaten Johann Sebastian Bachs, Leipzig, 2nd edition, 2007; Alfred Dürr, Johann Sebastian Bach. Die Kantaten, Kassel, 9th edition, 2009, and Martin Petzoldt, Bach-Kommentar. Die geistlichen Kantaten, Stuttgart, vol. 1, 2nd edition, 2005 and vol. 2, 1st edition, 2007.