Jauchzet Gott in allen Landen
BWV 051 // For the Fifteenth Sunday after Trinity
(Praise ye God in ev'ry nation) for soprano, trumpet, strings and basso continuo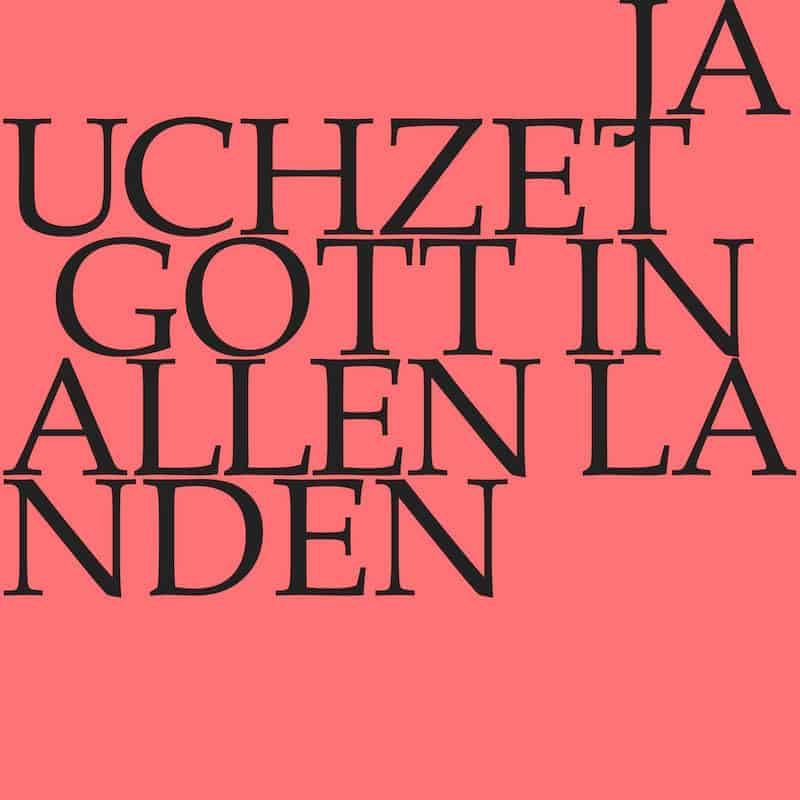 Video
Experience the introductory workshop, concert and reflective lecture in full length.
Workshop
Reflective lecture
«Lutzogram» for the introductory workshop
Rudolf Lutz's manuscript for the workshop
Audio
The sound recording of this work is available on several streaming and download platforms.
Orchestra
Conductor & cembalo
Rudolf Lutz
Violin
Renate Steinmann, Monika Baer
Viola
Susanna Hefti
Violoncello
Martin Zeller
Violone
Markus Bernhard
Bassoon
Susann Landert
Tromba da tirarsi
Patrick Henrichs
Organ
Nicola Cumer
Musical director & conductor
Rudolf Lutz
Workshop
Participants
Karl Graf, Rudolf Lutz
Reflective lecture
Speaker
Adolf Muschg
Recording & editing
Recording date
15.09.2016
Recording location
Trogen AR (Schweiz) // Evangelische Kirche
Sound engineer
Stefan Ritzenthaler
Director
Meinrad Keel
Production manager
Johannes Widmer
Production
GALLUS MEDIA AG, Switzerland
Producer
J.S. Bach Foundation of St. Gallen, Switzerland
Matching publications in our shop
Librettist
Text
Unknown,
4th movement, substitute verse to hymn by Johann Gramann, 1548
First performance
15th Sunday after Trinity,
17 September 1730
In-depth analysis
"Jauchzet Gott in allen Landen" (Praise ye God in ev'ry nation, BWV 51) is something of a solitaire in Bach's sacred oeuvre. With its combination of solo soprano and trumpet, the work is a veritable "cantata" in the Italian sense of the word, and it is even – unusually so – designated as such on Bach's autograph score. The cantata was probably written for the Fifteenth Sunday after Trinity in 1730, although, as can be inferred from the title page, Bach also assigned the work the flexible use "in ogni Tempo" (for any occasion), a designation that well suits the work's versatile nature as music of praise and thanksgiving. With the exception of the choralebased movement no. 4, the cantata is possibly a revival of an older work; later, in Halle, Bach's son Wilhelm Friedemann composed a new version with two trumpets and timpani in the outer movements.
The music of the opening aria emerges from the unison introduction, whose fanfare motives are transformed by the soprano into a bravura cantilena replete with tirata figures. In this setting, a liberated miniature arises from the buoyant music for violin I, trumpet, solo soprano and string orchestra. Then, in a style characteristic of Bach, the gentler middle section works consistently with the broken chords of the opening section, ere an elegant transitional phrase to the recapitulation lends the movement elements of a throughcomposed style.
The following recitative, by contrast, is marked by a stark shift in affect. Accompanied by an enigmatic string setting with long, undulating phrases, the solo voice, in line with the text, embarks on a humble path to church ("In prayer we now thy temple face"), although this procession, for the enthralled listener, transitions all too quickly into a flowing andante section. The "feeble voice" of the earthly thanksgiving is strikingly portrayed by the sighing and stammering vocalist, who, together with the continuo, fails in all efforts at ornamentation: here, the faithful face God in all their weakness, yet still may hope that the Almighty looks with favour on their necessarily "modest praise".
The second aria, in a pastoral 12/8 metre, is an intimate prayer whose gentle three-quaver pattern provides for an ostinato-like pulse. The floating transparency of the exposed vocal part demands the highest degree of flexibility and expressive tension from the singer; the key to the movement's character is perhaps the "grateful spirit" highlighted in the middle section, which allows the aria, presented as if with the shining eyes of a child, to represent a life blessed with protection and care.
In the ensuing chorale setting, this highly subjective mood gives way to a more collective approach in which the presentation of a chorale melody is enveloped by an industrious trio of two violins and a lively bass. While the text of "Now laud and praise with honour, God Father, Son, and Holy Ghost" functions as an affirmation of the Trinity, the intricate imitation in the instrumental parts stands for the triumph of creating music to please God as well as the travails of a life of piety. The chorale text is relatively long – twelve lines – but the swinging triple metre ensures that the setting never descends into turgid counterpoint; moreover, Bach shapes the transition to the closing Alleluja as a captivating surprise. In this grand finale, the nigh-forgotten trumpet makes a victorious re-entry, while the string ensemble, by echoing the dense style of the chorale in accompanying passages and interludes, prevents the swift, 2/4 - metre music from becoming all too breathless. In this movement, the solo voice alternates lower passages with lines that soar to lofty peaks: in bar 180, the soprano even ascends to the rare C3, before, in a flurry of cascading lines, succinctly closing one of the most dazzling vocal compositions Bach ever wrote. The Thomascantor, rarely spoiled by the quality of his ensemble, must, in September of 1730, have had an exceptional descant singer at his disposal – the way he made the most of this rare opportunity enchants us to this day.
Libretto
1. Arie
Jauchzet Gott in allen Landen!
Was der Himmel und die Welt
an Geschöpfen in sich hält,
müssen dessen Ruhm erhöhen,
und wir wollen unserm Gott
gleichfalls itzt ein Opfer bringen,
daß er uns in Kreuz und Not
allezeit hat beigestanden.
2. Rezitativ
Wir beten zu dem Tempel an,
da Gottes Ehre wohnet;
da dessen Treu,
so täglich neu,
mit lauter Segen lohnet.
Wir preisen, was er an uns hat getan.
Muß gleich der schwache Mund
von seinen Wundern lallen,
so kann ein schlechtes Lob ihm dennoch
wohlgefallen.
3. Arie
Höchster, mache deine Güte
ferner alle Morgen neu.
So soll vor die Vatertreu
auch ein dankbares Gemüte
durch ein frommes Leben weisen,
daß wir deine Kinder heißen.
4. Choral
Sei Lob und Preis mit Ehren
Gott Vater, Sohn, Heiligem Geist!
Der woll in uns vermehren,
was er uns aus Gnaden verheißt,
daß wir ihm fest vertrauen,
gänzlich uns lassn auf ihn,
von Herzen auf ihn bauen,
daß unsr Herz, Mut und Sinn
ihm festiglich anhangen;
drauf singen wir zur Stund:
Amen! Wir werdns erlangen,
glaubn wir zu aller Stund.
Bibliographical references
All libretti sourced from Neue Bach-Ausgabe. Johann Sebastian Bach. Neue Ausgabe sämtlicher Werke, published by the Johann-Sebastian-Bach-Institut Göttingen and the Bach-Archiv Leipzig, Series I (Cantatas), vol. 1–41, Kassel and Leipzig, 1954–2000.
All in-depth analyses by Anselm Hartinger (English translations/editing by Alice Noger-Gradon/Mary Carozza) based on the following sources:  Hans-Joachim Schulze, Die Bach-Kantaten. Einführungen zu sämtlichen Kantaten Johann Sebastian Bachs, Leipzig, 2nd edition, 2007; Alfred Dürr, Johann Sebastian Bach. Die Kantaten, Kassel, 9th edition, 2009, and Martin Petzoldt, Bach-Kommentar. Die geistlichen Kantaten, Stuttgart, vol. 1, 2nd edition, 2005 and vol. 2, 1st edition, 2007.