Falsche Welt, dir trau ich nicht
BWV 052 // For the Twenty-third Sunday after Trinity
(Treach'rous world, I trust thee not!) for soprano, vocal ensemble, corno I+II, oboe I-III, bassoon, strings and basso continuo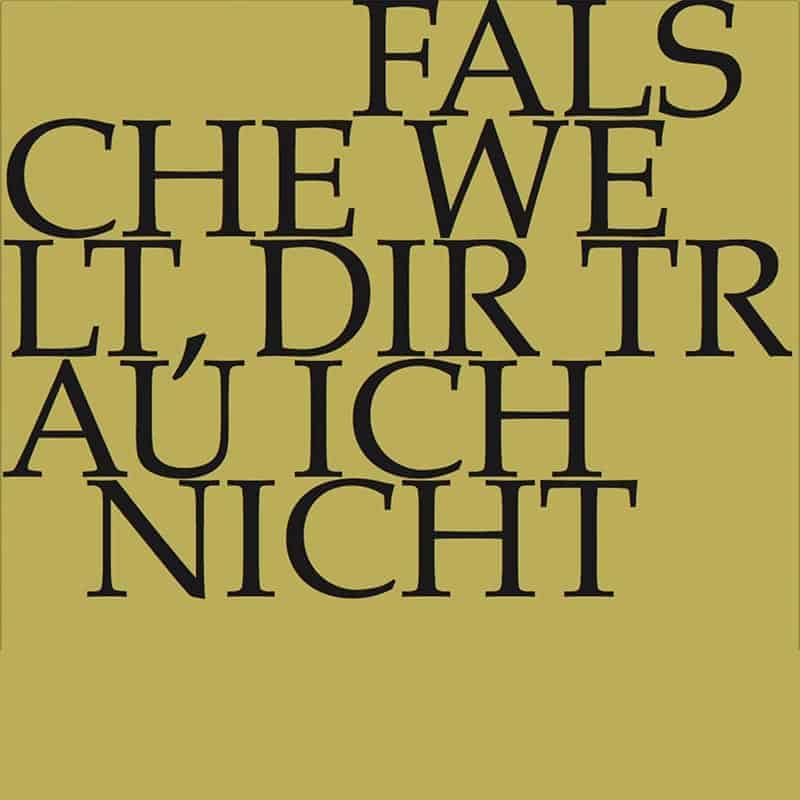 Video
Experience the introductory workshop, concert and reflective lecture in full length.
Workshop
Reflective lecture
«Lutzogram» for the introductory workshop
Rudolf Lutz's manuscript for the workshop
Choir
Alto
Alexandra Rawohl
Tenor
Sören Richter
Bass
Fabrice Hayoz
Orchestra
Conductor
Rudolf Lutz
Violin
Renate Steinmann, Monika Baer, Yuko Ishikawa, Elisabeth Kohler, Ildiko Sajgo, Eva Saladin, Olivia Schenkel, Anita Zeller
Viola
Susanna Hefti, Matthias Jäggi, Martina Zimmermann
Violoncello
Martin Zeller, Bettina Messerschmidt
Violone
Iris Finkbeiner
Oboe
Kerstin Kramp, Ingo Müller, Julia Bauer
Bassoon
Susann Landert
Corno
Olivier Picon, Ella Vala Armannsdottir
Organ
Nicola Cumer
Harpsichord
Jörg Andreas Bötticher
Musical director & conductor
Rudolf Lutz
Workshop
Participants
Karl Graf, Rudolf Lutz
Reflective lecture
Speaker
Michael Guggenheimer
Recording & editing
Recording date
11/21/2014
Recording location
Trogen
Sound engineer
Stefan Ritzenthaler
Director
Meinrad Keel
Production manager
Johannes Widmer
Production
GALLUS MEDIA AG, Switzerland
Producer
J.S. Bach Foundation of St. Gallen, Switzerland
Matching publications in our shop
Librettist
Text No. 2–5
Poet unknown
Text No. 6
Adam Reusner, 1533
First performance
Twenty-third Sunday after Trinity,
24 November 1726
Libretto
2. Rezitativ
Falsche Welt, dir trau ich nicht!
Hier muß ich unter Skorpionen
und unter falschen Schlangen wohnen.
Dein Angesicht,
das noch so freundlich ist,
sinnt auf ein heimliches Verderben:
Wenn Joab küßt,
so muß ein frommer Abner sterben.
Die Redlichkeit ist aus der Welt verbannt,
die Falschheit hat sie fortgetrieben,
nun ist die Heuchelei
an ihrer Stelle blieben.
Der beste Freund ist ungetreu,
o jämmerlicher Stand!
3. Arie
Immerhin, immerhin,
wenn ich gleich verstoßen bin,
immerhin, immerhin!
Ist die falsche Welt mein Feind,
o, so bleibt doch Gott mein Freund,
der es redlich mit mir meint.
4. Rezitativ
Gott ist getreu!
Er wird, er kann mich nicht verlassen;
will mich die Welt und ihre Raserei
in ihre Schlingen fassen,
so steht mir seine Hilfe bei.
Gott ist getreu!
Auf seine Freundschaft will ich bauen
und meine Seele, Geist und Sinn
und alles, was ich bin,
ihm anvertrauen.
Gott ist getreu!
5. Arie
Ich halt es mit dem lieben Gott,
die Welt mag nur alleine bleiben.
Gott mit mir, und ich mit Gott,
also kann ich selber Spott
mit den falschen Zungen treiben.
6. Choral
In dich hab ich gehoffet, Herr,
hilf, daß ich nicht zu Schanden werd noch ewiglich zu Spotte.
Das bitt ich dich,
erhalte mich
in deiner Treu, Herr Gotte.
Bibliographical references
All libretti sourced from Neue Bach-Ausgabe. Johann Sebastian Bach. Neue Ausgabe sämtlicher Werke, published by the Johann-Sebastian-Bach-Institut Göttingen and the Bach-Archiv Leipzig, Series I (Cantatas), vol. 1–41, Kassel and Leipzig, 1954–2000.
All in-depth analyses by Anselm Hartinger (English translations/editing by Alice Noger-Gradon/Mary Carozza) based on the following sources:  Hans-Joachim Schulze, Die Bach-Kantaten. Einführungen zu sämtlichen Kantaten Johann Sebastian Bachs, Leipzig, 2nd edition, 2007; Alfred Dürr, Johann Sebastian Bach. Die Kantaten, Kassel, 9th edition, 2009, and Martin Petzoldt, Bach-Kommentar. Die geistlichen Kantaten, Stuttgart, vol. 1, 2nd edition, 2005 and vol. 2, 1st edition, 2007.