Ich will den Kreuzstab gerne tragen
BWV 056 // For the Nineteenth Sunday after Trinity
(I will the cross-staff gladly carry) for bass, vocal ensemble, oboe I+II, taille, violoncello, strings and basso continuo.
The cantata "I will the cross-staff gladly carry" was written for the 19th Sunday after Trinity in 1726. Thanks to recent scholarship, the long unknown librettist has been identified as Christoph Birkmann (1703–1771), a theologian from Nuremberg. Birkmann belonged to Bach's circle of students during his studies in Leipzig and apparently wrote numerous libretti of striking eloquence for the Thomascantor.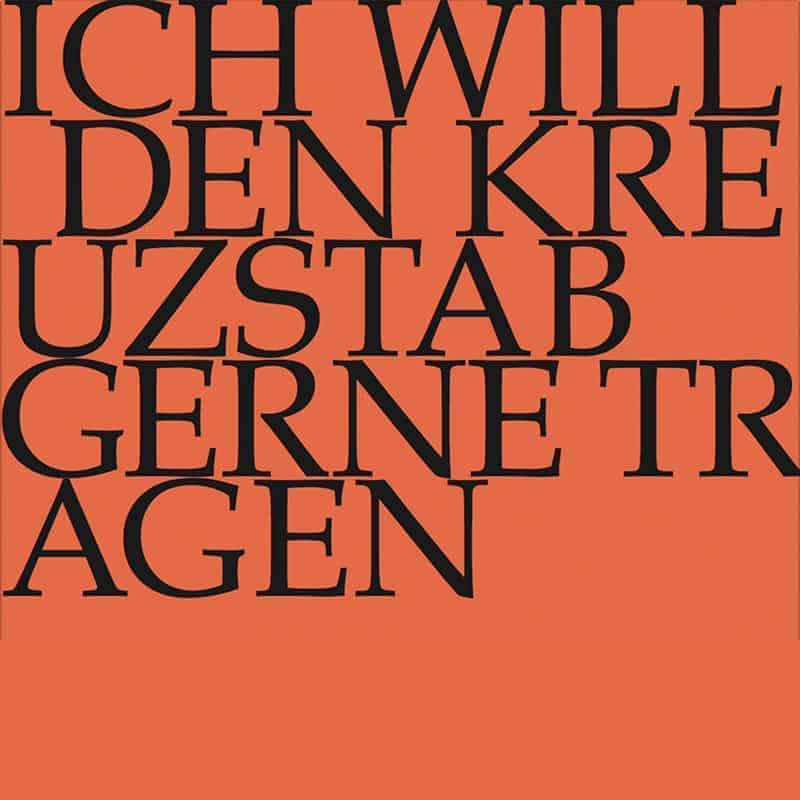 Video
Experience the introductory workshop, concert and reflective lecture in full length.
Workshop
Reflective lecture
«Lutzogram» for the introductory workshop
Rudolf Lutz's manuscript for the workshop
Audio
The sound recording of this work is available on several streaming and download platforms.
Choir
Soprano
Lia Andres
Alto
Alexandra Rawohl
Tenor
Clemens Flämig
Orchestra
Conductor
Rudolf Lutz
Violin
Plamena Nikitassova, Dorothee Mühleisen, Peter Barczi, Christine Baumann, Eva Borhi, Ildiko Sajgo
Viola
Sarah Krone, Christoph Riedo
Violoncello
Maya Amrein, Hristo Kouzmanov
Violone
Iris Finkbeiner
Oboe
Katharina Arfken, Thomas Meraner
Oboe da caccia
Philipp Wagner
Taille
Philipp Wagner
Bassoon
Susann Landert
Organ
Nicola Cumer
Musical director & conductor
Rudolf Lutz
Workshop
Participants
Karl Graf, Rudolf Lutz
Reflective lecture
Speaker
Oswald Oelz
Recording & editing
Recording date
10/24/2014
Recording location
Trogen
Sound engineer
Stefan Ritzenthaler
Director
Meinrad Keel
Production manager
Johannes Widmer
Production
GALLUS MEDIA AG, Switzerland
Producer
J.S. Bach Foundation of St. Gallen, Switzerland
Matching publications in our shop
Librettist
Text No. 1–4
Poet unknown
Text No. 5
Johann Franck, 1653
First performance
Ninteenth Sunday after Trinity,
27 October 1726
In-depth analysis
The introductory aria, with a head motive that is propelled by the energy of the continuo and culminates in descending sighs, makes an indelible impression. The orchestral accompaniment – at once lugubrious yet light – envelops and carries the vocalist, who, by repeating each section of text before advancing to the next passage, feels his way towards an acceptance of suffering and the acknowledgement of human mortality. Here, Bach's interpretation of the words "the cross leadeth me", in which he reverses the descending sighs of the opening passage to create an ascending line, is just as masterly as the sudden musical release that is linked to the source of all "troubles" from "God's beloved hand". This struggle between the hope of salvation and the experience of pain is eventually resolved in a triplet passage by the bass soloist who expresses hope that the saviour himself will soon wipe away the very tears that Bach so heartrendingly depicts in the closing phrase.
The recitative, a vivid account of a wave-tossed, yet protected "voyage at sea", belongs to Bach's most sensitive interpretations; with its cello part of rolling broken chords, the maritime imagery of the librettist is ideally rendered. This is particularly apparent in the conclusion, where Bach captures the end of the journey in a moment of musical deceleration that enables the soloist to confidently step ashore and enter his heavenly city. Nonetheless, a last reminder of the "deepest sadness" that has been overcome is evoked by a final running figure that concludes on a dissonant note.
This is followed in aria number three by a peaceful meditation on the release from all troubles that Bach scores as a trio for continuo, oboe, and bass vocalist. Set in ternary form, the underlying mood (particularly in the A section) is not one of triumphant rejoicing at the resurrection, but relieved gratitude and joyous anticipation; here, life is seen as a burdensome "yoke", a depiction that lends insight into the world view of baroque times. In the robust middle section, death – in contrast to all human perception – is not portrayed as a loss of all strength and power, but is celebrated as an eagle-like ascension into a higher state of being.
The recitative "I stand here ready and prepared" is a rich accompagnato setting that adopts a celebratory tone to announce the determination to leave all earthly misery behind in favour of the heavenly inheritance. In this movement, the composer returns to the triplet figure of the introductory aria to create an arc of tension that is effective in its semantics and formal features, while also lending the short orchestral postlude the impression of a recapitulation of the bygone life.
"Come, O death, of sleep the brother" – with this verse from Johann Franck's hymn "Du, o schönes Weltgebäude" (1653), the cantata closes with a chorale in C minor that, despite its simplicity, belongs to Bach's most famous settings; indeed, beyond the world of music, its theme has been adapted in art and literature. Due to the low register of the setting and the glorious phrase modulations, the singing is imbued with a melancholy peace and strength that serves to heighten the brilliant, open sound of the closing chord: here the faithful are united with Jesus, a saviour who is both fatherly friend and babe in the manger.
Libretto
1. Arie
Ich will den Kreuzstab gerne tragen,
er kömmt von Gottes lieber Hand.
Der führet mich nach meinen Plagen
zu Gott in das gelobte Land.
Da leg ich den Kummer auf einmal ins Grab,
da wischt mir die Tränen mein Heiland selbst ab.
2. Rezitativ
Mein Wandel auf der Welt
ist einer Schifffahrt gleich:
Betrübnis, Kreuz und Not
sind Wellen, welche mich bedecken
und auf den Tod
mich täglich schrecken;
mein Anker aber, der mich hält,
ist die Barmherzigkeit,
womit mein Gott mich oft erfreut.
Der rufet so zu mir:
Ich bin bei dir,
ich will dich nicht verlassen noch versäumen!
Und wenn das wütenvolle Schäumen
sein Ende hat,
so tret ich aus dem Schiff in meine Stadt,
die ist das Himmelreich,
wohin ich mit den Frommen
aus vieler Trübsal werde kommen.
3. Arie
Endlich, endlich wird mein Joch
wieder von mir weichen müssen.
Da krieg ich in dem Herren Kraft,
da hab ich Adlers Eigenschaft,
da fahr ich auf von dieser Erden
und laufe, sonder matt zu werden.
O gescheh es heute noch!
4. Rezitativ
Ich stehe fertig und bereit,
das Erbe meiner Seligkeit
mit Sehnen und Verlangen
von Jesus Händen zu empfangen.
Wie wohl wird mir geschehn,
wenn ich den Port der Ruhe werde sehn:
Da leg ich den Kummer auf einmal ins Grab,
da wischt mir die Tränen mein Heiland selbst ab.
5. Choral
Komm, o Tod, du Schlafes Bruder,
komm und führe mich nur fort;
löse meines Schiffleins Ruder,
bringe mich an sichern Port.
Es mag, wer da will, dich scheuen,
du kannst mich vielmehr erfreuen;
denn durch dich komm ich herein
zu dem schönsten Jesulein.
Bibliographical references
All libretti sourced from Neue Bach-Ausgabe. Johann Sebastian Bach. Neue Ausgabe sämtlicher Werke, published by the Johann-Sebastian-Bach-Institut Göttingen and the Bach-Archiv Leipzig, Series I (Cantatas), vol. 1–41, Kassel and Leipzig, 1954–2000.
All in-depth analyses by Anselm Hartinger (English translations/editing by Alice Noger-Gradon/Mary Carozza) based on the following sources:  Hans-Joachim Schulze, Die Bach-Kantaten. Einführungen zu sämtlichen Kantaten Johann Sebastian Bachs, Leipzig, 2nd edition, 2007; Alfred Dürr, Johann Sebastian Bach. Die Kantaten, Kassel, 9th edition, 2009, and Martin Petzoldt, Bach-Kommentar. Die geistlichen Kantaten, Stuttgart, vol. 1, 2nd edition, 2005 and vol. 2, 1st edition, 2007.