Selig ist der Mann, der die Anfechtung erduldet
BWV 057 // For the Second Day of Christmas (St Stephen)
(Blessed is the man who bears temptation with patience) for soprano and bass, alto and tenor from the vocal ensemble, oboe I+II, oboe da caccia, strings and continuo
Fittingly annotated by Bach as a "Concerto in Dialogo", the cantata "Blessed is the man who bears temptation with patience" (BWV 57) again features a dramatic discussion between Jesus and the faithful soul – albeit under very different circumstances than in BWV 140.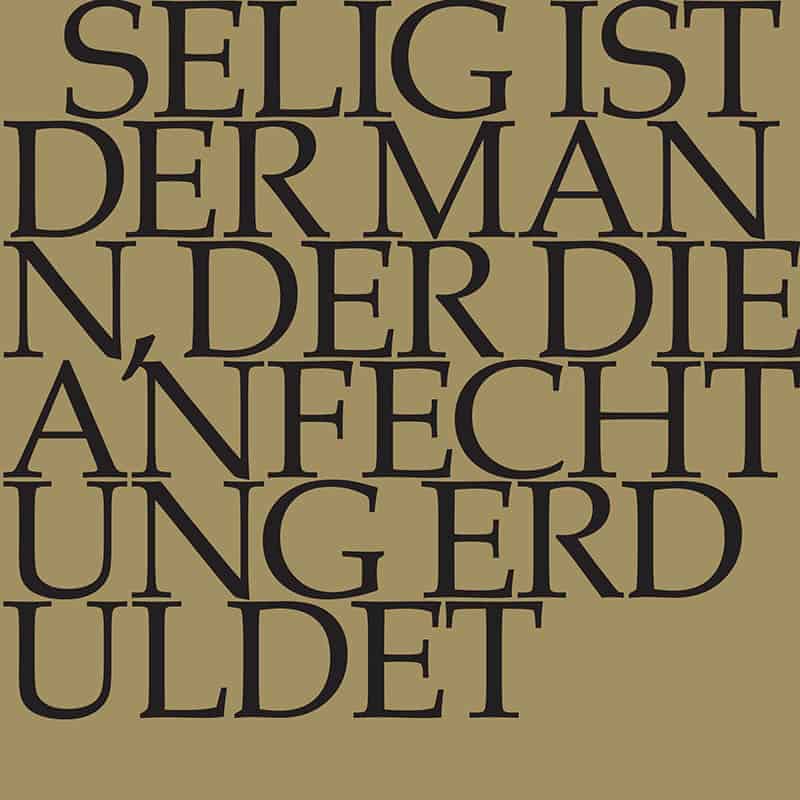 Video
Experience the introductory workshop, concert and reflective lecture in full length.
Workshop
Reflective lecture
«Lutzogram» for the introductory workshop
Rudolf Lutz's manuscript for the workshop
Audio
The sound recording of this work is available on several streaming and download platforms.
Orchestra
Conductor & cembalo
Rudolf Lutz
Violin
Renate Steinmann, Plamena Nikitassova, Monika Baer, Christine Baumann, Sylvia Gmür, Martin Korrodi
Viola
Susanna Hefti, Martina Bischof
Violoncello
Maya Amrein
Violone
Iris Finkbeiner
Oboe
Maike Buhrow, Thomas Meraner
Oboe da caccia
Ingo Müller
Bassoon
Susann Landert
Organ
Norbert Zeilberger
Musical director & conductor
Rudolf Lutz
Workshop
Participants
Karl Graf, Rudolf Lutz
Reflective lecture
Speaker
Annemarie Pieper
Recording & editing
Recording date
12/17/2010
Recording location
Trogen
Sound engineer
Stefan Ritzenthaler
Director
Meinrad Keel
Production manager
Johannes Widmer
Production
GALLUS MEDIA AG, Switzerland
Producer
J.S. Bach Foundation of St. Gallen, Switzerland
Matching publications in our shop
Librettist
Text No. 1
Quote from James 1:12
Text No. 2–7
Christian Lehms, 1711
Text No. 8
Ahasverus Fritsch, 1668
First performance
Second Day of Christmas,
26 December 1725
In-depth analysis
The suffering of Saint Stephen, the first of the Christian martyrs, is evoked in the opening aria through doleful melodic sequences, sighing gestures and fraught harmonies, setting the scene for Bach's contemplation on a godly life and death. While in the previous cantata "Awake, arise" a tender bond of love is sealed between the soprano and bass, the intensely moving aria "I would now yearn for death, if thou, my Jesus, didst not love me" treats the existential affliction of the human heart. Extreme descending intervals, heart-wrenching vocal lines and a brittle timbre invoke an oppressive sense of abandonment; the music depicts a distress so acute it that can only be relieved through the grace of Jesus (recitative "I stretch to thee my hand").
As in a baroque opera, the work's emotional metamorphosis comes about suddenly and violently. In the indomitable aria "Yes, yes, I can thy foes destroy now", Jesus, in a show of might, declares his power to open the heavens and to blow away all "clouds of trouble" – not just for the dying Stephen but also the angst-ridden human soul. With this moment of epiphany, the impasse is broken, and the arising sense of consolation and inner peace is subsequently expressed in an impassioned recitative. Here the soul responds to Jesus' eternal promise of salvation with alonging for death and the desire to soar aloft to the heavens. The following aria "I'd quit now so quickly mine earthly existence" then unfolds into an exemplary display of baroque denial of the world. Accompanied by a turbulent obbligato violin and a fleeting continuo, the faithful soul becomes increasingly immersed in the wish for death and the renunciation of earthly life ("My Saviour, I'd die now with greatest of joy") – a distraught emotional state that Bach underscores by ending the aria with a question: "Here hast thou my spirit, what dost thou give me?"
The answer comes once again from Jesus Christ, not in a further solo, but through a chorale. In this closing movement, the text and music of the simple, yet exquisite repeated hymn verse hark back to the church and practice of faith as the scene of the "test" addressed at the beginning of the cantata. It is thus no coincidence that the bass part to the chorale line "out of this thy tortured body" replicates the related passage "for when he hath withstood the test" from bars 48 and 49 of the opening aria. In this cantata, the path to heaven is a tangible journey leading the believer through the suffering on the cross and, repeatedly, through humiliation.
Libretto
Anima (Sopran)
Jesus (Bass)
1. Arie (Bass)
Selig ist der Mann, der die Anfechtung erduldet;
denn nachdem er bewähret ist,
wird er die Krone des Lebens empfahen.
2. Rezitativ (Sopran)
Ach! dieser süsse Trost
erquickt auch mir mein Herz,
das sonst in Ach und Schmerz
sein ewigs Leiden findet,
und sich als wie ein Wurm in seinem Blute windet.
Ich muss als wie ein Schaf
bei tausend rauhen Wölfen leben;
ich bin ein recht verlassnes Lamm,
und muss mich ihrer Wut
und Grausamkeit ergeben.
Was Abeln dort betraf,
erpresset mir auch diese Tränenflut.
Ach! Jesu, wüsst ich hier
nicht Trost von dir,
so müsste Mut und Herze brechen
und voller Trauren sprechen:
3. Arie (Sopran)
Ich wünschte mir den Tod,
wenn du, mein Jesu, mich nicht liebtest.
Ja, wenn du mich annoch betrübtest,
so hätt ich mehr als Höllennot.
4. Rezitativ (Sopran, Bass)
Jesus:
Ich reiche dir die Hand
und auch damit das Herze.
Anima:
Ach! süsses Liebespfand,
du kannst die Feinde stürzen
und ihren Grimm verkürzen.
5. Arie (Bass)
Ja, ja, ich kann die Feinde schlagen,
die dich nur stets bei mir verklagen,
drum fasse dich, bedrängter Geist.
Bedrängter Geist, hör auf zu weinen,
die Sonne wird noch helle scheinen,
die dir itzt Kummerwolken weist.
6. Rezitativ (Sopran, Bass)
Jesus:
In meiner Schoss liegt Ruh und Leben,
dies will ich dir einst ewig geben.
Anima:
Ach! Jesu, wär ich schon bei dir,
ach striche mir der Wind schon über Gruft und Grab,
so könnt ich alle Not besiegen.
Wohl denen, die im Sarge liegen
und auf den Schall der Engel hoffen!
Ach! Jesu, mache mir doch nur,
wie Stephano, den Himmel offen!
Mein Herz ist schon bereit,
zu dir hinaufzusteigen.
Komm, komm, vergnügte Zeit!
du magst mir Gruft und Grab,
und meinen Jesum zeigen.
7. Arie (Sopran)
Ich ende behende mein irdisches Leben,
mit Freuden zu scheiden verlang ich itzt eben.
Mein Heiland, ich sterbe mit höchster Begier,
hier hast du die Seele, was schenkest du mir?
8. Choral
Richte dich, Liebste, nach meinem Gefallen und gläube,
dass ich dein Seelenfreund immer und ewig verbleibe,
der dich ergötzt
und in den Himmel versetzt
aus dem gemarterten Leibe.
Bibliographical references
All libretti sourced from Neue Bach-Ausgabe. Johann Sebastian Bach. Neue Ausgabe sämtlicher Werke, published by the Johann-Sebastian-Bach-Institut Göttingen and the Bach-Archiv Leipzig, Series I (Cantatas), vol. 1–41, Kassel and Leipzig, 1954–2000.
All in-depth analyses by Anselm Hartinger (English translations/editing by Alice Noger-Gradon/Mary Carozza) based on the following sources:  Hans-Joachim Schulze, Die Bach-Kantaten. Einführungen zu sämtlichen Kantaten Johann Sebastian Bachs, Leipzig, 2nd edition, 2007; Alfred Dürr, Johann Sebastian Bach. Die Kantaten, Kassel, 9th edition, 2009, and Martin Petzoldt, Bach-Kommentar. Die geistlichen Kantaten, Stuttgart, vol. 1, 2nd edition, 2005 and vol. 2, 1st edition, 2007.