Wer mich liebet, der wird mein Wort halten
BWV 059 // For Pentecost (Whitsunday)
(He who loves me will keep my commandments) for soprano, bass and four-part vocal ensemble, trumpet I+II, timpani, bassoon, strings and continuo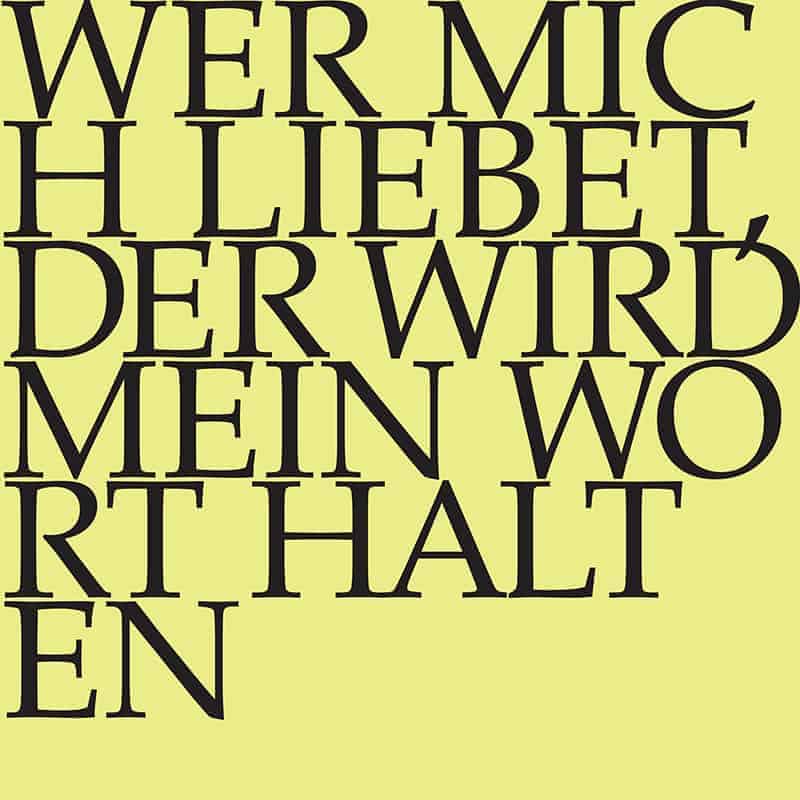 Video
Experience the introductory workshop, concert and reflective lecture in full length.
Workshop
Reflective lecture
«Lutzogram» for the introductory workshop
Rudolf Lutz's manuscript for the workshop
Audio
The sound recording of this work is available on several streaming and download platforms.
Orchestra
Conductor & cembalo
Rudolf Lutz
Violin
Plamena Nikitassova, Renate Steinmann
Viola
Susanna Hefti
Violoncello
Martin Zeller
Violone
Iris Finkbeiner
Bassoon
Susann Landert
Tromba da tirarsi
Patrick Henrichs, Peter Hasel
Timpani
Martin Homann
Organ
Norbert Zeilberger
Musical director & conductor
Rudolf Lutz
Workshop
Participants
Karl Graf, Rudolf Lutz
Reflective lecture
Speaker
Verena Kast
Recording & editing
Recording date
05/25/2012
Recording location
Trogen
Sound engineer
Stefan Ritzenthaler
Director
Meinrad Keel
Production manager
Johannes Widmer
Production
GALLUS MEDIA AG, Switzerland
Producer
J.S. Bach Foundation of St. Gallen, Switzerland
Matching publications in our shop
Librettist
Text No. 1
Quote from John 14:23
Text No. 2, 4
Erdmann Neumeister (1671–1756)
Text No. 3, 5
Martin Luther (1483–1546)
First performance
First Day of Pentecost,
28 May 1724
In-depth analysis
Bach composed BWV 59 to a libretto written by renowned text-reformer Erdmann Neumeister that was first printed in 1714 in Eisenach, then reprinted in 1716 in Leipzig; it appears that Bach set only four of the seven verses to music, and the extant version of the cantata ends with a bass aria with solo violin. This unusual ordering of movements places the chorale in the middle of the work, a situation that was quietly "corrected" in 19th-century publications of the work with the aim of establishing a conventionally well-formed conclusion. Because Bach substantially reworked and extended the introductory movement for reuse in BWV 74, and because the composition's date (1723 and / or1724) as well as the occasion (probably a university church service) remain unverified, the cantata often suffers the ill repute attached to an incomplete and makeshift composition – a shadow that should be lifted from this charming work.
The work's exquisite sound is established from the very outset through the soft and amiable Pentecostal tone of the introductory movement. The warm, flowing string setting is complemented by a cantabile pair of trumpets and discreet timpani; the resonant soprano and bass voices integrate seamlessly into the ensemble, forming a perfect whole. Opening with an expressive head motive, the various elements of the movement interweave in flowing phrases. With this simple yet artful concept, the music is  eminiscent of the charming tone of earlier sacred concerti, for instance those by Johann Schelle, one of Bach's predecessors as Thomaskantor. Elements of Bach's Weimar style are clearly audible in the composition, which has led to the – uncorroborated – conjecture that at least some of the movements stem from an earlier composition.
The soprano recitative "Oh, what are then these honours", accompanied by a dark-timbred string setting, describes in celebratory tones the moment in which Jesus, through his presence, raises mankind from the dust. Here, Neumeister's masterful formal diction and distinctive dramatic metaphors seem to have inspired Bach to a particularly vivid setting, which he concluded with an arioso passage giving an enraptured description of how beautiful it would be if we mortals shared in God's wonderous love.
This is followed by a chorale movement that employs the Lutheran hymn "Come, Holy Spirit" to refer to the events of Pentecost. While the first violins support the soprano voice, the second violins and the viola – a favourite instrument of Bach's – enjoy independent lines within the four-part structure.
Although the aria "The world with all its realms and kingdoms" opens with words on the transience of all earthly life, here, too, the music is replete with dulcet tones that call to mind the most beautiful movements from Bach's accompanied violin sonatas. In this musical vision of love fulfilled, the bass soloist proffers a sonorous declaration: those who hold God in their hearts are not only blessed in spirit but may venture a glimpse into the majesty of heaven. Here, Bach's simple musical phrases and concise, expressive figures embody both the clarity of the Pentecostal light and the childlike simplicity of the faithful soul.
It cannot be ruled out that the marking of "Corale segue" at the end of the original bass part is not a reference to a subsequent hymn setting, nor are the various theories on why Bach never set the remaining verses of Neumeister's libretto entirely convincing. This ambiguous situation inspired Rudolf Lutz to compose a new setting to the chorale "Gott, Heilger Geist, du Tröster wert", which followed in the original libretto. Based on a rich array of baroque idioms and techniques, the composition rounds out the cantata with the same pragmatic spirit that would have been adopted in Bach's day, had a colleague prepared a re-performance of the work. The figural setting takes up the elegant lines of the trumpets and timpani from the opening movement and treats the chorale in a motetlike and distinctly cantabile style that not only harks back to the ethereal aria but also uses the full instrumentation to great effect. In this setting, the buoyant head-motive of "God, Holy Spirit" and the syncopated response from the winds form the source of inspiration for the whole movement.
Libretto
1. Arie (Duett Sopran, Bass)
«Wer mich liebet, der wird mein Wort halten,
und mein Vater wird ihn lieben, und wir werden
zu ihm kommen und Wohnung bei ihm machen.»
2. Rezitativ (Sopran)
O, was sind das vor Ehren,
worzu uns Jesus setzt?
Der uns so würdig schätzt,
daß er verheißt,
samt Vater und dem heilgen Geist
in unsern Herzen einzukehren.
O, was sind das vor Ehren?
Der Mensch ist Staub,
der Eitelkeit ihr Raub,
der Müh und Arbeit Trauerspiel
und alles Elends Zweck und Ziel.
Wie nun? Der Allerhöchste spricht,
er will in unsern Seelen
die Wohnung sich erwählen.
Ach, was tut Gottes Liebe nicht?
Ach, daß doch, wie er wollte,
ihn auch ein jeder lieben sollte.
3. Choral
Komm, Heiliger Geist, Herre Gott,
erfüll mit deiner Gnaden Gut
deiner Gläubigen Herz, Mut und Sinn.
Dein brünstig Lieb entzünd in ihn'n.
O Herr, durch deines Lichtes Glanz
zu dem Glauben versammlet hast
das Volk aus aller Welt Zungen;
das sei dir, Herr, zu Lob gesungen.
Alleluja, Alleluja.
4. Arie (Bass)
Die Welt mit allen Königreichen,
die Welt mit aller Herrlichkeit,
kann dieser Herrlichkeit nicht gleichen,
womit uns unser Gott erfreut:
daß er in unsern Herzen thronet
und wie in einem Himmel wohnet.
Ach! ach Gott, wie selig sind wir doch,
wie selig werden wir erst noch,
wenn wir nach dieser Zeit der Erden
bei dir im Himmel wohnen werden.
5. Choral
Gott, Heiliger Geist, du Tröster wert,
gib dein'm Volk einerlei Sinn auf Erd,
steh bei uns in der letzten Not!
G'leit uns ins Leben aus dem Tod!
Bibliographical references
All libretti sourced from Neue Bach-Ausgabe. Johann Sebastian Bach. Neue Ausgabe sämtlicher Werke, published by the Johann-Sebastian-Bach-Institut Göttingen and the Bach-Archiv Leipzig, Series I (Cantatas), vol. 1–41, Kassel and Leipzig, 1954–2000.
All in-depth analyses by Anselm Hartinger (English translations/editing by Alice Noger-Gradon/Mary Carozza) based on the following sources:  Hans-Joachim Schulze, Die Bach-Kantaten. Einführungen zu sämtlichen Kantaten Johann Sebastian Bachs, Leipzig, 2nd edition, 2007; Alfred Dürr, Johann Sebastian Bach. Die Kantaten, Kassel, 9th edition, 2009, and Martin Petzoldt, Bach-Kommentar. Die geistlichen Kantaten, Stuttgart, vol. 1, 2nd edition, 2005 and vol. 2, 1st edition, 2007.