O Ewigkeit, du Donnerwort
BWV 060 // For the Twenty-fourth Sunday after Trinity
(Eternity, thou thundrous word) for soprano, alto, tenor, bass, oboe, oboe d'amore I+II, strings and continuo.
When composing the cantata "O Ewigkeit, du Donnerwort" (Eternity, thou thunderous word) BWV 60, Bach was faced with a particularly interesting challenge. In contrast to the chorale cantata BWV 20 which also begins with the same church hymn, this libretto takes the form of an intimate and intense dialogue. It does not, however, portray a dispute be-tween two real persons as is common in baroque operas and oratorios, but instead dram-atises the clash of two conflicting powers of the soul – "Fear" and "Hope" – which mirror man's inner struggle with the fundamental questions of faith. In fitting allusion to the torn nature of human beings, the libretto does not allow these emotions to speak in an orderly fashion; indeed, the text is strewn with constant interjections and occasionally simultaneous exclamations. As a result, Bach was forced to conceive musical devices that, contrary to the baroque penchant for clear interpretive affect, allow both emotional worlds to serve equally as the foundation for the work.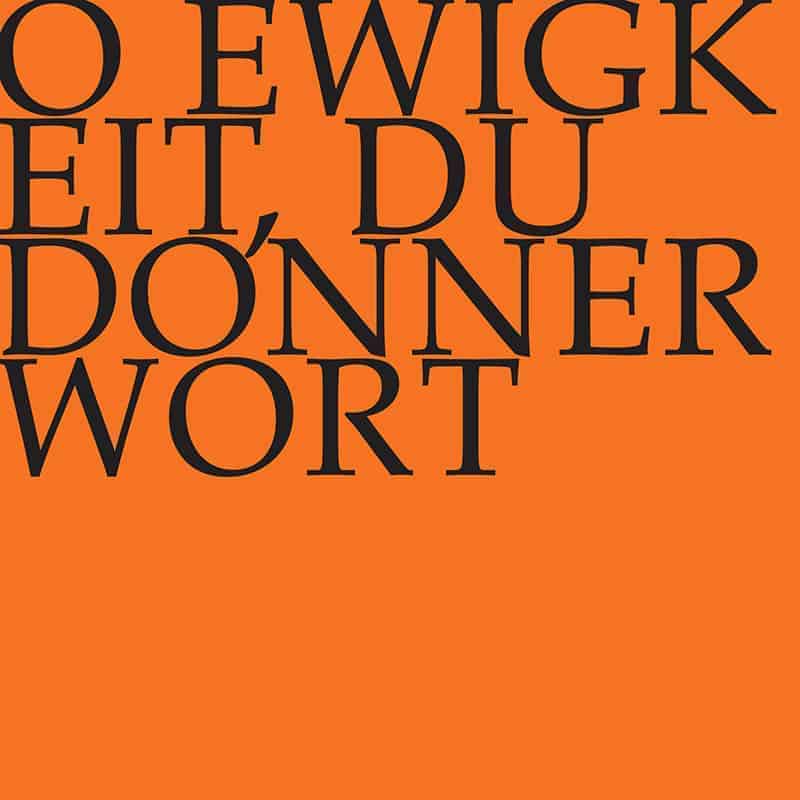 Video
Experience the introductory workshop, concert and reflective lecture in full length.
Workshop
Reflective lecture
«Lutzogram» for the introductory workshop
Rudolf Lutz's manuscript for the workshop
Audio
The sound recording of this work is available on several streaming and download platforms.
Orchestra
Conductor
Rudolf Lutz
Violin
Renate Steinmann, Martin Korrodi
Viola
Susanna Hefti
Violoncello
Martina Jessel
Violone
Iris Finkbeiner
Oboe
Meike Gueldenhaupt, Katharina Andres, Priska Comploi
Organ
Rudolf Lutz
Musical director & conductor
Rudolf Lutz
Workshop
Participants
Karl Graf, Rudolf Lutz
Reflective lecture
Speaker
Peter Gross
Recording & editing
Recording date
11/24/2006
Recording location
Trogen
Sound engineer
Stefan Ritzenthaler
Director
Meinrad Keel
Production manager
Johannes Widmer
Production
GALLUS MEDIA AG, Switzerland
Producer
J.S. Bach Foundation of St. Gallen, Switzerland
Matching publications in our shop
Librettist
Text No. 1
Johann Rist, 1642 and
1. Gen. 49:18; Psalm 119:166
Text No. 2, 3
Poet unknown
Text No. 4
Revelation 14:13
Text No. 5
Franz Joachim Burmeister, 1662
First performance
7 November 1723, Leipzig
In-depth analysis
The opening aria begins with trembling repeated notes in the strings over a sustained bass note, musically introducing the two opposing aspects of the word "eternity". By alluding not only to the permanence of eternity but also to the terror of eternal damnation, Bach evokes the multi-faceted nature of fear. Whereas the composition employs a chorale setting until the beginning of the fourth line, the musical character changes swiftly with the entry of the tenor. Two oboes d'amore, whose initial themes had no clear affiliations, now emerge as the partner of Hope, singing defiantly in their upper register against all despair. Aside from their warm, rich timbre, the symbolism of the name "oboe d'amore" also certainly influenced their inclusion in this section. On an intertextual level, Martin Luther's admonishment that one should not ask for specific alms, but alone for God, is impressively implemented here with the insistent repetition of the phrase "Lord, I wait now for thy help".
In the first recitative, the reasons why man succumbs to doubt are clearly named: fear of death and the burden of sin. Despite the comforting affirmations of the tenor, Bach's familiarity with the trials of earthly life becomes evident in his chromatic painting of the word "torture" (sung by Fear) and its inverse musical answer on the word "endure" (sung by Hope). In this passage, the effort involved in enduring life's burdens is all too keenly felt.
Bach devised the following aria – a feisty minuet – as a double dialogue. Aside from Fear and Hope fiercely trading vocal blows, an oboe d'amore and a solo violin are likewise engaged in a duel. Their starkly contrasting motifs of dotted-rhythmic gestures from the oboe d'amore and racing scales from the violin heighten the impression of an all-encompassing uncertainty. When then the "cruel" sight of the "open grave" is then mentioned, this may well sound disrespectful to today's listeners. For contemporaries of the baroque period, however, coping with death and dying was a daily issue. Bach himself was orphaned as a child and lost his first wife as well as several of his children to death; accepting irreversible acts of fate was a part of life. Consequently, when Hope declaims the grave as a redemptive "house of peace", this does not signify an empty gesture of comfort or a mere play on words, but rather a confidence born from the acceptance of human destiny.
Nevertheless, in recitative no. 4, Fear summons his strength for one last attack, to "hurtleth nigh all hope to its destruction". Hope, in response, takes refuge in a bible passage sung in arioso style which ever so gradually lays bare a secret of deep faith: "Blessed are those, who in the Lord have diéd, from now on". The phrase "from now on" reveals that salvation shall be given to all believers from this day forward and serves as the works catalyst. For the first time in the entire cantata, Fear is then granted the last word because doubt and terror have lost their power through the promise of the resurrection. The musical tension of the dialogue has been resolved.
The final chorale "It is enough lord, then let me rest in peace", based on a melody by the Mühlhausen organist Johann Rudolf Ahle, is justifiably one of Bach's most famous settings. Centuries later, its unusual opening of three ascending whole tones, exquisite harmonisation and modified recapitulation of the first text stollen so fascinated Alban Berg that he thoroughly developed the chorale in his violin concerto of 1935. Inscribed to the "memory of an angel", it proved to be a swan song not only for Manon Gropius, to whom it was dedicated, but also for Berg himself, who died shortly after its completion.
Libretto
Furcht (Alto), Hoffnung (Tenor)
1. Arie (Alt, Tenor)
Furcht:
O Ewigkeit, du Donnerwort,
o Schwert, das durch die Seele bohrt,
o Anfang sonder Ende!
O Ewigkeit, Zeit ohne Zeit,
ich weiss vor grosser Traurigkeit
nicht, wo ich mich hinwende;
mein ganz erschrocknes Herze bebt,
dass mir die Zung am Gaumen klebt.
Hoffnung:
Herr ich warte auf dein Heil.
2. Rezitativ (Alt, Tenor)
Furcht:
O schwerer Gang zum letzten Kampf und Streite!
Hoffnung:
Mein Bestand ist schon da,
mein Heiland steht mir ja
mit Trost zur Seite.
Furcht:
Die Todesangst, der letzte Schmerz
ereilt und überfällt mein Herz
und martert diese Glieder.
Hoffnung:
Ich lege diesen Leib vor Gott zum Opfer nieder.
Ist gleich der Trübsal Feuer heiss,
genung, es reinigt mich zu Gottes Preis.
Furcht:
Doch nun wird sich der Sünden grosse Schuld
vor mein Gesichte stellen.
Hoffnung:
Gott wird deswegen doch
kein Todesurteil fällen.
Er gibt ein Ende den Versuchungsplagen,
dass man sie kann ertragen.
3. Arie (Alt, Tenor)
Furcht:
Mein letztes Lager will mich schrecken,
Hoffnung:
mich wird des heilands Hand bedecken,
Furcht:
des Glaubens Schwachheit sinket fast.
Hoffnung:
Mein Jesus trägt mit mir die Last.
Furcht:
Das offne Grab sieht greulich aus.
Hoffnung:
Es wird mir doch ein Friedenshaus.
4. Rezitativ und Arioso (Alt, Bass)
Furcht:
Der Tod bleibt doch der menschlichen Natur verhasst
und reisset fast
die Hoffnung ganz zu Boden!
Bass:
Selig sind die Toten;
Furcht:
Ach, aber ach, wieviel Gefahr
stellt sich der Seele dar,
den Sterbeweg zu gehen.
Vielleicht wird ihr der Höllenrachen
den Tod erschrecklich machen,
wenn er sie zu verschlingen sucht,
vielleicht ist sie bereits verflucht
zum ewigen Verderben.
Bass:
Selig sind die Toten, die in dem Herren sterben.
Furcht:
Wenn ich im Herren sterbe,
ist denn die Seligkeit mein Teil und Erbe?
Der Leib wird ja der Würmer Speise!
Ja, werden meine Glieder
zu Staub und Erde wieder,
da ich ein Kind des Todes heisse,
so schein ich ja im Grabe zu verderben.
Bass:
Selig sind die Toten, die in dem Herren
sterben, von nun an.
Furcht:
Wohlan!
Soll ich von nun an selig sein:
So stelle dich, o Hoffnung, wieder ein!
Mein Leib mag ohne Furcht im Schlafe ruhn,
der Geist kann einen Blick in jene Freude tun.
5. Choral
Es ist genung,
Herr, wenn es dir gefällt,
so spanne mich doch aus!
Mein Jesus kömmt;
nun, gute Nacht, o Welt!
Ich fahr ins Himmelshaus,
ich fahre sicher hin mit Frieden,
mein grosser Jammer bleibt danieden.
Es ist genung.
Bibliographical references
All libretti sourced from Neue Bach-Ausgabe. Johann Sebastian Bach. Neue Ausgabe sämtlicher Werke, published by the Johann-Sebastian-Bach-Institut Göttingen and the Bach-Archiv Leipzig, Series I (Cantatas), vol. 1–41, Kassel and Leipzig, 1954–2000.
All in-depth analyses by Anselm Hartinger (English translations/editing by Alice Noger-Gradon/Mary Carozza) based on the following sources:  Hans-Joachim Schulze, Die Bach-Kantaten. Einführungen zu sämtlichen Kantaten Johann Sebastian Bachs, Leipzig, 2nd edition, 2007; Alfred Dürr, Johann Sebastian Bach. Die Kantaten, Kassel, 9th edition, 2009, and Martin Petzoldt, Bach-Kommentar. Die geistlichen Kantaten, Stuttgart, vol. 1, 2nd edition, 2005 and vol. 2, 1st edition, 2007.