Christ unser Herr zum Jordan kam
BWV 007 // For the Nativity of St. John the Baptist
(Christ did our Lord to Jordan come) for alto, tenor and bass, vocal ensemble, oboe d'amore I+II, bassoon, strings and continuo
According to Lutheran doctrine, baptism – in addition to communion and penance – belongs to the three sacraments introduced by Jesus and thus to the sacred rites practised by Lutherans after the Reformation. For Johann Sebastian Bach, too, the covenant with God formed through baptism was the cornerstone of his indentity as a human and a Christian. The Nativity of St John the Baptist therefore constitutes one of the most important feasts of the church year, and its profound significance comes to bear in the cantata "Christ, unser Herr, zum Jordan kam" ("Christ did, our Lord, to Jordan come"). Just as Martin Luther in verse one of the hymn, the unknown librettist strived to present Jesus' baptism by St John as a precedent that is valid for all future members of the church. The cantata's historic setting on the river Jordan symbolises the "bath" ordained by Jesus that would "wash" the baptised of both the fall of Adam and their own sins.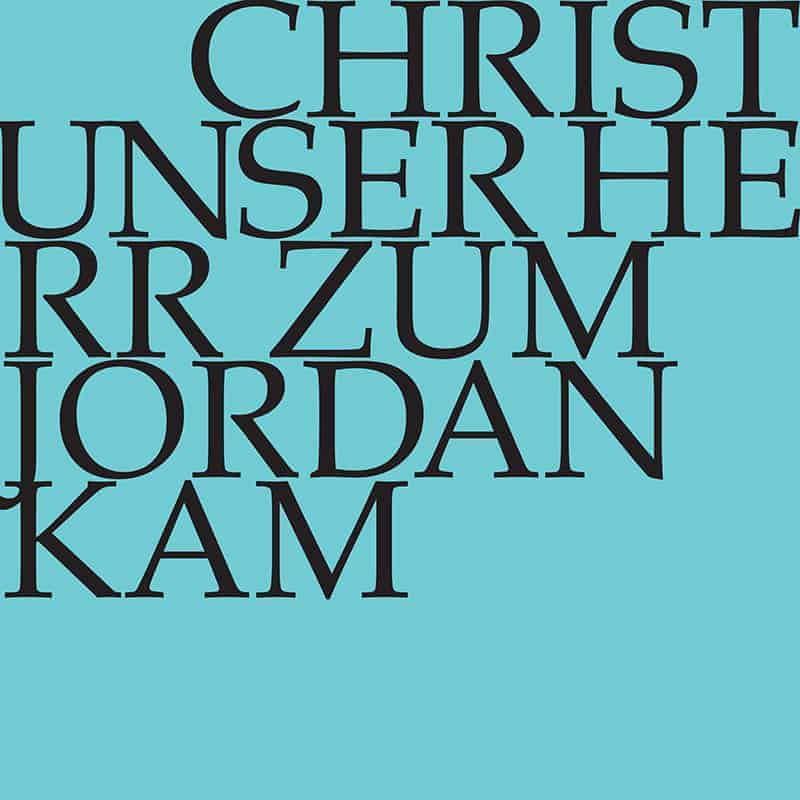 Video
Experience the introductory workshop, concert and reflective lecture in full length.
Workshop
Reflective lecture
«Lutzogram» for the introductory workshop
Rudolf Lutz's manuscript for the workshop
Audio
The sound recording of this work is available on several streaming and download platforms.
Choir
Soprano
Gunhild Lang Alsvilc, Guro Hjemli, Noëmi Tran Rediger, Alexa Vogel
Alto
Jan Börner, Antonia Frey, Alexandra Rawohl, Simon Savoy, Lea Scherer
Tenor
Clemens Flämig, Raphael Höhn, Nicolas Savoy
Bass
Fabrice Hayoz, Philippe Rayot, William Wood
Orchestra
Conductor
Rudolf Lutz
Violin
Renate Steinmann, Dorothee Mühleisen, Christine Baumann, Sabine Hochstrasser, Petra Melicharek, Ildiko Sajgo
Viola
Susanna Hefti, Martina Bischof
Violoncello
Martin Zeller, Hristo Kouzmanov
Violone
Iris Finkbeiner
Oboe
Kerstin Kramp, Andreas Helm
Bassoon
Susann Landert
Organ
Norbert Zeilberger
Harpsichord
Thomas Leininger
Musical director & conductor
Rudolf Lutz
Workshop
Participants
Karl Graf, Rudolf Lutz
Reflective lecture
Speaker
Hardy Ruoss
Recording & editing
Recording date
06/22/2012
Recording location
Trogen
Sound engineer
Stefan Ritzenthaler
Director
Meinrad Keel
Production manager
Johannes Widmer
Production
GALLUS MEDIA AG, Switzerland
Producer
J.S. Bach Foundation of St. Gallen, Switzerland
Matching publications in our shop
Librettist
Text No. 1, 7
Martin Luther
Text No. 2–6
Poet unknown
First performance
St John's Day,
24 June 1724
In-depth analysis
With its solo violin part in perpetual motion, the flowing musical gestures of the introductory chorus appear overwhelmingly inspired by the image of the river Jordan and its baptismal waters. Its majestic, overture-like style and the passionate tonality of E minor reflect the understanding – exclusive to the faithful Christian – that the waters are Jesus' sacrificial blood; an interpretation which is underscored in the text. In keeping with an old tradition, Bach assigned the melody to the tenor voice, thereby consciously lending an archaic dimension to the elegant orchestral setting. Notably, the words "to drown as well our bitter death" constitute the only line of text to culminate in a sixth chord, thereby portraying death not as the end, but as the path to the "life restored" that brings the chorale to an ecstatic close.

The repetitive, somewhat proselytising style of the bass aria draws its motifs from the speech-like yet driving continuo ritornello which, although less virtuosic, weaves around the vocal part in close contrapuntal style. Following the tenor recitative – with its tangible contrast of "He is from heaven's lofty throne" with "in meek and humble form descended" – the tenor aria and its two obbligato violins then trace "the Father's voice" resounding from on high. In light of the movement's layering of 9⁄8 and 3⁄4 time as well as its use of three solo voices in three vocal sections, it is appreciable that Alfred Dürr interpreted the setting as a musical portrayal of the Holy Trinity celebrated in the text. That the strings in the following bass recitative take up the vocal lines in imitation must surely reflect Jesus' command to "go forth to all the world". Surprisingly, the alto aria commences with a vocal motif that is only later taken up by the orchestra – an emphatic pleading to accept God's offer of mercy that defies all formal conventions. The work's closing chorale then employs a more familiar cantional setting with soprano melody that is particularly flowing in character despite its old-style stringence. Through the subtly trickling movement in the alto part – suggestive of blood or water – Bach brings the original theme of the cantata full circle.
Libretto
1. Chor
Christ unser Herr zum Jordan kam
nach seines Vaters Willen,
von Sankt Johanns die Taufe nahm,
sein Werk und Amt zu erfüllen;
da wollt er stiften uns ein Bad,
zu waschen uns von Sünden,
ersäufen auch den bittern Tod
durch sein selbst Blut und Wunden;
es galt ein neues Leben.
2. Arie (Bass)
Merkt und hört, ihr Menschenkinder,
was Gott selbst die Taufe heisst!
Es muss zwar hier Wasser sein,
doch schlecht Wasser nicht allein.
Gottes Wort und Gottes Geist
tauft und reiniget die Sünder.
3. Rezitativ (Tenor)
Dies hat Gott klar
mit Worten und mit Bildern dargetan,
am Jordan liess der Vater offenbar
die Stimme bei der Taufe Christi hören;
er sprach: Dies ist mein lieber Sohn,
an diesem hab ich Wohlgefallen,
er ist vom hohen Himmelsthron
der Welt zugut
in niedriger Gestalt gekommen
und hat das Fleisch und Blut
der Menschenkinder angenommen;
den nehmet nun als euren Heiland an
und höret seine teuren Lehren!
4. Arie (Tenor)
Des Vaters Stimme liess sich hören,
der Sohn, der uns mit Blut erkauft,
ward als ein wahrer Mensch getauft.
Der Geist erschien im Bild der Tauben,
damit wir ohne Zweifel glauben,
es habe die Dreifaltigkeit
uns selbst die Taufe zubereit'.
5. Rezitativ (Bass)
Als Jesus dort nach seinen Leiden
und nach dem Auferstehn
aus dieser Welt zum Vater wollte gehn,
sprach er zu seinen Jüngern:
Geht hin in alle Welt und lehret alle Heiden,
wer gläubet und getaufet wird auf Erden,
der soll gerecht und selig werden.
6. Arie (Altus)
Menschen, glaubt doch dieser Gnade,
dass ihr nicht in Sünden sterbt,
noch im Höllenpfuhl verderbt!
Menschenwerk und -heiligkeit
gilt vor Gott zu keiner Zeit.
Sünden sind uns angeboren,
wir sind von Natur verloren;
Glaub und Taufe macht sie rein,
dass sie nicht verdammlich sein.
7. Choral
Das Aug allein das Wasser sieht,
wie Menschen Wasser giessen,
der Glaub allein die Kraft versteht
des Blutes Jesu Christi,
und ist für ihm ein rote Flut
von Christi Blut gefärbet,
die allen Schaden heilet gut,
von Adam her geerbet,
auch von uns selbst begangen.
Bibliographical references
All libretti sourced from Neue Bach-Ausgabe. Johann Sebastian Bach. Neue Ausgabe sämtlicher Werke, published by the Johann-Sebastian-Bach-Institut Göttingen and the Bach-Archiv Leipzig, Series I (Cantatas), vol. 1–41, Kassel and Leipzig, 1954–2000.
All in-depth analyses by Anselm Hartinger (English translations/editing by Alice Noger-Gradon/Mary Carozza) based on the following sources:  Hans-Joachim Schulze, Die Bach-Kantaten. Einführungen zu sämtlichen Kantaten Johann Sebastian Bachs, Leipzig, 2nd edition, 2007; Alfred Dürr, Johann Sebastian Bach. Die Kantaten, Kassel, 9th edition, 2009, and Martin Petzoldt, Bach-Kommentar. Die geistlichen Kantaten, Stuttgart, vol. 1, 2nd edition, 2005 and vol. 2, 1st edition, 2007.