Ein feste Burg ist unser Gott
BWV 080 // For Reformation Sunday
(A mighty fortress is our God) for soprano, alto, tenor and bass, vocal ensemble, oboe I–III, oboe d'amore I–II, oboe da caccia, taille, trumpet, timpani, organ, strings and basso continuo
Bach's cantata BWV 80, "A mighty fortress is our God", is set to Luther's spirited hymn from 1529 that first entered the Protestant canon after the reformer's death. The cantata is based on a Weimar composition written in 1715 for Oculi (the Third Sunday in Lent), whose opening bass solo "All that which of God is fathered" quotes the chorale melody "A mighty fortress" as an additional commentary layer. It was perhaps this loose relationship to the chorale that led Bach to reuse the Weimar composition in Leipzig for Reformation Sunday; initially, he added a distinguished chorale setting at the beginning of the work, which he replaced in the 1730s with an extended chorale motet. Bach's son, Wilhelm Friedemann, later borrowed the first and fifth tutti movements for his own church music in Halle, adding Latin libretti and a choir of trumpets and timpani – instruments that are occasionally used in his father's version to this day. Despite the compositional mastery of the cantata, a distinct tension is evident between the compositional layers of the Reformation and Oculi settings. While the heroised image of Bach in the 19th century led to performances emphasising the large choral movements, today the intimate nature of the solo Weimar movements does not go unappreciated.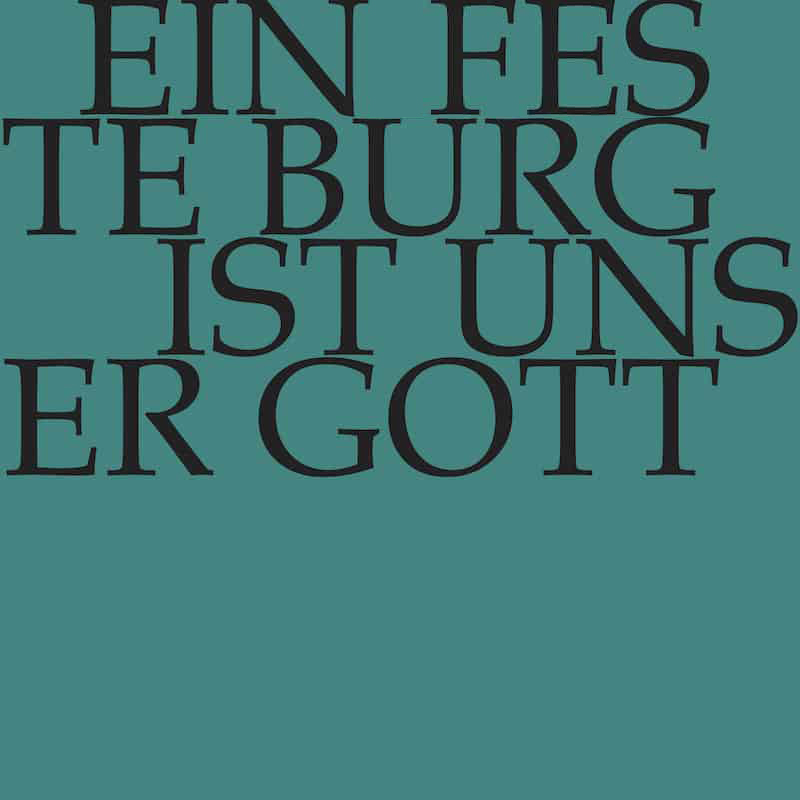 Video
Experience the introductory workshop, concert and reflective lecture in full length.
Workshop
Reflective lecture
«Lutzogram» for the introductory workshop
Rudolf Lutz's manuscript for the workshop
Audio
The sound recording of this work is available on several streaming and download platforms.
Soloists
Choir
Soprano
Lia Andres, Felicitas Erb, Olivia Fündeling, Susanne Seitter, Noëmi Sohn Nad, Noëmi Tran Rediger
Alto
Jan Börner, Antonia Frey, Francisca Näf, Alexandra Rawohl, Damaris Rickhaus
Tenor
Marcel Fässler, Clemens Flämig, Raphael Höhn, Nicolas Savoy
Bass
Fabrice Hayoz, Matthias Lutze, Jonathan Sells, Philippe Rayot, Tobias Wicky
Orchestra
Conductor
Rudolf Lutz
Violin
Plamena Nikitassova, Lenka Torgersen, Christine Baumann, Claire Foltzer, Petra Melicharek, Dorothee Mühleisen, Christoph Rudolf, Ildikó Sajgó
Viola
Martina Bischof, Sarah Krone, Sonoko Asabuki
Violoncello
Maya Amrein, Hristo Kouzmanov
Violone
Markus Bernhard
Oboe
Philipp Wagner, Dominik Melicharek, Ann Cathrin Collin
Oboe d'amore
Philipp Wagner, Dominik Melicharek
Oboe da caccia
Philipp Wagner
Taille
Ann Cathrin Collin
Tromba da tirarsi
Patrick Henrichs, Peter Hasel, Pavel Janecek
Timpani
Martin Homann
Bassoon
Susann Landert
Contrabassoon
Alexander Golde
Organ
Nicola Cumer
Harpsichord
Jörg Andreas Bötticher
Musical director & conductor
Rudolf Lutz
Workshop
Participants
Anselm Hartinger, Karl Graf, Rudolf Lutz
Reflective lecture
Speaker
Johannes Anderegg
Recording & editing
Recording date
19.08.2016
Recording location
Teufen AR (Schweiz) // Evangelische Kirche
Sound engineer
Stefan Ritzenthaler
Director
Meinrad Keel
Production manager
Johannes Widmer
Production
GALLUS MEDIA AG, Switzerland
Producer
J.S. Bach Foundation of St. Gallen, Switzerland
Matching publications in our shop
Librettist
Text No. 1, 2, 5, 8
Martin Luther
Text No. 2, 3, 4, 6, 7
Salomo Franck, 1715
First performance
Unknown,
probably after 1729/31
In-depth analysis
The introductory chorus features no prelude, opening directly as a fugal motet with doubled instruments. By additionally integrating the cantus firmus in a two-part canon, Bach raises the archaic motet, a form well suited to the venerable occasion, to a setting of exceptional grandeur. To this end, the continuo group is divided into an accompanying part for violoncello and harpsichord, and a melodic bass part for organ and violone that underscores the thee oboes presenting the same melody two octaves higher. The chorale bass voice, generally played on the organ pedals or on a trombone, is played in our recording on a 16-foot contrabassoon, the instrument Bach used in version IV (1749) of his St John Passion.
In the ensuing duet, the urgent, unison string lines set over a rumbling continuo perfectly enhance the spur-rattling text and the victorious coloturas. It is music of a truly Lutheran pen, with a setting that signifies the act of baptism as a symbol of the New Covenant and Christ's matyrdom as the source of solace. The combination of a ritornello aria with a chorale setting posed Bach with a considerable challenge, particularly in the cantabile middle section. While the ever-present energy of the strings enforces consistency, the reuse of the chorale as an additional, figured voice – both textually and instrumentally – lends the first two cantata movements the character of a partita through which Bach seemingly reconciles his duties as court organist and concertmaster.
The bass recitative takes up the notion of the blood sacrifice of Christ, but interprets the eschatological struggle as a perpetual fight against the world and Satan. The closing arioso section, which speaks of the unity of Christ's soul and the human heart, is so replete with sharps that it appears Bach had well understood the Lutheran books so prominent in his theological library: despite the promise of mercy, it is audibly difficult for humans to make their lives subservient to the healing act of penitence. Thus, Luther's theology of the Cross is revealed as a severe message, whose painful energy is released in a continuo coda of almost Schumann-like character.
The soprano aria "Come in my heart's abode", among the best of Bach's Weimar-style arias, presents a tender hymn of love in which anxious hope is balanced by awareness of one's own unworthiness. After a defiant middle section, the movement closes with a reprise of even greater heights and poignancy.
Set in D major, the battle music of chorus number five "And were the world with devils filled" marks an abrupt shift in tone. The unison setting of all vocal parts – highly rare in Bach's oeuvre – evokes a sense of denominational unity, while the lively "military gigue", cited here in the medium of art music, suggests the chorale singing of the faithful thousands gathered in the main churches of Leipzig. An appealing mix of congregational hymn and Brandenberg concerto, this setting makes apparent the potential unleashed by the Leipzig council in appointing the talented Kapellmeister and organist to the position of Thomascantor. The moving tenor recitative, a sharp reminder that faith is the true path to victory of the spirit, leads the listener back from the communal level to the individual soul. Then, in the sermon-like conclusion "Thy Saviour is thy shield", the continuo and soloist unite in a blissful cantillation.
The following duet is introspective in character. The Leipzig version opens with solo parts for oboe da caccia (not used in Weimar) and violin, before the alto and tenor voices enter in tender harmonies. Although the opening text criticises the hollow recital of prayer as compared with the true faith of the heart, Bach does not exploit this theme in dramatically contrasting tones. Rather, the composer is "at cross purposes" with the libretto, giving both the weak and strong of faith equal opportunity to find loving solace in the blissful rapture of the music. These evocative tones then engender a triumphant middle section that quotes the quarrelsome music of the second movement; in the calm conclusion, however, the ultimate goal of crowning life with a Christian death is rendered clearly audible.
The closing chorale responds with words of unified strength. Nonetheless, the fatalistic lines "Our body let them take, Wealth, rank, child and wife, Let them all be lost, And still they cannot win;" remain painful to endure. Indeed, one cannot help but wonder if the aging Luther, in his intense bereavement for his beloved daughter Magdalena, had cause to regret such high-flown rhetoric.
Libretto
1. Chor
Ein feste Burg ist unser Gott,
ein gute Wehr und Waffen;
er hilft uns frei aus aller Not,
die uns itzt hat betroffen.
Der alte böse Feind,
mit Ernst ers itzt meint,
groß Macht und viel List
sein grausam Rüstung ist,
auf Erd ist nicht seinsgleichen.
2. Arie (Bass) und Choral (Sopran)
Alles, was von Gott geboren,
ist zum Siegen auserkoren;
Mit unser Macht ist nichts getan,
wir sind gar bald verloren.
Es streit' vor uns der rechte Mann,
den Gott selbst hat erkoren.
Wer bei Christi Blutpanier
in der Taufe Treu geschworen,
siegt im Geiste für und für.
Fragst du, wer er ist?
Er heißt Jesus Christ,
der Herre Zebaoth,
und ist kein andrer Gott,
das Feld muß er behalten.
Alles, was von Gott geboren,
ist zum Siegen auserkoren.
3. Rezitativ (Bass)
Erwäge doch,
Kind Gottes, die so große Liebe,
da Jesus sich
mit seinem Blute dir verschriebe,
womit er dich
zum Kriege wider Satans Heer
und wider Welt und Sünde
geworben hat!
Gib nicht in deiner Seele
dem Satan und den Lastern statt!
Laß nicht dein Herz,
den Himmel Gottes auf der Erden,
zur Wüste werden!
Bereue deine Schuld mit Schmerz,
daß Christi Geist mit dir sich fest verbinde!
4. Arie (Sopran)
Komm in mein Herzenshaus,
Herr Jesu, mein Verlangen!
Treib Welt und Satan aus,
und laß dein Bild in mir erneuert prangen!
Weg, schnöder Sündengraus!
5. Choral
Und wenn die Welt voll Teufel wär
und wollten uns verschlingen,
so fürchten wir uns nicht so sehr,
es soll uns doch gelingen.
Der Fürst dieser Welt,
wie saur er sich stellt,
tut er uns doch nicht,
das macht, er ist gericht',
ein Wörtlein kann ihn fällen.
6. Rezitativ (Tenor)
So stehe dann
bei Christi blutgefärbten Fahne,
o Seele, fest
und glaube, daß dein Haupt dich nicht verläßt,
ja, daß sein Sieg
auch dir den Weg zu deiner Krone bahne!
Tritt freudig an den Krieg!
Wirst du nur Gottes Wort
so hören als bewahren,
so wird der Feind gezwungen auszufahren,
dein Heiland bleibt dein Hort.
7. Arie (Duett Alt, Tenor)
Wie selig sind doch die, die Gott im Munde tragen,
doch selger ist das Herz, das ihn im Glauben trägt!
Es bleibet unbesiegt und kann die Feinde schlagen
und wird zuletzt gekrönt, wenn es den Tod erlegt.
8. Choral
Das Wort sie sollen lassen stahn
und kein Dank dazu haben.
Er ist bei uns wohl auf dem Plan
mit seinem Geist und Gaben.
Nehmen sie uns den Leib,
Gut, Ehr, Kind und Weib,
laß fahren dahin,
sie habens kein Gewinn;
Das Reich muß uns doch bleiben.
Bibliographical references
All libretti sourced from Neue Bach-Ausgabe. Johann Sebastian Bach. Neue Ausgabe sämtlicher Werke, published by the Johann-Sebastian-Bach-Institut Göttingen and the Bach-Archiv Leipzig, Series I (Cantatas), vol. 1–41, Kassel and Leipzig, 1954–2000.
All in-depth analyses by Anselm Hartinger (English translations/editing by Alice Noger-Gradon/Mary Carozza) based on the following sources:  Hans-Joachim Schulze, Die Bach-Kantaten. Einführungen zu sämtlichen Kantaten Johann Sebastian Bachs, Leipzig, 2nd edition, 2007; Alfred Dürr, Johann Sebastian Bach. Die Kantaten, Kassel, 9th edition, 2009, and Martin Petzoldt, Bach-Kommentar. Die geistlichen Kantaten, Stuttgart, vol. 1, 2nd edition, 2005 and vol. 2, 1st edition, 2007.