Bisher habt ihr nichts gebeten in meinem Namen
BWV 087 // For Rogate
(Till now have ye nought been asking) for soprano, alto, tenor and bass, oboe I+II, oboe da caccia, strings and basso continuo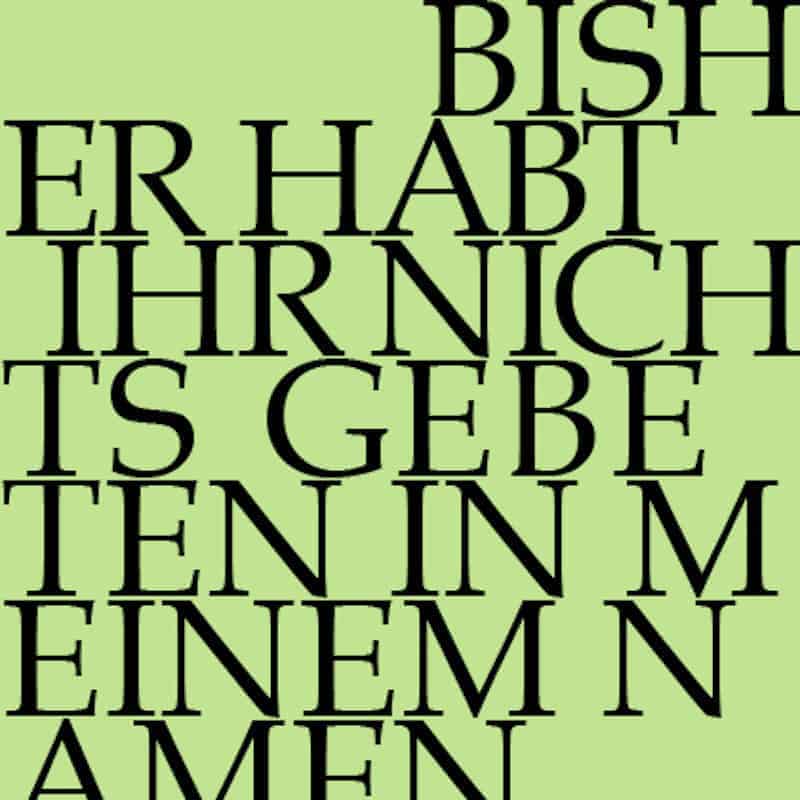 Video
Experience the introductory workshop, concert and reflective lecture in full length.
Workshop
Reflective lecture
«Lutzogram» for the introductory workshop
Rudolf Lutz's manuscript for the workshop
Choir
From the choir of the J.S. Bach Foundation
mezzo-soprano
Alexandra Rawohl
Orchestra
Conductor & cembalo
Rudolf Lutz
Violin
Renate Steinmann, Monika Baer, Claire Foltzer, Elisabeth Kohler, Marita Seeger, Salome Zimmermann
Viola
Susanna Hefti, Olivia Schenkel
Violoncello
Martin Zeller, Hristo Kouzmanov
Violone
Markus Bernhard
Oboe
Katharina Arfken, Natalia Herden, Ingo Müller
Bassoon
Susann Landert
Organ
Nicola Cumer
Musical director & conductor
Rudolf Lutz
Workshop
Participants
Karl Graf, Rudolf Lutz
Reflective lecture
Speaker
Angelika Schett
Recording & editing
Recording date
19.05.2017
Recording location
Trogen AR (Schweiz) // Evangelische Kirche
Sound engineer
Stefan Ritzenthaler
Director
Meinrad Keel
Production manager
Johannes Widmer
Production
GALLUS MEDIA AG, Switzerland
Producer
J.S. Bach Foundation of St. Gallen, Switzerland
Matching publications in our shop
Librettist
Text
Christiane Mariana von Ziegler, 1725
Text No. 1, 5
John 16:24 and 33
Text No. 7
Heinrich Müller, 1659
First performance
Rogate,
6 May 1725
Libretto
1. Dictum (Bass)
»Bisher habt ihr nichts gebeten in meinem Namen.«
2. Rezitativ (Alt)
O Wort, das Geist und Seel erschreckt!
Ihr Menschen, merkt den Zuruf, was dahinter steckt!
Ihr habt Gesetz und Evangelium vorsätzlich übertreten,
und diesfalls möcht' ihr ungesäumt in Buß und Andacht beten.
3. Arie (Alt)
Vergib, o Vater, unsre Schuld,
und habe noch mit uns Geduld,
wenn wir in Andacht beten
und sagen: Herr, auf dein Geheiß,
ach rede nicht mehr sprüchwortsweis,
hilf uns vielmehr vertreten!
4. Rezitativ (Tenor)
Wenn unsre Schuld bis an den Himmel steigt,
du siehst und kennest ja mein Herz,
das nichts vor dir verschweigt;
drum suche mich zu trösten!
5. Dictum (Bass)
«In der Welt habt ihr Angst; aber seid getrost, ich habe die
Welt überwunden.»
6. Arie (Tenor)
Ich will leiden, ich will schweigen,
Jesus wird mir Hülf erzeigen,
denn er tröst' mich nach dem Schmerz.
Weicht, ihr Sorgen, Trauer, Klagen,
denn warum sollt ich verzagen?
Fasse dich, betrübtes Herz!
7. Choral
Muß ich sein betrübet?
So mich Jesus liebet,
ist mir aller Schmerz
über Honig süße,
tausend Zuckerküsse
drücket er ans Herz.
Wenn die Pein sich stellet ein,
seine Liebe macht zur Freuden
auch das bittre Leiden.
Bibliographical references
All libretti sourced from Neue Bach-Ausgabe. Johann Sebastian Bach. Neue Ausgabe sämtlicher Werke, published by the Johann-Sebastian-Bach-Institut Göttingen and the Bach-Archiv Leipzig, Series I (Cantatas), vol. 1–41, Kassel and Leipzig, 1954–2000.
All in-depth analyses by Anselm Hartinger (English translations/editing by Alice Noger-Gradon/Mary Carozza) based on the following sources:  Hans-Joachim Schulze, Die Bach-Kantaten. Einführungen zu sämtlichen Kantaten Johann Sebastian Bachs, Leipzig, 2nd edition, 2007; Alfred Dürr, Johann Sebastian Bach. Die Kantaten, Kassel, 9th edition, 2009, and Martin Petzoldt, Bach-Kommentar. Die geistlichen Kantaten, Stuttgart, vol. 1, 2nd edition, 2005 and vol. 2, 1st edition, 2007.