Siehe, ich will viel Fischer aussenden
BWV 088 // For the Fifth Sunday after Trinity
(See now, I will send out many fishers) for soprano, alto, tenor and bass, horn I+II, oboe d'amore I+II, taille, bassoon, strings and continuo.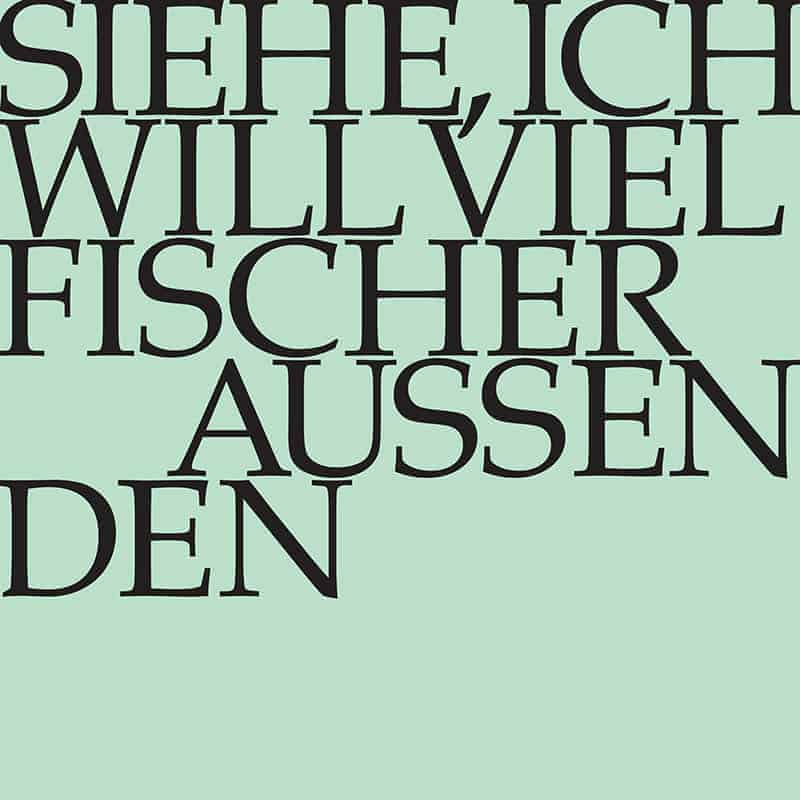 Video
Experience the introductory workshop, concert and reflective lecture in full length.
Workshop
Reflective lecture
«Lutzogram» for the introductory workshop
Rudolf Lutz's manuscript for the workshop
Orchestra
Conductor & cembalo
Rudolf Lutz
Violin
Renate Steinmann, Monika Baer
Viola
Susanna Hefti
Violoncello
Ilze Grudule
Violone
Iris Finkbeiner
Oboe d'amore
Luise Baumgartl, Dominik Melicharek
Oboe da caccia
Esther Fluor
Taille
Esther Fluor
Bassoon
Susann Landert
Horn
Olivier Picon, Jurij Meile
Musical director & conductor
Rudolf Lutz
Workshop
Participants
Karl Graf, Rudolf Lutz
Reflective lecture
Speaker
Isabelle Graesslé
Recording & editing
Recording date
06/20/2008
Recording location
Trogen
Sound engineer
Stefan Ritzenthaler
Director
Meinrad Keel
Production manager
Johannes Widmer
Production
GALLUS MEDIA AG, Switzerland
Producer
J.S. Bach Foundation of St. Gallen, Switzerland
Matching publications in our shop
Librettist
Text No. 1
Quote from Jeremiah 16:16
Text No. 2, 3, 5, 6
Poet unknown
Text No. 4
Quote from Luke 5:10
Text No. 7
Georg Neumark, 1657
First performance
Fifth Sunday after Trinity
21 July 1726
Libretto
Erster Teil
1. Arie (Bass)
»Siehe, ich will viel Fischer aussenden, spricht der Herr.
Siehe, ich will viel Fischer aussenden, spricht der Herr,
die sollen sie fischen.
Und darnach will ich viel Jäger aussenden,
die sollen sie fahen auf allen Bergen und auf
allen Hügeln und in allen Steinritzen.«
2. Rezitativ (Tenor)
Wie leichtlich könnte doch der Höchste uns entbehren
und seine Gnade von uns kehren,
wenn der verkehrte Sinn sich böslich von ihm trennt
und mit verstocktem Mut
in sein Verderben rennt.
Was aber tut
sein vatertreu Gemüte?
Tritt er mit seiner Güte
von uns, gleich so wie wir von ihm, zurück?
Und überläßt er uns der Feinde List und Tück?
3. Arie
Nein, nein!
Gott ist allezeit geflissen,
uns auf gutem Weg zu wissen
unter seiner Gnaden Schein.
Ja, ja! wenn wir verirret sein
und die rechte Bahn verlassen,
will er uns gar suchen lassen.
Zweiter Teil
4.a Rezitativ (Tenor)
Jesus sprach zu Simon:
4.b Arioso (Bass)
Fürchte dich nicht, denn von nun an wirst du Menschen fahen.
5. Arie (Duett Sopran, Alt)
Beruft Gott selbst, so muß der Segen
auf allem unsern Tun
in Übermaße ruhn,
stünd' uns gleich Furcht und Sorg entgegen.
Das Pfund, so er uns ausgetan,
will er mit Wucher wieder haben;
wenn wir es nur nicht selbst vergraben,
so hilft er gern, damit es fruchten kann.
6. Rezitativ (Sopran)
Was kann dich denn in deinem Wandel schrecken,
wenn dir, mein Herz, Gott selbst die Hände reicht?
Vor dessen bloßem Wink schon alles Unglück weicht,
und der dich mächtiglich kann schützen und bedecken.
Kommt Mühe, Überlast, Neid, Plag und Falschheit her
und trachtet, was du tust, zu stören und zu hindern,
laß kurzes Ungemach den Vorsatz nicht vermindern.
Das Werk, so er bestimmt, wird keinem je zu schwer.
Geh allzeit freudig fort, du wirst am Ende sehen,
daß, was dich eh' gequält, dir sei zu Nutz' geschehen.
7. Choral
Sing, bet und geh auf Gottes Wegen,
verricht das Deine nur getreu
und trau des Himmels reichem Segen,
so wird er bei dir werden neu:
denn welcher seine Zuversicht
auf Gott setzt, den verläßt er nicht.
Bibliographical references
All libretti sourced from Neue Bach-Ausgabe. Johann Sebastian Bach. Neue Ausgabe sämtlicher Werke, published by the Johann-Sebastian-Bach-Institut Göttingen and the Bach-Archiv Leipzig, Series I (Cantatas), vol. 1–41, Kassel and Leipzig, 1954–2000.
All in-depth analyses by Anselm Hartinger (English translations/editing by Alice Noger-Gradon/Mary Carozza) based on the following sources:  Hans-Joachim Schulze, Die Bach-Kantaten. Einführungen zu sämtlichen Kantaten Johann Sebastian Bachs, Leipzig, 2nd edition, 2007; Alfred Dürr, Johann Sebastian Bach. Die Kantaten, Kassel, 9th edition, 2009, and Martin Petzoldt, Bach-Kommentar. Die geistlichen Kantaten, Stuttgart, vol. 1, 2nd edition, 2005 and vol. 2, 1st edition, 2007.