Was soll ich aus dir machen, Ephraim
BWV 089 // For the Twenty-second Sunday after Trinity
(What shall I make of thee now, Ephraim?) for soprano, tenor and bass, corno da caccia, oboe I+II, bassoon, strings, organ and continuo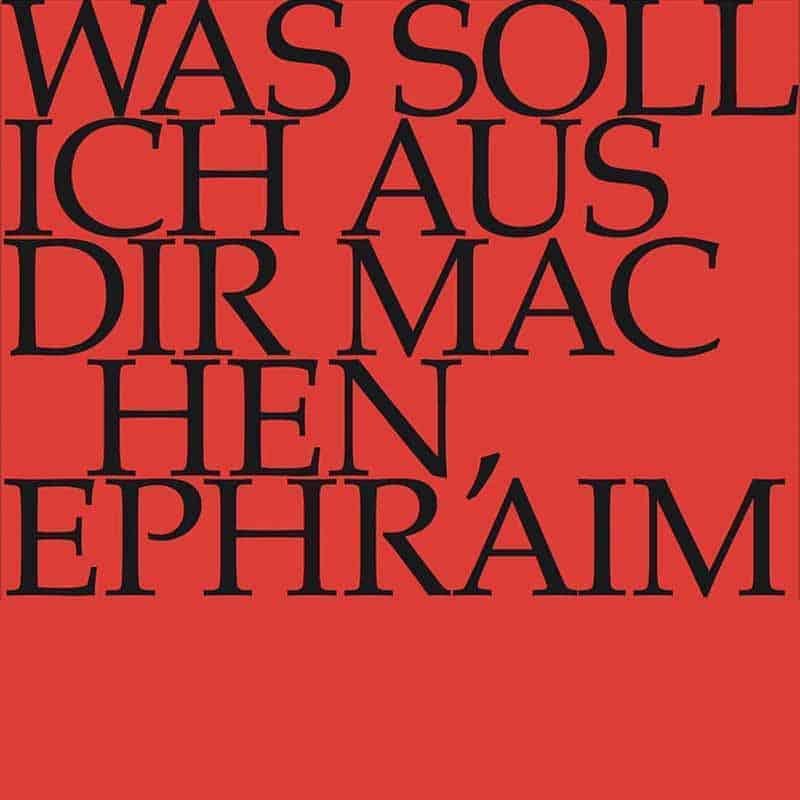 Video
Experience the introductory workshop, concert and reflective lecture in full length.
Workshop
Reflective lecture
«Lutzogram» for the introductory workshop
Rudolf Lutz's manuscript for the workshop
Orchestra
Conductor & cembalo
Rudolf Lutz
Violin
Renate Steinmann, Monika Baer, Monika Altorfer, Sabine Hochstrasser, Martin Korrodi, Olivia Schenkel
Viola
Susanna Hefti, Ulrike Kaufmann, Martina Zimmermann
Violoncello
Martin Zeller, Hristo Kouzmanov
Violone
Iris Finkbeiner
Oboe
Kerstin Kramp, Andreas Helm
Bassoon
Susann Landert
Corno da caccia
Olivier Picon
Organ
Nicola Cumer
Musical director & conductor
Rudolf Lutz
Workshop
Participants
Karl Graf, Rudolf Lutz
Reflective lecture
Speaker
Thomas Cerny
Recording & editing
Recording date
10/25/2013
Recording location
Trogen
Sound engineer
Stefan Ritzenthaler
Director
Meinrad Keel
Production manager
Johannes Widmer
Production
GALLUS MEDIA AG, Switzerland
Producer
J.S. Bach Foundation of St. Gallen, Switzerland
Matching publications in our shop
Librettist
Text No. 1
Quote from Hosea 11:8
Text No. 2–5
Poet unknown
Text No. 6
Johann Heermann, 1630
First performance
Twenty-second Sunday after Trinity,
1723
Libretto
1. Arie (Bass)
»Was soll ich aus dir machen, Ephraim?
Soll ich dich schützen, Israel?
Soll ich nicht billig ein Adama aus dir machen und dich wie Zeboim zurichten?
Aber mein Herz ist anders Sinnes, meine Barmherzigkeit ist zu brünstig.«
2. Rezitativ (Alt)
Ja, freilich sollte Gott
ein Wort zum Urteil sprechen
und seines Namens Spott
an seinen Feinden rächen.
Unzählbar ist die Rechnung deiner Sünden,
und hätte Gott auch gleich Geduld,
verwirft doch dein feindseliges Gemüte
die angebotne Güte
und drückt den Nächsten um die Schuld;
so muß die Rache sich entzünden.
3. Arie (Alt)
Ein unbarmherziges Gerichte
wird über dich gewiß ergehn.
Die Rache fängt bei denen an,
die nicht Barmherzigkeit getan,
und machet sie wie Sodom ganz zunichte.
4.Rezitativ (Sopran)
Wohlan! mein Herz legt Zorn, Zank und Zwietracht hin;
es ist bereit, dem Nächsten zu vergeben.
Allein, wie schrecket mich mein sündenvolles Leben,
daß ich vor Gott in Schulden bin!
Doch Jesu Blut
macht diese Rechnung gut,
wenn ich zu ihm, als des Gesetzes Ende,
mich gläubig wende.
5. Arie (Sopran)
Gerechter Gott, ach rechnest du?
so werde ich zum Heil der Seelen
die Tropfen Blut von Jesu zählen.
Ach rechne mir die Summe zu!
Ja weil sie niemand kann ergründen,
bedeckt sie meine Schuld und Sünden.
6. Choral
Mir mangelt zwar sehr viel,
doch, was ich haben will,
ist alles mir zugute
erlangt mit deinem Blute,
damit ich überwinde
Tod, Teufel, Höll und Sünde.
Bibliographical references
All libretti sourced from Neue Bach-Ausgabe. Johann Sebastian Bach. Neue Ausgabe sämtlicher Werke, published by the Johann-Sebastian-Bach-Institut Göttingen and the Bach-Archiv Leipzig, Series I (Cantatas), vol. 1–41, Kassel and Leipzig, 1954–2000.
All in-depth analyses by Anselm Hartinger (English translations/editing by Alice Noger-Gradon/Mary Carozza) based on the following sources:  Hans-Joachim Schulze, Die Bach-Kantaten. Einführungen zu sämtlichen Kantaten Johann Sebastian Bachs, Leipzig, 2nd edition, 2007; Alfred Dürr, Johann Sebastian Bach. Die Kantaten, Kassel, 9th edition, 2009, and Martin Petzoldt, Bach-Kommentar. Die geistlichen Kantaten, Stuttgart, vol. 1, 2nd edition, 2005 and vol. 2, 1st edition, 2007.