Es reißet euch ein schrecklich Ende
BWV 090 // For the Twenty-fifth Sunday after Trinity
(To ruin you an end of terror) for soprano, alto, tenor and bass, trumpet, strings and continuo
It is said that Bach's musicians had precious little rehearsal time and often sight-read their performances. If this is true, the shock they must have suffered in the dim light of an autumn morning on 14 November 1725 would have been considerable: for the wild musical flurries that the cantor had written in their parts must have struck not a few with fear of the "terrible end" awaiting not just their mortal souls but also their musical careers. And no doubt many an unsuspecting church-goer would have emerged shaken to the core and desperately regretting their last round of boozing and cards…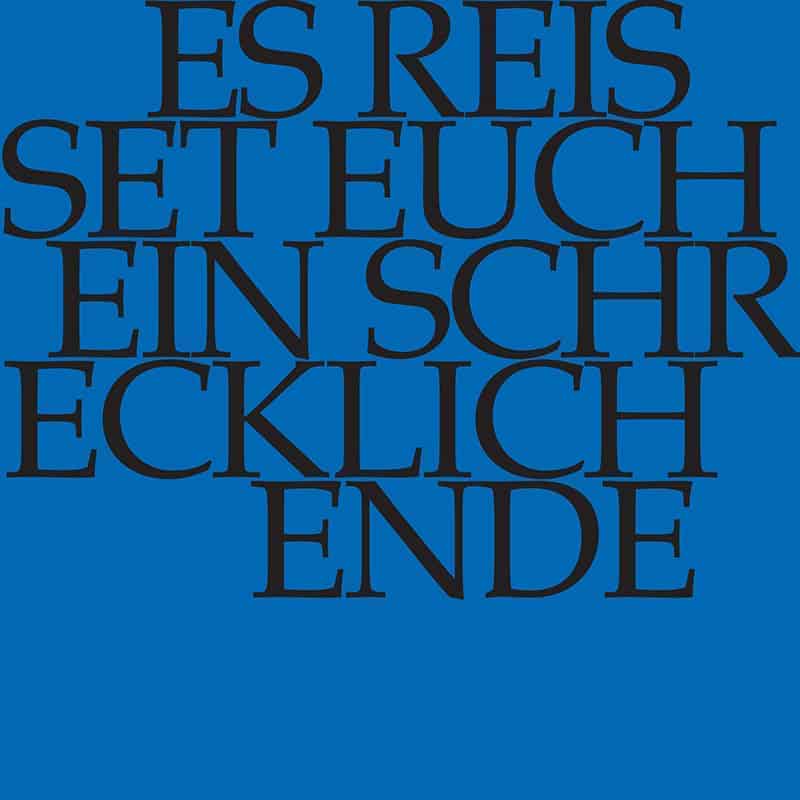 Video
Experience the introductory workshop, concert and reflective lecture in full length.
Workshop
Reflective lecture
«Lutzogram» for the introductory workshop
Rudolf Lutz's manuscript for the workshop
Audio
The sound recording of this work is available on several streaming and download platforms.
Orchestra
Conductor & cembalo
Rudolf Lutz
Violin
Renate Steinmann, Plamena Nikitassova
Viola
Susanna Hefti
Violoncello
Martin Zeller
Violone
Iris Finkbeiner
Bassoon
Susann Landert
Tromba da tirarsi
Patrick Henrichs
Organ
Norbert Zeilberger
Musical director & conductor
Rudolf Lutz
Workshop
Participants
Karl Graf, Rudolf Lutz
Reflective lecture
Speaker
Rainer Erlinger
Recording & editing
Recording date
11/19/2010
Recording location
Trogen
Sound engineer
Stefan Ritzenthaler
Director
Meinrad Keel
Production manager
Johannes Widmer
Production
GALLUS MEDIA AG, Switzerland
Producer
J.S. Bach Foundation of St. Gallen, Switzerland
Matching publications in our shop
Librettist
Text No. 1–4
Poet unknown
Text No. 5
Martin Moller, 1584
Text No. 6
Lazarus Spengler, 1524
First performance
Twenty-fifth Sunday after Trinity,
14 November 1723
In-depth analysis
This is because Bach had found a musical language for the libretto's end-of-days maledictions that is unrivalled in its radicalism. Opening with a tenor aria "To ruin you an end of terror, Ye blasphemous disdainers, brings", Bach presents a dark and lashing D minor setting whose interrupted cadences, arpeggios and percussive bass line give neither performer nor audience a moment to breathe: the musical thumbscrews are tightened with relish, and the fermata near the end of the A section seems to rehearse tearing the thread of life, as in a mock execution. Indeed, the music evokes the closing movement of a violin concerto dedicated to the devil, ere the equally agitated middle section reveals the reason for this shocking descent into hell: "Your store of sin is full in measure" – having been offered no sign of repentance, the long-patient judge boils over in a musical fit of rage.
In the following alto recitative, the immense discrepancy between divine goodness and human ingratitude is explored in a strict, dualistic setting. While the vocalists depict the blessings of the Lord in the brightest of colours, the "desp'rate act of mischief" and corruption of humankind are evoked by ear-piercing chords and a forceful interrupted cadence: here goes a sinner who has flaunted probation in eternal, obdurate impenitence! In this dialogue between the offer of mercy and brazen denial, Bach holds a musical sermon of rare intensity that closes with a drastic revocation of the divine promise: "Good deeds are spent on thee for nothing!"
The second aria opens a new scene that is rich in consequences. Whereas the wrathful inquisitor had sought a remorseful confession in the introductory movement, the covenant is now broken and the great judicial drama, with head and hand at stake, commences its deadly course – just as Bach no doubt witnessed more than once in the marketplaces of the cities he worked in. Announced by trumpet fanfares, the court judge enters to preside over the execution of a sentence that bears witness to his power. Aptly set for the bass voice and accompanied by string music of searing implacability, this constellation, transferred to the theological sphere, explodes the boundaries of baroque certitude of faith: how can God as the benevolent father "extinguish the lamp" of his promise and thus revoke the divine covenant? It is clear that the issue is not venial sin but rather a fundamental fall from faith that leads to collective damnation and self-inflicted banishment from the holy sites – a line of argument that, in the context of many of Luther's late writings, could certainly be called anti-Semitic, had such themes been more than a – thankfully – minor talking point in Bach's world.
But just as the sinner's head seems bent to the execution block, the tenor recitative abruptly sets all to rights. It was only a parable and a final warning – God watches steadfastly over his chosen people, whom he will protect from all enemies and indeed from themselves.
The recitative is, however, not followed by a conciliatory movement of musical solace. Rather, the terrified conscience can barely collect itself to issue a subdued closing chorale, one that is to be understood as a plea for God's blessing in its most comprehensive sense: protection, shelter and comfort here and yon; in this movement, Bach captures the transitory moment of the "blessed hour of peace" with other-worldly grace. The fact that the chorale melody corresponds to the Lutheran "Our Father" hymn reduces all to this unalterable and primary prayer. Seen through the lens of the work's judicial metaphor, it also calls to mind the last (often sung) words of the condemned at the noose – and thus brings a thoroughly oppressive cantata to its equally disturbing conclusion.
Libretto
1. Arie (Tenor)
Es reißet euch ein schrecklich Ende,
ihr sündlichen Verächter, hin.
Der Sünden Maß ist voll gemessen,
doch euer ganz verstockter Sinn
hat seines Richters ganz vergessen.
2. Rezitativ (Alt)
Des Höchsten Güte wird von Tag zu Tage neu,
der Undank aber sündigt stets auf Gnade.
O, ein verzweifelt böser Schade,
so dich in dein Verderben führt.
Ach! wird dein Herze nicht gerührt?
daß Gottes Güte dich
zur wahren Buße leitet?
Sein treues Herze lässet sich
zu ungezählter Wohltat schauen:
Bald läßt er Tempel auferbauen,
bald wird die Aue zubereitet,
auf die des Wortes Manna fällt,
so dich erhält.
Jedoch, o! Bosheit dieses Lebens,
die Wohltat ist an dir vergebens.
3. Arie (Bass)
So löschet im Eifer der rächende Richter
den Leuchter des Wortes zur Strafe doch aus.
Ihr müsset, o Sünder, durch euer Verschulden
den Greuel an heiliger Stätte erdulden,
ihr machet aus Tempeln ein mörderisch Haus.
4. Rezitativ (Tenor)
Doch Gottes Auge sieht auf uns als Auserwählte:
Und wenn kein Mensch der Feinde Menge zählte,
so schützt uns doch der Held in Israel,
es hemmt sein Arm der Feinde Lauf
und hilft uns auf;
des Wortes Kraft wird in Gefahr
um so viel mehr erkannt und offenbar.
5. Choral
Leit uns mit deiner rechten Hand
und segne unser Stadt und Land;
gib uns allzeit dein heilges Wort,
behüt fürs Teufels List und Mord;
verleih ein selges Stündelein,
auf daß wir ewig bei dir sein!
Bibliographical references
All libretti sourced from Neue Bach-Ausgabe. Johann Sebastian Bach. Neue Ausgabe sämtlicher Werke, published by the Johann-Sebastian-Bach-Institut Göttingen and the Bach-Archiv Leipzig, Series I (Cantatas), vol. 1–41, Kassel and Leipzig, 1954–2000.
All in-depth analyses by Anselm Hartinger (English translations/editing by Alice Noger-Gradon/Mary Carozza) based on the following sources:  Hans-Joachim Schulze, Die Bach-Kantaten. Einführungen zu sämtlichen Kantaten Johann Sebastian Bachs, Leipzig, 2nd edition, 2007; Alfred Dürr, Johann Sebastian Bach. Die Kantaten, Kassel, 9th edition, 2009, and Martin Petzoldt, Bach-Kommentar. Die geistlichen Kantaten, Stuttgart, vol. 1, 2nd edition, 2005 and vol. 2, 1st edition, 2007.