Ich hab in Gottes Herz und Sinn
BWV 092 // For Septuagesimae
(I have to Godís own heart and mind) for soprano, alto, tenor and bass, vocal ensemble, oboe díamore I+II, strings and bassos continuo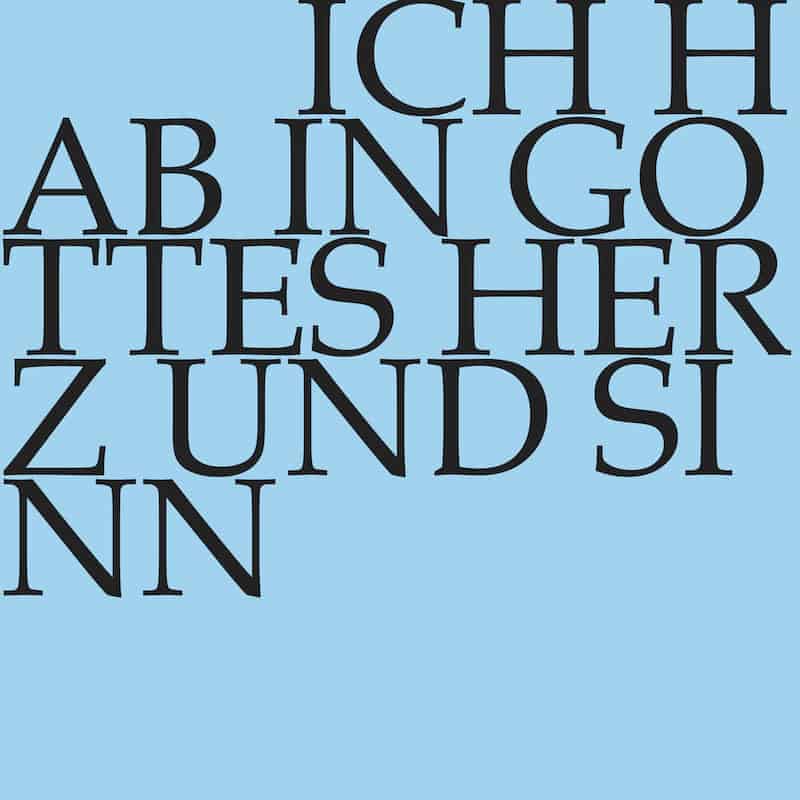 Video
Experience the introductory workshop, concert and reflective lecture in full length.
Workshop
Reflective lecture
«Lutzogram» for the introductory workshop
Rudolf Lutz's manuscript for the workshop
Audio
The sound recording of this work is available on several streaming and download platforms.
Soloists
Choir
Soprano
Olivia Fündeling, Damaris Rickhaus, Simone Schwark, Susanne Seitter, Noëmi Sohn Nad, Noëmi Tran Rediger
Alto
Antonia Frey, Liliana Lafranchi, Misa Lamdark, Alexandra Rawohl, Lea Scherer
Tenor
Marcel Fässler, Manuel Gerber, Sören Richter, Nicolas Savoy
Bass
Fabrice Hayoz, Daniel Pérez, Oliver Rudin, William Wood
Orchestra
Conductor
Rudolf Lutz
Violin
Plamena Nikitassova, Lenka Torgersen, Christine Baumann, Dorothee Mühleisen, Christoph Rudolf, Ildikó Sajgó
Viola
Sarah Krone, Matthias Jäggi
Violoncello
Maya Amrein, Daniel Rosin
Violone
Markus Bernhard
Oboe d'amore
Katharina Arfken, Dominik Melicharek
Bassoon
Susann Landert
Organ
Nicola Cumer
Harpsichord
Thomas Leininger
Musical director & conductor
Rudolf Lutz
Workshop
Participants
Karl Graf, Rudolf Lutz
Reflective lecture
Speaker
Andreas Köhler
Recording & editing
Recording date
22.01.2016
Recording location
Trogen AR (Schweiz) // Evangelische Kirche
Sound engineer
Stefan Ritzenthaler
Director
Meinrad Keel
Production manager
Johannes Widmer
Production
GALLUS MEDIA AG, Switzerland
Producer
J.S. Bach Foundation of St. Gallen, Switzerland
Matching publications in our shop
Librettist
Text
Poet unknown
Text No. 1, 4, 9
Paul Gerhardt, 1647
First performance
Septuagesima Sunday,
28 January 1725
In-depth analysis
Composed for 28 February 1725, Cantata BWV 92 forms part of Bach's chorale cantata cycle. Even by the standards of this largescale project, the cantata's underlying chorale by Paul Gerhardt features particularly frequently and in various different forms throughout the libretto.
The introductory chorus is set in the key of B minor. Although the head motif is broody and contemplative, the oboes d'amore radiate a confident tone, engaging in a charming concertante exchange with the tutti ensemble. The ensuing musical dialogue between the orchestra and the choir, with the cantus firmus in the soprano voice, exudes a gentle tenor of rueful concession – Christians must learn to bear their share of the Saviour's inheritance and are obliged to repeatedly renew their debt.
In the following recitative, the hymn melody is present from the outset in the continuo part; indeed, Bach specifically designates the melody as an intensely expressive musical layer ("chorale"). In this setting, the interplay of the chorale with the recitative text demonstrates with rare clarity that the recitatives of the chorale cantata cycles are in principle paraphrases of the Protestant hymns that, for their part, transformed the gospels into singable verse. The import of the text, illustrated by references to biblical figures such as Jonah and Peter, culminates in the home message that it is God's will to save and give strength to those of true faith.
After this dense outline of the theological issue at hand, the desired explanation emerges in the tenor aria "Seht, seht, wie reißt, wie bricht, wie fällt, was Gottes starker Arm nicht hält" (Mark, mark! it snaps, it breaks, it falls, What God's own mighty arm holds not). A veritable ocean storm at sea ensues: with a broken-chord ostinato figure underscoring a chain of short, buffeted phrases and gusting storm winds, the music spells out what lies in store for those out of favour with God. In the middle section, the long pedal notes represent the congregation that has gained strength from God's power, ere the true enemy – Satan and his "Wüten, Rasen, Krachen" (fury, raving, raging) – is revealed and ultimately overcome. Through Bach's consummate skill, this combative setting is rendered as a work of triumphant fortitude; an abbreviated da capo concludes this unexpectedly heroic movement.
In the next setting, the chorale forms the structure of the movement. Written in the style of an organ arrangement, the cantus firmus (alto voice) is embedded in a captivating trio of two oboes d'amore and continuo; the ornate elegance of the accompanying voices accentuates by way of contrast the clarity and pious simplicity of the chorale melody.
This inspires an energetic recitative in which the tenor resolves to reject anxiety and insecurity and instead embrace the trials of human existence. In this setting, the sighing figures of the closing phrase illustrate how Jesus' humility in the face of his crucifixion can serve as a model for abandoning fear and prevailing under duress.
Accompanied solely by the continuo, the bass aria "Brausen von den rauhen Winden" (The raging of the winds so cruel) sustains this argument with vivid imagery, returning to the metaphors of the storm and force of nature to present a pacey and complex interpretation of the human path to salvation: good comes to bear only through struggle and resistance; indeed, it is the test of the cross that yields fruit in the Christian, and without these trials, there can be no joyous harvest or spiritual fulfilment. In this perpetuum mobile setting on existential concerns, the listener is implored to submit to the wisdom of God and to welcome the discipline of Christ's teachings ("Kü.t seines Sohnes Hand, verehrt die treue Zucht" – Kiss ye his own Son's hand, revere his faithful care).
The chorale then returns in the form of a four-part recitative set as a type of litany with interpolated verses. Upon hearing the opening chordal phrase, listeners could easily mistake the setting for the closing chorale, but because Bach breaks up the second line of each chorale quote with a florid figure originating in the bass part, it becomes clear that the setting is an additional artistic variation. The newly texted interpolations speak of the Saviour's "Brudersinn" (brotherhood) and present a series of images of trust and beatitude. In doing so, a "neues Lied" (new refrain) is prepared for Jesus, the Prince of Peace; in the following aria, this song emerges as a tender soprano cantilena over pizzicato strings. In this direct encounter of the faithful soul and the Saviour, all worldly experience is forgotten to make way for a tender moment of mutual commitment, ere the delicate polonaise on trust in God culminates in a death-defying apotheosis of faith: "Amen, Vater nimm mich an!" (Amen, Father take me now!).
The closing chorale brings a return to the opening key of B minor and, by travelling over many a "Bahn und Steg" (road and path), is replete with moving imagery of life's journey. After the various experiments on form and the chorale in the preceding movements, the simply declaimed prayer of this masterly unpretentious movement is most especially poignant.
Libretto
1. Chor
Ich hab in Gottes Herz und Sinn
mein Herz und Sinn ergeben,
was böse scheint, ist mein Gewinn,
der Tod selbst ist mein Leben.
Ich bin ein Sohn
des, der den Thron
des Himmels aufgezogen;
ob er gleich schlägt
und Kreuz auflegt,
bleibt doch sein Herz gewogen.
2. Choral und Rezitativ (Bass)
Es kann mir fehlen nimmermehr!
Es müssen eh'r,
wie selbst der treue Zeuge spricht,
mit Prasseln und mit grausem Knallen
die Berge und die Hügel fallen:
mein Heiland aber trüget nicht,
mein Vater muß mich lieben.
Durch Jesu rotes Blut bin ich in seine Hand geschrieben;
er schützt mich doch!
Wenn er mich auch gleich wirft ins Meer,
so lebt der Herr auf großen Wassern noch,
der hat mir selbst mein Leben zugeteilt,
drum werden sie mich nicht ersäufen.
Wenn mich die Wellen schon ergreifen
und ihre Wut mit mir zum Abgrund eilt,
so will er mich nur üben,
ob ich an Jonam werde denken,
ob ich den Sinn mit Petro auf ihn werde lenken.
Er will mich stark im Glauben machen,
er will vor meine Seele wachen
er will für
und mein Gemüt,
das immer wankt und weicht,
in seiner Güt,
der an Beständigkeit nichts gleicht,
gewöhnen fest zu stehen.
Mein Fuß soll fest
bis an der Tage letzten Rest
sich hier auf diesen Felsen gründen.
Halt ich denn Stand,
und lasse mich in felsenfestem Glauben finden,
weiß seine Hand,
die er mir schon vom Himmel beut,
zu rechter Zeit
mich wieder zu erhöhen.
3. Arie (Tenor)
Seht, seht! wie reißt, wie bricht, wie fällt,
was Gottes starker Arm nicht hält.
Seht aber fest und unbeweglich prangen,
was unser Held mit seiner Macht umfangen.
Laßt Satan wüten, rasen, krachen,
der starke Gott wird uns unüberwindlich machen.
4. Choral (Alt)
Zudem ist Weisheit und Verstand bei ihm ohn alle Maßen,
Zeit, Ort und Stund ist ihm bekannt, zu tun und auch zu lassen.
Er weiß, wenn Freud,
er weiß, wenn Leid
uns, seinen Kindern, diene,
und was er tut,
ist alles gut,
ob's noch so traurig schiene.
5. Rezitativ (Tenor)
Wir wollen nun nicht länger zagen
und uns mit Fleisch und Blut,
weil wir in Gottes Hut,
so furchtsam wie bisher befragen.
Ich denke dran,
wie Jesus nicht gefürcht' das tausendfache Leiden;
er sah es an
als eine Quelle ewger Freuden.
Und dir, mein Christ,
wird deine Angst und Qual, dein bitter Kreuz und Pein
um Jesu willen Heil und Zucker sein.
Vertraue Gottes Huld
und merke noch, was nötig ist:
Geduld! Geduld!
6. Arie (Bass)
Das Stürmen von den rauhen Winden
Das Brausen
macht, daß wir volle Ähren finden.
Des Kreuzes Ungestüm schafft bei den Christen Frucht,
drum laßt uns alle unser Leben
dem weisen Herrscher ganz ergeben.
Küßt seines Sohnes Hand, verehrt die treue Zucht.
7. Choral und Rezitativ (Sopran, Alt, Tenor, Bass)
Ei nun, mein Gott, so fall ich dir
getrost in deine Hände.
Bass
So spricht der Gott gelass'ne Geist,
wenn er des Heilands Brudersinn
und Gottes Treue gläubig preist.
Nimm mich, und mache es mit mir
bis an mein letztes Ende.
Tenor
Ich weiß gewiß,
daß ich ohnfehlbar selig bin,
wenn meine Not und mein Bekümmernis
von dir so wird geendigt werden:
Wie du wohl weißt,
daß meinem Geist
dadurch sein Nutz entstehe,
Alt
daß schon auf dieser Erden,
dem Satan zum Verdruß,
dein Himmelreich sich in mir zeigen muß
und deine Ehr
je mehr und mehr
sich in ihr selbst erhöhe.
Sopran
So kann mein Herz nach deinem Willen
sich, o mein Jesu, selig stillen,
und ich kann bei gedämpften Saiten
dem Friedensfürst ein neues Lied bereiten.
8. Arie (Sopran)
Meinem Hirten bleib ich treu.
Will er mir den Kreuzkelch füllen,
ruh ich ganz in seinem Willen,
er steht mir im Leiden bei.
Es wird dennoch nach dem Weinen,
Jesu Sonne wieder scheinen.
Meinem Hirten bleib ich treu.
Jesu leb ich, der wird walten,
freu dich, Herz, du sollst erkalten,
Jesus hat genug getan.
Amen: Vater, nimm mich an!
9. Choral
Soll ich denn auch des Todes Weg
und finstre Straße reisen,
wohlan! ich tret auf Bahn und Steg,
den mir dein' Augen weisen.
Du bist mein Hirt,
der alles wird
zu solchem Ende kehren,
daß ich einmal
in deinem Saal
dich ewig möge ehren.
Bibliographical references
All libretti sourced from Neue Bach-Ausgabe. Johann Sebastian Bach. Neue Ausgabe sämtlicher Werke, published by the Johann-Sebastian-Bach-Institut Göttingen and the Bach-Archiv Leipzig, Series I (Cantatas), vol. 1–41, Kassel and Leipzig, 1954–2000.
All in-depth analyses by Anselm Hartinger (English translations/editing by Alice Noger-Gradon/Mary Carozza) based on the following sources:  Hans-Joachim Schulze, Die Bach-Kantaten. Einführungen zu sämtlichen Kantaten Johann Sebastian Bachs, Leipzig, 2nd edition, 2007; Alfred Dürr, Johann Sebastian Bach. Die Kantaten, Kassel, 9th edition, 2009, and Martin Petzoldt, Bach-Kommentar. Die geistlichen Kantaten, Stuttgart, vol. 1, 2nd edition, 2005 and vol. 2, 1st edition, 2007.