In allen meinen Taten
BWV 097 // Unspecified occasion
(In all my undertakings) for soprano, alto, tenor and bass, vocal ensemble, oboe I+II, bassoon, strings and continuo
The cantata "In allen meinen Taten" (In all my undertakings) is set to a hymn by the brilliant baroque poet Paul Fleming (1609–1640), whose all-too-short life led him from Hartenstein in the Ore Mountains to Leipzig, Russia and Persia, then on to Hamburg and the Duchy of Holstein. With an autograph date of 1734, the cantata belongs to a group of four festive sacred works with no specific connection to the church year and that are based entirely on the chorale verse "Per omnes versus". Accordingly, the individual movements are not described as recitatives or arias, but as "Versus 1" to "Versus ultimus"; the cantata's internal structure, however, is determined considerably by the strophic form of each verse as two three-line "Stollen". In recent years, Bach scholar Marc-Roderich Pfau has posited that this group of works may have been written for the Court of Weissenfels. Indeed, Bach had been appointed titular Kapellmeister of the court in 1729, although it is not known whether he provided any musical services. Notes in the source text moreover suggest that the work was later reused as wedding music.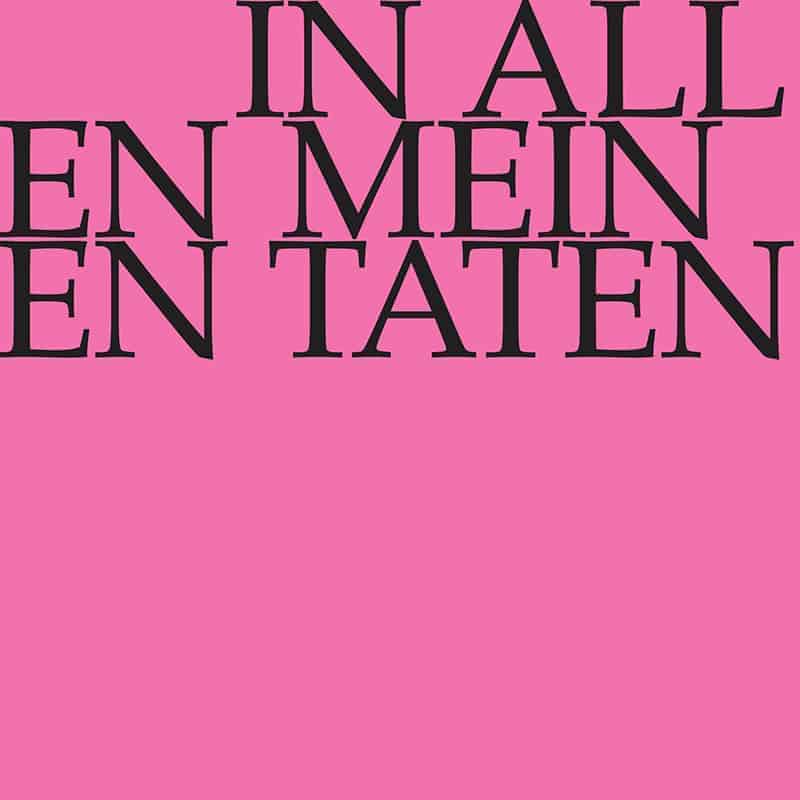 Video
Experience the introductory workshop, concert and reflective lecture in full length.
Workshop
Reflective lecture
«Lutzogram» for the introductory workshop
Rudolf Lutz's manuscript for the workshop
Audio
The sound recording of this work is available on several streaming and download platforms.
Soloists
Choir
Soprano
Susanne Frei, Leonie Gloor, Noëmi Tran Rediger, Damaris Nussbaumer
Alto
Jan Börner, Antonia Frey, Olivia Heiniger, Simon Savoy, Francisca Näf
Tenor
Walter Siegel, Nicolas Savoy, Manuel Gerber
Bass
Manuel Walser, Philippe Rayot, William Wood
Orchestra
Conductor & cembalo
Rudolf Lutz
Violin
Renate Steinmann, Fanny Tschanz, Christine Baumann, Sylvia Gmür, Martin Korrodi, Olivia Schenkel
Viola
Susanna Hefti, Martina Bischof
Violoncello
Martin Zeller
Violone
Iris Finkbeiner
Oboe
Kerstin Kramp, Diego Nadra
Bassoon
Susann Landert
Organ
Norbert Zeilberger
Musical director & conductor
Rudolf Lutz
Workshop
Participants
Karl Graf, Rudolf Lutz
Reflective lecture
Speaker
Kerstin Odendahl
Recording & editing
Recording date
03/18/2011
Recording location
Trogen
Sound engineer
Stefan Ritzenthaler
Director
Meinrad Keel
Production manager
Johannes Widmer
Production
GALLUS MEDIA AG, Switzerland
Producer
J.S. Bach Foundation of St. Gallen, Switzerland
Matching publications in our shop
Librettist
Text
Paul Fleming, 1633
Year of composition
1734
In-depth analysis
The introductory chorus is set as a twopart orchestral overture in whose fugal vivace section the soprano cantus firmus, accompanied by lively pre-imitations, is embedded. The extended trio episode for oboes and continuo calls to mind an original, purely orchestral setting; after the full rendition of the chorale, however, Bach included an arioso coda set for all four voices over the last line of the hymn, thus enhancing the light and elegant tone of the movement.
The second hymn verse, by contrast, is set as a duo for bass vocalist and continuo, and the latter's gigue-like part could easily be mistaken for a movement from the Bach Cello Suites, were it not for the soothing cantabile effect of the chanson-like vocal line. Despite its straight-forward sequences, the movement is highly distinctive by virtue of its learned and – as typical of Bach – complex passages. In the following tenor recitative, the hymn text is treated as a prose text without melodic import, which lends the brief movement the character of an oddly laconic transition.
In the aria for tenor, violin solo and continuo, by contrast, Bach presents music of almost boundless artistry, which, despite the subtle interpretation of certain words, can hardly have been inspired by the placid verse "I trust in his dear mercy". Over a peaceful bass line, the solo violin part, replete with multiple stops, broken chords and wild cascades, is of such demonstrative virtuosity that it appears Bach must have written it as a showpiece for a particular violinist – a practice seen in the works of other baroque masters, for instance, the sacred compositions of Antonio Vivaldi. Whatever the exact circumstances, it is possible to make a speculative connection to a particular passage in Psalm 119, "Thy statutes have been my songs in the house of my pilgrimage". These words, chosen by Heinrich Schutz, grand seigneur of German music in Weissenfels, as his gravestone inscription tally with Bach's personal conviction that artistry, indeed, can attest the practicing musician's vindication through faith.
The alto recitative, again not distinctly melodic, gains emotional depth through the string accompagnato, which lends considerable solemnity to the otherwise straightforward confession of sin and subsequent judgement. This gives way in verse six to a setting, at once quaint and modern, whose dance-like elements are balanced by the compact, syncopated string writing and the sensitive rendering of key words such as "retiring" and "in weakness and in bondage", while the industrious string lines echo the Protestant activity alluded to in the verse.
The soprano and tenor duet features capricious lines and a whimsical, fleeting tone that make it reminiscent of a secular chamber- music cantata. With its wilful succession of entries and some over-long solo lines, the setting gives the impression of a not entirely successful compromise between the threepart da-capo form of the music and the twopart structure of the hymn verse. The penultimate verse then strikes a different tone, employing the warm timbre of the oboes over an accompanying bass line. Like an opera aria of the Middle German baroque, the setting combines profound sensitivity with motivic efficiency; in combination with the simple soprano melody, this engenders an enchanting resonance reminiscent of the "sonate a quattro" of Telemann and Zelenka.
The closing verse, once again for the tutti ensemble, reflects the concise unity of the text in a four-part vocal setting with arioso interludes. Supplemented by no less than three independent string parts, the movement exudes a sparkling, celebratory character. As such, it forms a fitting conclusion to a composition that, in tone as well as in numerous details, reflects Bach's new orientation towards greater cogency and cantabile quality – an approach that contemporaries such as Johann Abraham Birnbaum had already detected in Bach's few cantata compositions of the 1730s.
Libretto
1. Chor
In allen meinen Taten
laß ich den Höchsten raten,
der alles kann und hat,
er muß zu allen Dingen,
solls anders wohl gelingen,
selbst geben Rat und Tat.
2. Arie (Bass)
Nichts ist es spat und frühe
um alle meine Mühe,
mein Sorgen ist umsonst.
Er mags mit meinen Sachen
nach seinem Willen machen,
ich stells in seine Gunst.
3. Rezitativ (Tenor)
Es kann mir nichts geschehen,
als was er hat versehen
und was mir selig ist;
Ich nehm es, wie ers gibet;
was ihm von mir beliebet,
das hab ich auch erkiest.
4. Arie (Tenor)
Ich traue seiner Gnaden,
die mich vor allem Schaden,
vor allem Übel schützt.
Leb ich nach seinen Gesetzen,
so wird mich nichts verletzen
nichts wird mich verletzen,
nichts wird mir fehlen,
nichts fehlen, was mir nützt.
5. Rezitativ (Alt)
Er wolle meiner Sünden
in Gnaden mich entbinden,
durchstreichen meine Schuld!
Er wird auf mein Verbrechen
nicht stracks das Urteil sprechen
und haben noch Geduld.
6. Arie (Alt)
Leg ich mich späte nieder,
erwache frühe wieder,
lieg oder ziehe fort,
in Schwachheit und in Banden,
und was mir stößt zuhanden,
so tröstet mich sein Wort.
7. Arie (Duett Sopran, Bass)
Hat er es denn beschlossen,
so will ich unverdrossen
an mein Verhängnis gehn!
Kein Unfall unter allen
wird mir zu harte fallen,
ich will ihn überstehn.
8. Arie (Sopran)
Ihm hab ich mich ergeben
zu sterben und zu leben,
sobald er mir gebeut.
Es sei heut oder morgen,
dafür laß ich ihn sorgen;
er weiß die rechte Zeit.
Bibliographical references
All libretti sourced from Neue Bach-Ausgabe. Johann Sebastian Bach. Neue Ausgabe sämtlicher Werke, published by the Johann-Sebastian-Bach-Institut Göttingen and the Bach-Archiv Leipzig, Series I (Cantatas), vol. 1–41, Kassel and Leipzig, 1954–2000.
All in-depth analyses by Anselm Hartinger (English translations/editing by Alice Noger-Gradon/Mary Carozza) based on the following sources:  Hans-Joachim Schulze, Die Bach-Kantaten. Einführungen zu sämtlichen Kantaten Johann Sebastian Bachs, Leipzig, 2nd edition, 2007; Alfred Dürr, Johann Sebastian Bach. Die Kantaten, Kassel, 9th edition, 2009, and Martin Petzoldt, Bach-Kommentar. Die geistlichen Kantaten, Stuttgart, vol. 1, 2nd edition, 2005 and vol. 2, 1st edition, 2007.