Was Gott tut, das ist wohlgetan
BWV 099 // For the Fifteenth Sunday after Trinity
(What God doth, that is rightly done) for soprano, alto, tenor and bass, vocal ensemble, horn, transverse flute, oboe d'amore, strings and continuo
Written for 17 September 1724, BWV 99 belongs to the substantial chorale cantata cycle of 1724/25, and is one of three cantatas all beginning with the same hymn. While it may be that Bach omitted the organ in movements two to five to underscore the contrast between the traditional chorale in full ensemble sound and the cantata's freely versed arias and recitatives, this interpretation remains pure conjecture: although the part is marked "tacet" in Bach's own hand in the source documents, this cannot be dated with certainty and may relate to a later performance.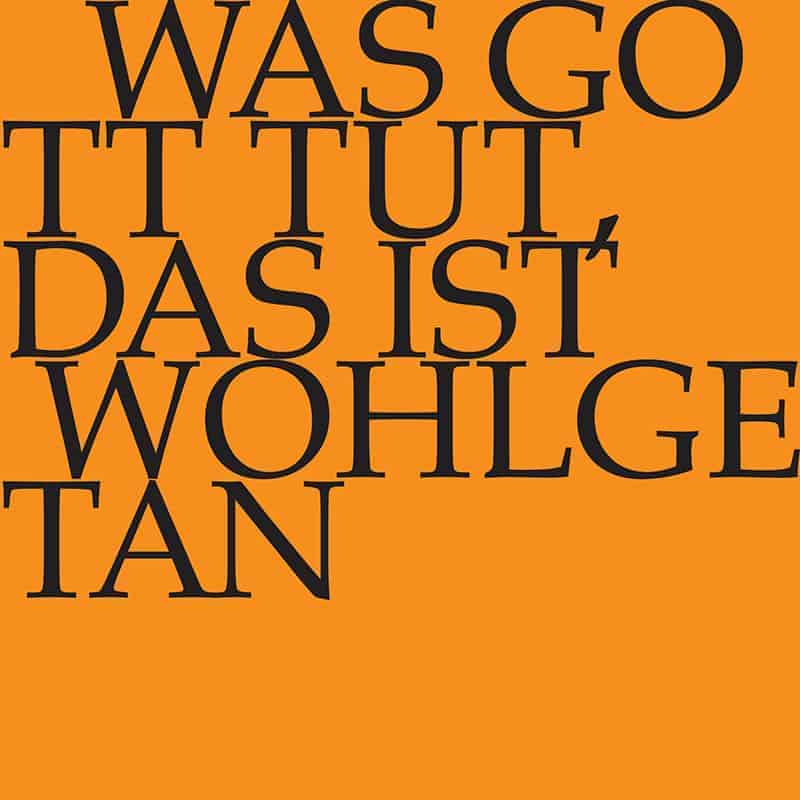 Video
Experience the introductory workshop, concert and reflective lecture in full length.
Workshop
Reflective lecture
«Lutzogram» for the introductory workshop
Rudolf Lutz's manuscript for the workshop
Audio
The sound recording of this work is available on several streaming and download platforms.
Soloists
Choir
Soprano
Mirjam Berli, Olivia Fündeling, Guro Hjemli, Noëmi Sohn, Noëmi Tran Rediger
Alto
Jan Börner, Antonia Frey, Damaris Nussbaumer, Alexandra Rawohl, Lea Scherer
Tenor
Clemens Flämig, Manuel Gerber, Raphael Höhn
Bass
Fabrice Hayoz, Valentin Parli, William Wood
Orchestra
Conductor & cembalo
Rudolf Lutz
Violin
Renate Steinmann, Dorothee Mühleisen, Christine Baumann, Sabine Hochstrasser, Martin Korrodi, Fanny Tschanz
Viola
Susanna Hefti, Martina Bischof
Violoncello
Maya Amrein, Claire Pottinger
Violone
Iris Finkbeiner
Oboe d'amore
Kerstin Kramp
Bassoon
Susann Landert
Transverse flute
Claire Genewein
Corno
Olivier Picon
Organ
Nicola Cumer
Musical director & conductor
Rudolf Lutz
Workshop
Participants
Karl Graf, Rudolf Lutz
Reflective lecture
Speaker
Barbara Neymeyr
Recording & editing
Recording date
09/14/2012
Recording location
Trogen
Sound engineer
Stefan Ritzenthaler
Director
Meinrad Keel
Production manager
Johannes Widmer
Production
GALLUS MEDIA AG, Switzerland
Producer
J.S. Bach Foundation of St. Gallen, Switzerland
Matching publications in our shop
Librettist
Text No. 1, 6
Samuel Rodigast (1649–1708)
Text No. 2–5
Arranger unknown
First performance
Fifteeth Sunday after Trinity,
17 September 1724
In-depth analysis
The introductory chorus is predominantly lively, commencing with a motive of paired slurs that is introduced by the violins. This is then passed to a colourful concertino of transverse flute, oboe d'amore and violin whose variations on this theme are soon interrupted by the entry of the choir. Here, the soprano (doubled by a wind instrument) introduces the hymn melody line-for-line in long tones, before the lower voices enter with their support. The extended movement continues in this charming interplay of various ensemble combinations, evoking a sense of serene trust in God's guidance.

The bass recitative delivers an expressive declamation that, like many such moments in Bach's cantatas, melds into an arioso passage: here, most appropriately, on the keyword "change". And change in the direction of shadowy affect is then introduced in the tenor aria no. 3, whose compositional idea is founded on the textual contrast between uncertainty and fortitude – "Disturb thyself do not, discouraged spirit!" – expressed beautifully by the fleeting, tender timbre of the transverse flute, whose obbligato part unites harmonic tension and stark chromatic passages in supremely elegant phrases. Bach's ability to disguise his artistry in an efficient composition – much as "hidden sweetness" is concealed in the "cross's cup" – is given ample proof in this aria.
The ensuing alto recitative paints a striking picture of "pain endured" and daily "torment" despite making a declaration of faith, before duet no. 5 leads these contrasting affects into direct confrontation. In this masterly quintet, Bach reinstates the wind concertino of the opening chorus next to the soprano and alto with transverse flute and oboe d'amore. Here, the motif of repeated notes is equally light and terse, and culminates in a painful sigh. Central to this two-part movement is a virtuoso coloratura, in which the antithetical concepts of "struggle" and "pleasure" meet. This musical insight into the inevitability of suffering as part of the divine plan emerges as the cantata's key theme, with the interim transition to D major on the words "it is ne'erless rightly done" proving to be a mere battle gained in the ongoing human and musical struggle. All the more powerful then is the closing chorale, in which the return to the G major tonality of the introductory movement happily coincides with the movement's recapitulation of the hymn's opening motto: "What God doth, that is rightly done".
Libretto
1. Chor
Was Gott tut, das ist wohlgetan,
es bleibt gerecht sein Wille;
wie er fängt meine Sachen an,
will ich ihm halten stille.
Er ist mein Gott,
der in der Not
mich wohl weiss zu erhalten;
drum lass ich ihn nur walten.
2. Rezitativ (Bass)
Sein Wort der Wahrheit stehet fest
und wird mich nicht betrügen,
weil es die Gläubigen nicht fallen
noch verderben lässt.
Ja, weil es mich den Weg zum Leben führet,
so fasst mein Herze sich
und lässet sich begnügen
an Gottes Vatertreu und Huld
und hat Geduld,
wenn mich ein Unfall rühret.
Gott kann mit seinen Allmachtshänden
mein Unglück wenden.
3. Arie (Tenor)
Erschüttre dich nur nicht, verzagte Seele,
wenn dir der Kreuzeskelch so bitter schmeckt.
Gott ist dein weiser Arzt
und Wundermann,
so dir kein tödlich Gift einschenken kann,
obgleich die Süssigkeit verborgen steckt.
4. Rezitativ (Alt)
Nun, der von Ewigkeit geschlossne Bund
bleibt meines Glaubens Grund.
Er spricht mit Zuversicht
im Tod und Leben:
Gott ist mein Licht,
ihm will ich mich ergeben.
Und haben alle Tage
gleich ihre eigne Plage,
doch auf das überstandne Leid,
wenn man genug geweinet,
kommt endlich die Errettungszeit,
da Gottes treuer Sinn erscheinet.
5. Arie (Duett Sopran, Alt)
Wenn des Kreuzes Bitterkeiten
mit des Fleisches Schwachheit streiten,
ist es dennoch wohlgetan.
Wer das Kreuz durch falschen Wahn
sich vor unerträglich schätzet,
wird auch künftig nicht ergötzet.
6. Choral
Was Gott tut, das ist wohlgetan,
dabei will ich verbleiben;
es mag mich auf die rauhe Bahn
Not, Tod und Elend treiben,
so wird Gott mich
ganz väterlich
in seinen Armen halten,
drum lass ich ihn nur walten.
Bibliographical references
All libretti sourced from Neue Bach-Ausgabe. Johann Sebastian Bach. Neue Ausgabe sämtlicher Werke, published by the Johann-Sebastian-Bach-Institut Göttingen and the Bach-Archiv Leipzig, Series I (Cantatas), vol. 1–41, Kassel and Leipzig, 1954–2000.
All in-depth analyses by Anselm Hartinger (English translations/editing by Alice Noger-Gradon/Mary Carozza) based on the following sources:  Hans-Joachim Schulze, Die Bach-Kantaten. Einführungen zu sämtlichen Kantaten Johann Sebastian Bachs, Leipzig, 2nd edition, 2007; Alfred Dürr, Johann Sebastian Bach. Die Kantaten, Kassel, 9th edition, 2009, and Martin Petzoldt, Bach-Kommentar. Die geistlichen Kantaten, Stuttgart, vol. 1, 2nd edition, 2005 and vol. 2, 1st edition, 2007.