Das neugeborne Kindelein
BWV 001 // Sunday after Christmas
<p class="description">(The newly born, the tiny childment they will cast you) for soprano, alto, tenor and bass; vocal ensemble, recorder I-III, oboe I+II, taille, strings and basso continuo</p>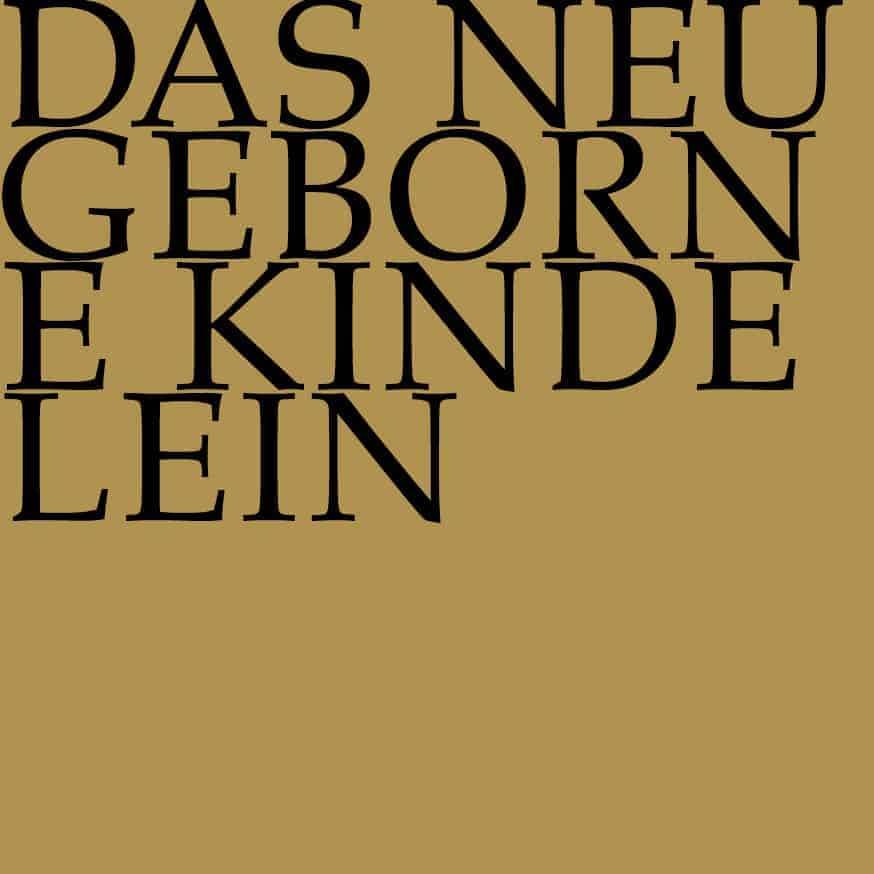 Video
Experience the introductory workshop, concert and reflective lecture in full length.
Soloists
Choir
Soprano
Linda Loosli, Jennifer Rudin, Susanne Seitter, Baiba Urka, Alexa Vogel, Maria Deger
Alto
Laura Binggeli, Antonia Frey, Lea Pfister-Scherer, Jan Thomer, Lisa Weiss
Tenor
Marcel Fässler, Raphael Höhn, Klemens Mölkner, Tiago Oliveira
Bass
Jean-Christophe Groffe, Fabrice Hayoz, Johannes Hill, Philippe Rayot, William Wood
Orchestra
Conductor & Harpsichord
Rudolf Lutz
Violin
Renate Steinmann, Monika Baer, Andrea Brunner, Ildikó Sajgó, Olivia Schenkel, Salome Zimmermann
Viola
Susanna Hefti, Matthias Jäggi, Claire Foltzer
Violoncello
Martin Zeller, Hristo Kouzmanov
Violone
Markus Bernhard
Recorder
Annina Stahlberger, Teresa Hackel, Amy Power
Oboe
Amy Power, Ana Ines Feola
Taille
Ingo Müller
Bassoon
Susann Landert
Organ
Nicola Cumer
Musical director & conductor
Rudolf Lutz
Workshop
Participants
Rudolf Lutz, Pfr. Niklaus Peter
Reflective lecture
Speaker
Daniel Johannsen
Recording & editing
Recording date
17/12/2021
Recording location
St. Gallen (Switzerland) // Olma-Halle 2.0
Sound engineer
Stefan Ritzenthaler
Producer
Meinrad Keel
Executive producer
Johannes Widmer
Production
GALLUS MEDIA AG, Schweiz
Producer
J.S. Bach-Stiftung, St. Gallen, Schweiz
Matching publications in our shop
Librettist
First performance
31 December 1724, Leipzig
Text
Cyriakus Schneegass (movements 1, 4, 6), unknown source (movements 2, 3, 5)
Libretto
1. Chor
Das neugeborne Kindelein,
das herzeliebe Jesulein
bringt abermal ein neues Jahr
der auserwählten Christenschar.
2. Arie — Bass
O Menschen, die ihr täglich sündigt,
ihr sollt der Engel Freude sein.
Ihr jubilierendes Geschrei,
daß Gott mit euch versöhnet sei,
hat euch den süßen Trost verkündigt.
3. Rezitativ — Sopran
Die Engel, welche sich zuvor
vor euch als vor Verfluchten scheuen,
erfüllen nun die Luft im höhern Chor,
um über euer Heil sich zu erfreuen.
Gott, so euch aus dem Paradies
aus englischer Gemeinschaft stieß,
läßt euch nun wiederum auf Erden
durch seine Gegenwart vollkommen selig werden:
So danket nun mit vollem Munde
vor die gewünschte Zeit im neuen Bunde!
4. Arie — Terzett (Sopran, Alt, Tenor)
Ist Gott versöhnt und unser Freund,
O wohl uns, die wir an ihn glauben,
was kann uns tun der arge Feind?
sein Grimm kann unsern Trost nicht rauben;
Trotz Teufel und der Höllen Pfort,
ihr Wüten wird sie wenig nützen:
das Jesulein ist unser Hort.
Gott ist mit uns und will uns schützen.
5. Rezitativ — Bass
Dies ist ein Tag, den selbst der Herr gemacht,
der seinen Sohn in diese Welt gebracht.
O selge Zeit, die nun erfüllt!
o gläubig's Warten, das nunmehr gestillt!
o Glaube, der sein Ende sieht!
o Liebe, die Gott zu sich zieht!
o Freudigkeit, so durch die Trübsal dringt
und Gott der Lippen Opfer bringt!
6. Choral
Es bringt das rechte Jubeljahr,
was trauren wir denn immerdar?
Frisch auf! itzt ist es Singens Zeit,
das Jesulein wendt alles Leid.
Bibliographical references
All libretti sourced from Neue Bach-Ausgabe. Johann Sebastian Bach. Neue Ausgabe sämtlicher Werke, published by the Johann-Sebastian-Bach-Institut Göttingen and the Bach-Archiv Leipzig, Series I (Cantatas), vol. 1–41, Kassel and Leipzig, 1954–2000.
All in-depth analyses by Anselm Hartinger (English translations/editing by Alice Noger-Gradon/Mary Carozza) based on the following sources:  Hans-Joachim Schulze, Die Bach-Kantaten. Einführungen zu sämtlichen Kantaten Johann Sebastian Bachs, Leipzig, 2nd edition, 2007; Alfred Dürr, Johann Sebastian Bach. Die Kantaten, Kassel, 9th edition, 2009, and Martin Petzoldt, Bach-Kommentar. Die geistlichen Kantaten, Stuttgart, vol. 1, 2nd edition, 2005 and vol. 2, 1st edition, 2007.