Fürchte dich nicht
BWV 228 // Funeral music
(Fear have thou none) for vocal ensemble (double choir),  oboe I+II, taille, strings and basso continuo
Motet by Johann Christian Bach «Fürchte dich nicht»
Fürchte dich nicht, denn ich hab' dich erlöst,
ich hab' dich bei deinem Namen gerufen,
du bist mein.
Wahrlich, ich sage dir:
Heute wirst du mit mir im Paradies sein.
O Jesu du, mein Hilf und Ruh,
ich bitte dich mit Tränen:
Hilf, dass ich mich bis ins Grab nach dir möge sehnen.
Johann Heinrich Schmelzer: «Lamento sopra la morte Ferdinandi III»
Motet by Johann Sebastian Bach, BWV 228 «Fürchte dich nicht»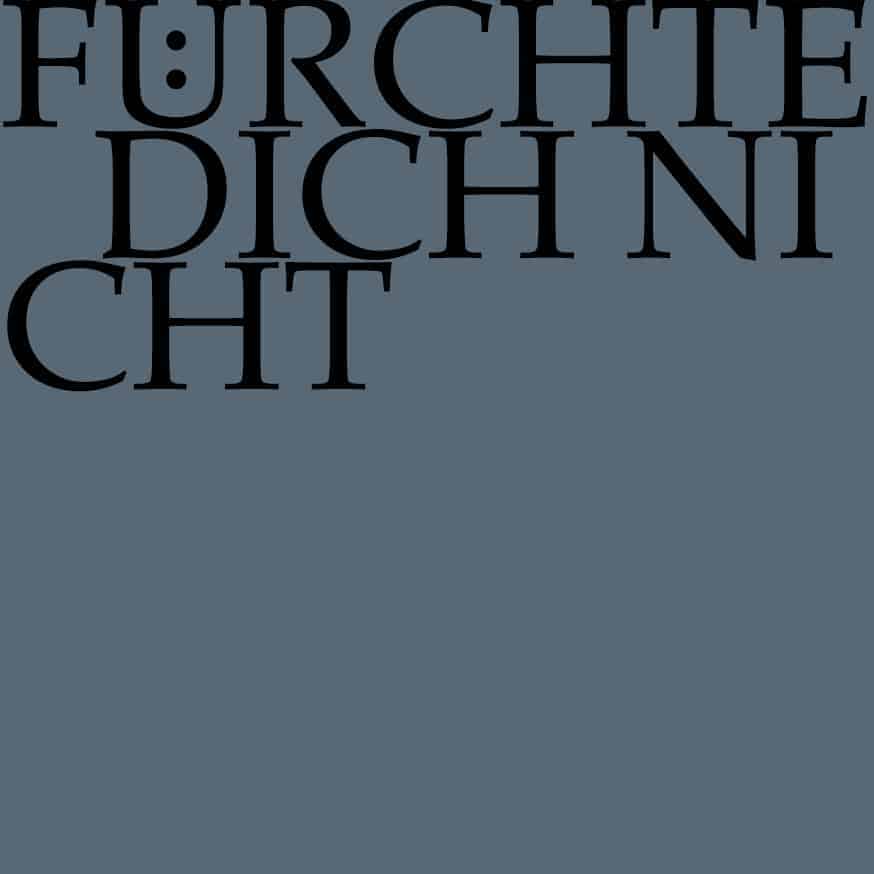 Video
Listen and see the introductory workshop, the concert and the reflection lecture in full length.
Workshop
Reflection lecture
Choir
Soprano 
Lia Andres, Felicitas Erb, Simone Schwark, Noëmi Sohn Nad, Alexa Vogel, Mirjam Wernli
Alto 
Laura Binggeli, Antonia Frey, Liliana Lafranchi, Damaris Rickhaus, Simon Savoy, Lea Pfister-Scherer
Tenor
Zacharie Fogal, Raphael Höhn, Tobias Mäthger, Sören Richter, Nicolas Savoy, Walter Siegel
Bass
Fabrice Hayoz, Grégoire May, Daniel Pérez, Retus Pfister, Jonathan Sells, Tobias Wicky
Orchestra
Conductor
Rudolf Lutz
Violin 
Eva Borhi, Peter Barczi
Viola
Matthias Jäggi
Violoncello
Maya Amrein
Violone
Markus Bernhard
Oboe
Katharina Arfken, Philipp Wagner
Taille
José Manuel Cuadrado Sánchez
Bassoon
Susann Landert
Harpsicord 
Jörg-Andreas Bötticher
Organ 
Nicola Cumer
Musical director & conductor
Rudolf Lutz
Workshop
Participants
Rudolf Lutz, Pfr. Niklaus Peter
Reflection lecture
Speaker
Muhterem Aras
Recording & editing
Recording date
22/11/2019
Recording location
Trogen AR (Schweiz) // Evangelische Kirche
Sound engineer
Stefan Ritzenthaler, Nikolaus Matthes
Producer
Meinrad Keel
Executive producer
Johannes Widmer
Production
GALLUS MEDIA AG, Schweiz
Producer
J.S. Bach-Stiftung, St. Gallen, Schweiz
Matching publications in our shop
Librettist
First performance
Unknown; possibly 4 February 1726,
Leipzig (for the funeral of Susanna
Sophia Winckler)
Text
Isaiah; Paul Gerhardt (1653)
Text of the work and musical-theological comments
<strong>1. Chor</strong>
Fürchte dich nicht, ich bin bei dir,
weiche nicht, denn ich bin dein Gott!
Ich stärke dich, ich helfe dir auch,
ich erhalte dich durch die rechte Hand
meiner Gerechtigkeit.
2. Chor
Fürchte dich nicht, denn ich habe dich
erlöset, ich habe dich bei deinem Namen
gerufen, du bist mein.
Fürchte dich nicht, du bist mein!
3. Choral
Herr, mein Hirt, Brunn aller Freuden,
du bist mein,
ich bin dein,
niemand kann uns scheiden.
Ich bin dein, weil du dein Leben
und dein Blut mir zugut
in den Tod gegeben.
<strong>4. Choral</strong>
Du bist mein, weil ich dich fasse
und dich nicht, o mein Licht,
aus dem Herzen lasse.
Laß mich, laß mich hingelangen,
da du mich und ich dich
lieblich werd umfangen.
Bibliographical references
All cantata texts were taken from «Neue Bach-Ausgabe. Johann Sebastian Bach. Neue Ausgabe sämtlicher Werke», published by the Johann-Sebastian-Bach-Institut Göttingen and the Bach-Archiv Leipzig, Series I (Cantatas), vol. 1-41, Kassel and Leipzig, 1954-2000.
All introductory texts to the works including the texts " in-depth analysis" as well as the " musical-theological comments" were written by Anselm Hartinger and Rev. Niklaus Peter as well as Rev. Karl Graf (translations by Alice Noger) upon consideration of the following references:  Hans-Joachim Schulze, «Die Bach-Kantaten. Einführungen zu sämtlichen Kantaten Johann Sebastian Bachs», Leipzig, 2nd edition, 2007; Alfred Dürr, «Johann Sebastian Bach. Die Kantaten», Kassel, 9th edition, 2009, and Martin Petzoldt, «Bach-Kommentar. Die geistlichen Kantaten», Stuttgart, vol. 1, 2nd edition, 2005 and vol. 2, 1st edition, 2007.